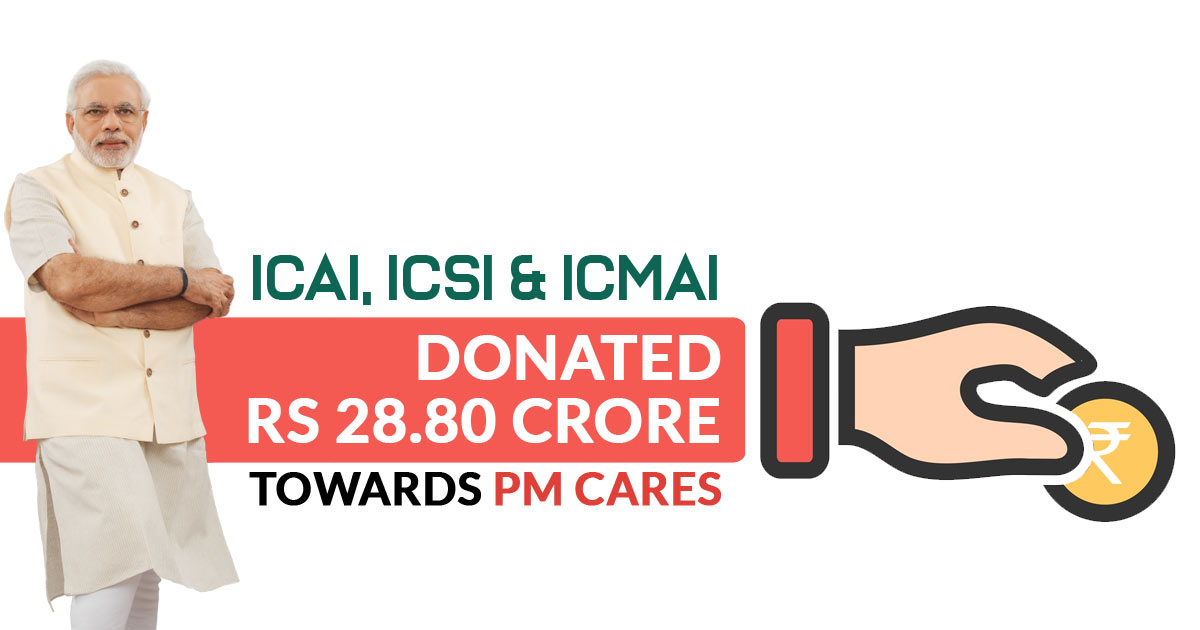 The spread of Coronavirus has been recognized as a global pandemic and the whole world is fighting against it, In India Government introduced an initiative PM CARES Fund, which will help the country to stand strong in this situation. Anyone can donate whatever amount they have to support the country.
A few days ago ICAI pledges to contribute Rs 21 crores to PM CARES Fund, and as per recent update not just ICAI, ICSI and ICMAI contribute a total of Rs 28.80 crore towards PM CARES Fund to combat Coronavirus Outbreak.
The Institute of Chartered Accountants of India (ICAI) was established in 1949 through a Legislative Fiat, and it is working effectively over 70 years, continuously encouraging various initiatives of Government. At the present time, when the world is facing a Coronavirus outbreak, ICAI holds its moral responsibility to provide all possible support to our Government to support our nation to stand strongly against this pandemic. 
Previously, ICAI had also appealed to its over one million strong students and member community to actively contribute and donate generously in the nation's effort to fight against this epidemic.
Read Also : COVID-19: All statutory Amendments by Government in Tax Compliance
ICAI collect Rs 6 crores through voluntary contributions, and from these Rs. 6 crores, Rs 1.72 crores have been deposited in PMNRF on 31st March, 2020, as the first contribution by ICAI Members, students and Officials. The remaining Rs 4.28 crores were initially expected to be deposited in the newly constituted PM CARES Fund by April 20, 2020.
Alongside it, on the call made by the Hon'ble Prime Minister and also pursuant to the appeal made by the Ministry of Corporate Affairs, ICAI's Central Council had decided to contribute Rs. 15 crores additionally from ICAI towards the PM CARES Fund. 
In the same effort, a total direct financial contribution Rs 21 crores were announced by ICAI,  in addition to the financial and community support extended by ICAI member and student community at an individual level. It is remarkable that, In the times of any crisis troubling the nation & towards its welfare, the Institute has always come up with generous contributions and supported the national cause. It shows that ICAI has always been aware of its professional & social responsibility and always stand with the nation. The institution shows the same gesture this time also.
Just a few hours ago, the three major Professional Institutes under the Ministry of Corporate Affairs i.e. Institute of Chartered Accountants of India (ICAI), Institute of Company Secretaries of India (ICSI) and Institute of Cost Accountants of India (ICMAI), has made a contribution by donating an amount of Rs 28.80 crore to PM-CARES Fund for providing financial help to those impacted by the COVID-19 pandemic.
 The Details of Donations are provided below: –
| | | | | |
| --- | --- | --- | --- | --- |
| S.No. | ORGANIZATION | CONTRIBUTION FROM INSTITUTE | MEMBERS/STAFF CONTRIBUTION | TOTAL |
| 1 | The Institute of Chartered Accountants of India | 15.00 | 6.00 | 21.00 |
| 2 | Institute of Company Secretaries of India | 5.00 | 0.25 | 5.25 |
| 3 | Institute of Cost Accountants of India | 2.50 | 0.05 | 2.55 |
| Total | | 22.50 | 6.30 | 28.80 |
*Rs. in crore
The PM CARES Fund is an acronym for The Prime Minister's Citizen Assistance and Relief in Emergency Situations Fund, It was created on 28th March 2020 in view of the COVID-19 pandemic in our country. This initiative 'dedicated national fund' has been introduced by the government with the primary aim of dealing with any kind of emergency or distress situation as posed by the Coronavirus pandemic, and to provide relief to the affected people.