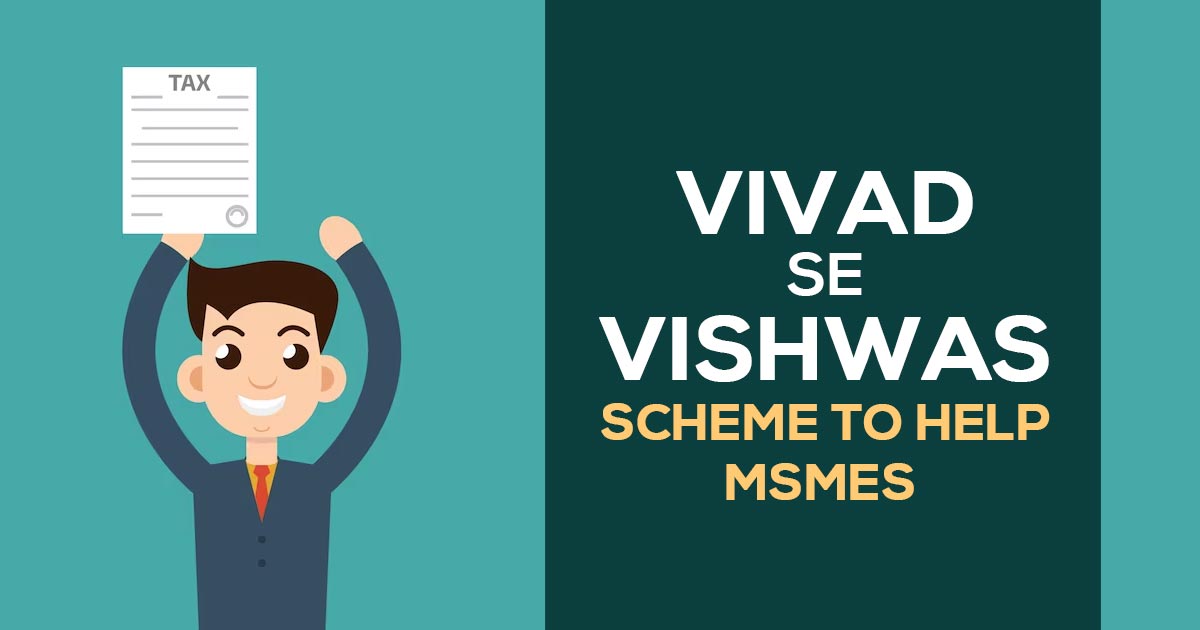 The scheme, "Vivad se Vishwas I – Relief to MSMEs" for furnishing relief to Micro, Small, and Medium Enterprises (MSMEs) for the COVID-19 period is been incorporated by the Department of Expenditure, Ministry of Finance. The scheme was declared in the Union Budget 2023-24 by Union Finance Minister Smt. Nirmala Sitharaman. In Para 66 of the Union Budget speech, Smt. Sitharaman had announced:-
Government launches Vivad se Vishwas scheme for relief to MSMEs for COVID-19 period, as announced in the Union Budget 2023-24
The due date for providing claims under the scheme is 30.06.2023
"In cases of failure by MSMEs to execute contracts during the COVID period, 95% of the forfeited amount relating to bid or performance security will be returned to them by Government and Government undertakings. This will provide relief to MSMEs".
On the date 6.2.2023, an order has been issued by the Department of Expenditure, Ministry of Finance which shows the broad structure of the scheme. For the same concern, the final instruction would have been furnished to extend the relief to cover more cases and relax the limits of the refunds issued dated 11.4.2023. From 17.04.2023 the scheme was started and the due date for the submission of claims is 30.06.2023.
Read Also: Due Dates For MSME Form 1 (MCA) & MCA New E-Form INC 22A (Active)
In human history, covid-19 pandemic would be one of the biggest crises that had impacted the economy severely particularly the MSME sector. MSMEs prohibited for failing to execute contracts during the COVID-19 period have also received some reprieve.
Through this program, the Ministry of Finance decided to provide the following additional benefits to qualified MSMEs impacted by COVID-19:
95% of the performance security forfeited will be refunded.
95% of the Bid security will be refunded.
95% of the Liquidated Damages (LD) deducted will be refunded.
95% of the Risk Purchase amount realized will be refunded.
In the case any firm has been debarred only because of the default in the implementation of such contracts, these debarments will also be revoked, via issuing a suitable order by the procuring entity.
But for the case when a company would get overlooked for the placement of any contract because of debarment in the interim duration (i.e. date of debarment and the date of revocation under this order) then no claim will be entertained.
6. On these types of refunded amounts no interest will be paid.
According to the Office Memorandum issued via the Department of Expenditure to Secretaries of all the Ministries/ Departments of Government of India and Chief Secretaries/ Administrators of Union Territories, relief will be furnished in all contracts for the procurement of Goods and Services, entered into by any Ministry/ Department/ attached or subordinate office/ autonomous body/ Central Public Sector Enterprise (CPSE)/ Central Public Sector Banks/ Financial Institution, etc. with MSMEs, which fulfils the mentioned below criteria:
Registered as a Medium, Small, or Micro Enterprise under the scheme of the Ministry of MSME on the date of the claim by supplier/ contractor. MSME can be registered for any category of Goods and Services.
The original delivery period/ completion period defined in the contract was between 19.02.2020 and 31.03.2022 (both dates are inclusive).
A specified web page for the execution of the scheme would have been performed by the government for e-marketplace (GeM). And merely through GeM, the qualified claims will get processed.
Read the official announcement: Click here