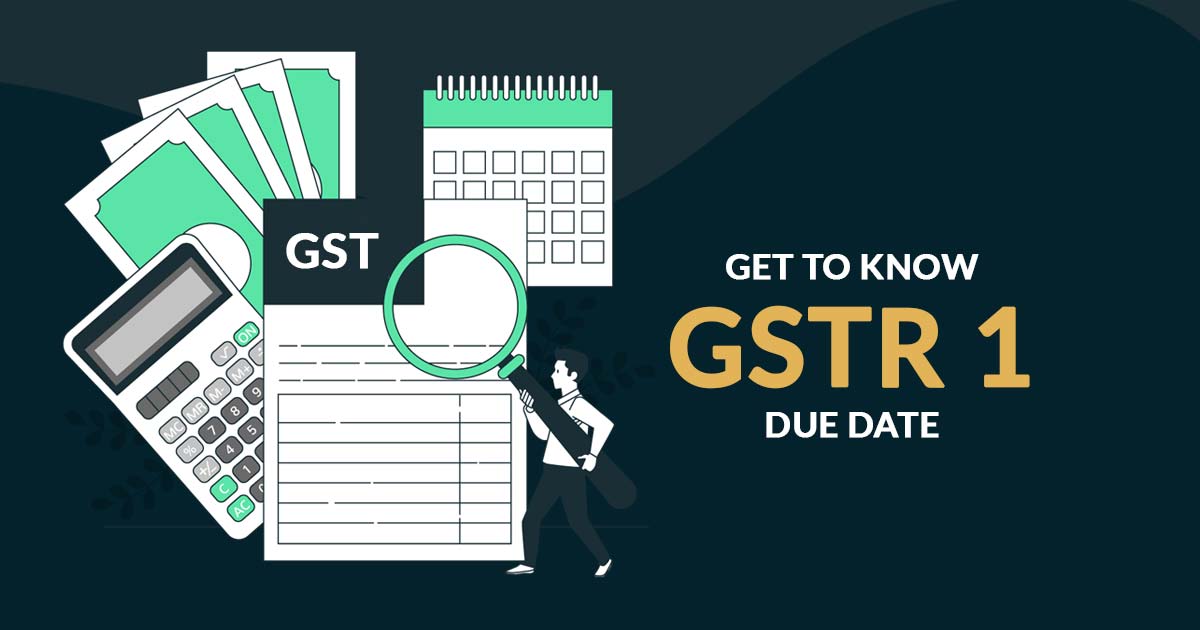 If you're a business owner operating in India, it's likely that you're already well-acquainted with the Goods and Services Tax (GST) framework. Within the GST system, one of the pivotal elements is ensuring the punctual submission of GST returns. Among these returns, GSTR-1 stands out as a crucial component in the overall GST compliance procedure. This article will comprehensively explore the GSTR 1 due date and its profound significance.
The filing of the GSTR 1 form is obligatory within the GST framework. Businesses registered under GST with an annual turnover exceeding 1.5 crores are mandated to submit their GSTR 1 returns by the 11th day of the subsequent month. In the GSTR 1 form, taxpayers are required to provide comprehensive particulars regarding their outward supplies. Below, we offer further insights into the GSTR 1 due dates:
According to the official statement, "To encourage taxpayers to promptly submit their records of outward supplies, restrictions on claiming input tax credits by recipients have been imposed in cases where suppliers fail to furnish details of outward supplies as stipulated in Section 37 of the CGST Act, 2017."
As opined by numerous tax experts, this measure aims to compel all taxpayers to fulfil their obligation of filing the GSTR 1 form, thereby facilitating greater transparency in the overall filing process for the government.
Get Your Accounting Service Website Done at a Low Cost Today!
What is the Meaning of GSTR 1?
GSTR-1 is a return that must be submitted by every registered dealer, either on a monthly or quarterly basis, depending on their annual turnover. This form mandates that registered taxpayers furnish comprehensive information regarding all their outward supplies and sales transactions.
The significance of GSTR-1 lies in the fact that the recipient's eligibility for Input Tax Credit relies on the timely and precise submission of GSTR-1 by the supplier.
In cases where a GST-registered taxpayer has not conducted any outward supplies in a given month, they are still required to file a NIL GSTR-1 return. However, if a taxpayer has chosen to participate in the composition scheme, they should not file GSTR-1 instead, they should make their payment using the GST form CMP-08.
What Do You Understand About the Term GSTR-1?
GSTR-1 is the monthly or quarterly return that must be furnished through every enrolled GST assessee excluding some specific as provided in the subsequent sections. It includes information on all the outward supplies i.e. sales. The return consists of the sum of 13 sections as mentioned below:
The return has a total of 13 sections, listed as follows:
Tables 1, 2 & 3: GSTIN, legal and trade names, and aggregate turnover in the previous year
Table 4: Taxable outward supplies to registered persons (including UIN-holders) excluding zero-rated supplies and deemed exports
Table 5: Taxable outward inter-state supplies to unregistered persons where the invoice value is more than Rs.2.5 lakh
Table 6: Zero-rated supplies as well as deemed exports
Table 7: Taxable supplies to unregistered persons other than the supplies covered in Table 5 (net of debit notes and credit notes)
Table 8: Outward supplies that are nil rated, exempted and non-GST in nature
Table 9: Amendments to outward supplies that are taxable and reported in tables 4,5 & 6 of the earlier tax periods' GSTR-1 return (including debit notes, credit notes, and refund vouchers issued during the current period)
Table 10: Debit note and credit note issued to unregistered person
Table 11: Details of advances received or adjusted in the current tax period or amendments of the information reported in the earlier tax period.
Table 12: Outward supplies summary based on HSN codes
Table 13: Documents issued during the period.
Table 14: For suppliers – Reporting ECO operators' GSTIN-wise sales through e-commerce operators on which e-commerce operators are liable to collect TCS u/s 52 or liable to pay tax u/s 9(5) of the CGST Act
Table 14A: For suppliers – Amendments to Table 14
Table 15: For e-commerce operators – Reporting both B2B and B2C, suppliers' GSTIN-wise sales through e-commerce operators on which e-commerce operator must deposit TCS u/s 9(5) of the CGST Act
Table 15A: For e-commerce operators –

Table 15A I – Amendments to Table 15 for sales to GST-registered persons (B2B)
Table 15A II – Amendments to Table 15 for sales to unregistered persons (B2C)
When Does GSTR-1 Get Due?
Upon the grounds of your turnover, the last dates for GSTR-1 relied on. The businesses whose sales are up to Rs 5 cr have the choice to furnish the quarterly return beneath the QRMP policy and are due on the 13th month subsequent to the related quarter.
The GSTR 1 form filing is a mandatory return form under GST. Registered taxpayers with an annual turnover exceeding 1.5 crores need to file the GSTR 1 return every 11th of next month. Taxpayers need to furnish complete details of their outward supplies in the GSTR 1 form.
Importance of Timely GSTR-1 Filing
Various benefits have been provided to the businesses when filing the GSTR-1 within the stipulated timeframe.
Avoid Penalties– There shall be no penalties if the timely filing has functioned that could be substantial and add to the cost of your compliance.
Input Tax Credit– Only on the basis of timely filed GSTR-1 your suppliers are able to claim the ITC. Delays in filing might directed to issues in the ITC flow that affect your working capital.
Reconciliation – Timely filing permits for the simpler reconciliation of data between your GSTR-1 and your suppliers' GSTR-2A, assuring precision and compliance.
Good Business Reputation– A regular track record of timely GST filings enhances the credibility and reputation of your company.
Who is Required to file GSTR-1?
All registered individuals must submit GSTR-1, regardless of whether any transactions occurred during the reporting period. For those who have no transactions to report, a convenient SMS filing option has been available since the first week of July 2020.
Which kind of Registered Taxpayers do not need to file Form GSTR-1?
The subsequent assessees are not directed to file Form GSTR-1:
Taxpayers under the Composition Scheme
Non-resident foreign taxpayers
Online information database and access retrieval service provider
Input Service Distributors (ISD)
Tax Deducted at Source (TDS) (deductors); and
E-commerce operators collecting TCS

Taxpayers Who Need to File the GSTR 1
All registered taxpayers with an annual turnover greater than 1.5 crores must mandatory file GSTR-1. However, there are a few taxpayers who are not liable to do so.
These taxpayers include Composition Dealers, Non-resident Taxable Persons, Input Service Distributors, Taxpayers liable to deduct TDS, Taxpayers liable to collect TCS, Suppliers of OIDAR (Online Information and Database Access or Retrieval), and Compounding taxable persons.
GSTR 1 Due Dates Turnover up to INR 1.5 Crore
| Period (Quarterly) | Due Dates |
| --- | --- |
| October To December 2023 | 13th January 2024 |
| July To September 2023 | 13th October 2023 |
| April To June 2023 | 13th July 2023 |
| January To March 2023 | 13th April 2023 |
| October To December 2022 | 13th January 2023 |
| July To September 2022 | 13th October 2022 |
GSTR 1 Due Date Turnover More Than INR 1.5 Crore
Period (Monthly)
Due Dates
November 2023
11th December 2023
October 2023
11th November 2023
September 2023
11th October 2023
August 2023
11th September 2023
July 2023
11th August 2023
June 2023
11th July 2023
May 2023
11th June 2023
April 2023
11th May 2023
March 2023
11th April 2023
February 2023
11th March 2023
January 2023
11th February 2023
December 2022
11th January 2023
November 2022
11th December 2022
IFF Quarterly Filing (QRMP Scheme) Due Date of GSTR 1
| | |
| --- | --- |
| Period (Quarterly) | Last Dates |
| November 2023 | 13th December 2023 |
| October 2023 | 13th November 2023 |
| September 2023 | 13th October 2023 |
| August 2023 | 13th September 2023 |
| July 2023 | 13th August 2023 |
| June 2023 | 13th July 2023 |
| May 2023 | 13th June 2023 |
| April 2023 | 13th May 2023 |
| March 2023 | 13th April 2023 |
| February 2023 | 13th March 2023 |
| January 2023 | 13th February 2023 |
| December 2022 | 13th January 2023 |
| November 2022 | 13th December 2022 |
The 50th GST Council Meeting Update Press Release can be downloaded : PRESS RELEASE
Late Fees and Penalty
According to the GST law, the late fee for not submitting GSTR-1 is Rs 200 per day for delayed filing (Rs 100 as per the CGST Act and Rs. 100 as per the SGST Act). This late fee is calculated from the day following the last filing date.
However, following notifications issued up to February 2021, late fees have been reduced to Rs 50 per day and Rs 20 per day for nil returns. It's important to note that, currently, the GST portal does not require late fee payment for GSTR-1 as part of the payment challan in PMT-06 at the time of filing GSTR-3B.
As per CGST notification 20/2021 dated June 1, 2021, the maximum late fee is applicable from June 2021 onwards.
Individuals who have no outward supplies in the tax period will not be subject to the maximum late fee of Rs 500 (Rs.250 per Act). Conversely, individuals with a total turnover of Rs 1.5 crores in the previous fiscal year, excluding nil return filers, are subject to a maximum late fee of Rs 2000 (Rs.1,000 per Act). Individuals with an average annual turnover exceeding Rs 1.5 crores but not exceeding Rs 5 crores in the previous fiscal year, excluding nil filers, can be charged a maximum late fee of Rs 5000 (Rs.2500 per Act). There is no change in the maximum late fee for assesses whose total turnover exceeds Rs 5 crores, and it remains at Rs 10,000.
It's important to note that tax authorities may issue notices for late fee payments during the assessment of returns.
Latest Updates in GSTR 1
07th July 2023 – "To ensure the timely filing of GSTR-1 by taxpayers, the government has implemented this restriction. Failure to submit GSTR-1 will render taxpayers unable to file GSTR-3B, leading to the imposition of late fees and penalties." Read more
30th June 2023 – "The CBIC has issued the new advisory for GSTR-1 and GSTR-3B liability and differences (DRC-01B). "Read more
25th May 2023 – In April 2023, taxpayers with a principal place of business in Manipur must submit GSTR-1 until 31st May 2023. Read More
19th December 2022 – "To amend FORM GSTR-1, the supplier is required to report details of supplies made through ECOs covered by section 52 and section 9(5) of the CGST Act, 2017 and the ECO is required to report supplies made under section 9(5) of the CGST Act, 2017." Read more
15th December 2022 – "The tax filing deadline for FORM GSTR-1, which is due for November 2022, has been extended for registered persons whose principal place of business is in Tamil Nadu's certain districts". Read Notification
8th November 2022 – "On the basis of the Supreme Court's decision in Bharti Airtel, a division bench of the Telangana High Court dismissed a plea seeking correction of the GSTR-1." read order
04th November 2022 – "According to sections 37(4) and 39(10) of the CGST act 2017, GSTR-1 filing is mandatory to file GSTR-3B." View More
Most Frequently Asked Questions About GSTR 1
Q.1 – Is it necessary to submit GSTR-1 even if there are no sales in a particular month?
Ans: Yes, it is compulsory to file GSTR-1 even if there have been no sales during a specific month or quarter. In such cases, you need to submit a Nil GSTR-1.
Q.2 – Can invoices be uploaded during the return filing process only?
Ans: Invoices can be uploaded at any time. It is advisable to upload invoices on a regular basis throughout the month to avoid a bulk upload during the return filing period, as it can be time-consuming.
Q.3 – Can I modify an uploaded bill or invoice on the GST portal?
Ans. After uploading invoices, you can make rectifications multiple times. There are no limitations on modifying invoices once they have been uploaded. However, changes can only be made before submitting a return. Once a return is submitted, the numbers will be locked.
Q.4 – Can GSTR-1 be submitted after the due date?
Ans: Yes, you can file GSTR-1 even after the due date. However, a late fee based on the number of delayed days will be applicable.
Q.5 – How GSTR-1 and GSTR-3B are different?
Ans: GSTR-1 requires reporting of all sales details, whereas GSTR-3B involves reporting summarized figures of sales, input tax credit (ITC) claimed, and net tax payable.
Q.6 – Can GSTR-1 be filed after filing GSTR-3B?
Ans: No, GSTR-1 needs to be filed before filing the GSTR-3B return, starting from January 1, 2022.
Q.7 Should I file GSTR-1 because I have opted for the composition scheme?
Ans: If you have opted for the composition scheme, you are not required to file GSTR-1. Instead, you need to use Form CMP-08 to make tax payments on a quarterly basis.
Q.8 – Is it necessary to make a GST payment after filing GSTR-1?
Ans: GSTR-1 is a return where sales details are reported to the government. Therefore, there is no need to make a tax payment after filing this return. However, the tax due must be paid during the submission of GSTR-3B.
Q.9 – When can I choose the quarterly return option for filing Form GSTR-1?
Ans:You have the option to choose quarterly filing of Form GSTR-1 in the following situations:
If your turnover during the previous financial year was up to Rs. 5 Crore, or
If you are newly registered in the current financial year and expect your aggregate turnover to be up to Rs. 5 Crores.

Note: If you choose the quarterly return option, both Form GSTR-1 and Form GSTR-3B are required to be submitted quarterly.
Q.10 – I have been filing GSTR-1 quarterly, and my annual sales are below Rs. 1.5 crore. What happens if I choose the QRMP scheme?
Ans: If you opt for the QRMP (Quarterly Return Monthly Payment) scheme, you need to continue filing GSTR-1 on a quarterly basis. Additionally, GSTR-3B must be filed quarterly, with monthly tax payments. However, it is suggested to find more information on the QRMP scheme.
Q.11 – How can I submit my invoices in accordance with the QRMP scheme?
Ans: To upload your invoices for the first two months of the quarter, you can utilize the Invoice Furnishing Facility (IFF). For the invoices of the last month, you can include them in the quarterly GSTR-1. For more detailed information about IFF, you can click here.
Q.12 – Is it possible to make changes to already filed details in GSTR-1? If so, what is the timeframe for making amendments?
Ans: TAbsolutely, you can make modifications to a previously filed GSTR-1 for a specific tax period by declaring the corrected information in the return.
For instance, let's consider the case of Mr. X from Kerala, who sold goods worth Rs. 1,00,000 to Mr. Y from Karnataka on 30th December 2022. Mr. X initially reported this transaction in the GSTR-1 of December 2022. However, upon realizing that there was an error in the invoice date, he can create an amended invoice with the correct date, which is 16th December 2022. This amended invoice can be included in the GSTR-1 of January 2023.
Q.13 – I am having difficulty viewing the invoices I have uploaded. What steps should I take?
Ans: To view the invoices you have uploaded, scroll down to the bottom of the Form GSTR-1 – Details of outward supplies of goods or services page and click the "GENERATE GSTR1 SUMMARY" button. This will incorporate the auto-drafted details awaiting action from recipients, and your added invoices will start appearing in the relevant section of Form GSTR-1.
If you wish to view the summary immediately after adding the invoices, you can generate the summary by clicking the "GENERATE GSTR1 SUMMARY" button. However, you have to keep in mind that the summary can only be generated at intervals of 10 minutes. If you attempt to generate a summary again within 10 minutes of the previous one, you may encounter an error message at the top of the page.
The summary is automatically generated by the GST Portal approximately every 30 minutes. Additionally, you can check if an error file has been generated upon uploading the JSON file created from the Offline Tool. If an error file exists, through the offline tool, you can download the error report and make corrections to any issues.
Q.14 – What should be the revised date mentioned in the amended invoice?
Ans:The revised date in an amended invoice should not be later than the last date of the original invoice's tax period.
For instance, if the original invoice is dated 12th December 2022 and is being amended in January 2023, the revised invoice date cannot be later than 31st December 2022.
Q.15 – Which amendments are not permissible or not allowed?
Ans: Amendments at the invoice level are not allowed for the following details:
Customer GSTIN
Changing a tax invoice to a bill of supply
The below-mentioned details cannot be amended with respect to Export Invoices:

Shipping Bill Date/Bill of Export Date
Type of Export – With/Without payment

The below details related to Credit Debit Notes cannot be amended:

Receiver/Customer GSTIN. However, you can amend and link any other invoice for the same GSTIN.
Place of Supply
Reverse charge applicable reasons: these restrictions are that the above-mentioned details are based on the original invoice to which they are linked, and they must match the details of the linked invoice.

If the recipient of the goods has performed any actions regarding the invoices, such as accepting or modifying them, and the supplier accepts those modifications in GSTR-1A, the supplier will not be allowed to make amendments to those invoices. This is because those invoices will automatically be reflected in the supplier's GSTR-1 in the month of acceptance, in accordance with the relevant amendments table.
Amendments at a summary level are not permissible for the following details:

Nil Rated
HSN summary of Outward supplies
Adding a new place of supply

Note: However, you can replace the existing place of supply with another place of supply, but with certain limitations. Please refer to the examples mentioned below for further clarification.