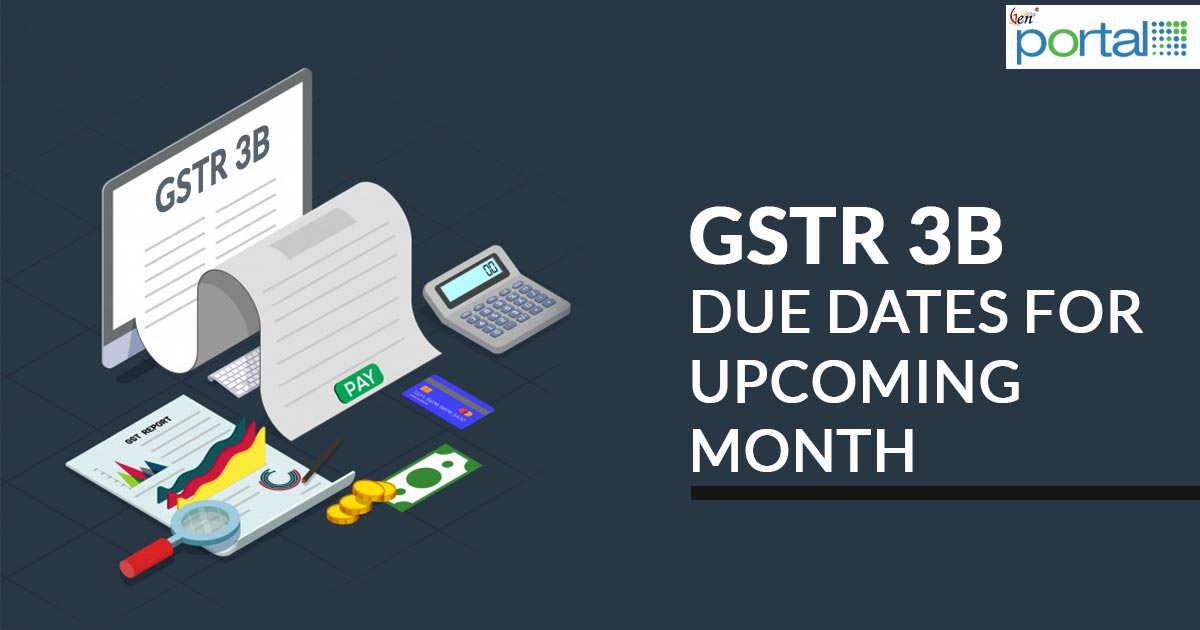 GSTR-3B is a self-declaration form under GST. Unlike other GST forms, Taxpayers need not provide any invoice details while filing GSTR-3B returns.
As per the recent 37th GST council meeting, the GSTR 3B filing is extended till March 2020 for taxpayers. This has given a much relief to the community which ease them to file their consolidated return at a single place.
Delays or non-filing of GSTR-3B returns will attract a penalty. Taxpayers are not required to file the GSTR 3B form manually.
It is auto-filling by nature. Only sales and purchase values have to be provided by the taxpayer. The Tax Liabilities are before submission. GSTR 3B due dates are mentioned at the bottom while it must be filed every 20th of subsequent month.
On account of the recent updates on the GSTN portal, taxpayers can file the GSTR 3B more easily and quickly than ever before. In a major relief move, the taxpayer who files nil returns now need to file a simple return form with minimum details. Post the implementation of the new functionality. Nil Return Taxpayers are freed of the erstwhile extra details that had to be provided.
GST mandates the filing of GSTR 3B even by those taxpayers with nil returns. GSTR 3B is the monthly self-declaration form that has to be filed by all taxpayers irrespective of the returns.
The details that have to be furnished in the GSTR 3B form include:
Details of sales and purchase made by the registered taxpayer.
Liable Input Tax Credit
Liable Tax
Tax Paid

Some taxpayers are exempted from filing the GSTR-3B form under the GST. These taxpayers include:
Composition Suppliers and Input Service Distributors
Suppliers of OIDAR
TDS Deductors
TCS Collector
Under the GST norms, failure or delay in filing GSTR 3B will attract fine. Dealy will attract a fine of Rs 50 per day whereas Taxpayers with Nil Tax Liability will be fined Rs 20.

GSTR 3B Form Filing Due Dates for January 2020 To April 2019
Period (Monthly)
Due Dates
January 2020
20th February 2020
December 2019
20th January 2020
November 2019
23th December 2019 updated
October 2019
20th November 2019
September 2019
20th October 2019
August 2019
20th September 2019
July 2019
22nd August 2019
June 2019
20th July 2019
May 2019
20th June 2019
April 2019
20th June 2019
Note : Due date extended for the registered persons in Assam, Manipur, Meghalaya or Tripura for the month of Nov 2019 till 31st december 2019 to file GSTR 3B. Read Official Press Release
Latest Update:
"A Standard Operating Procedure for tax officers would be issued in respect of action to be taken in cases of non-filing of FORM GSTR 3B returns.Due date of filing GST returns for the month of November, 2019 to be extended in respect of a few North Eastern States.The Council also approved various law amendments which will be introduced in Budget 2020"
Due date extension for return furnishing of FORM GSTR-3B concerning persons in Jammu and Kashmir for the months of July, 2019 to September, 2019 is now on or before the 20th December, 2019. Read Official Press Release
Due date extension till 20th December 2019 for returns furnishing in FORM GSTR-3B for all the registered persons in Jammu and Kashmir for the month of Oct 2019 Read Official Press Release
Note:
There due date to file GSTR 3B for the succeeding month (October 2019 to March 2020) is 20th for all the taxpayers. Read Notification
The late fee shall be completely waived for all taxpayers in case of GSTR-3B for the time period of months/quarters July 2017 to September 2018, which are furnished after 22nd December 2018 but on or before 31st March 2019.