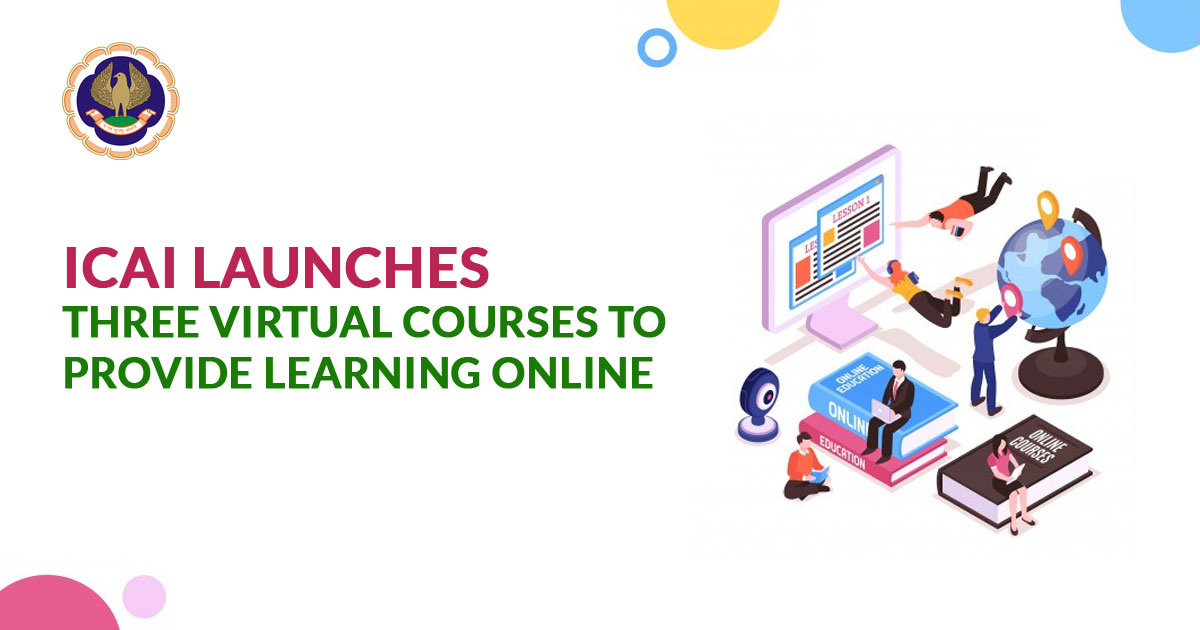 ICAI is an acronym for Institute of Chartered Accountants of India, ICAI is the only licensing cum regulating body of the financial audit and accountancy profession in India. ICAI recently has made three virtual courses available to provide online learning in this COVID-19 pandemic situation.
ICAI is good at utilizing technological initiatives and now when there is a restriction on physical movement, ICAI has taken this step to keep its members & students updated on various professional matters of contemporary relevance.
President of ICAI Atul Kumar Gupta, said that "I regard technology as the engine of the modern economy and CA's workplace. In these times of pandemic, ICAI will put technology to optimum use for efficient delivery of services and betterment of the professional capabilities. ICAI's technology-driven initiatives of DCMM, UDIN, and Digital Learning Hub are well recognized, used, and acknowledged by various professional organizations globally, and we will work together to leverage tech-driven innovations to give our profession a winning edge and raise a generation of global professionals."
Atul Kumar Gupta further added, "The International Federation of Accountants (IFAC), a global organization for the accountancy profession recognizing the online modules in these times of crises; had sought if ICAI could provide this facility globally to all Professional bodies for a limited time and ICAI has offered its voluntary and free support for the professional brethren globally."
Technology is playing an important role in various fields, be it education, business etc, and ICAI also has been utilizing technology for professional excellence. And this time to enhance the knowledge and qualification of its members, ICAI has stepped up and launched three important post qualification or certificate courses through digital Mode for its members.
These three Courses are Listed below:
#1. Certificate Course on Forensic Accounting & Fraud Detection
Due to increasing incidents of cyber-crimes and frauds in the last few years, there are some courses are in increasing demand, such as Forensic Accounting, Fraud Detection & Prevention specialization. These courses are a combination of utilizing accounting, CAATs/ Data Mining Tools, auditing, and investigative skills to detect frauds. ICAI organised Virtual Classes of Certificate Course on Forensic Accounting & Fraud Detection on https://learning.icai.org, which is ICAI's Digital Learning Hub.
READ ALSO : FAQs on Professional Ethics of CAs Conducting Bank Audits
#2. 50 hours Educational Course by ICAI Registered Valuers Organisation
Valuers Organisation is a Registered Section 8 Company formed by ICAI and it also launched its first On-Line batch of 50 hours Educational Course for the Asset Class- Securities or Financial Assets from 26th April to 3rd May 2020. This course is outlined according to the syllabus directed by IBBI. IBBI stands for Insolvency and Bankruptcy Board of India and it is a mix of Valuation, Law and other related topics. The prescribed syllabus includes some topics such as heads of income, various laws, macro-economics, financial experience etc. knowledge of these are required to be eligible to become Registered Valuer.
#3. Certificate Course on Concurrent Audit of Banks
ICAI through its Internal Audit Standards Board conducts Certificate Course on "Concurrent Audit of Banks" makes its members able to understand the intricacies of concurrent audit of banks. The aim of this course is to enhance the effort of the banks in carrying out internal "checks of the transactions and other verifications and compliance process to enhance the effectiveness of concurrent audit systems in banks and to improve quality and coverage of concurrent audit reports". IASB which stands for Audit Standards Boards also launched a Virtual Certificate Course on Concurrent Audit of Banks.
ICAI also offers access to Digital Learning Hub to help ICAI members & students to gain knowledge digitally. The Institute launched the Digital Learning Hub in order to provide all possible source and study material such as online training courses, E-books, video lectures to help people of the domain to enhance their knowledge.
ICAI is putting all these efforts to ensure that the future Chartered Accountants get unmatched proficiency in the accounting field and they stay prepared for professional future and lives.