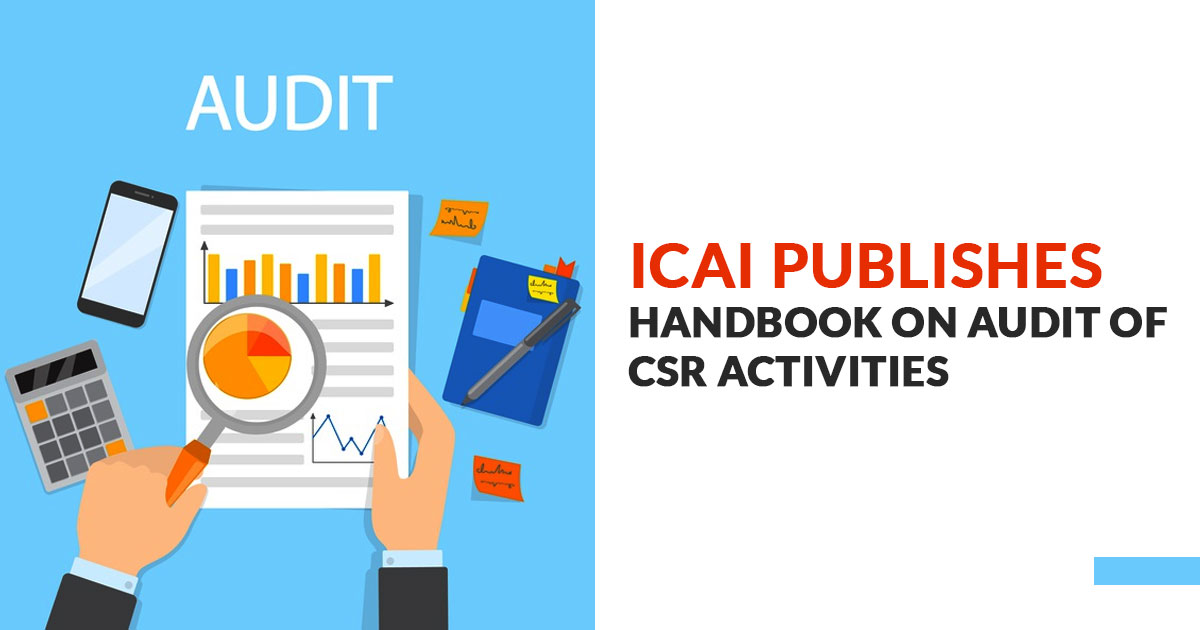 The Institute of Chartered accountant of India (ICAI) has posted the Handbook on the Audit Corporate Social Responsibility (CSR) Activities.
Elaborated guidance about the auditing of CSR spends in along with the roles and responsibilities of the members of ICAI is provided in the handbook on the audit of CSR which is brought through the CSR committee of ICAI. 
The publication proves to be a useful pilot for obeying auditing needs according to the companies (Company Social Responsibilities Policy) Rules, 2014.
The handbook includes a comprehensive description of the working of CSR activities; the need for CSR audit, the responsibility of the auditors, and reporting needs beneath CARO 2020 with respect to CSR.
CA Pramod Jain CSR committee Chairman held that in the covid -19 pandemic, CSR held that in Covid-19 the CSR has played a bigger role through the corporates and the individuals engaging the corporate social responsibility projects higher than the min criteria estimated by the law. The corporates have persisted by the government in the pandemic to provide strength to the country both socially and fiscally.
Read Also: ICAI launched MSME Mentorship Programme and 100 Facilitation Centres
ICAI has provided professional guidance concerning the accounting for corporate social responsibility activities where the guidance respected the accounting of CSR on expenses. Through the increasing needs of CSR activities, it revealed that it is important to provide direction to the industry and professionals on the auditing chassis of CSR expenses. The need for an audit of CSR activities seems not to be important according to the companies act 2013.
But there are several procurements to the companies (Corporate Social Responsibility Policy) Rules 2014 needed to monitor and inform the mechanism in context to CSR activities. Thus monitoring the CSR activities and its reporting is important according to the companies (Company Social Responsibility Policy) Rules 2014.
The company is responsible for keeping an eye on the CSR committee on the companies funds that are to be used according to the CSR scheme of the company.
"In India, with the enactment of the Companies Act, 2013 by the Ministry of Corporate Affairs, Government of India, it has now become mandatory for Companies to take up CSR projects on social welfare activities. CSR has played a very important role in supporting the social and economic development of the country during the Covid-19 pandemic," said Atul Gupta.