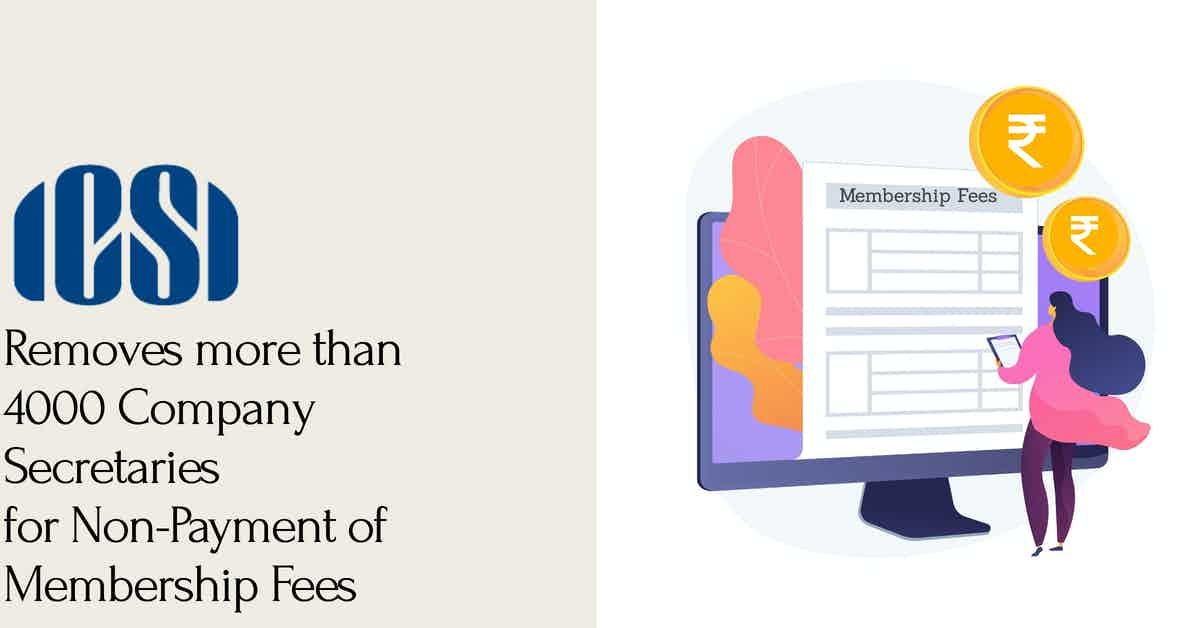 The list of the members has been released through the Institute of Company Secretaries India (ICSI) whose name has been eliminated from the enrollment who owns to nonpayment of the yearly membership fees 
The list consists of nearly 4218 members where 3637 of them belong to ACS and 582 are FCS members. One must ensure that due to coronavirus various company secretaries have been affected in their profession indeed various people who have been removed are the latest newcomers in the profession.
There are various examples in which the ACS and FCS lose their membership due to not furnishing the payment for membership fees etc reason. This gives unprivileged to the members of the institute.
So to return the same an individual must have to furnish the fees for availing the membership for a year, which has been left for so many years along with the entrance fee and the restoration fees including GST which has been mentioned below:
| | | | |
| --- | --- | --- | --- |
| Particulars | Associate (admitted till 31.03.2019) | Associate (admitted on or after 01.04.2019) | Fellow |
| Annual Membership Fee* | Rs. 2950 | Rs. 1770 | Rs. 3540 |
| Entrance fee* | Rs. 2360 | Rs. 2360 | Rs. 2360 |
| Restoration fee* | Rs. 295 | Rs. 295 | Rs. 295 |
| Certificate of Practice fee* | Rs. 2360 | Rs. 1770 | Rs. 2360 |
Read Also: ICAI CA Nov 2020 Foundation, Intermediate Exam Results Declared
The fee has been included with a suitable GST that is 18%.
The yearly membership fee is Rs 1770, as well as the certificate of the practice fee of Rs 1770 which is effected from 1/04/2019 for the related members who have been registered on or post 1/04/2019, are valid for the initial 2 years along with the admission year (irrespective of the date of getting the Certificate of Study in the admission year) and the subsequent year. The yearly membership, as well as the certificate of the practice fee, must be automatically revised to be full consequently.