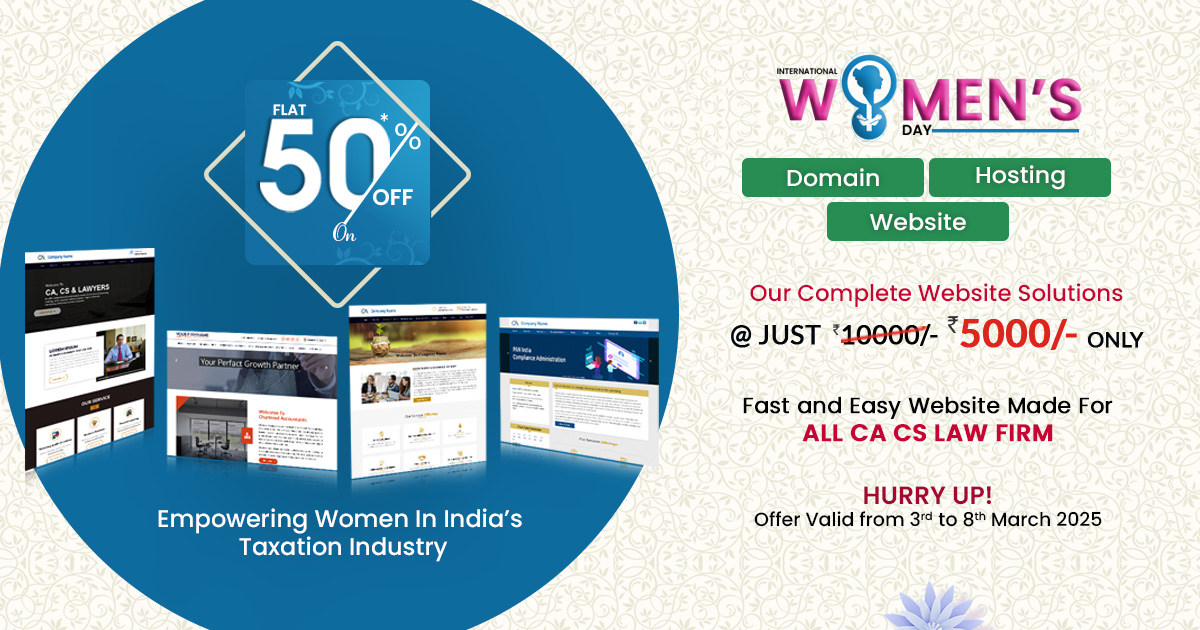 Women's day is celebrated all across the world on 8 March as women have gained their rights. This latter converted into the Holiday and is used to be celebrated all through the communist countries and socialists movement. UNO post-1977 had acknowledged the day and started celebrating international women's day. In today's era, women have the right to do anything and are then applied all over the world. Women's day is celebrated so that to make people conscious of women's rights and gender equality.
Happy Women's Day to all the incredible women! Shine on… Not just today but everyday!
International womans day is important towards the right of women as she gives us love and care. Indian women's day celebration date on Sunday 8th March 2021. On the occasion of the Women's day celebration, there is an offer from our side i.e flat 50% discount on our much popular CA/CS website development service 'CA Portal'.
CA portal is the online service platform for the CA professionals to claim the website designing along with the development of the services which consists of Domain, Hosting & Website, specially built for CA, CS and Lawyers.
There is a chance to upgrade your website through this offer flat 50% women day offer on the website only on the CA portal. Make sure that you don't miss this excellent offer.
CA portal honors Happy national women's day with a 50% discount from 8th March to 13th March 2021 on the numerous professional services that constitute (Domain+Hosting+Website+Management).
CA portal is the comprehensive online solution for CA, CS, and lawyers websites. The portal controls the list of the customers with the fresh portfolio of the CA professional upon the website, we automatically update contents news and the additional details supported by customer care service.

Website Features of CA Portal:
#1. Exquisite Design & Important Themes:
CA portal offers exquisite designs & UI for the professional chartered accountant, company secretary & lawyers.
#2. Website As Per ICAI/ICSI/Bar Council Guidelines:
CA portal frames websites as per the norms of ICAI/ICSI/Bar council.
#3. Separate Login Panel:
The clients will be provided with the separate login panel for individual account maintenance.
#4. Well- Documented & Well-Structured:
CA portal is finely documented and structured online platform.
#5. Independent Domain As (www.Yourfirmname.com):
The clients can also get their individual portal- independent domain with preferred name & services
#6. Website Hosting:
Expert team of executives to take care of your website.
#7. Notifications:
Clients are duly informed about the due dates and other updates through the special services for newsletters and notifications.
#8. Mail Server & 24/7 Support:
Clients are taken care of by intelligent & skilled executives all day through phone & mail and also hosted through high-speed domains.
#9. Optimize your website for Search Engines
Upon the search engine pages, the ranking of the website has been included so as to attract visitors and to obtain more and more leads. also, the real ones can approach you only who are willing to purchase the products or services which you are providing.
Easy navigation.
Stylish, intuitive design and user experience.
Relevant, trustworthy website content.
Social media as an extension of the company website.
Company blog.
etc…….
Below we provide all the women day offer terms & conditions that are applicable for all the new registrant.
Women's day Special Offers –

Terms & Conditions:
Both Payment & Registration to be done within office working hours till offer period only
Scheme applicable only on new website purchase
This special day offer is for females only (Female name specific registration)
The scheme only for Individual Female Identity, Therefore, NO modification in Name/Registration details allowed for lifetime
Offer Valid from 8th March to 13th Mar 2021
GST & other applicable taxes are out of the discount
In the standard domain, there are only (.com) (.in) (.net) (.org) (.co.in) included. However, if a particular domain costs more than a standard domain price than the added cost will have to be paid by the client along with the tax applicable.
Require Hosting (provided by SAG only), Space, Bandwidth and Domain for CA Portal
Registration once done cannot be transferred/Modified to any other professional entity or business firm