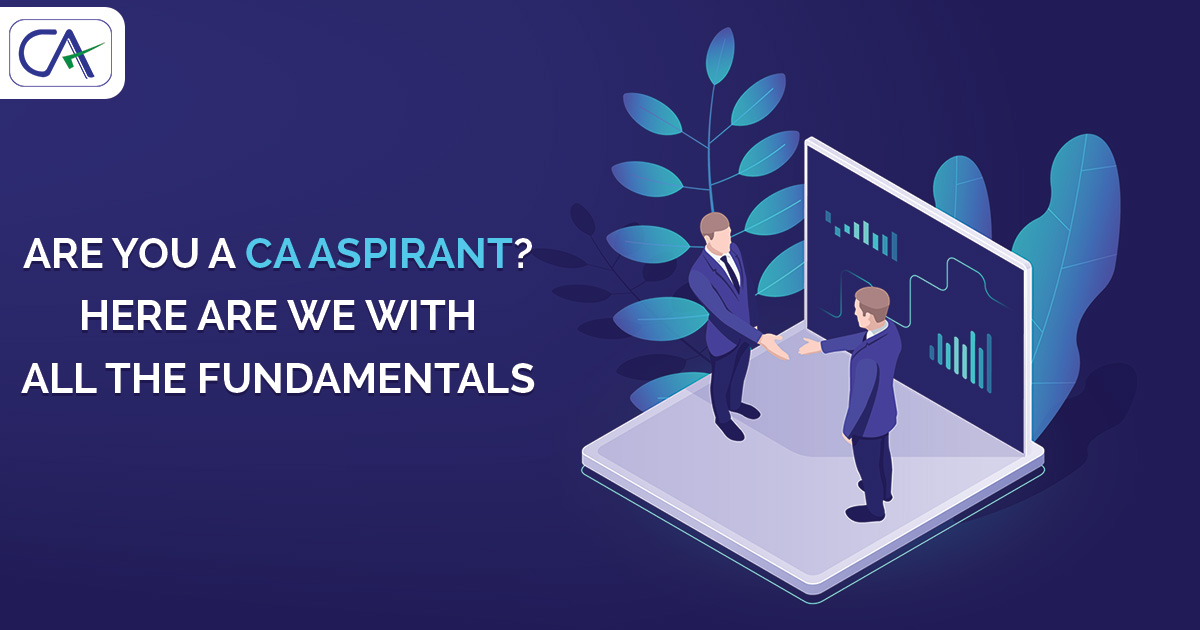 Chartered Accountancy (CA) is one of the most rewarding careers that opens up avenues to acquire top position in eminent organisations of the nation as well as overseas. CAS is considered as Complete Solution Provider of Businesses and this is the reason most of the students in India who opt to enter the commerce stream intend to take this professional course.
CA is a three-level program, conducted by the Institute of Chartered Accountants of India (ICAI).
Many students aspire to become CA professional as big or small, every organisation needs a CA and so this course covers large prospectus of job opportunities. But for a beginner, it is important to have a piece of fundamental knowledge about this course. Here, we have outlined some basic things such as eligibility, career scopes, preparation and so on to help you have an essential knowledge which every CA should be acquainted of.
Eligibility, Duration, and other CA Program Details
The minimum eligibility to enter the CA career path is 10+2. One needs to clear 10+2 examination to take this course.
After passing Class-12, aspirants may register itself for Foundation which is the entry-level program of the course with a study period of 4 months. Alongside that one can simultaneously pursue B.Com and enrol itself for Intermediate which needs an eight-month study period.
After qualifying the Intermediate program, an aspirant needs to pursue Articleship which is of three years time-frame. After the Articleship, the aspirant needs to crack the CA Final. This makes the total course duration of 4.5 years after 10+2.
CA career path is highly challenging and so its success rate remains low at around 5%.
Read Also : Points For CA Aspirants While CA Course Preparation
Online v/s Offline Preparation for CA
Many aspirants get confused when it comes to deciding a better option among the offline and online preparation for CA.
The coaching centres provide training & mentorship by experienced teaching staff and good study material. Online training platforms also offer qualitative as well as quantitative stuff for studies. However, when it comes to cost-effective preparation, online preparation is a good option, undoubtedly. Rest everything depends on your ability for grasping the teaching, some discerns better with in-class training while some learn better with online tutorials.
Apps, Websites and Study Material for Online Preparation
CA Study, Unacademy, EduRev, FinApp, CA CPT Preparation, ICAI's mobile app, Suphalaam, Youth4work's CA – CPT IPCC Final Exam Prep and CA preparation apps, are some of the excellent mobile apps exclusively for CA aspirants.
CA Study Web, CA Notes, SuperProfs and the official website of ICAI are some of the websites from where study material and notes for cracking CA course can be downloaded.
Career Prospects and Salary of CA
Chartered Accountants (CAs) has wide career prospect that ranges from cost auditor & statutory auditor to banker & tax auditor. Roles of CA in an organisation is inevitable, they are the crux of an organization's accounting.
The salary of a CA depends on the organisation you are working with and the position you have acquired. Well, the average starting salary package of a fresher CA is approx INR 6.5 lakhs.
Some Well-Known Indian Chartered Accountants
Chartered Accountancy is a competitive career progression which prepares candidates in dynamic & challenging work environment with practical training in all avenues of finance, accounting & taxation.
However, it can also be not denied that CA is one of the most esteemed and reputable professions. Some well-known Chartered Accountants in India are former ICAI President TN Manoharan, Naina Lal Kidwai, Kumar Mangalam Birla, Rakesh Jhunjhunwala, Union Minister Piyush Goyal, Suresh Prabhu and Radhe Shyam Agarwal.