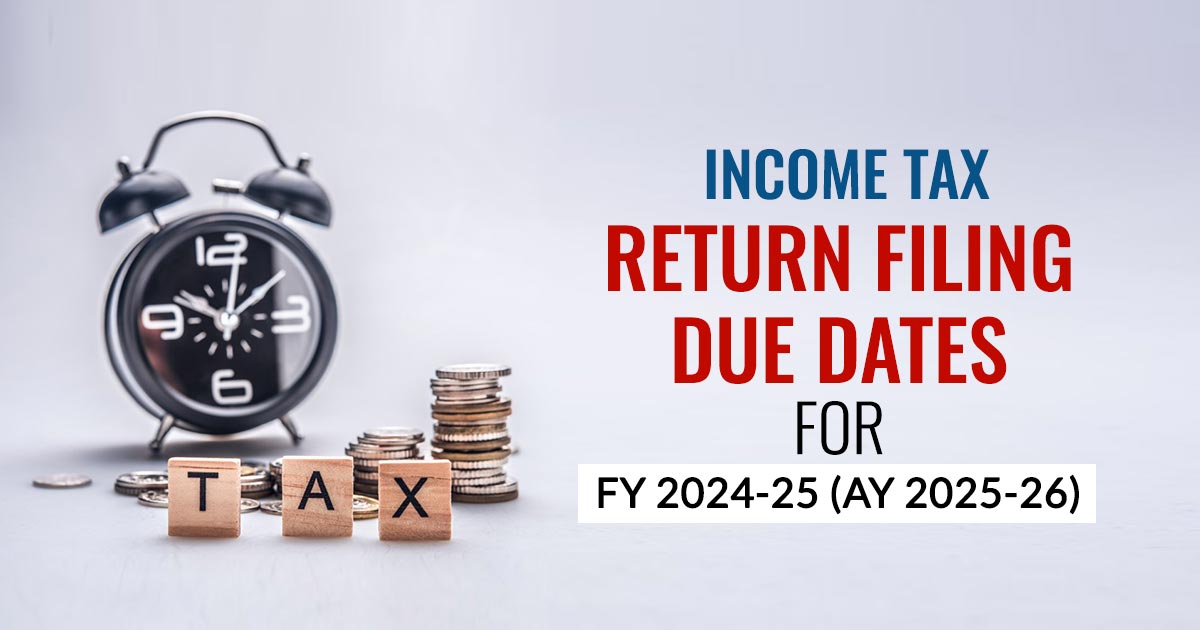 What is Income Tax?
Tax is a pivotal arm for good governance of a state or nation.
There are different types of taxes and they can all be categorized into two main groups i.e Direct tax and Indirect Tax.
A direct tax is levied on the income or profit of an individual. Income tax is an example of direct tax. Indirect tax is levied on goods and services.
Income tax due dates comes every year in March ending must be followed strictly for safeguarding financial interest.
A popular example in this regard would be the GST or the VAT.
Like all taxes, accrues from Income Tax also constitute a good portion of the country/state treasury. In addition to these Income Tax also acts as a fiscal deficit stabilizers as well as minimizing impact of Global Economic Cycles.
Types of Income Tax
Income Tax is further subdivided into many categories but there are three main categories of income tax based on the category of payee and time of payment.
These are:
1. TDS (Tax Deducted at Source)
2. Advance Tax
3. Self-Assessment Tax
1. Tax Deducted at Source (TDS)
TDS, as it is commonly known as Tax Deducted at Source . The tax is paid by a third person/corporation who/which happens to be the source of income for the taxpayer if the payment exceeds certain threshold limits at the rate prescribed by the government of India.
The other person/corporation must, however, abide by the prevalent IT laws. TDS is an ideal mechanism for the government to ensure timely Income Tax payment as well as curb tax evasion.
2. Advance Tax
Also referred to as 'pay as you earn Scheme in ' in contrast to the scheduled annual tax payment tax procedures, Advance Tax is paid on a Presumptive basis.
Taxpayers, Businesses, Salaried Individuals and freelancers with tax liabilities during the current financial year is greater than Rs 10,000 are needed to pay advance tax in four instalments throughout the financial year in which they earn income.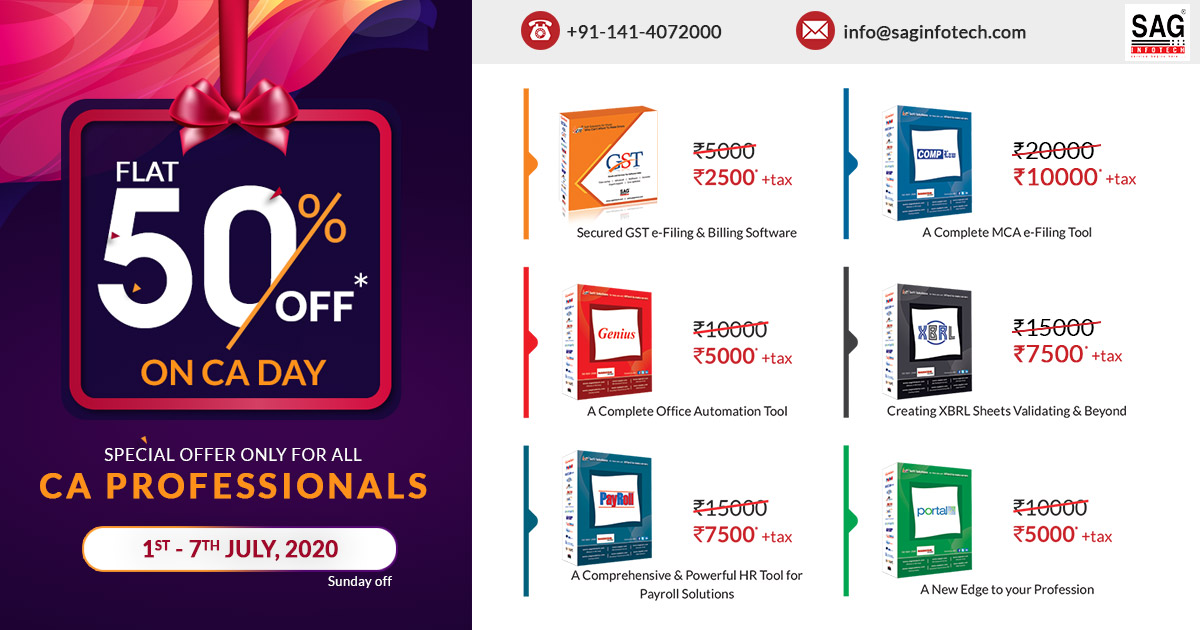 The taxpayers need to pay Advance Tax as per the following table:
Advance Taxes of Income Tax for FY 2019-20 (AY 2020-21)
Payment of Advance Tax: Self-employed and businessmen
| Due Date | Pay Advance Tax |
| --- | --- |
| On or Before 15th September | 30% |
| On or Before 15th December | 60% |
| On or Before 15th March | 100% |
Payment of Advance Tax: Companies
| Due Date | Pay Advance Tax |
| --- | --- |
| On or Before 15th June | 15% |
| On or Before 15th September | 45% |
| On or Before 15th December | 75% |
| On or Before 15th March | 100% |
Note : The Assessee who are covered under 44AD and 44ADA (i.e. Presumptive Income) are also required to pay Advance Tax on or before 15th March of the previous year. However, any tax paid till 31st March will be treated as Advance Tax.
Latest Update:– Income Tax Changes Due to Covid19

The govt has also extended the timeline to link the PAN and AADHAR card till 31st March 2021 due to the covid 19 pandemic in the country
The tax payment facility has been extended for the self assessment taxes concerned with the INR 1 lakh tax liability till 30th November 2020 due to the current situation in the country
"Tax Saving Investments/Payments for FY 2019-20 can be made upto 31st July, 2020.""
"ITR 1, 2 & 4 for AY 2020-21 is available for e-Filing. Other ITRs will be available shortly" | Download PDF Format of ITR 1, ITR 2, ITR 3″
All income-tax return for FY 2019-20 due dates is extended from 31st July, 2020 & 31st October, 2020 to the 30th November, 2020 and also the due dates of Tax audit from 30th September, 2020 to 31st October,2020."
Vivad se Vishwas Scheme Period for payments without an extra amount is now extended till 31st December, 2020.
The last date for income tax returns for Financial Year 2018-19 is extended from 31st March 2020 to 30th June 2020.
The last date of Aadhaar-PAN linking is to be extended from 31st March, 2020 to 30th June 2020.
Last dates for the issuance of the notice, notification, approval order, intimation, sanction order, filing of the appeal, furnishing of return, statements, applications, reports, any other documents as well as the time limit for completion of proceedings by the authority and any compliance by the taxpayer including investment in saving instruments or investments for rollover benefit of capital gains under the Income Tax Act, Prohibition of Benami Property Transaction Act, Wealth Tax Act, Black Money Act, CTT Law, STT law, Equalization Levy law, Vivad Se Vishwas law where the time limit is expiring between March 20th, 2020 to June 29th, 2020 will be stretched to 30th June 2020.
For any delay in payments of advanced tax, regular tax, equalization levy, self-assessment tax, TDS, TCS, STT, CTT made in between 20th March 2020 to 30th June 2020, a reduced interest rate at 9% instead of 12 % or 18 % per annum which is 0.75% per month instead of 1 or 1.5 percent per month will be charged for this period. There will be No late fee or penalty will be imposed for delay reported in this period.
All the Necessary legal circulars, notifications and legislative amendments for making it in effect to the aforesaid relief will be issued in due course.
3. Self-Assessment Tax
This is the balance or remaining tax paid by an individual or taxpayer after taking into account the TDS and Advance Tax.
What is meant by Assessment year and Financial Year?
Financial Year is the current working year in which an individual or corporation earns income. The Assessment Year is, on the other hand, the succeeding year in which evaluation of the previous year's income has to be made.
Assessment Year involves:
Income Evaluation.
Paying Taxes on the evaluated income as per the rate(progressive) and time ( regular or periodical or on an occasional) notified by the IT Department.
For FY 2019-20, the AY is 2020–21.
Due Date of filing of Income Tax Return for F.Y. 2019-20(A.Y. 2020-21) by assessee's whose accounts are not required to be audited is 31st July 2020.
Due date of filing of Income Tax Return for F.Y. 2019-20 (A.Y. 2020-21) by assessee's whose accounts are required to be audited is 30th September 2020.
Due date for all the categories of assesses in UTs of J&K and Ladakh who are required to file ITR and accounts not required to be audited is 31st July 2020 while for those whose accounts required to be audited is 30th September 2020.
Income Tax Returns (ITR)
ITR are forms that are mandatorily filled by individuals whose annual income greater than a pre-set threshold limit set by the Finance Department.
These forms provides the details of individual's gross income from various sources and the tax paid by the individual taxpayer on the gross income. It also provides the details of refund claims by the assesses as per the rules set by the Finance and IT Department.
In simple terms, ITR forms are taxpayers statement detailing his/her earnings Salary , interest, dividends, capital gains, or other profits, the total tax paid on earnings and the appropriate refunds to be repaid to him/her by the Government.

As per the Central Board of Direct Taxes, individual taxpayers need to file only 6 of the 9 ITR Forms.
These include:
The remaining three forms are to be filed by companies and firms alone:
Form ITR-1
Also known as the Sahaj Form, ITR-1 has to be filed by individual taxpayers alone. ITR-1 is filed by taxpayer's having income up to Rs 50,00,000 from below mentioned sources:-
If the source of Income is Salary or Pension .
If the source of income is from one housing property(the case where losses of previous years are carried forward are not included in this ITR).
Individuals with income sources like fixed Deposits, Investments, Shares etc
ITR-1 can not be filed if taxpayer is a joint owner in House Property.
Individuals whose net agriculture income is less than Rs 5,000.
Income from other sources (excluding winning from lottery and income from race horses, income tax under section 115BBDA or Income of nature referred to in section 115BBE)
If the clubbed income of minor or wife is shown, then ITR-1 can be filed only in case their source of income as mentioned in the above points.
ITR-1 is not valid for assessee who has deposited more than Rs 1 Crore in Bank Account or has incurred Rs 2 Lakh/ Rs 1 Lakh in foreign travel/ electricity expenses.
Form ITR-2
This form was introduced during the assessment year 2015-16 for use by Hindu Undivided Family (HUF) or any individual. The following individuals/taxpayers can file ITR-2 Form.
Those individuals who is not eligible to file ITR-1 and
Those taxpayer having no income under the head "profits or gains of business or profession".
Form ITR-3
ITR 3 Form is for use by a Hindu Undivided Family or an individual
Who claims income under the head "profits or gains of business or profession"
Who work as a partner in a firm.
claims income under the head "profits or gains of business or profession".
Who has presumptive income of greater than Rs 50,00,000
Form ITR-4
Also known as Sugam, ITR 4 Form is for use by HUF/ individual / Partnership Firm whose total income consist of :-
Business income evaluated in reference with special provisions mentioned in section 44AD and section 44AE of the Act for computation of business income; or
Professional income evaluated in reference to special provisions of sections 44ADA; or
ITR-4 can not be filed if taxpayer is a joint owner in House Property.
Salary/ Pension; or
Income from One House Property (excluding cases where a loss is brought forward from previous years); or
Income from other sources (excluding windfalls like lotteries or horse racing)
Form ITR-5
ITR-5 is for firms, LLPs, AOPs (Association of persons) and BOIs (Body of Individuals). Further, it is also meant for an artificial juridical person referred to in section 2(31)(vii), cooperative society and local authority.
Form ITR-6
ITR 6 can be used by companies not claiming exemption on income from property held for charitable or religious purposes under section 11.
Form ITR-7
ITR 7 Form can be used by persons as well as companies which are required to furnish return under:
section 139(4A) or
section 139(4B) or
section 139(4C) or
section 139(4D) or
section 139(4E) or
section 139(4F).
Important Income Tax Return Filing Due Dates for FY 2019-20 (AY 2020-21)
The income tax due dates for the F.Y. 2019-20 (A.Y. 2020-21) for all the categories of taxpayers are specified below:
| Particulars AY: 2020-21 | Due Date |
| --- | --- |
| Individuals, HUF, BOI, AOP (Income Tax Return by Assesse whose Books of Account are not required to be audited) | 31st July 2019 |
| Filing ITR Due Date for (Assessee who are required to furnish report under sec 92E) | 30th November 2020 |
| Due date of filing the Income Tax Return by businesses whose Books of Account are require to be audit | 30th September 2020 |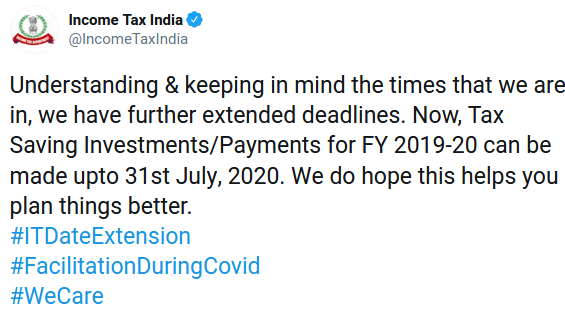 Note : "Understanding & keeping in mind the times that we are in, we have further extended deadlines. Now, filing of original as well as revised ITRs for FY 2018-19 is extended to 31st July, 2020."
As per the section 234F of the Income Tax Act, 1961, the taxpayer must pay penalty for delay in filing of ITR .
-> Rebate
The Interim Budget for F.Y. 2019-20 has introduced full tax rebates under section 87A for individuals earning net taxable income up to Rs 5Lakh which means that maximum rebate allowed under section 87A is 12,500. However, if the individual earns more than Rs 5 Lakh as net taxable income then no rebate will be allowed.
-> Late Fee
If the taxpayer does not file income tax return before 31st July 2020 or 30th September 2020 or 30th November 2020 as the case may be then he/she has to pay a late filing fee under section 234F. This late fee is chargeable ahead of furnishing Income Tax return.
The income tax department notified the taxpayers for late filing of tax returns for A.Y. 2020-21, along with a penalty of INR 5000 (on filing the return after the due date but on or before 31st December) and INR 10,000 (on the filing of return after 31st December to 31st March). The taxpayer has to file the late filing of tax returns for A.Y. 2020-21 before 31st March anyhow. Also to note that the penalty is applicable even if the taxpayer files the returns before 31st March while there is no option to file the returns after 31st March 2020.However, if taxpayer's total income does not exceed Rs 5 lakh, then the maximum penalty levied for delay will not exceed Rs 1000.

-> Limit In Donations
Previously, cash donations of up to Rs. 10,000 was permitted in terms of deduction.
-> Section 194-IB For HUF and Individuals Paying Rent Exceeding Rs 50,000 a Month
HUF and Individuals who pay Rs. 50,000 and more in rent per month, 5% TDS will be deducted on such rent amount.
-> Cess
Government charges 4% Health and Education Cess on the direct income tax liability of individuals
-> Income from Salaries
From the salaried income, a standard deduction at a fixed price of Rs. 50,000 for reimbursement and Transport of various medical spendings will be permitted. This deduction is also exercisable to Pensioners who presently do not obtain those benefits.
Moreover, the medical reimbursement advantages in hospitalization case will be available along with the standard deduction as mentioned above.
Watch The Complete Demo For ITR Filing By GEN IT Software