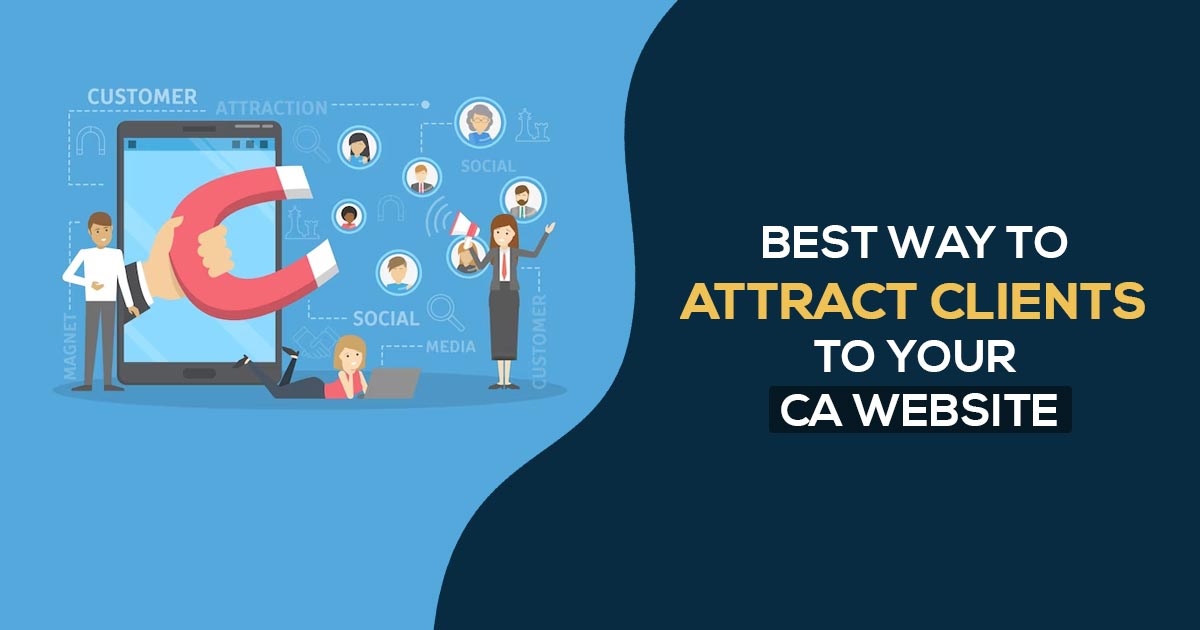 In the current digital era, having a good online presence is crucial for both professionals and enterprises. A professionally made and informational website may help a chartered accountant greatly with client addition and business expansion. Your website acts as a digital showroom where potential customers may view your knowledge and services.
In this blog article, we go a step ahead and explain the next step in the tried and tested approach To Attract Client Through Your Chartered Accountant Website Blogging remains a major customer attractor for major web services and Chartered Accountant Website is not an exception to it.
The Institute of Chartered Accountants of India (ICAI) places restrictions on the use of logos and advertising by chartered accountants in the competitive environment. This reduces the potential for Chartered Accountants to get customers and so expand their consulting practice. To market their services, they must mostly rely on relationships and referrals.
It goes without saying that a Chartered Accountant's professional reputation is frequently assessed and measured by the number of customers he or she serves. Even if becoming a chartered accountant is a well-paying profession, there are many other factors that must be taken care of in order to attract more clients, particularly those who are eager to hire chartered accountants and even willing to pay much.
First and foremost, CAs need to acknowledge that many businesses and individuals are looking for chartered accountants online in this day and age, which indicates that CA professionals need to improve their online presence. However, as a code of conduct, CAs are often forbidden from promoting their skills and even customers, which makes it significantly more difficult for them to attract a respectable clientele through online means.
The Internet was and remains a vast pool of opportunities for amateurs and experts alike. You can hire our CA website design services and choose from a comprehensive option of Responsive Website templates catering to all your professional and business needs.
Owning a website is easy and cost-friendly. Some companies offer website development and maintenance packages at a minimal cost. It serves as your official internet address as well as helps in brand promotion and increasing clientele.
An accounting website is a cost-effective and easy way to reach out to and connect with potential customers. The key to creating a successful accounting website that serves as a marketing tool is to create a loyal reader base. This necessity of good quality content. A blog must provide readers with something of value and a clear call to action. The blog post must be regular and updated. Not sure how to make those things happen?
Here we explain some of the much-practised marketing tactics employed by a wide spectrum of online service providers to attract customers. We have ensured that the points listed below apply to the promotional strategies and services needs of a Chartered Accountant website.
Let's start with those significant points which come first in the books of marketing professional websites and how to get more accounting clients with a Website:
Chartered Accountants Code of Conduct
CA Professional Improprieties
If a chartered accountant who is currently practising engages in any of the following then he shall be considered guilty under Clause (6), Part-I of the First Schedule to the Chartered Accountants Act, 1949
Seeks customers or professionals work directly or indirectly through a letter, an advertisement, a personal message, an interview, or any other method
Have any professional business via his employee or a person who is not his partner or through the mode that does not open to a chartered accountant
Promotes his professional services,
Utlises any designation or expressions excluding chartered accountant on professional documents, visiting cards, letterheads, or sign boards. Unless the:
From a University established by law in India or accredited by the Central Government the underlying document is a degree.
The title shows the membership of ICAI or of any other institution that has been acknowledged via the Central Government or may be accredited by the Council.
Some CA Exceptions
There are some exceptions to the aforesaid rules. Below mentioned are the activities which a CA might perform.
From time to time, a member may react to tenders or queries made by various users of professional services or organizations. This will help him find a professional job.
He can advertise:
Amendment in partnerships or dissolution of a firm
any revision in the address of the practice and telephone numbers
As long as the advertisement is restricted to a simple factual statement. Furthermore, the Chartered Accountant must place such an advertisement in a local newspaper or magazine. In addition, the appropriate number of insertions must be provided.
A member is also permitted to provide a classified advertisement in the institute's journal or newspaper. Providing that such a commercial provides details for:
sharing professional work on an assignment grounds
Soliciting professional work on partnership grounds
salaried employment for the accounting profession
In addition, such an advertisement should simply include the accountant's name, address, phone number, fax number, and email address.
How Accountants Can Attract Clients with Marketing Techniques
Although the ICAI restricts or forbids Chartered Accountants from soliciting customers through advertising, there are some marketing techniques they can use to ethically promote their business.
Make CA & Accounting Firm Website at Best Prices
#1. Make Your Own Website
The Chartered Accountants have the option of creating their own Website. It is subject to specific guidelines established by the Act.
Guidelines
Chartered Accountants are allowed to have a website on their trade or individual's name.
A website of this purpose must operate on a "pull" model rather than a "push" model.
It is strictly prohibited for Chartered Accountants to proactively circulate any information found on the website through their own email, or any other means. However, they may provide such information when requested by a prospect (i.e., in response to a pull request).
Additionally, Chartered Accountants are not allowed to issue any circulars, advertisements, or promotional materials that encourage people to visit their website.
The use of logos on the website is also prohibited, but passport-size photographs may be used.
Chartered Accountants have the freedom to publish articles, professional information, updates, and other matters of professional interest.
Furthermore, they are permitted to offer online advice to clients who specifically request it, either free of charge or for a fee.
Listing on a suitable search engine is allowed for Chartered Accountants.
They may also avail themselves of listings provided by Chartered Accountants Societies or other reputable bodies. Listings offered by relevant or professional entities, associations, or Chambers of Commerce to their member Chartered Accountants are also allowed.
It is not allowed to place a banner in order to display any advertisement on the website.
You can consult the Code of Ethics for CAs document here to learn the full set of rules for running a website for chartered accountants.
In order to advertise their services, chartered accountants can either build their own websites or sign up for specific listings provided by professional organizations. By offering online advice to clients, they may assist them and develop a reputation as skilled professionals.
#2. Submit Your name or Business Name Listed in the Publication
The following actions are not permissible for a Chartered Accountant to get his name or business name listed in a telephone directory:
Creating a special request or
Standards of an additional payment.
Additionally, the Council has contested the inclusion of such listings in telephone/trade directories published by government and non-government organizations. However, it has been determined to allow chartered accountants, under certain conditions, to have their name or business name listed in telephone or other directories issued by telephone authorities or private bodies.
Guidelines
In the section or category of "Chartered Accountants, " the entry must appear.
The accountant or firm must be from the town or city for which the directory is being published.
The entry should be created using standard lettering. Therefore, it is prohibited to enter information in bold type, unusual letter, or a box.
The order of the entries should be alphabetical and logical.
The entry should appear to be publicity or advertisement. Additionally, the entry shouldn't stand out much from the rest.
No exorbitant amount should be charged for admittance.
Entries shouldn't be limited to a certain group of chartered accountants. In actuality, they ought to be accessible to all CAs or firms of CAs in the specific town or city for which the directory is produced.
The names of the CAs could indeed include in the trade directories published or otherwise available.
#3. Requesting the Referral of Another CA in Practice
A Chartered Accountant can have the professional work from another Chartered Accountant in practice under proviso (ii) of Clause (6), Part-I of the First Schedule to the Act.
As stated at the start of this article, it is illegal for a Chartered Accountant to recruit customers by advertisement, circular, personal correspondence, interview, or any other methods.
But, as a Chartered Accountant, you may place a classified advertisement in the Institute's Journal/Newsletter. Such an advertisement should include the following information:
On an assignment basis sharing professional work
Soliciting professional work on a partnership basis
Salaried employment for the accounting profession
The same advertisement must comprise only the accountant's name, address, telephone, fax number, and email address.
#4. Contribute Blog Posts on Various Professional CA Platforms
Many individuals have used search engines to find information on issues such as accounting, taxation, law and order, and so on.
These individuals are either small company owners, professionals, interns, or accounting students who have had difficulties in filing tax returns, preparing financial statements, complying with tax rules, and so on.
By generating and sharing effective content, Chartered Accountants have a tremendous chance to assist such people in overcoming their challenges.
They can create their own blog or contribute information to numerous online platforms or forums designed exclusively for chartered accountants. A well-crafted piece of content aids in engaging the target audience and capturing the reader's attention.
Additionally, producing quality information regularly contributes to the development of trust. The target audience may greatly benefit from such quality information by using it to solve their professional and business difficulties.
Additionally, as a result of obtaining frequent guidance through the blog entries you as a Chartered Accountant offer, such readers may develop into future clients.
#5. Invite you to Conferences and Public Speaking Engagements
Conferences and public speaking events would be the best opportunity for Chartered Accountants to create an interactive dialogue within the local accounting fraternity and other stakeholders.
At such events, recognized accounting and auditing specialists from national and international authorities participate. Therefore, these venues are suitable for Chartered Accountants to exchange ideas and display their abilities and skills in the workplace.
However, while giving lectures or sharing specialized information on these platforms, accountants should avoid mentioning the name, location, or services of their accounting business. Anything they say or write must not be self- or company-promotional. Instead, it must be an impartial expert opinion on the subject at hand.
All throughout the year, ICAI hosts conferences and seminars where professionals in the field of accounting may network and share ideas. Visit icai.org to learn about the most recent events.
#6. Get Started on Your Career as a Network of CA Affiliate
Chartered Accountants or accounting firms can join the ICAI-approved Networks of Accounting firms. Accounting firms create these networks to improve their capacity to deliver professional services.
Furthermore, the goal of forming such networks is to employ the affiliates' aggregate resources, such as labour, infrastructure, and so on, to provide professional services. Although the accounting businesses' unique identities are preserved.
Advantages
Below specified are the advantages of an affiliate of a network of Chartered accountants-
Access to additional affiliates of the Formal Network, both national and international
Ability to service clients in various locations all over the country via a single firm
Access to shared knowledge and expertise across the network
Standard operating procedures for all areas of work including client management, client servicing, communication, and overall accounting firm management
Ability to offer clients specialist guidance through local experts all over the country and across industries.
Examples of local networks consist of Bagtach, ASA & Associates LLP, Chartered Accountant India, etc. You can even become an associate of the International Network of Accountants. Nexia International, MGI Worldwide, SGA World, etc.
Read Also: Best Prices for a CA Firm Website Development Company
#7. Set up Social Media Profiles
Social media is a useful tool for reaching the intended audience. It promotes community interaction, networking, and the exchange of useful knowledge and updates, which helps to spread new concepts and build trustworthy bonds.
Chartered Accountants may also make use of these platforms by producing interesting material that attracts their target audience. They must set up clear accounts on social media sites like LinkedIn for this.
Chartered Accountants may expand their network by connecting with tax experts and other CAs on LinkedIn, a professional network. Additionally, they may regularly provide updates and articles about accounting, tax, and other related topics.
They may also remark on and share posts updated by their contacts in order to interact with them. A constant effort like this would aid CAs in exhibiting their knowledge and making people aware of their existence.
In addition, such community involvement may lead to career chances in the near future.
8. Participate in Social Media Groups Across Different Platforms
There are several groups for chartered accountants on social networking sites like Facebook and LinkedIn. Both open and closed groups exist here. Sending a request is not necessary for open groups. On the other hand, in order to join closed groups, you must submit a request.
Communities of Chartered Accountants and students enrolled in Chartered Accountancy programs make up these organizations. These online groups exchange knowledge on tax and accounting rules as well as advice for students enrolled in CA courses.
Chartered Accountants have a fantastic chance to display their expertise and skill in this situation. The participants can participate in discussions about auditing, accounting, tax, and legal-related subjects and assist other group members in finding answers to their questions.
Even while member CAs aren't allowed to advertise their accounting services in these communities, they may nevertheless gain the respect of other members by regularly giving updates and information. Such an action would assist CAs in receiving referral work from other CAs who are a part of the group in the near future.
Conclusion
A well-designed and optimized website is an essential tool for obtaining clients as a chartered accountant in today's competitive industry. You can build a website that attracts potential customers and distinguishes you from the competition by putting an emphasis on professional design, a clear message, demonstrating competence, utilizing testimonials, optimizing for search engines, and providing helpful material. Keep in mind that in the digital era, a fascinating website might be the key to boosting your clientele and your practice.
This will open the advantage of getting in direct contact with a potential customer. We hope that this blog will be a helpful guide to Attracting Client Through Your Chartered Accountant Website. For more on this and to choose from a wide template for CA Website Design please visit CA Portal.