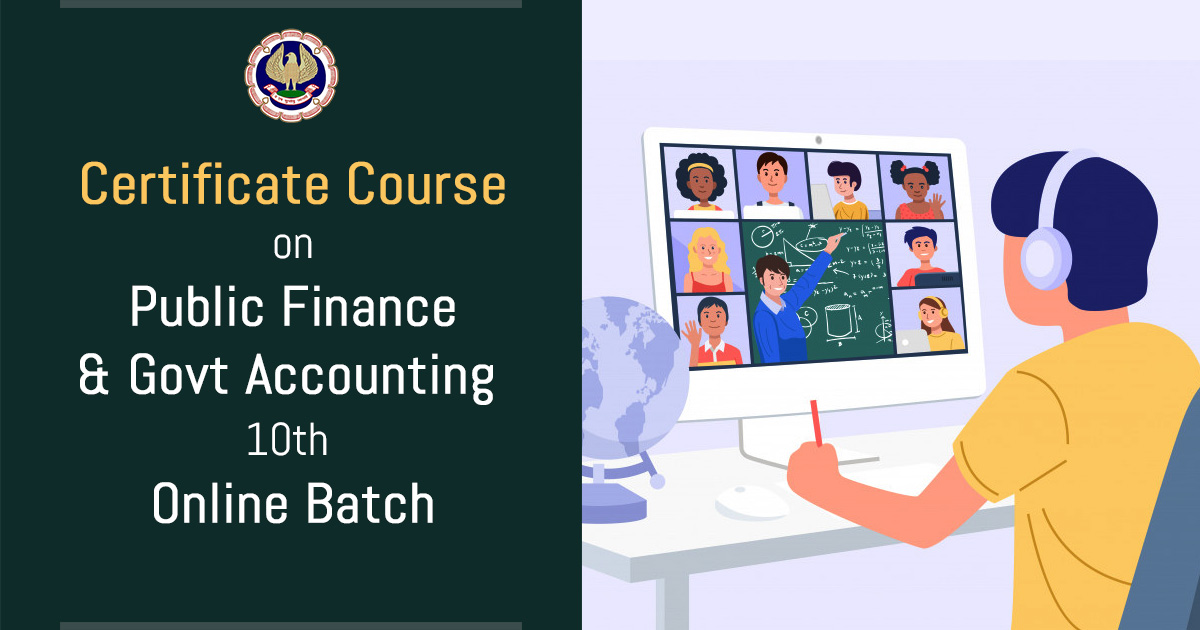 The society delighted to direct that the 10th online batch of Certificate Course on Public Finance & Government Accounting upon the Public & Government Financial Management of ICAI which is going to start from 14th March 2021 (on weekends only-Saturday & Sunday)
Timeing: 4:00 PM TO 7:00 PM
Day/Date
Modules
Topics
Sunday 14/03/2021
Module 1
Public Finance
Saturday 20/03/2021
Module 2
Public Revenue & Taxation
Sunday 21/032021
Module 3
Public Debt
Saturday & Sunday3/04/2021 & 4/04/2021
Module 4
Public Expenditure
Saturday10/04/2021
Module 5
Government Accounting
Sunday11/04/2021
Module 6
Accounting Rules, Process, in general & at specific Ministries
Saturday17/04/2021
Module 7
Union Accounts
Sunday 18/04/202
Module 8
State Accounts
Saturday 24/04/2021
Module 9
Accounting/Auditing of Constitutional, Statutory, Autonomous and Regulatory Bodies
Saturday & Sunday
1/05/2021 & 2/05/2021
Module 10
Internal Control and Risk Management
Saturday
8/05/2021
Module 11
Accounting in Local Bodies (Both Urban and Rural)
Sunday 09/05/2021
Module 12
Professional Opportunities for Chartered Accountants in Government Accounting
Other details are given below
According to the plan which is stated as under.
Very few seats are open. Enrollment on the first-come and first serve basis.
The curious people can enroll themselves towards the 10th batch by making the online payment of Rs. 5,900/- [Rs. 5,000/- (Course fee) + Rs. 900/- (18% GST)] on the link given above. Registration will be on a 'first-come, first-serve basis".
If in case the refund or admission cancellation request has been taken through the member for any cause then the prior start of the online certificate course, 10% of gross fee paid inclusive of GST will be deducted according to the standards of ICAI. there is no refund request which will be entertained post start of the batch.
For the event, the batch has been canceled through the committee because of the unavoidable situations, full fees will be paid to the member through the committee.
Other information of the course is hosted on the mentioned links:
Regarding the Course: https://resource.cdn.icai.org/62965cpgfm50919about-course.pdf
Concerning Course Curriculum: https://resource.cdn.icai.org/62964cpgfm50919cc.pdf
For more details, you can contact the Secretariat of the Committee via email at cpf_ga@icai.in with relevant to the subject.
Read More official Announcement : Click here