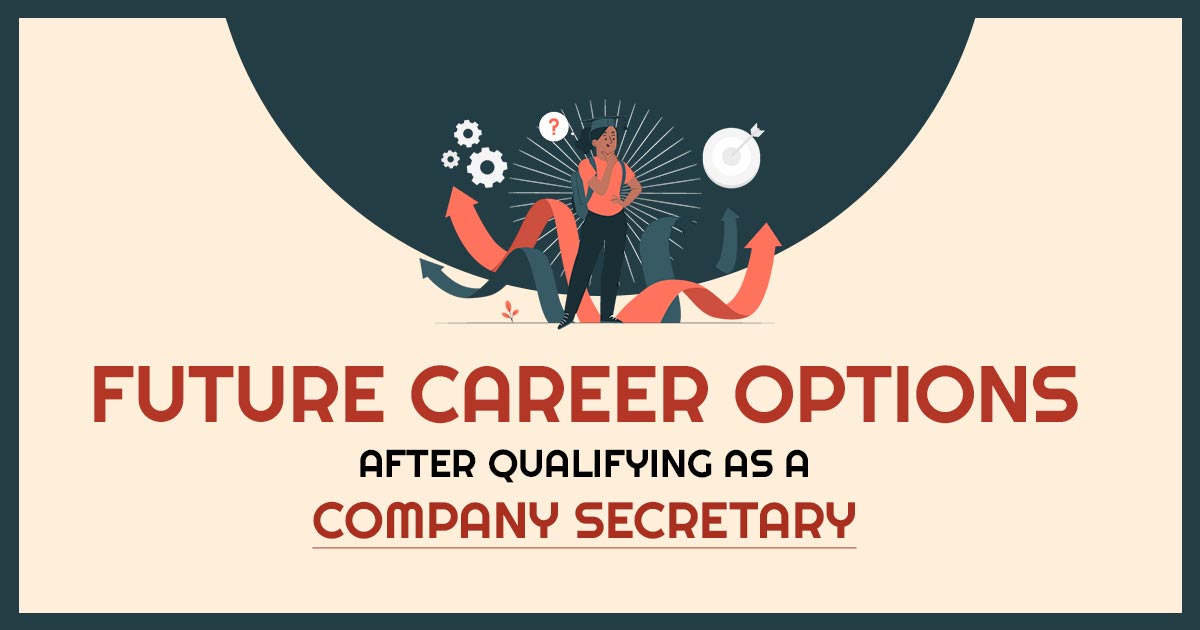 The demand for corporate holders is increasing day by day as there are multiple future possibilities for company secretary. The professionals are needed for serving the corporate industry and managing their internal curriculums.
As the top and higher department are busy in taking care of the working of the company, other upcoming challenges are handled by the company secretary.
Previously, the job role for CS suggests to do day to day task and render support to the top management and board of directors. Nowadays, CS also responsible for corporate governance, handling legal matters, ensuring compliance with securities standard (SA) and taking care of corporate social responsibility.
The CS plays a very important role in current generation in the lawful and smooth working of the corporate entity.
What Are The Career Option For Company Secretary?
Government sector
There are only countable governmental organizations who hire dynamic company secretaries in India. Here is the list of the firms:
Limitless governmental organizations are there in our country that takes in dynamic company secretaries. A few of those firms include:
Bharat Earth Movers Limited
State Infrastructure Development Corporation Limited
Neyveli Lignite Corporation Limited
Airport Authority of India
Cochin Shipyard Limited
Oil and Natural Gas Corporation Limited (ONGC)
Hindustan Insecticides Limited
MMTC Limited
IRCON Limited
JUIDCO Limited
ANTON Limited
KSRTC Limited
OIL India Limited
Banks:
Banks also hire company secretaries at high salary package. There are many opportunities for CS in banks if they have an experience of 3-4 years.
Private Sector
Private sector firms and organizations also hire company secretaries. As there is a requirement of various legalities in an engagement of diverse fields. All the legal responsibilities are handled by the company secretary. The corporate firms require advice from the CS as they have knowledge of all applicable laws. Therefore, we can justify the demand for the company secretary in private organizations are very high.
Outside India:
Company Secretary has wide scope in foreign as well. A few posts available for CS professionals comprise:
Trade bodies
Employer's cooperatives
Accountancy and solicitor firms
Investment Sectors
Bank and Building Societies
Read Also : 6 Important Factors to Building a Successful Company Secretary Career
What About Company Secretary Requirement?
According to the Companies Act, 2013, the company which has a paid-up share capital of Rs 5 crores or above requires a company secretary full-time. The ICSI controls the profession of company secretaries in India. Therefore, there are ample opportunities for CS across different sectors in the country.
As per the data unveiled by the ICSI, the demand for the CS professionals was anticipated to touch 50,000 by 2015. Here are the positive and negative aspects of the Company Secretary career:
Positive Aspects:
The market demand is on peak concerning the progress
There are various opportunities in this profession along with a handsome salary package
This is a reputed position and very popular among youngsters who wish to make a good remark in the corporate world
Negatives Aspects:
Outside India, this course is not that much popular
Being a highly reputed position and apparent enough, the continuous pressure to render good work is another hurdle for CS

Types of Job Responsibilities Perform By CS?
Help The Board Of Directors:
A CS not only deliver good services in his domain of secretary but also assist the board of directors in case of expert advice in many ways.
Chief Commanding Officer
In a role of the chief administrative officer, the CS has to note down the general conduct of legislative activities of the respective company. They handle all the legal and confidential information of the company.
Company Registrar
They play important role in a company's managerial bureaucracy operating in regard to the company registrar.
Corporate Policymaker
Company secretaries play a pivotal role in making the short and long-term corporate policies in the company. They also frequently advise the company board at the time of corporate policies are available for review.
Legal Advisor:
In a role of legal advisor, they have to provide support to the company in legal documents. They also render that companies to well-versed with the bureaucratic and lawful directives, corporate laws and security of the company.
Corporate Planner
Concerning responsibilities, company secretaries as well regulate the expansion opportunities of the company. Further, they also pay heed to the consolidations, amalgamation, joint ventures, collaborations and takeovers in India and outside.
Principal Secretary
They have to regulate all features of corporate meetings whether it is annual general meetings, board meetings, meetings with government, private delegations and interplay with important clients and vendors. They also have to consider and manage the clients and corporate events.
How Much A CS Make?
A CS can start their jobs as Junior Secretarial Officer and proceed to a higher position, it all depends on the dedication and efforts put by a person as company secretary. A CS can start his career with a salary of Rs 25, 000 to Rs 28, 000 per month. Although, for an average and below average person, remuneration of Rs. 15000-18000 is significantly confirmed. With the skills and hard work, the CS can grow the salary to a higher level.
New Generation Business Idea
A Company Secretary can also try to expand its client base through an online platform. Nowadays a website or an online platform is considered to be very important and in line with the current generation business structuring. Having an online platform or website for company secretary will help its career to grow manifold as it will boost the client base through the advantages of online databases and a vast number of search queries gathered through the data feedback forms and promotions methods.
So to counter the client expansion goals, a company secretary can also go for an online platform or a website to promote its professionals at various paradigms of the online world.