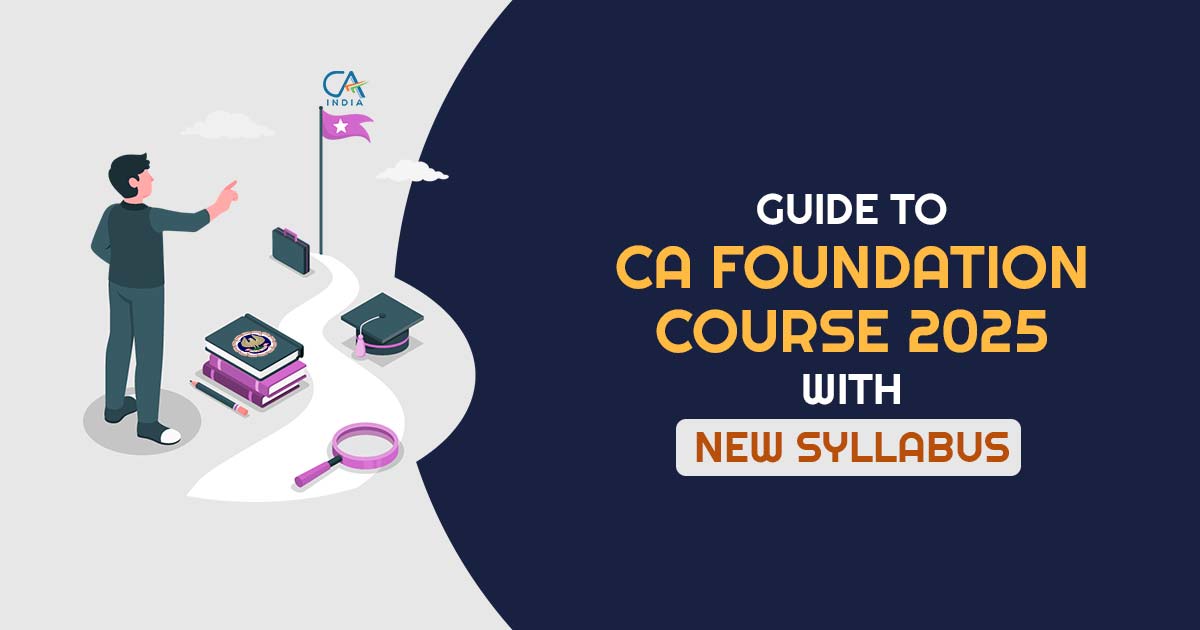 The direction in a career track that provides extensively rewarding and exciting career possibilities pursuing a CA post to graduation would be a major goal for years. While CA Foundation Test has been selected by students who want to continue their careers in the domain of Economics, Finance, Law, and Accounts Chartered Accountants enhance the individual's knowledge of Auditing and Taxation, Cost Accounting, Budgeting, Consulting, and Financial Management in terms of an organization.
So, you should have the ardour to maintain a pivotal designation across a highly gratifying area of Accountancy, and then studying CA is the most suitable option. It is included amongst the hardest exams across the globe. Through this blog, we would talk about the details of the CA foundation exam, and course along with the dates relating to it.
CA Foundation exam replaced the CA-CPT exam and now is conducted by the Institute of Chartered Accountants of India (ICAI) twice a year it is an entry-level exam for students who want to make a career in Chartered Accountancy. The CA Foundation is the first stage to become a Chartered Accountant (CA) after it you also have to clear, Intermediate, and Final stages. Students need to clear all three stages to become a CA.
To appear in the CA Foundation December 2022 and May 2023 exams candidates have to register with ICAI online.
Here you will get everything you should know about the CA Foundation 2022.
Basic Details of CA Foundation 2022
Here are the basic details of the CA Foundation 2022 exam
| | |
| --- | --- |
| Exam Name | CA Foundation 2022 |
| Conducting Body | Institute Of Chartered Accountant of India (ICAI) |
| Level of Exam | National Level |
| Frequency of Exam | December 2022 / May 2023 |
| Mode Of Exam | Offline (Pen and Paper Based) |
| Mode OfRegistration | Online |
| Number Of Papers | 4 |
| Medium of Exam | English/ Hindi(English compulsory for Section B of Paper 2) |
| Basic Eligibility | Passed Class 12 or Appearing for Class 12 in Current Year |
| Exemptions | Graduates and Post Graduates or Candidates with Equivalent Qualification |
| CA Foundation Total Fees 2021 | Rs 11,300 (registration fees, examination fees, and others) |
| Official Website | icai.org |
CA, CS Lawyer & Accounting Websites for Your Firm
ICAI: Important Announcement for December 2022 Foundation Examination
14th, 16th, 18th & 20th December 2022
Read more Official Announcement: Click here
Here is the updated schedule for CA Foundation 2022-23.
CA Foundation 2023 Dates
| | |
| --- | --- |
| Event | Date |
| Starting of Application Process | May 2023 / December 2023 |
| Last Date to Apply without Late Fee | May 2023 – 1st January 2023 | December 2023 – 1st July 2023 |
| Application correction window (Change exam city) | – |
| Last Date to Apply with Late Fee | – |
| Release of Admit card | December 2022 – Releasing soon |
| CA Foundation Exam | May 2023 |
| CA Foundation Result | To be Announced |
Online Exam Forms Foundation – December 2022
| Details | Start Date |
| --- | --- |
| Last Date for Online Submission of form without late fee | 14th September 2022 |
| Last Date for Online Submission of form with late fee | 4th October 2022 |
Submit The Online filling up of Examination Application Forms for the December 2022 session: https://icaiexam.icai.org/
CA Foundation Registration 2022-23
CA Foundation Eligibility Criteria for Registration in 2022-23
The government of India has approved the institute to amend the regulations 25E, 25F & 28F of Chartered Accountants Regulations, 1988 which now enables the candidate to provisionally enrol in the foundation course of ICAI post to passing class X examinations.
Hence you need to fulfil the below-mentioned criteria to enrol yourself in the Foundation Course of ICAI. the same implied that you would be qualified for admission in ICAI Foundation Course if you have satisfied the following CA Foundation eligibility criteria for 2023:
Provisional Registration:
You are qualified for the admission in CA foundation course post to passing the secondary school examination (Class X) or matriculation exams or Madhyamik Pariksha driven by an examining body constituted by law in India.
Additionally, an examination acknowledged by the Central Government (CG) or the State Government (SG) is identical to the 10th Class examination for the purpose of admission to Higher Secondary Education or HSC.
Regular Registration:
If you would pass the class XII examination then you would be qualified to obtain the enrolled ICAI towards the CA foundation course as a regular candidate. You would be appearing in the CA foundation examination post to appear in the Class XII examination.
Note: below are the list of all the examination which are equal to the 10+2 class exams.
The graduate students would be qualified for direct admission to the CA Intermediate course i.e. they have the privileged of passing the CA Foundation examination.
Registration Dates of CA Foundation 2022-23
| | |
| --- | --- |
| Registration May 2023 | 1st January 2023* |
| Registration December 2023 | 2nd January 2023* |
Steps In CA Foundation Course
To clear the CA Foundation candidates have to go through 5 steps
1st Step: Pass 10+2 and then register with the Board of Studies (BOS). Do registration by December 31 for CA Foundation May Session and by June 30 for the November session.
2nd Step: Finish the four-month study period for CA Foundation
3rd Step: Apply for CA Foundation as per the schedule.
4th Step: Appear for the Foundation examination in November/ May.
5th Step: Qualify Foundation Course and then register for the Intermediate Course.
Eligibility Criteria
Candidates have to fulfil the eligibility criteria to appear in the CA foundation exams, here are they
The candidate must have cleared or appeared in this year in Class 12 or any equivalent examination carried out by a recognized board.
Must have registered for the CA Foundation in any secession as per the schedule.
After the registration candidate has gone through a minimum of 4 months of study period before appearing for the exam.
The Registration Process for CA Foundation 2022-23
The registration process is online, and one-time successful registration will be valid for three years. The candidate can apply and appear for a maximum of six attempts.
How to fill CA foundation Exam form December 2022 – New Process
Step by step guidelines with full process
To fill out the form one has to visit https://eservices.icai.org and then click the self-service portal. Under which one has to fill in the password and login details.
One has to click the SSP portal login and then the dashboard will show the register for exam button on the exam function.
And then click on the foundation exam form, then there will be pop-up of foundation guidelines that one has to accept at the end.
You can also check student details and photographs/signatures. One needs to update the photo and signature first then only one can fill out the exam form. Click next.
After which there is a declaration form and click the I agree with box.
After which click next and there will be a payment gateway window where one needs to pay INR 1500.
After paying the exam fees, one can also download the exam receipt by clicking on the side button.
| | |
| --- | --- |
| CA Foundation Online Application Website link | Click Here |
| CA Foundation Online Registration link | Click Here |
CA Foundation Registration Fee
Registration is open throughout the year, and the candidate can register with BOS, here is the fee detail for registration.
| | | |
| --- | --- | --- |
| Details of Fee | For Indian Nationals (Rs) | For Foreign Students (USD) |
| Cost of Foundation Prospectus | 200 | 20 |
| Foundation Registration Fee | 9000 | 700 |
| Subscription for student's Journal (For One Year ) (Optional) | 200 | 20 |
| Subscription for member's Journal (For One Year ) (Optional) | 400 | 40 |
| Total | 9800 | 780 |
CA Foundation Application Fee
CA Foundation exam is conducted in May or November every year and application windows gets open for a time period. The Application fee details are provided below.
| | |
| --- | --- |
| Exam Centre | Application Fee |
| For Indian Centres | Rs. 1500/- |
| For Katmandu (Nepal) Centre | Rs. 2200/- |
| For Overseas Centres (Abu Dhabi, Doha, Dubai, Muscat) | US$ 325 |
CA Foundation Exam Pattern
There is a set of 4 papers.
Paper 1 & Paper 2 will have subjective type questions.
Paper 3 & Paper 4 will have objective type questions.
Each paper will carry 100 marks.
The maximum Time duration will be 3 hours.
There will be no negative marking in Paper 1 & Paper 2.
Paper 3 and paper 4 will have a negative marking scheme. 1/4th of the marks will be subtracted for each wrong answer.
Candidates have to get a minimum of 40% marks in each paper and a minimum of 50% marks in aggregate in all papers to pass the CA Foundation exam.
Exams will be conducted through Offline Mode.
Papers will be available in Hindi and English but Section B of Paper 2will be conducted in English Medium only.

CA Foundation Syllabus 2022-23
The official CA Foundation Syllabus has now been declared by the Institute of Chartered Accountants of India (ICAI). The same is now available here. Candidates who are going to attend the CA Foundation exam this year can check the full exam syllabus here and download CA Foundation Syllabus PDF for future reference.
There will be a total of 4 papers in the CA Foundation exam, and each paper will have a time duration of 3 hours. Those who are going to participate in the Foundation exam this year must have a clear understanding of the exam syllabus and papers so as to prepare well for the exam. In addition to the CA Foundation Syllabus, you can also find here CA Foundation Exam Pattern to know what subjects are there in the exam and what type of questions will be asked. In this article, you can find complete details about the upcoming CA Foundation Exam Syllabus and Pattern as well as download the CA Foundation Syllabus PDF here.
CA Foundation Papers
Paper
Subjects
Sections
Paper 1
Principles and Practice of Accounting (100 Marks)


Paper 2

Business Laws and Business Correspondence and Reporting
Part A : Business Laws (60 Marks)
Part B : Business Correspondence and Reporting (40 Marks)

Paper 3
Business Mathematics and Logical Reasoning and Statistics
Part A: Business Mathematics (40 Marks)
Part B: Logical Reasoning(20 Marks)
Part C: Statistics (40 Marks)
Paper 4
Business Economics and Business and Commercial Knowledge
Part A : Business Economics (60 Marks)
Part B : Business and Commercial Knowledge (40 Marks)
Dates and Timings of the FOUNDATION EXAMINATION :

CA Foundation Admit Card
The admit card release date is not in the updated dates but we know that CA Foundation Admit Card will be available online on the official website. Candidates who have completed the Registration process, filled out and submitted the application, and completed the payment process in due time will get the admit card.
All the candidates can download admit cards from the official website by using their registration number and password. They also have to carry the same at the examination centre.
CA Foundation 2022 Result
The Result will be also released on the official website. After appearing in the exam candidates will receive the result releasing date through SMS or Email.
Just like admit cards, Candidates can access and download their results by using the registration number and password on the official website. ICAI will also release a CA Foundation Merit List which will consist of details of the top 50 qualified candidates for the CA Foundation exam.
Check out all the relevant FAQs based on commonly asked queries CA Foundation – New Entry Scheme.
Read more official FAQs by the ICAI website: Click here
Frequently Asked Questions (FAQs) regarding the CA Foundation Course's
Q1. What is the CA Foundation exam?
Ans: CA Foundation exam is the first stage or the entry-level exam to become a Chartered Accountant. It is conducted by ICAI, This is the first step after passing Class 12 to become a Chartered Accountant. However, candidates also have to qualify for the Intermediate, and Final stage after this.
Q2. Is CA Foundation Easy?
Ans: CA Foundation replaced CA CPT exam and it is an exam of higher difficulty level compared to CA CPT. Very few candidates qualify for this exam.
Q3. Who is Eligible for CA Foundation?
Ans. Eligibility criteria are engraved above however the main points are, only 12th Pass candidates are eligible for this exam, but Graduates, Post-Graduates, and other equivalent qualifications can't apply for the exam.
Q4. What are the covered subjects in CA Foundation Exam?
Ans: CA Foundation papers cover the following subjects:
Principles and Practices of Accounting.
Business Laws and Business Correspondence and Reporting.
Business Mathematics and Logical Reasoning & Statistics.
Business Economics & Business and Commercial Knowledge.
Q5. Is the calculator allowed in CA Exam?
Ans: Yes, but only a normal one. A scientific calculator or calculator with more than 6 functions, 12 digits, and/or having 2 memories are not allowed during the exam.