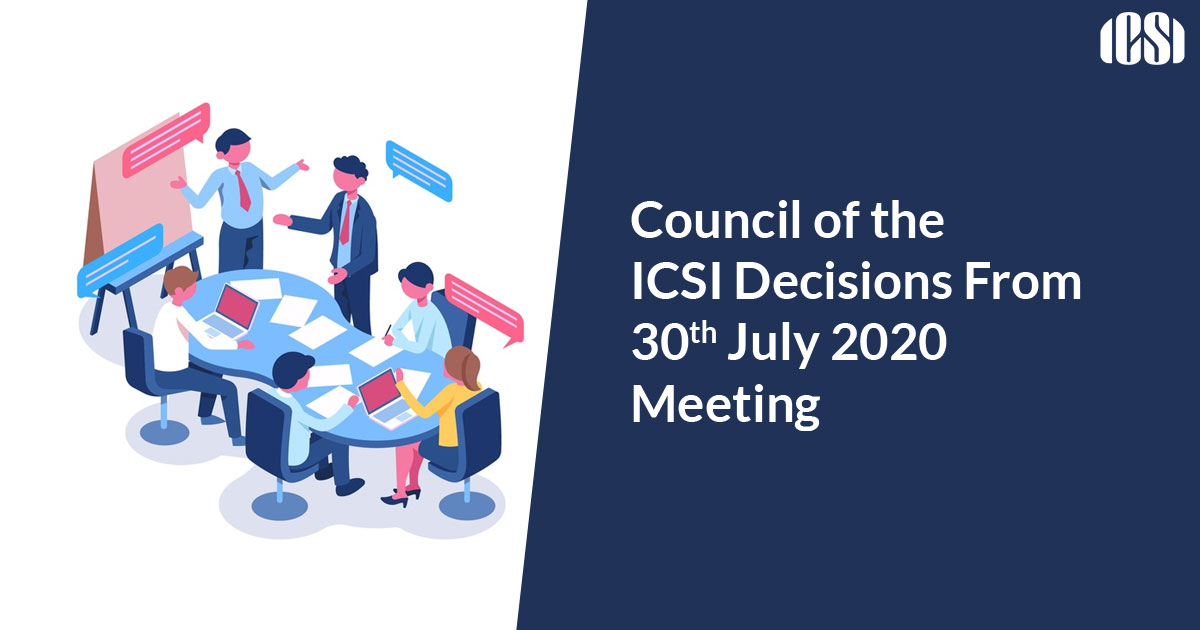 Recently there were some Important decisions taken by the Council of the ICSI at its meeting held on 30th July 2020. Let us check out all the decisions and amendments to be done concerning the given finalization.
All the decisions and answers were consolidated in 5 major points in which one can understand the overall scenario:
#1. Partial revision towards the handling of CS Executive Entrance Test (CSEET).
The cabinet allowed the partial revision for conducting the CS Executive Entrance Test (CSEET).
#2. Amendments to the Company Secretaries (Procedure of Investigations of Professional and Other Misconduct and Conduct of Cases) Rules, 2007 (`the Rules') for making provision for Disciplinary proceedings through electronic or another audiovisual mode.
The cabinet has passed the introduced amendments to the secretaries of the company (process for the inquiry of professional and other conduct cases and the misconduct) Rules, 2007 (`the Rules') planning of Disciplinary Proceedings via the electronic or audiovisual method.
#3. The handling of the draft yearly earnings of the FY 2019-20 to the auditor for the audit report.
READ ALSO : CSEET Fees Paid for August 2020 will Carry Forward to November 2020: ICSI
The draft Annual Accounts of Headquarters, (inclusive of ICSI-­CCGRT, COE-Hyderabad) & draft Consolidated Annual Accounts (inclusive of Regional Offices and Chapters) has been approved by the council concerned with the FY 2019-20 and it can be submitted to the Statutory Auditors for audit along with reports.
#4. The formation of the committee for the management of the members of ICSI overseas centre
The cabinet has allowed the President for constituting the committee and voted to originate the ICSI Overseas Centre, London through Virtual mode.
#5. Authorisation for solving the problems that have been experienced by the overseas members and the development of the separate portal for children of ICSI overseas(s).
The cabinet has seen that the members are facing difficulties in complying ICSI CPE Guidelines 2019 as well as the issues in updating the ICSI histories payment of yearly fellowship fee, updating aspects like Aadhar, etc. In the ICSI records the president has been allowed to provide the relaxation to overseas members from the application of ICSI CPE Guidelines 2019 on basis of case to case and guide the Secretariat for claiming the exemption Theron by preparing the principle guidelines.
Furtherly the cabinet has advised the secretariat to permit the creation of a separate child portal of ICSI Overseas Centre(s) on ICSI website.