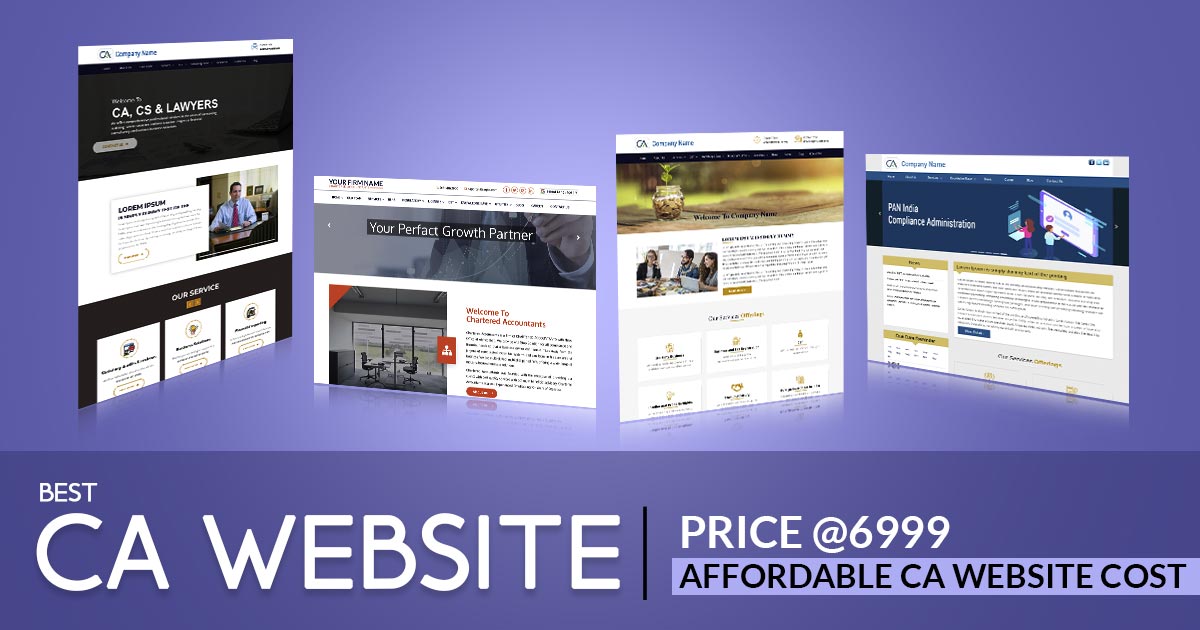 CA Portal brings the best website cost packages to Indian tax professionals, and chartered accountants to utilize the growing trend of the online platform. The one-stop online solution for Chartered Accountant (CA) websites. From domain registration to hosting and a feature-rich live website, we at CA Portal bundle the three primary pillars of a strong online presence into one for our clients. You can choose the Best (chartered accountant) CA website cost at CA Portal.
All the CA can get their business presence on the web with the fantastic web development tools executed by CA Portal experts. They bring an exclusive chance for all professionals to complete the CA website purchases with multiple themes to offer a distinguished look. 
The aims to be a valuable resource for web designers, developers, and CA professionals looking to enhance their online presence with high-quality and professional design. It provides a wealth of information and resources to help readers stay up-to-date with the latest web design trends and best practices and to make the most of the CA Portal platform.
Overall, the CA Portal platform is for anyone looking for Website Design Themes & Templates to improve their web design skills and create a strong online presence in the CA industry.
Check out CA Portal website development services at UPTO 20% discount for only a short period. Hurry up!
Free DEMO for Tax and Accounting Websites for Your Firm
More Easy Steps For Making an Attractive Professional Website
Take the right Website Developer for you.
A Choose plan that suits your needs and budget.
Pick a unique and suitable domain name.
Choose a Design Template you prefer.
Customize & Modern Designs your Firm Templates.
Upload and format your content.
Fast and Reliable Hosting
Client Reviews and Testimonials
Optimized Code for Speed Fast Loading
Social Media Button
CA, CS, and Lawyers can choose from a variety of website templates for a completely functional attractive website rich in profession-specific features.
Free Domain Name (.com,.in,.co.in)
Business Email id 5 10
Hosting Space 1GB 2GB
SEO Ready Website
Responsive Mobile-Friendly Layout
Enquiry Form
Social Media Integration
Blog Dynamics
Due Date Reminder
Act, Rules, Circulars and Notifications
Latest News (GST, Income tax)
Visitor Counter
Google Map
QR Code Scanner
Live Chat Integration
What's App Chat
Language Translator
Enquiry Form Popup
Client Reviews and Testimonials
Video Image Gallary
Optimized Code for Speed Fast Loading
Payment Gateway Integration

Advantages of a Professional Chartered Accountant Website
In this digital age, everybody needs to have a strong online presence. The days of the yellow pages are over now and modern-day professionals today own their own Accounting Website Templates. These websites are a true reflection of their qualification and the services they offer. A few advantages that a professional website can give you over your counterparts include:
Attracts Client
"Make a customer, not a sale." – Katherine Barchetti. Websites are perfect for engaging potential customers. A completely professional and informative website not only adds to your reputation but also features blogs and subscription services that can act as a major customer attraction. The customer while browsing the website will make a subconscious judgment of your professionalism, skill set, and profile.
Our Domain+Hosting+Website services are A Complete three-step solution that will serve all your and your clients' needs.
Here's what is on offer:
Up to 30% Off on Your CA Website Development
Website as per ICAI/ICSI/Bar Council Guidelines
Independent Domain Such As (www.Yourfirmname.com)
Free 10 Emails Id's As Per Choice
Separate Login Panel
Website Hosting, Mail Server & 24/7 Support
Brand Building
A website can go a long way in creating a name for your firm and services. CA Portal website solutions come equipped with Chat Plugin and Query Form, as well as a separate login panel, enabling Regular Professional News/Blogs/Updates on your own website (Automated). These are important means to share information with website visitors. It shows the firm in good light.
Besides blogs are an ideal tool to create demand for services as well as establish a long-standing company-client relationship. So a professional website will bring a new edge to your profession both in terms of quality of service and brand building.
Why Grab the Offer Now?
Digital Space is still evolving in India. With the introduction of GST which is also based on a complete digital framework, the demand for CA's has grown manifold. So have the demands for responsibilities and professionalism on the part of CA/CS and Lawyers. CA Portal boasts a rich list of clients that have benefited from our website development and online marketing expertise.
Our CA/CS/Lawyer websites have witnessed great visitor counts. We hope that in the future also our website development acumen coupled with your professional expertise will add to a list of successful online legal, tax and consultant services. Grab this amazing discount window and script a successful online presence now.