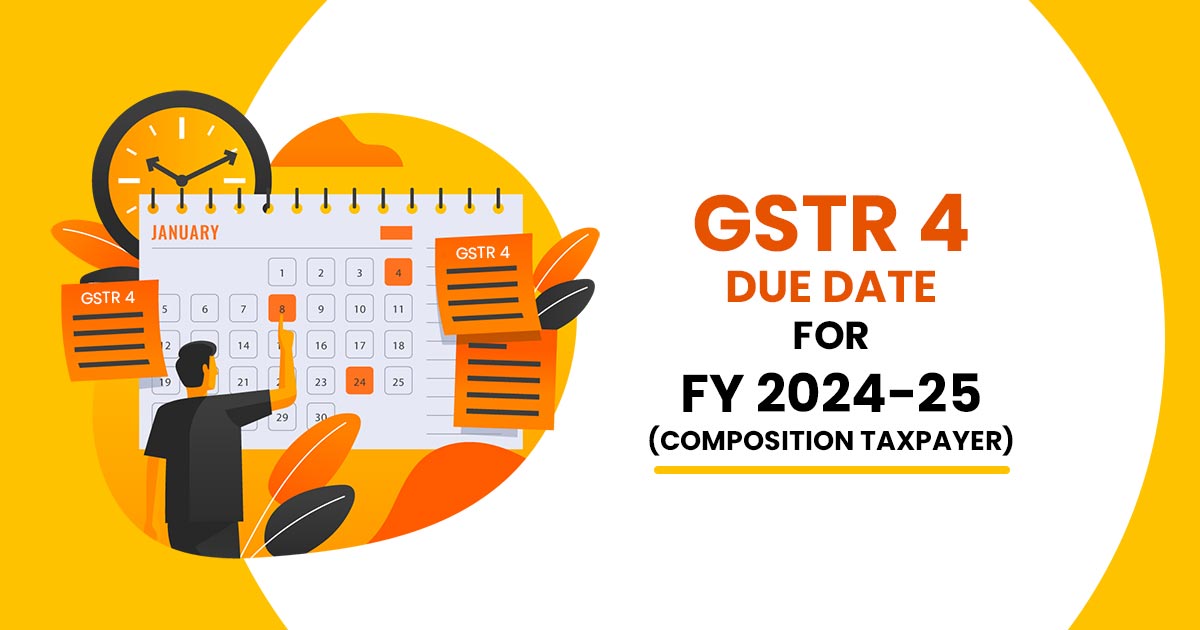 The GSTR 4 Due Date comes on every quarter for composition scheme dealers which is a return filing form under the GST Composition scheme of goods and services (GST) scheme.
Under the GST composition scheme, taxpayers are required to file only one return in every three months (quarter) rather than three returns in every month.
There is certain eligibility for a composition including that the taxpayers whose annual turnover is less than or up to Rs 1.5 crore in a financial year (turnover for special category States, except Jammu & Kashmir and Uttarakhand, the limit is now increased to Rs 75 Lacs.
While the turnover threshold for Jammu & Kashmir and Uttarakhand will be Rs 1 crore must register under the GST composition scheme. The small traders should fill up GST CMP-01 form to accept the scheme. It is suggested that the taxpayers must not miss filing the return on every upcoming GSTR 4 Due Dates quarterly.
The information details in GSTR 4 due date form should be filled in between 18th of the month following the quarter of the relevant tax period.
New Update for Composition Dealers in 32nd GST Council Meeting:
1. The limit of the composition dealers has been increased to Rs. 1.5 Crore. This is applicable for 1st April 2019.
2. The composition rate for services sector has been fixed at 6 percent while the composition limit has been set at Rs 50 lakh.
3. The GSTR 4 return (Composition Dealers) will have to avail pay tax quarterly basis but the return will be filed only once a year.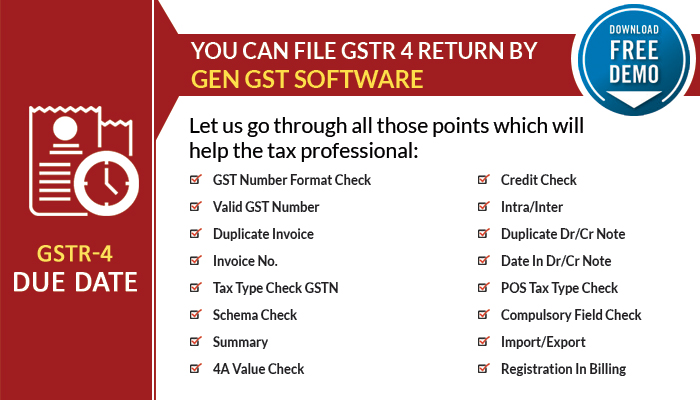 These categories of taxpayers are not liable to file GSTR 4 including, Non-resident Taxable Person, Taxpayers liable to collect TCS, Input Service Distributors, Taxpayers liable to deduct (TDS), Composition Dealers, Compounding taxable person, Suppliers of OIDAR (Online Information and Database Access or Retrieval).
GSTR 4 (CMP-08)Due Date For April to June 2019
| Period (Quarterly) | Due Dates (Composition Dealers) |
| --- | --- |
| July To September 2018 | 18th October 2018 |
| October to December 2018 | 18th January 2019 |
| January to March 2019 | 18th April 2019 |
| April to June 2019 | 18th July 2019 |
| July to September 2019 | 18th October 2019 |
| October to December 2019 | 18th January 2020 |
| January to March 2020 | 18th April 2020 |
Note: As per the govt notification, the GSTR 4 form will be filed annually while the GST CMP-08 form will be filed every quarterly on or before 18th of succeeding month of tax period. Notification by CBIC
GSTR 4 return filing form is partition into 13 modules but it is not necessary to fill all these modules. The asseesses can go through all the form relevant details here in the article.