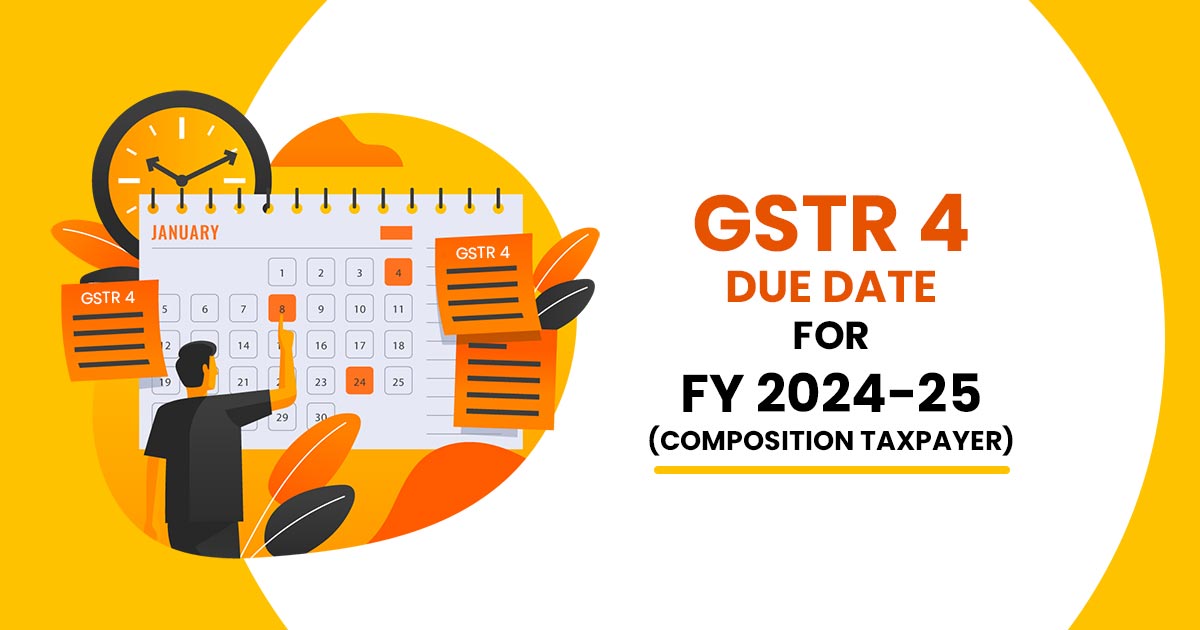 All the assesses covered under the composition scheme file the annual GST (Goods and Services Tax) returns via GSTR 4 form till 30th April for every financial year. The Form GSTR-4 needs to be furnished by the 30th of the month post to the last date of the financial year which is 30th April of the next Fiscal year.
Any assessee whose annual turnover is less than Rs. 1.5 Crore can opt for the composition scheme under the GST regime. All the manufacturers and traders under the scheme are required to pay 1% GST while others are required to pay 5% for the restaurants (not for alcohol).
Composition Taxpayers can Now File GSTR-4 on GST Portal
The Central Board of Indirect Taxes and Customs (CBIC) has introduced an option for the composition taxpayers to file form GSTR 4 online on the GST portal. The GSTR 4 form is required to be filed by all the composition taxpayers, annually for each financial year, with effect from 1st April 2019.
Who is Required to File?
All the assessees who are covered under the composition scheme or have opted for the scheme in the past, are required to file the form, starting from 1st April 2019, annually.
Who can File NIL under Form GSTR4?
Any assessee can file a NIL form under GSTR 4, if he/she satisfies any one of the following conditions in each quarter of the financial year:
NOT made any outward supply
NOT received any goods/services
Have NO other liability to report
Have filed all Form CMP-08 as Nil
GSTR 4 due date for FY 2021-22
The last date to file annual returns of the form is the 30th of the month in which it was previously filed last year.
| Period | Extended Due Date |
| --- | --- |
| Annual Return 2021-22 | 30th April 2022 |
| Annual Return 2020-21 | 31st July 2021 (Extended ) |

Latest Update & Notification
"Form GSTR-4 Annual Return by Composition Taxpayers, for the FY 2019-20, is now available for filing."
"Annual return GSTR 4 due date extended to 31st Aug 2020 for the F/Y 2019-20 vide notification no. 59/ 2020".
"Provided that the said persons shall furnish the return in FORM GSTR-4 of the Central Goods and Services Tax Rules, 2017, for the financial year ending 31st March 2020, till the 15th day of July 2020". Read Notification
CBIC circulated advisory for negative liability issues while filing GSTR 4 form. Also, the government has shared the reason with the solution via update."
"Forthcoming advanced functionalities for taxpayers on the GST portal related to GSTR 4, GSTR 1, composition taxpayers, etc."Read more
The late fee for delay in furnishing of FORM GSTR-4 by composition taxpayers to be capped to Rs 500 (Rs 250 CGST + Rs 250 SGST) per return, if tax liability is nil in the return, and Rs 2000 (Rs 1000 CGST + Rs 1000 SGST) per return for others"
"Extension of due date of filing GSTR-4 for FY 2020-21 to 31.07.2021" 43rd GST Council
Latest Update: Relaxation to Composition Taxpayers in late fees for hold-up filing of Form GSTR-4 Quarterly Return:
| | | | |
| --- | --- | --- | --- |
| Form | For any Tax period of the FY | Late fees, if Tax liability is NIL | Late fees, in case of any Tax Liability |
| GSTR-4 (Quarterly Return) | 2017-18 & 2018-19 | No late Fee | Rs 500 per return (Rs 250 for CGST & Rs 250 for SGST) |
---
How to File Form GSTR 4
Login to your dashboard
Click on Services
Returns
Annual Return
Select FY
Search
GSTR 4
File the return
Update for Composition Dealers in 32nd GST Council Meeting:
1. The limit of the composition dealers has been increased to Rs. 1.5 Crore. This is applicable for 1st April 2019.
2. The composition rate for the services sector has been fixed at 6 percent while the composition limit has been set at Rs 50 lakh.
3. The GSTR 4 return (Composition Dealers) will have to avail pay tax quarterly basis but the return will be filed only once a year.
These categories of taxpayers are not liable to file GSTR 4 including, Non-resident Taxable Person, Taxpayers liable to collect TCS, Input Service Distributors, Taxpayers liable to deduct (TDS), Composition Dealers, Compounding taxable person, Suppliers of OIDAR (Online Information and Database Access or Retrieval).
How form GSTR 4 is Different from the Quarterly Returns
Form GSTR 4 is quite different from the returns which are required to file quarterly.
The form can be filled by the composition taxpayers starting from 31st August 2019.
For the period before that, the assesses were required to file GSTR 4 returns quarterly. Now the assessees are required to file form CMP 08, quarterly and form GSTR 4, annually.
Penalty & Late Fees
The dept has fixed the late penalty of INR 200 per day in case of not filing GSTR 4 till the due date.
No more than Rs. 5,000 can be charged as a late fee.