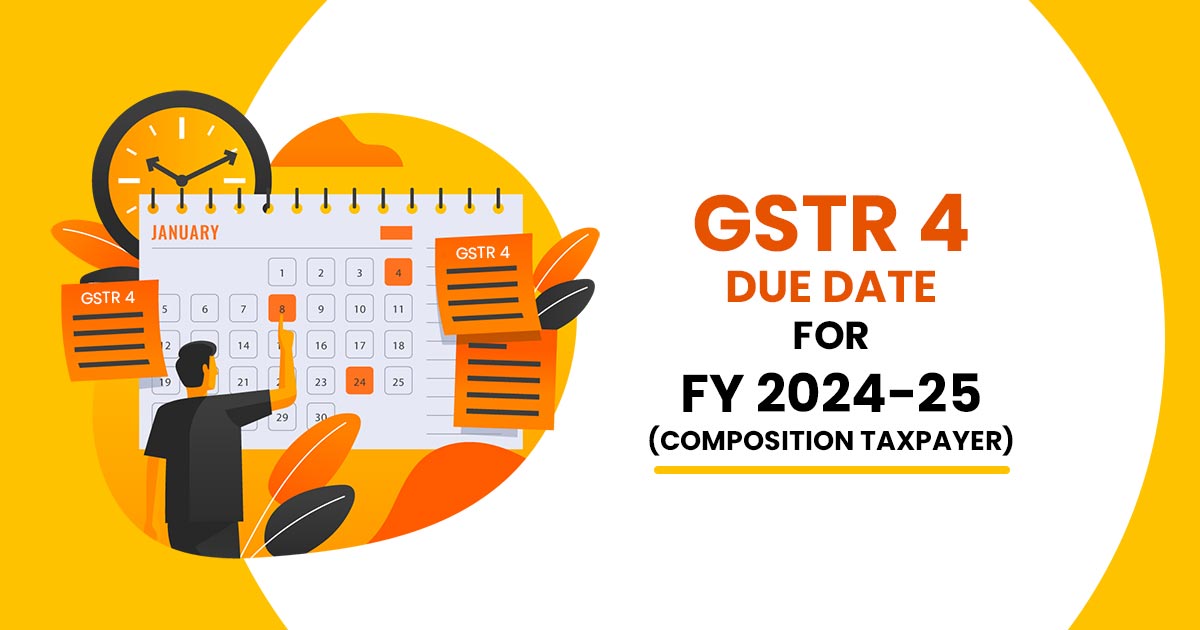 The Finance Ministry has permitted the composition scheme taxpayers to file a self-assessed tax return in one-page statement – Form GST CMP 08 of the Central Goods and Service Tax Rules, 2017. This quarterly return has to be filed after every quarter by the 18th day of the month.
This is a big sigh of relief for the 20 lakh composition dealer as now they do not have the file the complicated GSTR-4 of seven pages every quarter. GST composition scheme is for all the traders who have registered for a different set of the tax rate applicable and are mainly service providers.
Among the total of 1.21 crore GST registered businesses, 20 lakh businesses which are registered under the composition scheme are required to file the CMP 08, therefore, here we provide complete guidance on the filing procedure of CMP 08 along with relevant due dates of CMP 08 for the upcoming months.Know the complete details on CMP 08 Due Date For January To March 2020.
Eligibility To Become Composition Dealer
Small traders, manufacturers and service providers can avail the composition scheme. 1% GST is leviable on turnover if the turnover of a taxpayer is up to Rs 1.5 crore. The value of turnover comes down to Rs 75 lakh for some States which comes under special category. 6% GST is leviable on turnover if the turnover of a service provider is up to Rs 50 lakh.
CMP 08 – A Move Widely Appreciated
CMP-08 is a statement cum challan which seeks information about outward supplies and inward supplies ( inward supplies under reverse charge) including the taxes paid on such outward supplies and imports along with interest payable. CMP-08 is a welcome move which was initiated in April 2019 so that it can be used from the financial year 2019-2020.
Easy Filing Procedure And Replacement of GSTR-4
CMP-08 has abridged and simplified the complete process of filing and replaced GSTR-4 which was initially mandatory to be filed every quarter.
GSTR 4 Revamped – To Be Filed Annually by 30th April

The GSTR 4 of the Central Goods and Services Tax Rules, 2017 has been revamped by the Central Board of Indirect Taxes and Customs (CBIC) and now the (Composition dealers) GSTR 4 will be required to file it by 30th April for every financial year.
Another Annual Return For Composition Dealer
The GSTR 9A is another annual return that must be filed by the composition dealers once a year for an appropriate financial year. Form GSTR 9A can be used to reflect any additional tax liability which is not disclosed in Form GSTR 4.
Since the applicability of both the annual returns – GSTR-4 and GSTR-9A is incoherent, any one of them can be averted.
According to the notification, 18th July is the due date for filing quarter returns of the period from April to June by composition dealers.
The due dates for filing CMP-08 are in the wings but the API has not been updated on the GST portal till yet. So, the taxpayers are unable to file their CMP-08 which may lead to a necessity to extend the due date for filing CMP-08(GSTR 4).
Update for Composition Dealers in 32nd GST Council Meeting:
1. The limit of the composition dealers has been increased to Rs. 1.5 Crore. This is applicable for 1st April 2019.
2. The composition rate for services sector has been fixed at 6 percent while the composition limit has been set at Rs 50 lakh.
3. The GSTR 4 return (Composition Dealers) will have to avail pay tax quarterly basis but the return will be filed only once a year.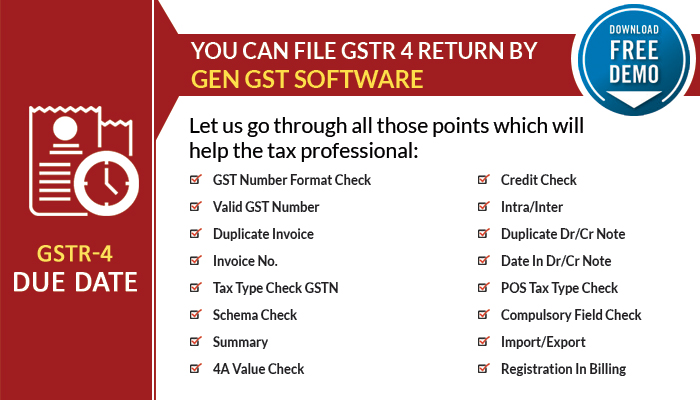 These categories of taxpayers are not liable to file GSTR 4 including, Non-resident Taxable Person, Taxpayers liable to collect TCS, Input Service Distributors, Taxpayers liable to deduct (TDS), Composition Dealers, Compounding taxable person, Suppliers of OIDAR (Online Information and Database Access or Retrieval).
CMP 08 Due Date For January To March 2020
| Period (Quarterly) | Due Dates (Composition Dealers) |
| --- | --- |
| April to June 2019 | 31st August 2019 Updated in 36th GST Council Meeting (Read Official Press Release) |
| July to September 2019 | 22th October 2019 |
| October to December 2019 | 18th January 2020 |
Latest Update
Due date extended for filing GSTR-4 of composition dealers for the FY ending 31st March, 2020, till the 15th July, 2020. by Central Board of Indirect Taxes and Customs (CBIC)
Persons shall furnish statement with details of payment of self-assessed tax in FORM GST CMP-08 of CGST Rules, 2017 for quarter ending 31st March, 2020, till the 7th July, 2020.
GSTR 4 return filing form is partition into 13 modules but it is not necessary to fill all these modules. The assesses can go through all the form of relevant details here in the article.
Note: As per the govt notification, the GSTR 4 form will be filed annually while the GST CMP-08 form will be filed every quarterly on or before 18th of succeeding month of tax period. Notification by CBIC