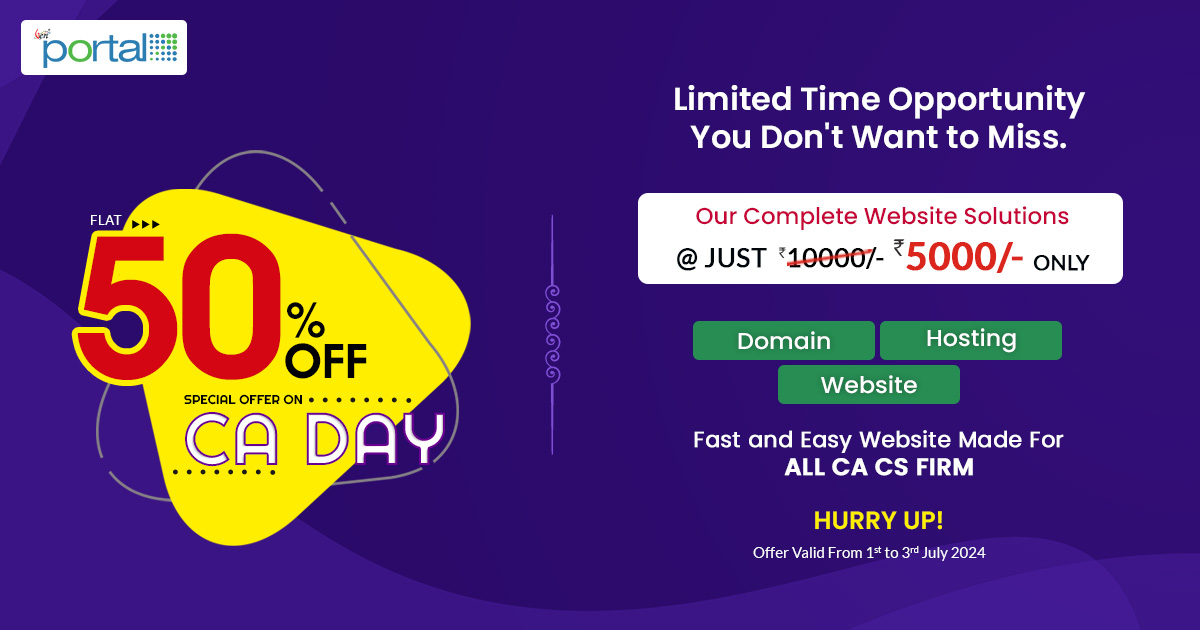 CA Day is considered to be significant for all tax professionals since 1949 and therefore we bring the CA day offer for everyone. Institute of Chartered Accountants (ICAI) India on the 74th Chartered Accountants' Day Celebrations to be held on 1st July 2022. The ICAI assumed the 1st July of every year as CA day to honour and respect those who are into the profession.
It's a festive CA day offer. CA day i.e. July 1 is like 'Diwali' for Chartered Accountants and other Tax Professionals. It is the day when the foundation of this profession was laid down by enacting the ICAI Act on the floor of the Parliament. Moreover, Since the MD of the SAG infotech Shri Amit Gupta himself is a Chartered Accountant, just like other festive offers, CA Portal is offering a flat 50% off on "Website Design and Development from July 1st to July 9th, 2022 this year on this auspicious occasion of CA day.
Furthermore, this offer is not only for Chartered Accountants, but for any individual whether he is an entrepreneur in the domain of legal profession, the medical profession, financial services, and so on. This offer is despite the fact that we are already charging reasonable rates in comparison to Industry rates.
CA portal can be considered as a go-to solution for CA websites with the facility of maintaining records of the client and a fresh portfolio for the CA professional.
Since from the year 1949, a CA day would be acknowledged as an essential day for all the assessee and tax professionals. On the 74th CA day, we are giving the CA day offer on all our packages, however, Since from the year 1949, a CA day would be acknowledged as an essential day for all the assessee and tax professionals. Celebrations of Chartered Accountants' Day will take place in Siri Fort Auditorium in New Delhi on July 1st, 2022 from 3 pm to 6.30 pm. Everyone is welcome to attend.
Here we offer the best features on our website package with multiple advanced technologies to the clients. Check out below some of the major features we offer:
Free DEMO for CA & Accounting Websites for Your Firm
Free Domain Name (.com,.in,.co.in)
You will be provided with a free domain name from the company itself.
Hosting Space 1GB 2GB
You would be given a hosting space of 1GB to 2 GB, from the company to maintain all your data.
SEO Ready Website
The SEO-assisted features will be given to you which will further promote your website.
There is a saying 'Out of sight out of the mind". Ranking of websites is crucial. Only developing a website is not important, but it should be designed keeping in view the various algorithms of Google. We entail the SEO features and document the website considering the various algorithms issued by Google-like 'Google Panda', 'Google Penguin' and so on.
Responsive Mobile-Friendly Layout
Responsive Mobile-Friendly Layout would be provided to you by the company, which will work on all devices.
Enquiry Form
The inquiry form is available on the website for your ease if you have any queries then you can ask on it.
Due Date Reminder
This website has the due date reminder, for quickly filling out the tax before the due date lapses.
Act, Rules, Circulars and Notifications
It provides information related to all the notifications and circulars related to GST, The Company law and so on.

Latest News (GST, Income tax)
The latest News (GST, Income tax) shall be on your website.
Language Translator
A dedicated language translator will be given on the website that will give the ease of quick language transition for foreign visitors on the website.
Enquiry Form Popup
A Popup enquiry form will be added to your website that will give you a large database of visitors and also sales leads.
Client Reviews and Testimonials
The website will be having a client review and testimonial section which will boost the goodwill of the professional.
Video Image Gallary
CA portal website also gives the option to feature your images on the website which will give it much more preference by the visitors.
Optimized Code for Speed Fast Loading
We have expert developers to maintain and develop the website efficiency for the best possible speed of loading on the internet.
---
---
Note: It should be noted that the offer (flat 50% discount on SAG Infotech Software on CA Day) is valid from 1st to 9th July 2022 Hurry up to get benefited from a huge discount of Flat 50%.