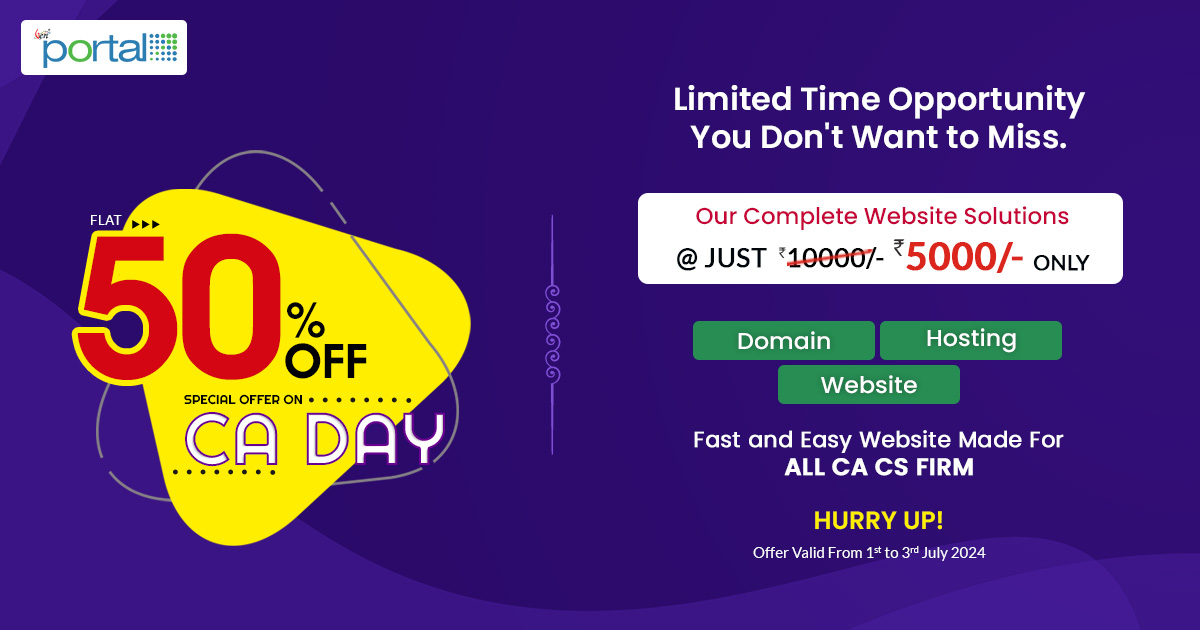 CA Day is considered to be significant for all tax professionals since 1949 and therefore we bring the CA Day offer for everyone. Institute of Chartered Accountants (ICAI) India on the 75th Chartered Accountants' Day Celebrations to be held on 1st July 2023.
Every year, July 1st is reserved for the Chartered Accountants to celebrate CA Day. CA Day holds a significant mark as it is devoted to acknowledging and paying tribute to the immeasurable contributions rendered by chartered accountants across diverse sectors of the economy. This occasion provides a fitting opportunity to express admiration for their profound expertise, professionalism, and sheer dedication to upholding financial probity. Moreover, CA Day is considered as a firm reminder among businesses of the crucial and central role that chartered accountants provide.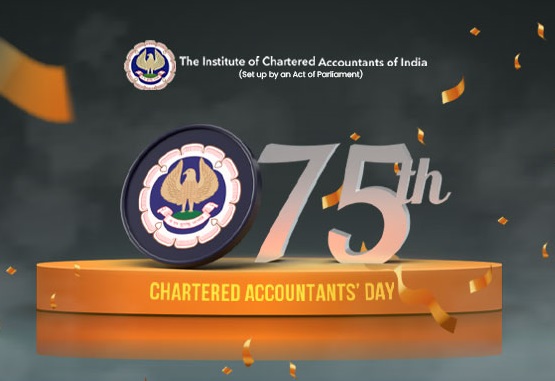 Let's celebrate CA Day 2023 with SAG Infotech's festive offer! Just like Diwali for Chartered Accountants and Tax Professionals, July 1st is a special day that marks the foundation of this esteemed profession through the enactment of the ICAI Act in Parliament. We understand the significance of this occasion, especially since our very own MD, Shri Amit Gupta, is a Chartered Accountant himself.
To make this CA Day even more memorable, we are excited to announce a fantastic deal. From July 1st to July 7th, 2023, we are offering a flat 50% discount on CA, CS Accounting Website Design and Development services. Whether you're looking to revamp your existing website or create a brand-new online presence, our expert team is here to assist you.
Furthermore, this offer is not only for Chartered Accountants, but for any individual whether he is an entrepreneur in the domain of the legal profession, the medical profession, financial services, and so on. This offer is despite the fact that we are already charging reasonable rates in comparison to Industry rates.
CA portal can be considered as a go-to solution for CA websites with the facility of maintaining records of the client and a fresh portfolio for the CA professional.
Here we offer the best features on our website package with multiple advanced technologies to the clients. Check out below some of the major features we offer:
Free DEMO for CA & CS, Accounting Websites for Your Firm
Even though we already offer competitive rates, we are going the extra mile by offering a flat 50% off on this 75th CA Day 2023 to ensure affordability for everyone. Our commitment to delivering exceptional value remains unwavering. Rest assured, you will receive top-notch website design and development services without breaking the bank. SAG Infotech's CA portal is the one stop solution for CA professionals offering various services for the professionals.
Experience the power of SAG Infotech's feature-packed website solutions. Our offerings include:
Free Domain Name (.com,.in,.co.in): Establish your online presence with a personalised domain name that reflects your business identity.
Business Email ID: Enhance professionalism with a dedicated email address using your domain name.
Hosting Space: Enjoy reliable and secure hosting space to ensure your website is always accessible to your audience.
SEO-Ready Website: Boost your visibility on search engines and attract organic traffic with our SEO-optimised websites.
Responsive Mobile-Friendly Layout: Reach your customers on any device with websites that adapt seamlessly to different screen sizes.
Enquiry Form: Capture leads and gather valuable customer information through a user-friendly enquiry form.
Social Media Integration: Connect and engage with your audience by integrating your social media profiles seamlessly.
Blog Dynamics: Share your expertise and engage your audience through an interactive and dynamic blog platform.
Due Date Reminder: Never miss important deadlines with a convenient due date reminder feature.
Act, Rules, Circulars, and Notifications: Stay updated with the latest regulations and notifications related to GST, Income Tax, and more.
Latest News (GST, Income Tax): Keep your visitors informed and up-to-date with the latest news in the world of taxation.
Visitor Counter: Track the number of visitors to your website and gain valuable insights into user engagement.
Google Map: Make it easy for your customers to locate your business with Google Map integration.
QR Code Scanner: Seamlessly scan QR codes to access additional information or promotions.
Live Chat Integration: Provide real-time support and assistance to your website, visitors, through live chat integration.
WhatsApp Chat: Enable direct communication with your customers through WhatsApp Chat integration.
Language Translator: Expand your reach to a global audience by offering language translation options.
Enquiry Form Popup: Grab attention and prompt user engagement with a visually appealing inquiry form popup.
Client Reviews and Testimonials: Showcase your satisfied clients' feedback to build trust and credibility.
Video and Image Gallery: Display visually captivating content through video and image galleries to enhance the user experience.
Optimised Code for Speed Fast Loading: Ensure a seamless browsing experience with optimised code for fast-loading websites.
Unleash the full potential of your online presence with SAG Infotech's feature-rich website solutions. Contact us today to get started!
---
---
Note: It should be noted that the offer (flat 50% discount on SAG Infotech Software on CA Day) is valid from 1st to 7th July 2023 Hurry up to get benefited from a huge discount of Flat 50%.