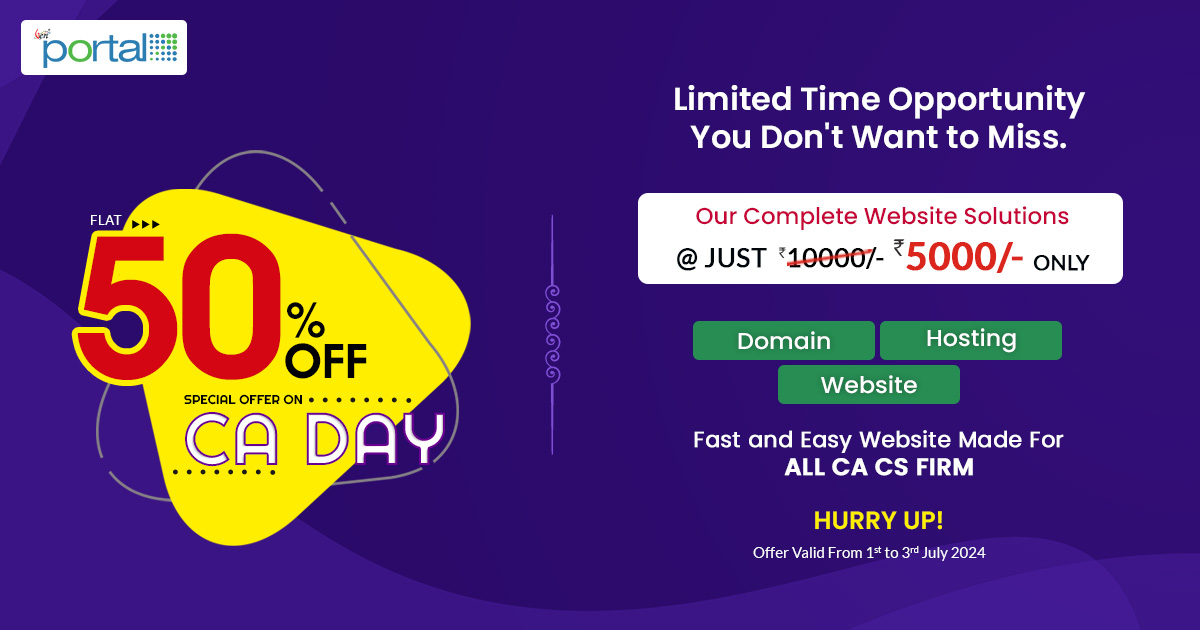 CA Day is considered to be significant for all the tax professionals since 1949. The ICAI assumed the 1st July of every year as chartered accountant day to honour and respect those who are into the profession. The CA Portal takes the note of this auspicious day for all the CA's and further celebrates the CA Day 2019 by offering super beneficial discount offer on its website development services for all the CA and tax professionals. Hurry up to get the benefit of developing a professional website at such a reasonable price as the offer is valid from 1st to 6th July 2019
The CA portal is an online platform which gives an ease of developing a professional website for CA at affordable pricing. Currently, it is offering a flat discount of 50 percent on the possession of any professional website whether CA to celebrate Chartered Accountant Day. In the package, the tax professionals will be benefited from owning a domain, hosting along with the website.
CA portal can be considered as a go-to solution for CA websites with the facility of maintaining records of the client and a fresh portfolio for the CA professional.
Website As Per ICAI/ICSI/Bar Council Guidelines :
CA Portal construct websites for the clients which strictly follows the guidelines of the ICAI/ICSI/Bar council association.
Modern Design & Responsive Themes :
CA portal offers a wide range of over 100 themes/templates to select your choice containing all the details of professionals.
Well Documented & Well-Structured :
The professionals are free to make layout customization as per their need for displaying details and clients related information. Also, the templates are embellished with appropriate links required.
Independent Domain As (www.Yourfirmname.com) :
We avail professionals with ease of selecting domain name as per their wish. Due to this, the clients can differentiate themselves from their competitors. Also, having a domain name replicating your firm name helps in increasing business reputation and personal goodwill in the market. (the Independent domain name is subjected to availability).
Separate Login Panel :
The separate login panel facilitates clients with the ease of maintaining individual account.
Website Hosting :
CA Portal also offers website hosting which facilitates clients with the complete management of the website including content.
Mail Server & 24/7 Support :
We are always available to support our clients with all-around technical support from a dedicated team of technical experts.
Due Dates Notifications :
The notification feature is also the part of the CA portal website. It provides all the notification and circular announcement pertaining to GST tax rates, company law notifications and announcements regarding TDS.
Note: It should be noted that the offer (flat discount of 50% on SAG Infotech Software on CA Day) is valid from 1nd to 6th July 2019. Hurry up to get benefited from a huge discount of 50 per cent.