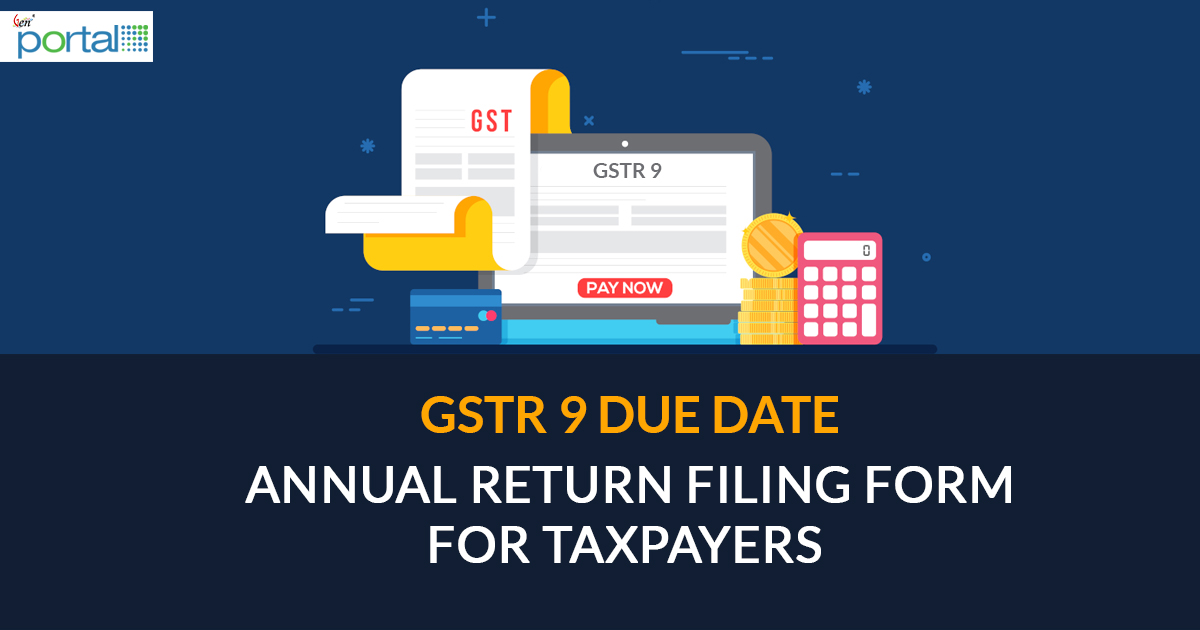 Below the GST norms, the GSTR 9 annual return form is applied to all the usual assessee where all the related information of SGST, CGST, and IGST transaction of the whole year is needed to be furnished. CA portal is enabled to give all the information about gstr 9 due dates for FY 2018-19 and the prolonged gstr 9 extension news notification for the usual assess form.
What is the Meaning of GSTR-9 Annual Return?
GSTR 9 is a yearly return that is to be furnished annually through the assessee below GST. some facts must have to be kept in mind such as:
It includes information about the outward and inward supplies furnished or concluded during the previous year beneath distinct tax councils such as CGST, SGST & IGST, and HSN codes.It is a merger of all the monthly or quarterly returns (GSTR-1, GSTR-2A, GSTR-3B) furnished in a particular year. It is however harder but this return assists in the boundless adjustment of data for 100% clear declarations.
Who should file GSTR-9, the annual return?
All the assessee enrolled below GST must file their GSTR 9. Although the mentioned below items are not needed to file the GSTR-9:
Taxpayers opting composition scheme (They must file GSTR-9A)
Casual Taxable Person
Input service distributors
Non-resident taxable persons
Persons paying TDS under section 51 of the CGST Act.
Due Date, late fee, and Penalty
The last date to furnish the GSTR-9 is prolonged to November 30, 2019.
The late fee for not furnishing the GSTR-9 within the left date is Rs 100 per article per day. It reveals that late fees of Rs 100 below CGST and Rs 100 beneath SGST will be liable for the late cases.
Rs 200 per day is subjected as a sum liability for failure. It is entitled to a highest of 0.25% of the assessee's turnover in the related state or union territory. But till now there is no late fee on IGST.
What is the Information Needed to be fulfilled in the GSTR-9?
The GSTR-9 is divided into 6 parts and 19 sections. Every part questions for the information that is simply present from your previous furnished returns and account books.
In the Form, it questions about the yearly sales, dividing it between the cases which are liable to be taxed or not.
On the buying portion, the yearly value of inward supplies and ITC claimed is to be reported.
Inputs, input services, and capital goods are the objectives where the buys are to be bifurcated. The information of ITC which is required to get interchanged is to be entered as of the ineligibility.
39th GST Council Meeting Updates for Annual Return Form
The GST department discharged the MSMEs to file the reconciliation statement in GSTR- 9C for FY 2018-19 for an average turnover of Rs 5 cr.
Reconciliation Statement and yearly return for the financial year 2018-19 the last date has been prolonged till 30th June 2020. But CBIC has prolonged the date till 30th September 2020.
Yearly return and the settlement statement for the fiscal year 2017-18 and 2018-19 the late furnishing penalty discounted for the assessee who has a turnover of Rs 2 crores.
| | | |
| --- | --- | --- |
| Sales | GSTR 9 | GSTR 9C |
| Up to 2 Cr | Optional | N/A |
| More than 2Cr. – 5 Cr | Filing is mandatory | Optional (Benefit Given) |
| More than 5Cr | Filing is mandatory | Filing is mandatory |
GSTR 9 Annual Return Due Date Extension for fy 2018-19 & 2019-20 :
Form Name
Return Annually
Updated Due Date
GSTR 9 (T.O. more than 2 Crore)
Annually (FY 2017-18)
"CBIC – Considering the difficulties being faced by taxpayers in filing GSTR-9 for FY 2017-18 it has been decided to extend the due dates in a staggered manner for different groups of States to 5th and 7th February 2020 as under."

Group 1: Group 1 (5th February 2020): Tamil Nadu, Rajasthan, Chandigarh, Gujarat, Haryana, Delhi, Uttarakhand, Jammu and Kashmir, Ladakh, Punjab.

Group 2 (7th February 2020): Andaman and Nicobar Islands, Assam, Bihar, Andhra Pradesh, Maharashtra, Arunachal Pradesh, Himachal Pradesh, Jharkhand, Chhattisgarh, Dadra and Nagar Haveli and Daman and Diu, Goa, Karnataka, Kerala, Lakshadweep, Sikkim, Nagaland, Odisha, Uttar PradeshMadhya Pradesh, Manipur, Meghalaya, Mizoram, Puducherry,Telangana, Tripura (Corrigendum), West Bengal, Other Territory." Read Notification

GSTR 9 (Annual Return)
FY 2018-19
31st December 2020 All States & UTs
GSTR 9 (Annual Return)
FY 2019-20
31st December 2020 | The due date is updated for filing GST annual returns till 28th February 2021. Read Press Release
Latest Updates
GSTR 9 extension notification: "The Central Board of Indirect Taxes and Customs ( CBIC ) has extended of filing GSTR 9/9A/9C FY 2018-19 till 31st December 2020". Read Press Release.
Latest News/Updates of GSTR 9 Form:
"The due dates are extended of filing GSTR 9/9A/9C till 31/12/2020". Read Press Release
"CBIC issues Clarification on GSTR-9 w.r.t data pertaining to 2017-18". Read Press Release
"Election Commission as per the Model Code of Conduct and Government obtaining due clearances extended due date for furnishing Annual Return in GSTR-9 and GSTR 9C for 2018-19 from 30.09.2020 to 31.10.2020". Read notification
The GST network released GSTR 9 which is an annual return form. It is used for filing the whole summary of an outer supply and gives whole data for the year. The GSTR 9 is concerning all those enrolled taxpayers beneath the goods and services tax regime and ought to opt while enrolling for the GST scheme. The GSTN administration has circulated full details covering the downloading documents required for the table 8A of the GSTR yearly return form. The information comprises the measures to download and some features based on filing and downloading.
"The institute of cost accounts of India has requested to the ministry of finance for not increasing the threshold limit of GST Annual Return & Audit form."
The institute of cost accounts of India has cordially demanded ministry of finance not to extend the threshold limit for filing GST Annual Returns and Audit Form.
By 12 Feb 2030, approx 91% to 92% of the total GST registered taxpayers have filed GSTR 9 (annual return form) and GSTR 9C (audit form), as per the stats revealed by GSTN.
The latest Offline GSTR 9C filing utility (version 1.5) is available on the GST Portal from 24-12-2019. Taxpayers can anytime avail of the offline utility to prepare GSTR 9.
Certain changes have been introduced in GSTR 9 and GSTR 9C that is duly given in the notification no. 56/2019 dated 14.11.2019. The changes mentioned in the notification will also be applied to the application software and offline utilities concerned with the filing of GSTR 9 and GSTR 9C last by 21 Dec 2019.
Central Board of Indirect Taxes has once again changed the due date for GSTR 9 and 9C filing.
Small businesses and taxpayers will be exempt from the annual compliance of GSTR 9, 9A and 9C.