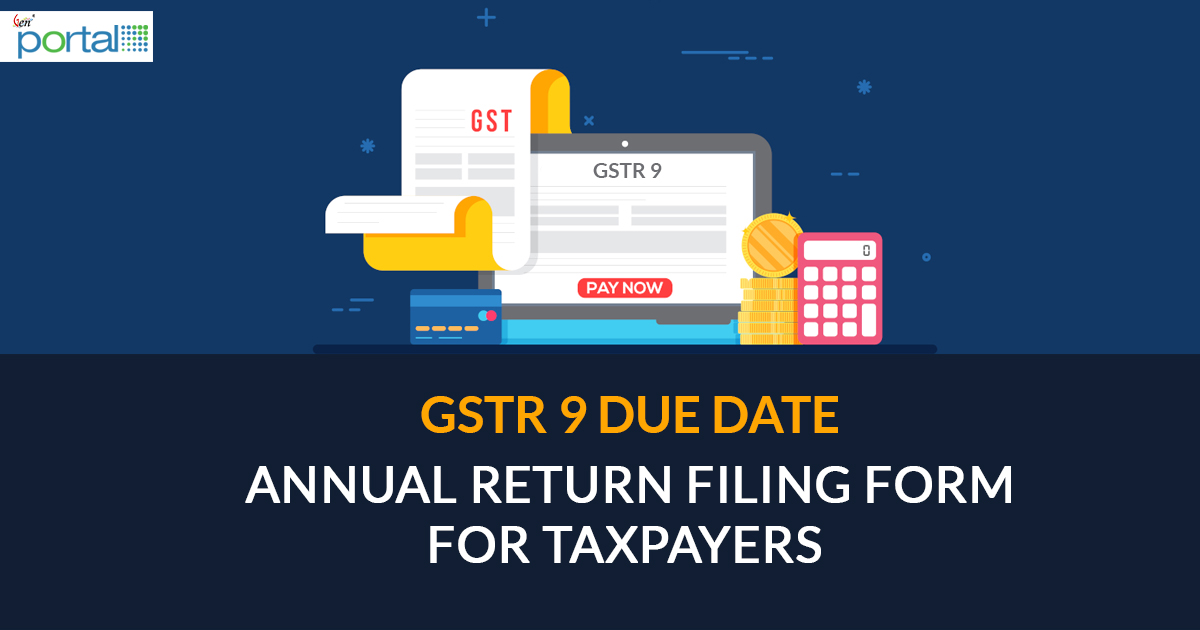 GSTR 9 annual return form is a for all the regular taxpayers under GST, in which all the consolidated details are to be filed relevant to SGST, CGST and IGST transaction of the whole year. CA Portal provides all the specific details of GSTR 9 due date for the regular taxpayer form in this article.
Here find all the details based on the annual return form for the regular taxpayers i.e. GSTR 9 with filing procedure, format, eligibility & rules. In case if you have any doubt regarding the GST forms, you can comment in the below section and get the answers from our tax experts.
Meaning of Filing GSTR 9 Annual Return Form:
GSTR 9 is a return form under GST which is to be filed once in the year-end by the regular taxpayers in the GST regime. It is further categorized in IGST, SGST, and CGST. Under the heads, the taxpayers fill information about supplies made and received in a year separately. It is a consolidated form which comprises the details mentioned in the monthly/quarterly returns in a year.
Who is Required to File GSTR 9 (Annual Return Form)?
All the regular taxpayers registered under the GST have to file GSTR 9 on the year-end.
What are Different Sorts of Annual GST Returns?
Multiple Annual Returns Under GST:
| | |
| --- | --- |
| GSTR 9 | For regular taxpayer filing GSTR-1, GSTR-2, and GSTR-3 |
| GSTR 9A | For composition scheme taxpayers |
| GSTR 9B | For e-commerce businesses who have filed GSTR 8 |
| GSTR 9C | For those having annual turnover cross Rs. 2 crores must have to file audit form of GSTR 9C |
NOTE: The only parliament or President's Ordinance could extended the due date for GSTR 9, GSTR 9A, GSTR 9B & GSTR 9C. And there is No any such power provided to Commissioner or GST Council for extended the due date.
GSTR 9 Due Date of Form Filing For FY 2017-18 & 2018-19 :
| Period | Due Date |
| --- | --- |
| FY July 2017 to March 2018 (Annual Return) | 31st January 2020 |
| Fy April 2018 To March 2019 (Annual Return) | 31st March 2020 |
Latest Update:
"The GSTN recently issued a clarification in the Auditor's Certificate issued in Part-B(ii) of GSTR-9 (Annual Return). As per the statement issued it mentioned, "A minor issue has come to notice in auditor's certificate issued in Part-B(ii). The issue will be fixed shortly. In the meantime, where Part-B(ii) of the certificate is not applicable i.e. auditor preparing GSTR-9 has also conducted an audit of the business and the same number is applicable, they may continue with statement preparation and filing"
"Also the Offline tool of GSTR-9C (Version 1.5) updated version is available on the portal since 24-12-2019. The offline utility helps the taxpayers to prepare offline GSTR 9"
The 38th GST Council meeting held on 18th Dec 2019 in the presence of union finance minister Nirmala sitharaman has concluded that the due date of GSTR 9 & GSTR 9C is extended till 31st January 2020 from earlier 31 Dec 2019 for giving extra time and relief to the taxpayers along with offline tool of GSTR 9C to be available till 21st Dec 2019. Read Official Press Release
Note: Filing of form GSTR-9 for those taxpayers who (are required to file the said return but) have aggregate turnover up to Rs. 2 crores made optional forthe said tax periods for FY 2017-18 and FY 2018-19 by GST Council 37th meeting. Read Official Press Release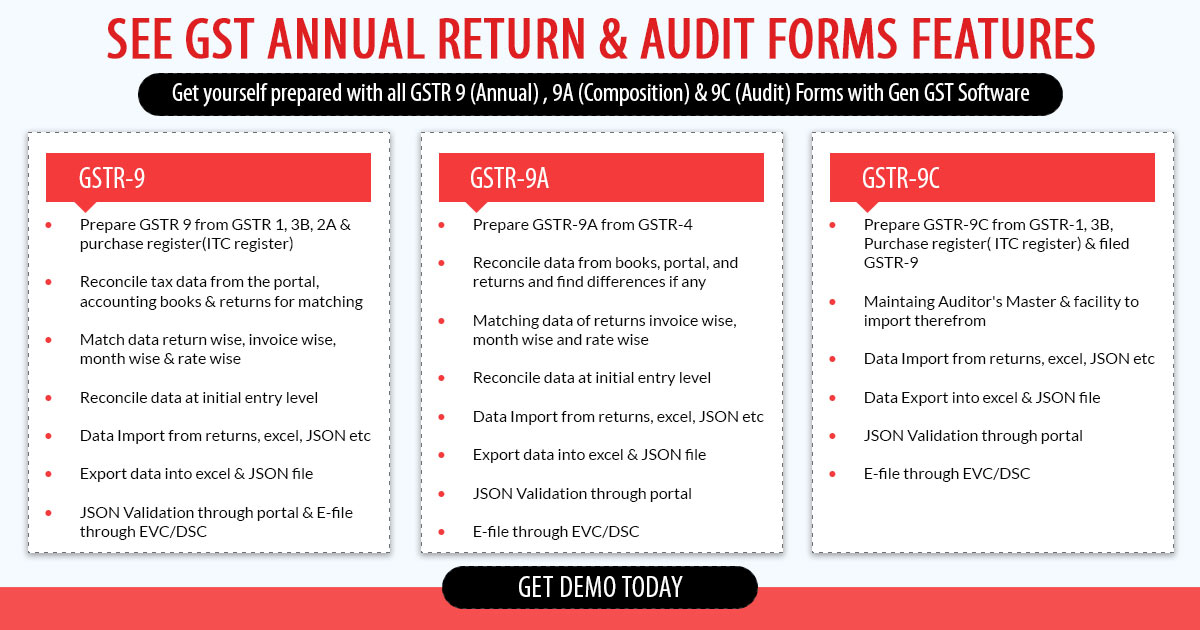 ---
Complete Demo For GSTR 9 Return Filing Via Gen GST Software