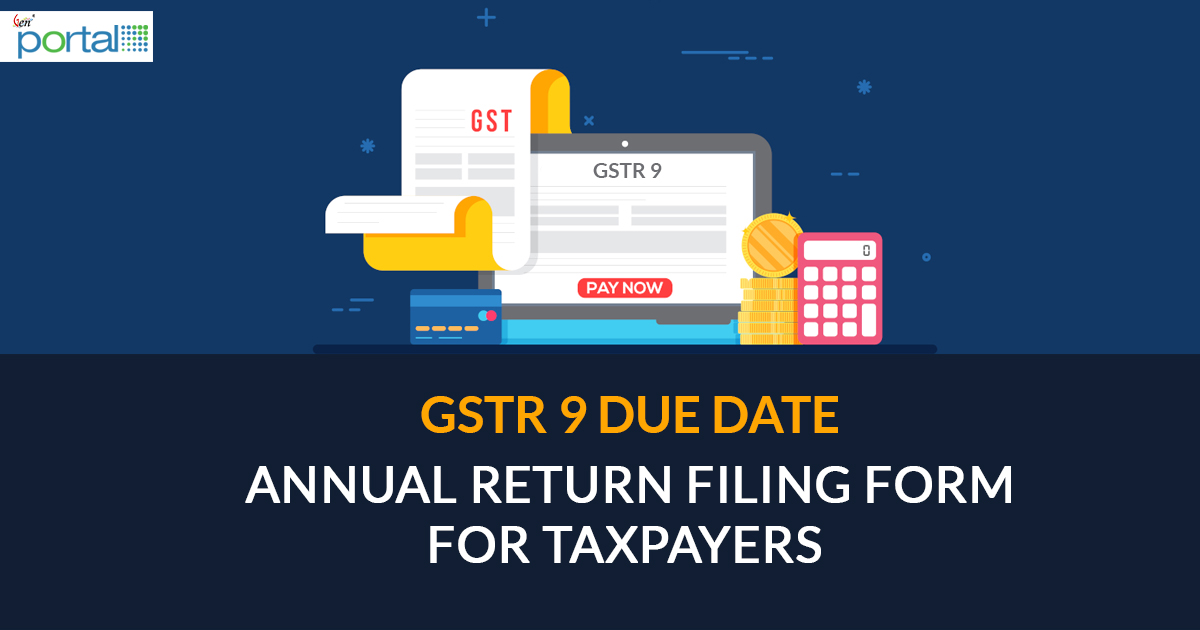 GSTR 9 annual return form is a for all the regular taxpayers under GST, in which all the consolidated details are to be filed relevant to SGST, CGST and IGST transaction of the whole year. CA Portal provides all the specific details of GSTR 9 due date for the regular taxpayer form in this article.
Here find all the details based on the annual return form for the regular taxpayers i.e. GSTR 9 with filing procedure, format, eligibility & rules. In case if you have any doubt regarding the GST forms, you can comment in the below section and get the answers from our tax experts.
Meaning of Filing GSTR 9 Annual Return Form:
GSTR 9 is a return form under GST which is to be filed once in the year-end by the regular taxpayers in the GST regime. It is further categorized in IGST, SGST, and CGST. Under the heads, the taxpayers fill information about supplies made and received in a year separately. It is a consolidated form which comprises the details mentioned in the monthly/quarterly returns in a year.
Who is Required to File GSTR 9 (Annual Return Form)?
Taxpayers having turnover less than INR 5 crores for the FY 2018-19 are required to file GSTR 9C form along with reconciliation statement and certification of an audit
| | |
| --- | --- |
| Up to 2 Cr. | Optional |
| More than 2Cr. – 5 Cr. | Filling is mandatory |
| More than 5Cr. | Filling is mandatory |
What are Different Sorts of Annual GST Returns?
Multiple Annual Returns Under GST:
| | |
| --- | --- |
| GSTR 9 | For regular taxpayer filing GSTR-1, GSTR-2, and GSTR-3 |
| GSTR 9A | For composition scheme taxpayers |
| GSTR 9B | For e-commerce businesses who have filed GSTR 8 |
| GSTR 9C | For those having annual turnover cross Rs. 2 crores must have to file audit form of GSTR 9C |
NOTE: The only parliament or President's Ordinance could extended the due date for GSTR 9, GSTR 9A, GSTR 9B & GSTR 9C. And there is No any such power provided to Commissioner or GST Council for extended the due date.
Penalties levied by the tax Department on delayed or non-filing of GSTR 9
GSTR-9 is the annual return filing form to be filed by every taxpayer involved in business transactions. Like every other return, GSTR 9 also attracts penalties on non-filing or delayed filing by the taxpayer. The taxpayer is bound to pay Rs. 200 per day as a penalty (100 for CGST and 100 for SGST) from the date just after the due date till the returns are.
To be noted: The aggregate amount of penalty should not exceed 0.25% of the annual taxable turnover for which the penalty is imposed.
Who Should And who Shouldn't File GSTR-9:
Taxpayers who have registrations under GST are bound to file GSTR 9. But there is a certain category of GST registered taxpayers who are exempt from filing the annual returns:
Taxpayers registered under the Composition Scheme (rather they are required to file GSR 9A)
Normal taxable person
Non-resident individual
Taxpayers who are also TDS deductors under section 51 of the GST Act.
GSTR 9 Due Date of Form Filing For FY 2018-19 :
| Period | Due Date |
| --- | --- |
| Fy April 2018 To March 2019 (Annual Return) | 30th September 2020 Extended (Official Notification) |
Latest Updates
Note: The Central Board of Indirect Taxes and Customs ( CBIC ) has extended the due date of FORM GSTR 9 GSTR 9C for FY 2018-19 till 30th September, 2020.
---
Latest News/Updates of GSTR 9 Form:
"The institute of cost accounts of India has requested to the ministry of finance for not increasing the threshold limit of GST Annual Return & Audit form."
The institute of cost accounts of India has cordially demanded ministry of finance not to extend the threshold limit for filing GST Annual Returns and Audit Form.
By 12 Feb 2030, approx 91% to 92% of the total GST registered taxpayers have filed GSTR 9 (annual return form) and GSTR 9C (audit form), as per the stats revealed by GSTN.
The latest Offline GSTR 9C filing utility (version 1.5) is available on the GST Portal from 24-12-2019. Taxpayers can anytime avail of the offline utility to prepare GSTR 9.
Certain changes have been introduced in GSTR 9 and GSTR 9C that is duly given in the notification no. 56/2019 dated 14.11.2019. The changes mentioned in the notification will also be applied to the application software and offline utilities concerned with the filing of GSTR 9 and GSTR 9C last by 21 Dec 2019.
Central Board of Indirect Taxes has once again changed the due date for GSTR 9 and 9C filing.
Small businesses and taxpayers will be exempt from the annual compliance of GSTR 9, 9A and 9C.
Note: Filing of form GSTR-9 for those taxpayers who (are required to file the said return but) have aggregate turnover up to Rs. 2 crores made optional forthe said tax periods FY 2018-19 by GST Council 37th meeting. Read Official Press Release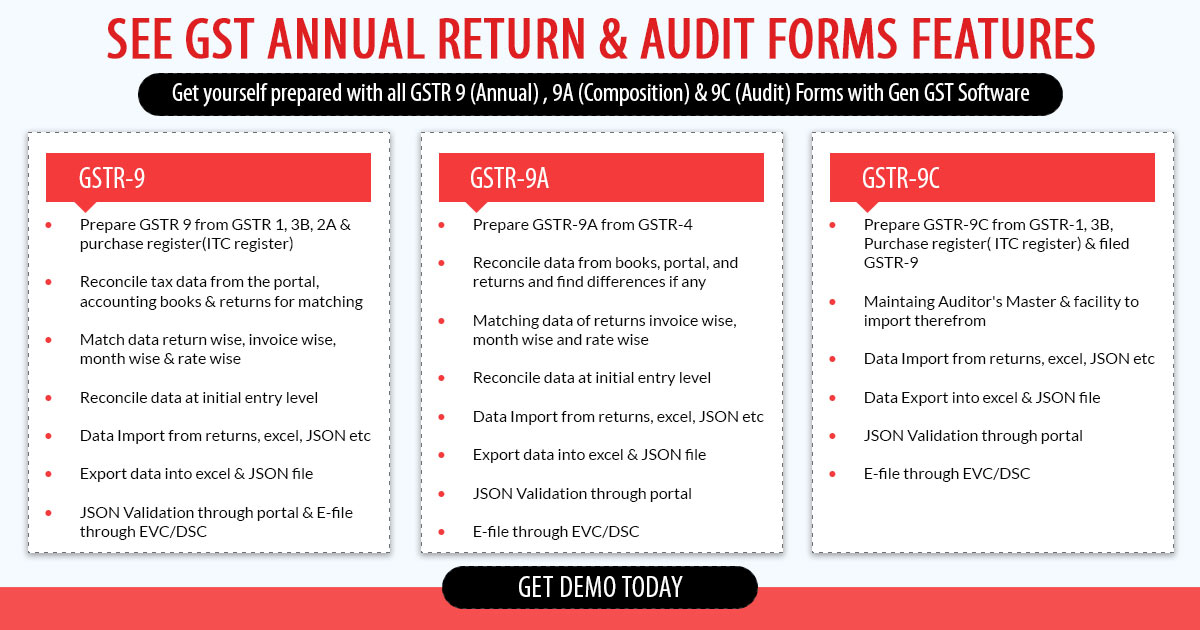 ---
Complete Demo For GSTR 9 Return Filing Via Gen GST Software