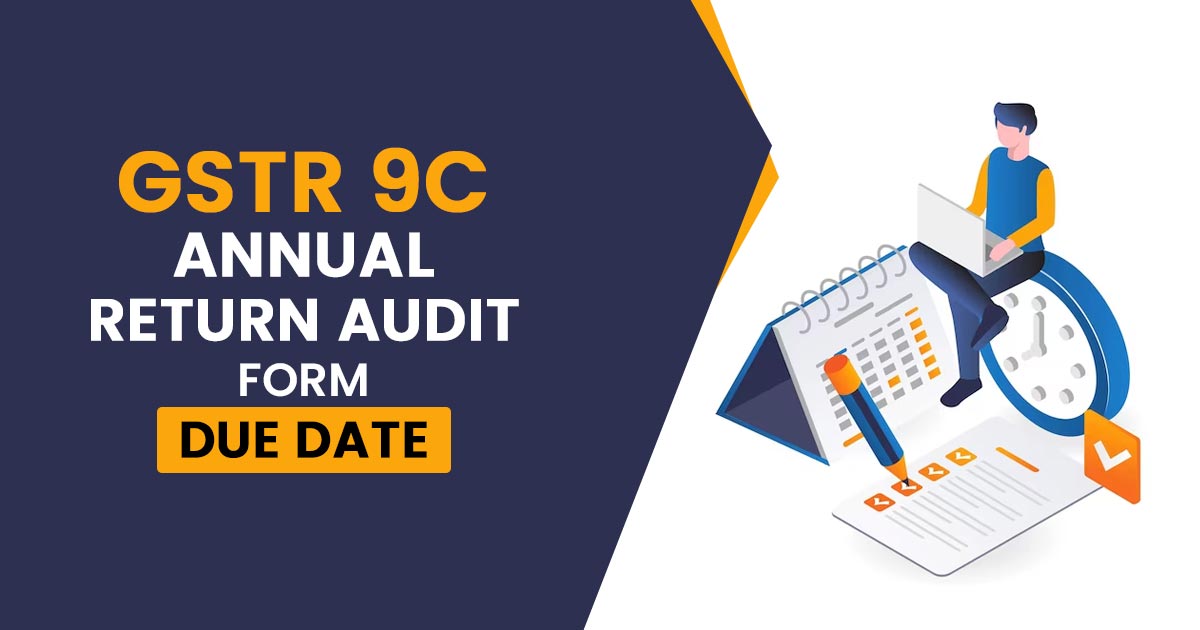 What is the GSTR 9C (Audit Form) Form under GST?
GSTR 9C is an annual audit form for all the dealers having a turnover of more than 5 crores in a financial year. Along with the GSTR 9C audit form, the taxpayer will also have to fill up the reconciliation statement along with the certification of an audit. CA Portal blog post provides the complete details of the GSTR 9C Annual Return Form Due Date.
The authorities have also provided the format of GSTR 9C in notification No. 49/ 2018 Central tax dated September 13, 2018.
CA Portal provides all the relevant details of the 9C form here with step by step process to file the GSTR 9C form with the help of screenshots. The GSTR 9C form also includes a reconciliation statement for reconciling turnover, input tax credits and other tax payments.

What is GSTR 9C Annual GST Audit statement?
As per the rules and provisions of the GST Act, all the dealers are required to file the GSTR 9C audit form. According to the latest rule, Section 35 of CGST Act, 2017, all those dealers having turnover more than 2 crores in a financial year will have to fill audited annual accounts along with a reconciliation statement in GSTR 9C form.
Build Professional Website For Your Accounting Firm at Afftable cost
Who is Required to File the GSTR 9C (GST Audit Form)?
All those dealers having turnover below Rs. 5 crores in the financial year 2018-19 should mandatory file GSTR 9C form along with reconciliation statement and certification of an audit.
Period
Filing
Up to 2 Cr.
N/A
More than 2Cr. – 5 Cr.
Optional(Benefit Given)
More than 5Cr.
Filling is mandatory
GSTR 9C Due Date for FY 2022-23
Form Name
Return Annually
Updated Due Date
GSTR 9C
FY 2022-23
31st December 2023
GSTR 9C
FY 2021-22
31st December 2022
GSTR 9C
FY 2020-21
31st December 2021 To 28th February 2022 Read notification
GSTR 9C
FY 2019-20
31st December 2020 | All States & UTs Read More notification)
GSTR 9C (GST Audit Form)
FY FY 2018-19
31st December 2020 | Extended Read More notification)
---
Latest News/Updates:
"Seeks to amend Rule 80 of the CGST Rules, 2017 and notify Form GSTR 9 and 9C for FY 2020-21. Rule 80 provides for exemption from GSTR-9C to taxpayers having AATO upto Rs. 5 crores." Read Official Press Release
"The due dates are extended of filing GSTR 9/9A/9C till 31/12/2020". Read Press Release
"CBIC issues Clarification on GSTR-9 w.r.t data pertaining to 2017-18". Read Press Release
"CBIC issues Clarification on GSTR-9 w.r.t data pertaining to 2017-18". Read Press Release
"Election Commission as per the Model Code of Conduct and Government obtaining due clearances extended the due date for furnishing Annual Return in GSTR-9 and GSTR 9C for 2018-19 from 30.09.2020 to 31.10.2020". Read notification
"CBIC officially announced the due date extension of GSTR 9C from till 30th September 2020 for FY 2018-19."
"The institute of cost accounts of India has requested to the ministry of finance for not increasing the threshold limit of GST Annual Return & Audit form."
"The council extends the due date of GSTR 9 and GSTR 9C till 30th June 2020 from 31st March 2020 for the FY 2018-19. Also, the annual return filing turnover limit extended to 5 crores from 2 crores."
"GSTR 9 & 9C filing for FY 2018-19 has live on the GST portal but in table 8A of GSTR 9 auto populate ITC as per GSTR 2A function is not working."
GSTN recliently stated the figures of eligible large taxpayers filing the annual return form GSTR 9 annual audit and form GSTR 9C coming to average 91% and 92% respectively till 12th February 2020.
The 39th GST council also revoked all the late fees for the annual return and Reconciliation Statement for financial year 2018-19 for the less than 2 crore turnover taxpayers.
Rajasthan High Court directs GST Dept to consider the return filing of GSTR-9 (Annual) & GSTR-9C (Audit) till 12th February 2020 without late fees penalty
"The government of India has decided that the GTSR 9 and GSTR 9C due dates have been extended into 2 groups including all the cities with different due dates for better return filing compliance and ease of experience. The revised due dates are now 5th Feb and 7th Feb 2020."
"The 38th GST Council meeting held on 18th Dec 2019 in the presence of union finance minister Nirmala sitharaman has concluded that the due date of GSTR 9 & GSTR 9C is extended till 31st January 2020 from earlier 31 Dec 2019 for giving extra time and relief to the taxpayers along with offline tool of GSTR 9C to be available till 21st Dec 2019." Read Official Press Release
The GSTN recently issued a clarification in the Auditor's Certificate issued in Part-B(ii) of GSTR-9C (Reconciliation Statement). As per the statement issued it mentioned, "A minor issue has come to notice in auditor's certificate issued in Part-B(ii). The issue will be fixed shortly. In the meantime, where Part-B(ii) of the certificate is not applicable i.e. auditor preparing GSTR-9C has also conducted an audit of the business and the same number is applicable, they may continue with statement preparation and filing
The given notification asserts that the amendments and relevant changes have been done in the GSTR 9 and GSTR 9C which is given in the Notification No. 56/2019 dated 14.11.2019. Also, the said changes will be reflected in the application software and the offline tools by 21st Dec. 2019.
Find complete step by step guide to file GSTR 9C along with guided screenshots for the taxpayers here.