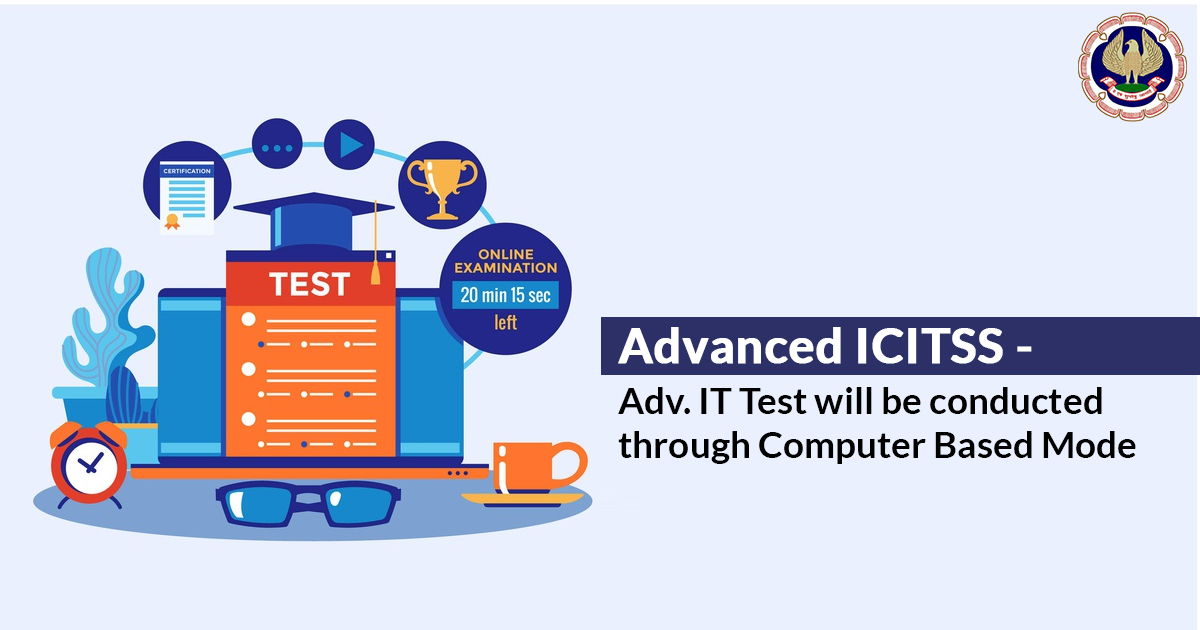 The Institute of Chartered Accountants of India (ICAI) made an important announcement that it will conduct Advanced ICITSS – Adv. IT Test – in Computer Based Mode on Thursday, the 22nd October 2020 from 10.30 AM to 12.30 PM (IST).
According to the announcement the Computer-based test will be held at Examination Centres (in India) located in these 71 cities: Agra, Ahmedabad, Ahmednagar, Ajmer, Akola, Alwar, Ambala, Amritsar, Aurangabad, Bengaluru, Bhopal, Bhubaneswar, Bikaner, Chandigarh, Chennai, Coimbatore, Dehradun, Delhi / New Delhi, Ernakulam, Faridabad, Gandhidham, Ghaziabad, Gorakhpur, Guntur, Gurgaon, Guwahati, Hisar, Hyderabad, Indore, Jabalpur, Jaipur, Jalandhar, Jammu, Jamnagar, Jamshedpur, Jodhpur, Kanpur, Kolkata, Kota, Kozhikode, Lucknow, Ludhiana, Mangalore, Margao (Goa), Meerut, Mumbai, Nagpur, Nashik, Navi Mumbai, Noida, Patna, Pimpri Chinchwad, Pune, Raipur, Rajamahendravaram, Rajkot, Ranchi, Sikar, Siliguri, Surat, Thane, Thiruvananthapuram, Thrissur, Tinsukia, Tirupati, Udaipur, Vadodara, Varanasi, Vasai, Vijayawada, Visakhapatnam. Along with examination centres located at Dubai and Kathmandu.
Read Also: ICITSS – Adv. IT Test through Home-Based Mode, Exam Date Announced
ICAI also made it clear that it reserves the right to cancel the centre and allot the candidates to any centre other than the one he/she opted for if the number of candidates appearing in that city/ centre is not adequate. The allotted centre will be engraved in the admit card and it can't be changed.
The announcement also stated that the examination form can be filed through On-Line mode only, and it doesn't have any concept of submission of Application with late fee. Candidates who have or would have undergone the Advanced ICITTS-Advanced Information Technology course on or before 15th October 2020 and interested in appearing in the test, can apply online at http://advit.icaiexam.icai.org. Candidates will have to make the payment online too. 
DATES FOR SUBMISSION OF APPLICATION FORMS FOR THE TES
| | |
| --- | --- |
| Test Dates | For 22nd October 2020 |
| Commencement of submission of examination application forms | 1st October2020 |
| Last date for submission of online examination application forms: | 5th October 2020 |
The commencement of submission of application forms will start from 1st October 2020 and the Last date is 5th October 2020. If we talk about fee details then ICAI stated in the announcement that candidates who are applying for the first time will not have to pay any test fee. However, Candidates from India who are applying for second time and onwards will have to pay a test fee of ₹ 500/-, whereas Candidates from Dubai will have to pay USD $ 150 and for Candidates from Nepal ₹ 850 will be the fee.
Read More official Announcement by ICAI Website : Click here pdf