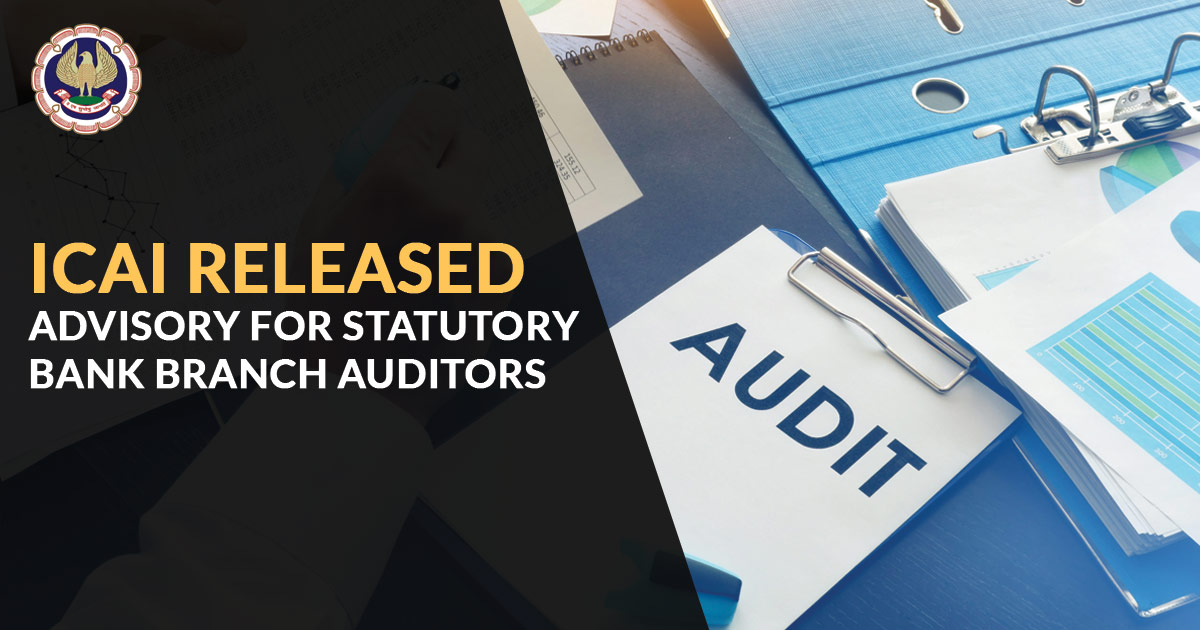 In this Covid-19 Pandemic Situation, Institute of Chartered Accountants of India (ICAI) is continuously trying to manage all the work through the digital medium. It released 3 online courses, allows Use of Electronic Signature for Signing Audit reports and certificates, constituted an online panel of experts to answer queries and now issued Advisory for Statutory Bank Branch Auditors on 6th May 2020.
The Advisory entitled as "Specific Considerations while conducting Distance Audit / Remote Audit / Online Audit of Bank Branch under current Covid-19 situation" and it consists of some very important points or consideration for the professionals and to Statutory Bank Branch Audits.
Through the Advisory the authorities advised all the auditors that, "while planning and performing the alternative procedures, more professional scepticism may be exercised to ensure compliance with Standards on Auditing,"
READ ASLO : Concept Paper on Fair Value by ICAI
The Advisory letter further states that "The audit firm will enquire and adopt the SOPs adopted by the respective banks under the Covid-19 situation and would strictly comply with the government regulatory guidelines issued in this regard without any deviation,".
ICAI which stands for Institute of Chartered Accountants of India has various boards to take care some specific tasks, one of them is The Auditing and Assurance Standards Board assured the following of the present lockdown rules and government advisory, and stated that "The audit firm can request the bank to provide the data or documents required for the purpose of conducting the audit in soft copy format at the mutual convenience of the auditor and auditee. The audit firm will ensure strict compliance with the Non-Disclosure Agreement (NDA) terms with regards to such data/documents received and will ensure the confidentiality of the data or documents.".
Earlier in March and April months, The RBI also released two circulars and made some amendment into Asset Classification as well as Provisioning norms. Meanwhile, they also stated that the Online Panel of Experts which was situated for providing answer to the queries of Bank Branch Auditors can be also utilised for queries related to it