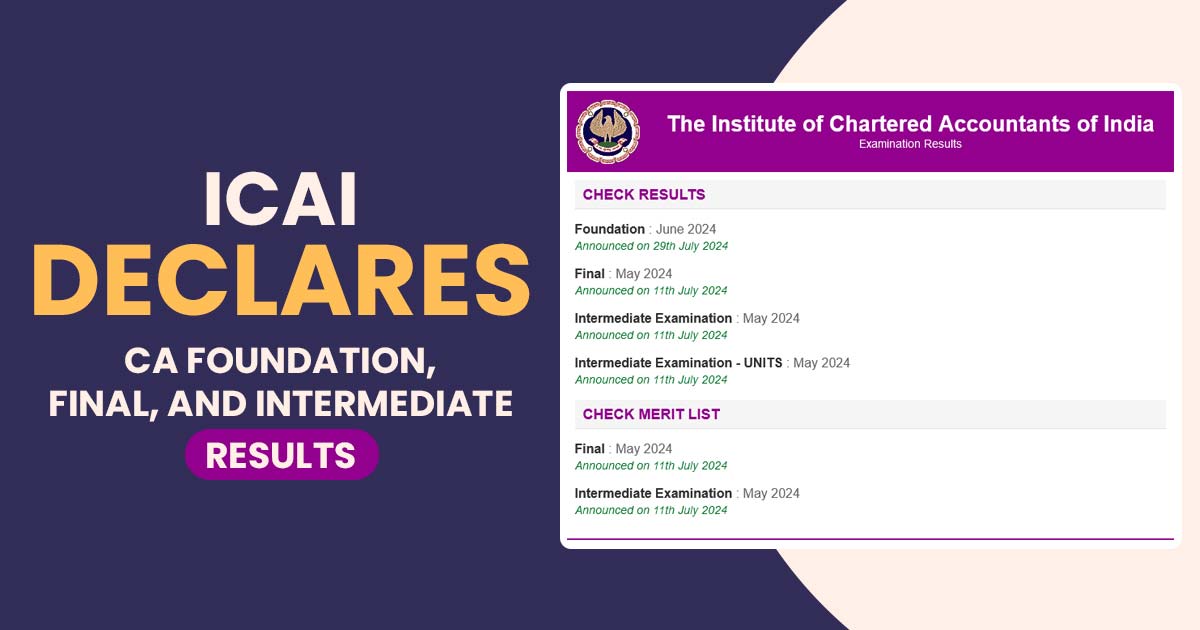 CA Intermediate Exam Results Expected to be Declared March 26
LATEST ANNOUNCEMENT – On Friday, 26th March 2021 (evening) / Saturday the 27th March 2021 the result of the chartered accountants Intermediate Examination (Old Course and New Course) conducted in January 2021 are expected to be announced and it will be accessed through the students on the subsequent websites:
Moreover, to the mentioned above object, it is to note down that for accessing the result to the provided websites above the students will need to insert their enrollment no or PIN no as well as their roll number.
The arrangement is for the students of the intermediate examination (old course and new course) who urges to possess the result on their email addresses to enroll their requests on the websites that is icaiexam.icai.org from 24th March 2021. The candidates who are desirous for results will get their result on their respective email address enrolled as above immediately post declaration of the result.
Read more official announcement Click here
The final results of the ICAI CA Foundation and ICAI CA exams are expected to be declared by the Institute of Chartered Accountants of India (ICAI) on its official website on the evening of March 21 or the morning of March 22.
ICAI through their official Twitter handle wrote that, The results of the Chartered Accountant Final Examination (old syllabus and new syllabus) and Foundation examination conducted in January 2021 are expected to be announced on Sunday, March 21, 2021 (evening) or Monday, March 22, 2021.
After the declaration of results, candidates who have appeared in the examinations can check their results online at :
Steps to get the results through SMS
To get the results of the January 2021 CA exams one can also find them through SMS:
For fetching results via SMS candidates must type:
For Intermediate (IPC) result in the following:-
Intermediate (IPC) Examination (Old Course)
CAIPCOLD (space) XXXXXX (Where XXXXXX is the six digit Intermediate(IPC) Examination roll number of the candidate), e.g. CAIPCOLD 000128
Intermediate examination (New Course)
CAIPCNEW (space)XXXXXX (Where XXXXXX is the six-digit Intermediate Examination roll number of the candidate) , e.g. CAIPCNEW 000128
For Foundation Examination result given steps:-
CAFND (Space)XXXXXX (where XXXXXX is the six-digit Foundation Examination roll number of the candidate), e.g. CAFND 000171 and
The candidates may send the message to 57575 (for all mobile services) for their CA results of Foundation and Intermediate exams.
Ways to fetch ICAI CA Intermediate and Foundation Result January 2021
1) Log on to the ICAI Official websites — https://icaiexam.icai.org/, https://caresults.icai.org/ and https://icai.nic.in.
2) Click on the ICAI CA Intermediate (Old and New) and Foundation result link is given
3) Enter the Registration number/ PIN and the roll number in the ICAI result link
5) Download the ICA CA Intermediate and Foundation result.
The Institute of Chartered Accountants of India
https://icaiexam.icai.org
The Institute of Chartered Accountants of India
https://icaiexam.icai.org
Read More official Announcement by ICAI : Click here