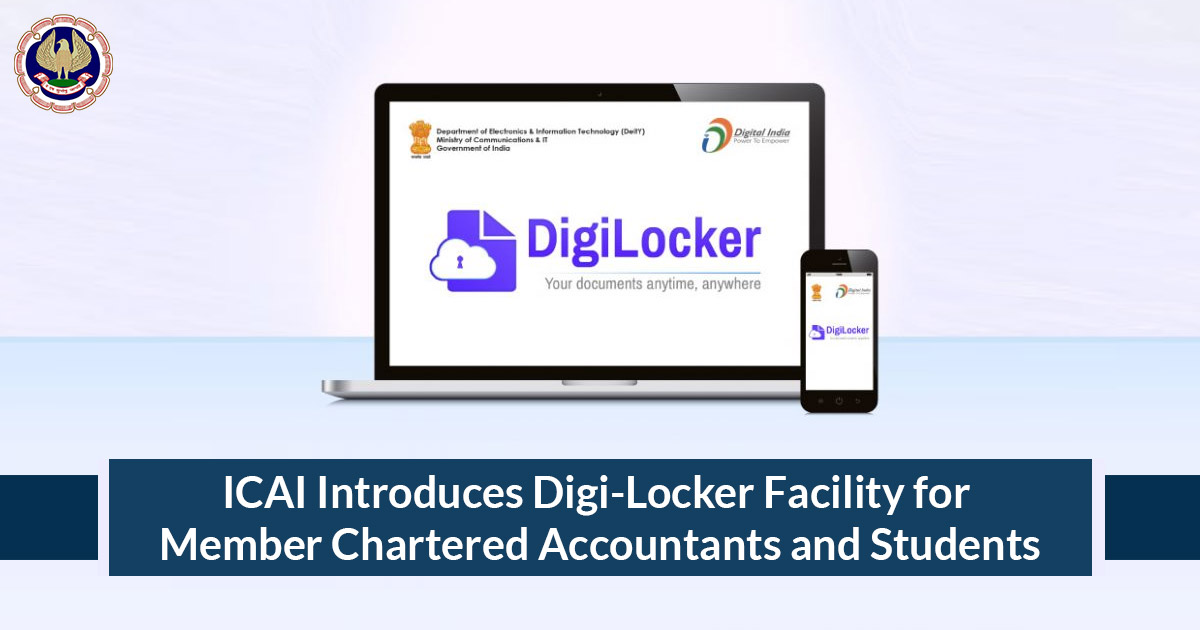 Inline to its objective of always providing only the best services to its members & students, ICAI has introduced the Digi-Locker facility, which can now be used by all the Institution members, including Chartered Accountants and CA students. The facility was launched during the recently concluded Virtual International Conference.
Over the years, ICAI has placed a strong focus on increasing the use of technology in its operation to ensure faster & easier delivery of services to the organisation members and stakeholders.
Besides promoting e-governance, the new Digi-Locker facility of ICAI will allow members to securely store and manage their digital records online. Through the newly-launched facility, ICAI aims to Digitally Empower the Institution members & students by enabling them to access all their digital documents securely in one place. This will essentially act as an online cloud-based wallet for keeping and managing all digital documents like mark sheets, certificates, ID cards, among others.
Digi-Locker is a flagship program introduced by the Ministry of Electronics & IT (MeitY) under Digital India Corporation (DIC).
Benefits of Digi-Locker to ICAI Members / Students
Easy & Secure storage of important documents.
Quick access to Digi-Locker wallet anytime, anywhere.
Authentic documents, having the same credentials as physical docs.
Easy sharing of documents online.
Faster delivery of government services & benefits.
Benefits of Digi-Locker to Clients & Agencies
Trusted digital documents fetched directly from concerning agencies.
Minimizes the use of paper and cuts the cost and time in manual verification, thus reducing the administrative overhead.
Highly secure way of storing and sharing documents between concerned parties.
Allows agencies to verify data in real-time from concerning authorities/issuers.
CA Atul Kumar Gupta, ICAI President, on the occasion of the Digi-Locker launch, said, "Accessing documents and certificates using the Digi -Locker- facility will eliminate the need of carrying physical documents. Promoting e-governance, not only storage, it also provides ready accessibility to issuers online in times of need. This facility can now be availed by our members and students at just the click of a mouse, by following a specified procedure."
The facility aims to reduce operating cycle time as well as cut down the administrative costs for various financial services pertaining to the ICAI. Through this service, the ICAI will provide its members & students with a secure wallet account on a public cloud for storing and accessing their documents.