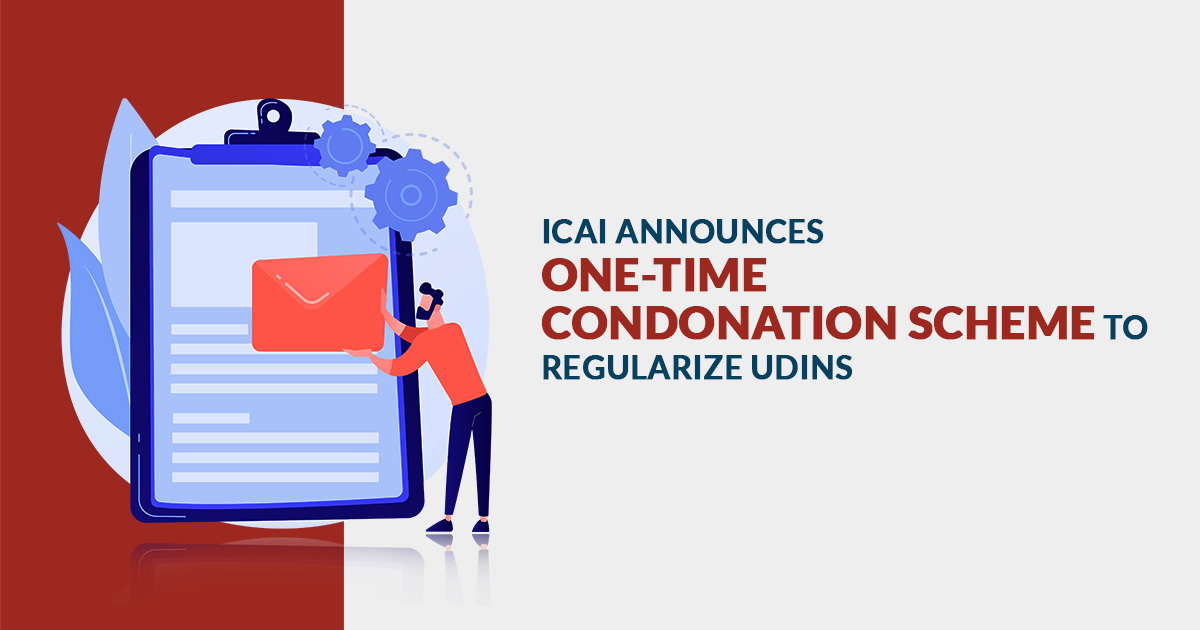 The Institute of Chartered Accountants of India ( ICAI ) has notified One-time Condonation Scheme to authorize UDINs.
For making the profession of accountancy a hit in this digital era and to practice the bogus certificate through the non-CAs, a new concept of the unique department identification number (UDIN) was conducted by the department of ICAI as an important rule in a quality way from 1st Feb 2019 for the Certificates, GST/Tax Audit & all other Attest, Assurance and Audit functions.
A UDIN portal is serving the regulators or stakeholders to determine the genuineness of the report/certificates/documents on a real-time basis. Increasingly several Regulators / Stakeholders like SEBI, RERA, CBDT, RBI & Banks are Commanding on UDINs on all documents assigned by CA.
Members of ICAI is giving representation to their organization that they have accidentally missed creating the UDINs on the audit and assurance reports along with the certificate as of extended lockdown, the office closings, unavailability of the human resources and hence permission to generate UDIN post to the expired time limit as a one time measure. Some people have requested to condone the stay in the generation of UDIN because of unawareness.
Decision:
As a one-time forgiveness policy for regulating the non-generation of UDIN, it is assumed that the stakeholders will be permitted to generate the prior missed UDINs for the credentials signed from 1st February 2019 to 31st December 2020. The scheme will be made available from 1st January 2021 till 31st January 2021.
As per this declaration, the late generation of UDIN through the executives of ICAI for UDINs from 1st February 2019 till 31st December 2020 as a one-time measure is held approved.
the members should keep a note that the above one-time condonation policy will not be liable for the credentials in which the corresponding regulators or other members need a UDIN according to the need.
Moreover, UDIN so created has to be in touch with the "Management" or "Those Charged with Governance" for disseminating it to the members from their side.
UDIN created below the policy is to be treated as UDIN is to be estimated as UDIN generated excluding any breach of the Gazette on 2nd August 2019 studied with 15 days window permitted for unusual situations.