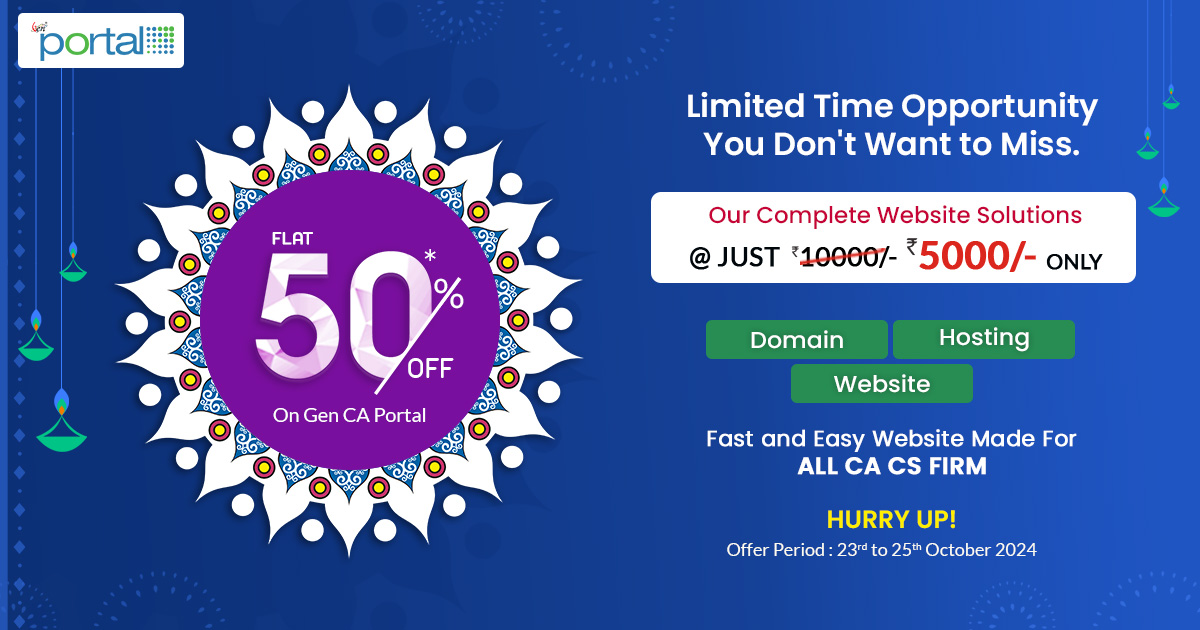 Since the festival of Diwali is arriving, people are filled with joyous moods. Companies and professionals would be waiting to get the offer on different software which is being used for their businesses, CA portal is the best example where professionals generally wait to avail of the Diwali festival offer.
India is reaching new heights concerning the world of digitization. With the initiation of GST relying on the basis of the digital platform there is a requirement for the Chartered accountant. Hence there would be a demand for duties and professionalism in the component of CA/CS and Lawyers. we have trusted clients within our website development and online marketing.
Various visitors visit our Accounting and CA/CS/Lawyer Tax consultant website and our enormous collections of designs and features. In the forthcoming time, we would sum online legal, tax, and consultant services to our website services. You are enabled to take these services as our discount window is open which furnishes you with the services at a lower cost.
Free DEMO for CA & Accounting Websites for Your Firm
Making your mood festive Diwali offers, SAG Infotech is providing its taxation software services at a discount rate. The motive of the company is to reduce the taxation software. Gen GST, Desktop Genius, Payroll Desktop, Payroll Online, CompLaw with XBRL, CompLaw without XBRL, XBRL Software, and CA Portal are the software that counts under the offer for the Diwali festival offer 2022.
SAG Infotech is a well-known company, that has an experience with the needs of tax professionals, clients, and business organizations.
With superb quality CA portal furnishes effective Accounting and Tax consultant website development for Indian tax professionals, chartered accountants, and law firms, and is cost-effective. A benchmark quality has been provided from the company's side. CA portal connects the 3 pillars of the online presence within one for our customers.
Our expert working at the CA portal provides the enhanced and upgraded tool for CA, CS, and lawyers hence you can enable your business presence on the web via the same tool assistance.
Also, note that the website development is as per the ICAI and ICSI guidelines which makes the complete development and showcasing of the website hassle-free.

Visit CA Portal website development services at a Flat 50% discount which is present only for a short period. Hurry up!
Simpler steps to make your website more attractive and professional
Choose the correct website developer
Choose as per your requirements and budget
Select the sole and effective domain name for your website.
Choose a suitable design template
Customize & Modern Designs your Firm Templates.
Upload and format your content.
Fast and Reliable Hosting
Client Reviews and Testimonials
Optimized Code for Speed Fast Loading
Social Media Button
Accounting and CA, CS, and Lawyers can select the template for his website from the variety of choices available on the CA portal so as to make the website feature-rich and more functional.
More than 100+ Attractive responsive website Templates
Choose the most suitable design choice for your needs and budget
Mobile-Friendly Layout
Business Email id
Google language converter
Act, Rules, Circulars and Notifications
Online Chat (Live chat, Whatsapp chat)
Social Media Button
Visitors Counter
Client Reviews and Testimonials
Enquiry form for Website
Google forms
Google Maps on the Website
Due Date Reminder
Optimized Code for Speed Fast Loading
SEO Optimization
Optimized for search and the Social Web and Make it easy for customers to see you on search engines.
Great Design with easy to use User Interface
Choose, Discuss and Get: A crisp 3 Steps Website Development
Demo On Request
Developers, You Can Trust
Related elements of the Content provide assurance that website visitors get relevant and organized information towards the company and services upon offer.
Subscription and Contact forms
Call-to-action step
Blog, News
Appropriate Navigation Menu