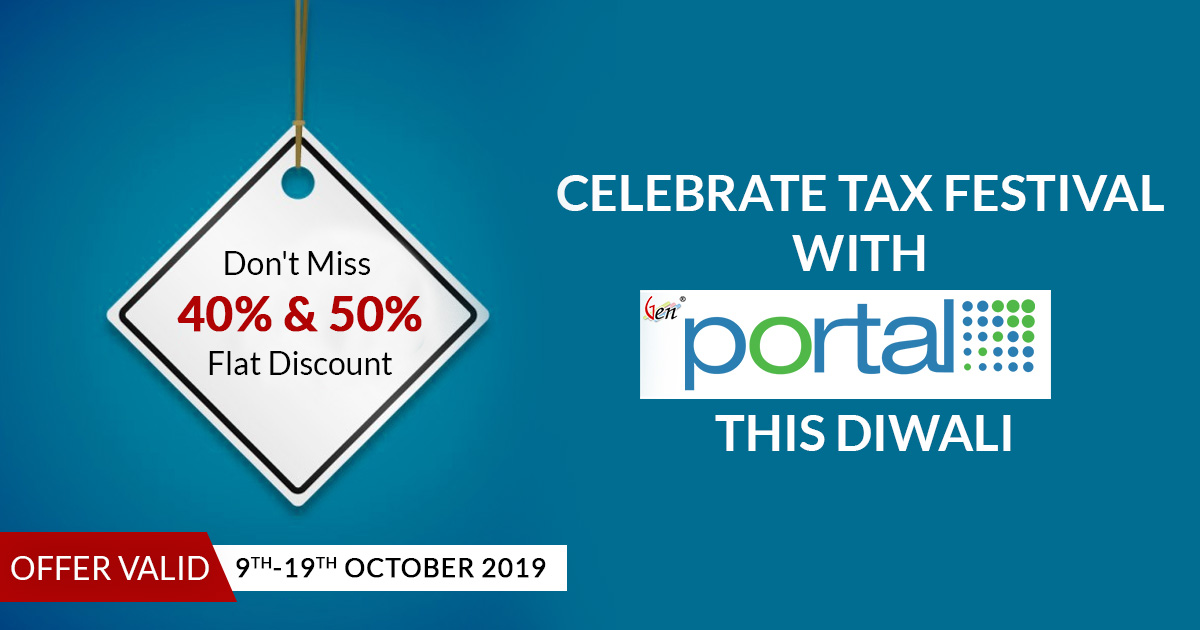 Festival offer is always unaffordable to miss, especially when they arrive as Diwali Bonanza. All the tax professionals and business firms await the whole year for this festive offer time that brings a box of surprising discounts by CA Portal.
This Deepawali SAG Infotech offers discounts on its big-league taxation software to adorn your festive offer mood. Let us check different massive discounts which will unfold happiness within different kinds of clients by duly meeting their taxation needs.

Festival Offer – Flat 50 % Discount For Current Users
SAG Infotech sends the festival greetings, to its existing customers, camouflaged in flat 50% discount on all its software package. The flat 50% offers is valid on all the product portfolio (Full Package) till the offer date and for the current users of the software i.e. our clients who are already using our tax software.
Festival Offer – Flat 40% Discount For New Users
SAG Infotech welcomes the new users this Diwali with flat 40% discount to multiply their festive joy. The new users who wish to use our taxation software in their professional and business areas can avail this limited time offer of flat 40% discount, now.
Festival Offer – Flat 50% Discount on Combo Buy
SAG Infotech is offering flat 50% discount to all the customers on the Combo purchase of any 2 packages. This discount is not available on the Genius package but on all other packages and for all the customers who are hunting for innovative yet user-friendly tax software to meet their business & professional needs.
Unbox the offer now to enjoy an easy & accurate tax return filing and skyrocket your business with best in industry tax solutions available.
Terms & Conditions:
Scheme applicable only on new software and website theme purchase.
Only applicable on the full software package purchase & on MRP.
Next FY updation free only for Genius package rest other needs updation as per applicable rates.
Software and Product List on offer:
Gen GST Desktop Software
Gen GST Online
Genius software package
Payroll Desktop Software
Payroll Online with Our Domain + Hosting
CompLaw with XBRL Software
CompLaw without XBRL Software
XBRL Software
CA Portal with Our Domain + Hosting
Unique domain may cost extra & the charges to be applicable to the client.
CA Portal require Space, Bandwidth, Domain, Hosting (provided by SAG only).
Mobile app to be listed under SAG Infotech name. In case, client wants own name, he is required to purchase separate Android+iOS account at his own cost.
Additional charges applicable with tax on domain, hosting Space, bandwidth etc.
GST & other applicable taxes are additional
Invoice once generated cannot be transferred to any other professional entity or business firm, address
Both Payment & Registration to be done within office working hours till offer period only
Note that there is no offer on LAN
Company reserves the right to end the offer anytime