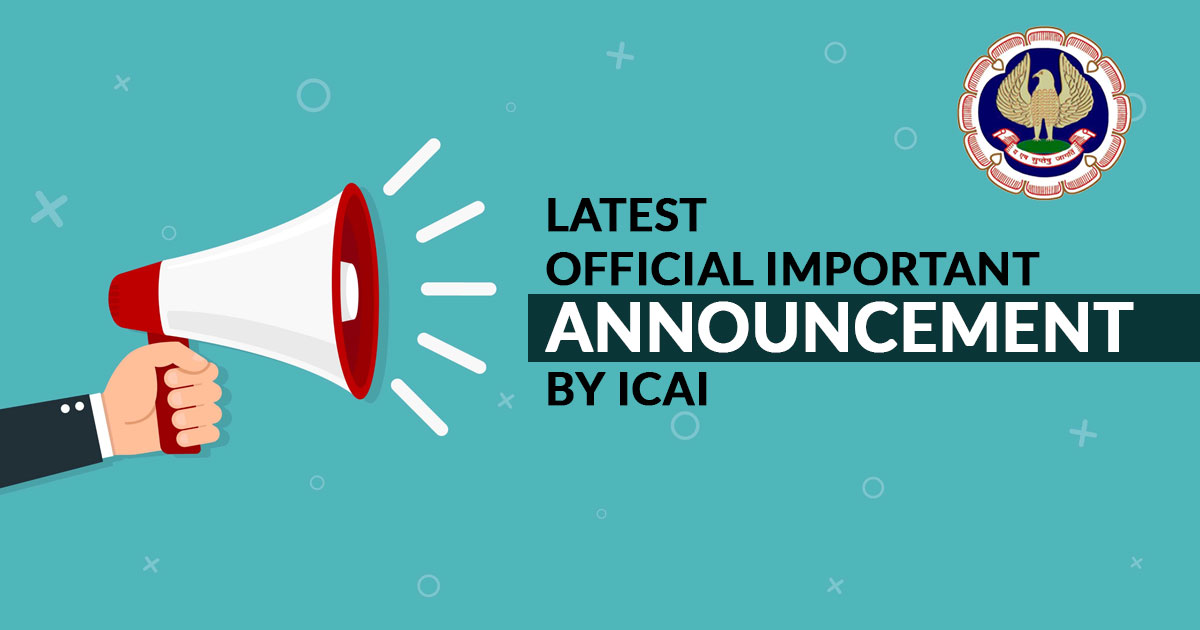 The Institute of Chartered Accountants of India is a statutory body as it came into existence by passing an act of the parliament viz. The Chartered Accountants Act, 1949 (Act No.XXXVIII of 1949). A Bill is a draft that has to pass through the Lok Sabha and the Rajya Sabha before it becomes an Act of Parliament.
The basic objective of the ICAI is to regulate the profession of Chartered Accountancy. The framework of ICAI has been designed by constitutional bodies i.e. it comes within the administrative control of the Ministry of Corporate Affairs, the Government of India. The ICAI is the second largest body of accounting and finance across the globe. As India is a welfare state, its basic objective is to serve the public interest and the nation's economy and ICAI is in furtherance of the aforesaid objectives.
Here you will get the complete details based on ICAI with the latest notifications and official important updates. The major updates will be passed on to the viewers with genuine fact checks and are provided for better clarity to the taxpayers, and chartered accountants for the best implementation of the compliance. The ICAI latest announcements will provide the latest extension of dates and many more.
Make Our Accounting and Tax Consultant Website
ICAI Latest Updates & Announcements
18th July 2023 – Request for Information regarding the IASB's post-implementation review of IFRS 15, Revenue from Contracts with Customers – Read PDF
12th July 2023 – Public comments are invited on draft amendments to the Chartered Accountants Regulations, 1988 resulting from the Amendment Act 2022 – Read PDF
11th July 2023 – The following Exposure Drafts were made for SQM 1, SQM 2, SA 220 (Revised), SA 250 (Revised), SA 315 (Revised), SA 540 (Revised), and SRS 4400 (Revised) – Read PDF
6th July 2023 -The ICAI Research Project Scheme 2023 is an initiative of the Research Committee – Read PDF
6h July 2023 – ICAI Doctoral Scholarship Scheme 2023 – An Initiative by the Research Committee (Last Date: September 30, 2023) – Read PDF
6th July 2023 -The Advanced Integrated Course on Information Technology and Soft Skills (Advanced ICITSS) – Advanced Information Technology Test – Read PDF
6th July 2023 -The results of the Chartered Accountants Final and Intermediate Examination were announced in May 2023. – Read PDF
5th July 2023 – "Results of Post Qualification Course Examination (International Taxation Assessment Test ) held in May 2023 declared". – Read PDF
6th July 2023 – "Important Announcement for November-December 2023 CA Examinations" – Read PDF
3rd July 2023 – "Audit Working Paper Templates" – Read PDF
30th June 2023 Changing of cut-off date to 1st July instead of 1st January of every year for the Bank Branch Auditors Panel – Read PDF
27th June 2023 – "Announcement – Empanelment Application for the Year 2023-24 hosted by The O/o C&AG" – Read PDF
23rd June 2023 – "Observations of the candidates on the question papers of CA examinations – June 2023" – Read PDF
23rd June 2023 – "Restricting revocation of the UDINs within 48 hours" – Read PDF
23rd June 2023 -"Announcement for New Scheme of Education and Training" – Read PDF
22nd June 2023 "Checklist on Standards on Auditing" – Read PDF
19th June 2023 – "Announcement for Candidates for appearing in the December 2023 Foundation Examination under the Existing Scheme of Education and Training – Read PDF
5th June 2023 -"Call for Papers – IIM Jammu Conference" – Read PDF
1st June 2023 -"Exposure Drafts of Guidance Notes on Forensic Accounting and Investigation Standards (FAIS)" – Read PDF
30th May 2023 – "Empanelment with the O/o C&AG of India for the year 2023-2024 from May 30, 2023, to June 8, 2023" – Read PDF
11th May 2023
"The next ICAI Convocation will be held at the following Cities as per the dates mentioned, for Members who are enrolled during the period from 1st October 2022 to 30th April 2023″ Read Also
10th May 2023
"Deferment of the second phase of the Peer Review Mandate" – Read Also
10th May 2023
"Exposure Draft on Amendments to the Classification and Measurement of Financial Instruments (Proposed amendments to IFRS 9 and IFRS 7)" – Read PDF
9th May 2023
"Short Term Research Studies – Call for Research Proposal by Research Committee (open around the year)" – Read PDF
2nd May 2023
"Observations of the candidates on the question papers of CA examinations May 2023" – Read PDF
27th April 2023
The Chartered Accountants examination was scheduled to take place on 10th May 2023 (Wednesday) at the Examinations Centres in Jalandhar (Punjab) and Jharsuguda (Odisha). Read PDF
18th April 2023
The ICAI International Research Awards 2023 are organized by the Research Committee (Last Date: June 30, 2023). Read PDF
17th April 2023
Extension of last date for updation of Member's Profile with GSTIN at Self Service Portal – Till 23rd April 2023 – Read PDF
17th April 2023
Auditing and Assurance Standards Board – Expert Panel for Addressing Queries related to Statutory Audit pertaining to Auditing Aspects – Read PDF
14th April 2023
14th April 2023 – Closed for Holiday – Read PDF
12th April 2023
Granting 4 Structured CPE hours in online mode through Digital Learning Hub and compliance of CPE hrs requirement Calendar year-wise from 2023 onwards.- Read PDF
12th April 2023
ICAI Awards for Excellence in Financial Reporting 2022-23 is organized by the Research Committee (Last Date: October 15, 2023) – Read PDF
9th April 2023
Acceptance of certain assignments by the Concurrent Auditor of Bank Branches – Read PDF
6th April 2023
Technical Guide on the Disclosure and Reporting of Key Performance Indicators (KPIs) in Offer Documents – Read PDF
1st April 2023
Postponement of the Chartered Accountants Examination scheduled to be held on 10th May 2023 (Wednesday) at the Examination Centres in the State of Karnataka – (01-04-2023)
1st April 2023
Updation of Member's Profile at Self Service Portal with GSTIN – Read PDF
28th March 2023
"Restraint order against Institute of Cost Accountants of India" – Read PDF
28th March 2023
Implementation Guide on Reporting under Rule 11(g) of Companies (Audit and Auditors) Rules, 2014 – Read PDF
23rd March 2023
"Implementation of Know your Member (KYM) Form" – Read PDF
21st March 2023
"Exposure Draft of Guidance Note on Transfer of Capital Reserve (Last date of comments: 20th April 2023) – Read PDF
16th March 2023
"Guidance Note on Audit of Banks (2023 Edition)" – Read PDF
7th March 2023
"Extension of Last Date for Online Empanelment of Members to act as Observers for May/June 2023 Examinations up to 15th March 2023". – Read PDF:
7th March 2023
"Implementation Guide to SA 580, Written Representations" –Read PDF
10th February 2023
"A Primer on the Concept of Social Stock Exchange" – Read PDF
8th February 2023
"Announcement for Students at Intermediate and Final level eligible for appearing in November 2023 CA Examination". – Read PDF
8th February 2023
"Exposure Drafts of Guidance Note on Financial Statements of Non-Corporate Entities and Guidance Note on Financial Statements of Limited Liability Partnerships for comments" – Read PDF
8th February 2023
"Framework for Social Audit Standards" – Read PDF
3rd February 2023
"Results of the Chartered Accountants Foundation Examination held in December 2022 declared." – Read PDF
3rd February 2023
"Results of the Post Qualification Course Examinations ([ISA] Assessment Test, International Taxation Assessment Test & Insurance & Risk Management) declared." – Read PDF
3rd February 2023
"Special Examination for Members of Foreign Accounting Bodies with whom the ICAI had entered into Mutual Recognition Agreement (MRA) / Memorandum of Understanding (MOU) from 12th to 16th June, 2023" – Read PDF
3rd February 2023
"First Level Test of the Special Examination for Overseas Citizen of India holding Professional Accountancy Qualification under the Scheme specified under "Schedule B" of Chartered Accountants (Amendment) Regulations, 2014, notified vide Notification No. 1-CA(7)/154/2014 dated 22.07.2014″ – Read PDF
1st February 2023
Important Announcement – "Empanelment of Members to act as Observers at The Examination Centres for The Chartered Accountants Examinations May/June 2023" Read PDF
1st February 2023
"ICAI invites suggestions on tax proposals for Union Budget 2023-24" – Read PDF
26th January 2023
MCA 21 Version 3 – LLP filing and Company Filing for 56 Forms – Issues/ Feedback (If any) – Initiative of the Corporate Laws & Corporate Governance Committee of ICAI – Read PDF
23rd January 2023
"Webinar on Awareness on MCA21 V3 Company filings on 23 January 2023 from 3:00 pm to 5:00 pm" – Read PDF
21st January 2023
"Office hours arising out of Security Arrangements for Republic Day – 2023" – Read PDF
17th January 2023
Convocation – 2023 – Read PDF
17th January 2023
Exposure Draft of the International Non-Profit Accounting Guidance (INPAG)- Part 1 – Read PDF
16th January 2023
Exposure Draft on International Tax Reform – Pillar Two Model Rules (proposed amendments to IAS 12) – Read PDF
14th January 2023
Social Audit Standards (SAS) 100 to 1600 – Read PDF
14th January 2023
Technical Guide on Digital Assurance – Read PDF
13th January 2023
"Exposure Draft of Guidance Note on Audit of Banks, 2023 edition issued by the Auditing and Assurance Standards Board"
10th January 2023
"Results of the Chartered Accountants Final and Intermediate Examination held in November 2022 declared."
2nd January 2023
"Draft Bank Branch Auditors' Panel (MEF) for the year 2022-23" – Read PDF
30th December 2022
"Exposure Drafts of Amendments to Ind AS 1 and Ind AS 116 for comments" – Read PDF
22nd December 2022
"Important Announcement – Post Qualification Course – Diploma on Management and Business Finance (DMBF) January 2023 Examination" – Read PDF
15th December 2022
"Implementation Guide to SA 230, Audit Documentation (Revised 2022 Edition)" – Read PDF
14th December 2022
"Observations of the candidates on the question papers of CA Foundation examinations- December 2022" – Read PDF
8th December 2022
ICAI submits Pre-Budget Memoranda-2023 – Read PDF
27th November 2022
Advanced Integrated Course on Information Technology and Soft Skills (Advanced ICITSS) – Adv. Information Technology Test – Computer Based Mode (CBT) Dec 2022, Jan-Feb-Mar 2023 – Read PDF
26th November 2022
Information System Audit – Assessment Test (ISA – AT), December 2022 – Read PDF
10th November 2022
"Announcement for Further Extension of Last Date for Submitting MEF 2022-23 from November 9 to November 15, 2022" Read PDF
10th November 2022
"Certificates issued by Peer Review Board to Practice Units without end date" – Read PDF
9th November 2022
"Peer Review Mandate – Phase II Roll Out" – Read PDF
2nd November 2022
"QRB Report on Audit Quality Review – 2021-22" – Read PDF
1st November 2022
"Observations of the Candidates on the Question Papers of CA Examinations – November 2022" – Read PDF
31st October 2022
"Invitation for filing Nominations for 16th ICAI Awards" – Read PDF
28th October 2022
"Post Qualification Course (PQC) Examination – Insurance And Risk Management (IRM) Technical Examination, November 2022 – Reg. Postponement of Exam" – Read PDF
26th October 2022
"Postponement of Chartered Accountants Examination Scheduled to be held on 12th November 2022 at Shimla City (Himachal Pradesh) only." – Read PDF
25th October 2022
"Guidance Note on Report Under Section 92E of The Income-Tax Act, 1961 (Transfer Pricing)" (Revised 2022) – Read PDF
25th October 2022
"Post Qualification Course (PQC) Examination – International Taxation Assessment Test (INTT-AT) , November 2022 – Reg. Postponement of Exam" – Read PDF
22nd October 2022
"Use of designation "Chartered Accountant" or prefix "CA" by members while expressing views on professional/non-professional matters publicly including on social media." – Read PDF
21st October 2022
"Announcement for Extension of Last Date for Submitting MEF 2022-23 from October 28 to November 9, 2022 – Read PDF
10th October 2022
"Third edition of the IFRS for SMEs Accounting Standard – Read PDF
10th October 2022
"Updation of UDINs at e-filing Portal – Read PDF
10th October 2022
"Invitation for ICAI International Research Awards 2022 scheduled on October 20, 2022 at Kanpur (U.P.) – Read PDF
6th October 2022
"Hosting of Multipurpose Empanelment Form (MEF) – 2022-23 – Read PDF
29th September 2022
"Applicable date of certain deferred provisions of Volume-I of Code of Ethics, 2019 – Read PD
28th September 2022
"Attention Please-Two days to go for Direct Tax Due Date-30 September 2022 fast approaching-Due date to file Income-tax Audit Reports and Forms-Please appeal Assessees to comply-DTC of ICAI" – Read PDF
27th September 2022
"Convocation 2022 – The next ICAI Convocation will be held on 6th October 2022 at the following Cities, for Members who are enrolled during the period from 1st September 2021 to 30th April 2022." Read PDF
23rd September 2022
"ICAI Invites Suggestions for Pre-Budget Memorandum-2023" – Read PDF
22nd September 2022
"Technical Guide on Audit of Charitable Institutions under Section 12A of the Income-tax Act, 1961" – Read PDF
21st September 2022
"Inviting nomination for CA Business Leader: 40 under 40 awards in association with CNBC TV 18" – Read PDF
20th September 2022
"Registration for Online Home-Based Practical Training Assessment" – Read PDF
19th September 2022
"Exposure Draft of AS 113, Fair Value Measurement" – Read PDF
15th September 2022
"Extension of Last Date for Online Empanelment of Members to act as Observers for November/ December 2022 Examinations up to 20th September 2022". –Read PDF
13th September 2022
"Mandatory Evaluation of The Audit Quality Maturity of The Firms using Revised Audit Quality Maturity Model (AQMM Rev v1.0)" – Read PDF
12th September 2022
"Exposure Draft of Standard on Sustainability Assurance Engagements (SSAE) 3000 – SRSB, ICAI" – Read PDF
10th September 2022
"Withdrawal functionality of 15CB forms at the e-filing portal – A large extent of pendency for the updation of 15 CB forms at the e-filing portal may be attributed to the non-availability of any options for their withdrawal from the portal." – Read PDF
9th September 2022
"Important Announcement – The Institute of Chartered Accountants of India is pleased to announce
that the next Chartered Accountants Foundation Examination will be held on the dates and places" – Read PDF
7th September 2022
"Announcement on External Confirmations through Third Party Vendors" – Read PDF
5th September 2022
"2nd International Research Conference on Insolvency and Bankruptcy organised by Insolvency and Bankruptcy Board of India from 23rd to 25th February 2023" – Read PDF
2nd September 2022
"MCA 21 Version 3 – LLP filing and Company Filing for 9 Forms – Issues/ Feedback (If any) – Initiative of the Corporate Laws & Corporate Governance Committee of ICAI." – Read PDF
31st August 2022
"Submission of Online Examination Application Forms for Chartered Accountants Examinations, November 2022". – Read PDF
31st August 2022
"Board of Studies is organising a Live Webinar "BoS For Your Success" Plan, Prepare & Perform on 1st September 10 AM onwards for students of Intermediate & Final courses appearing in November 2022 exams." – Read PDF
31st August 2022
"Amendment in the Companies (Acceptance of Deposit) Rules, 2014 relating to Acceptance of money by way of deposit or loan from the public." – Read PDF
31st August 2022
"Amendment in the Companies (Appointment and Qualification of Directors) Rules, 2014" – Read PDF
31st August 2022
"Amendment in the Companies (Registration of Charges) Rules, 2014" – Read PDF
31st August 2022
"Amendment in the Companies (Removal of names of companies from the register of companies) Rules, 2016." – Read PDF
31st August 2022
"Announcement of Online Examination of the 'Certificate Course on Indian Accounting Standards (Ind AS) A10' to be held on 13th November 2022" – Read PDF
29th August 2022
"Declaration of the result of the online examination of the 'Certificate Course on Indian Accounting Standards (Ind AS)' held on 24th July 2022 & 7th August 2022". – Read PDF
29th August 2022
"Launch of 'Certificate Course on Indian Accounting Standards (Ind AS)' (Online Batch 37)" – Read PDF
29th August 2022
"ANNUAL FEE CIRCULAR 2022-23 – "ICAI requests its Members to remit Annual Membership/Certificate of Practice fees for the year 2022-2023" – Read PDF
22nd August 2022
"Empanelment of Members to act as Observers at The Examination Centres for The Chartered Accountants Examinations – November 2022" – Read PDF
20th August 2022
"Relaxation for students registered provisionally till 31st July 2022 in the Intermediate Course through Direct Entry Route for appearing in May 2023 Intermediate Examination." – Read PDF
18th August 2022
"Revised Eligibility Date for Advanced Integrated Course on Information Technology and Soft Skills (Advanced ICITSS) – Adv. Information Technology Test – Computer Based Mode (CBT)" – Read PDF
16th August 2022
"The last date for submission of nomination for National CSR Awards to CL&CGC ICAI has been extended till 21st August 2022" – Read PDF
16th August 2022
"Announcement regarding Amendment in the Companies (Accounts) Rules, 2014 relating to the availability of books of account maintained in electronic mode at all times and details of the person in control, if the service provider is located outside India." – Read PDF
11th August 2022
"Office hours arising out of Security Arrangements for Independence Day – 2022" – Read PDF
11th August 2022
"Results of the Chartered Accountants Foundation Examination held in June 2022 declared." – Read PDF
10th August 2022
"Results of the PQC Examination – Information Systems Audit [ISA] Assessment Test declared." – Read PDF
5th August 2022
"Exposure Draft of Compendium of Social Audit Standards – for Comments – SRSB, ICAI" – Read PDF
4th August 2022
"Withdrawal of the Guide to Reporting on Proforma Financial Statements (Pursuant to the SEBI (Issue of Capital and Disclosure Requirements) Regulations, 2009)" – Read PDF
29th July 2022
"The last date for submission of nomination for National CSR Awards to CL&CGC ICAI has been extended till 10th August 2022" – Read PDF
27th July 2022
"Requirements for Applying for November 2022 Exams" – Read PDF
27th July 2022
"Launch of 'Certificate Course on Indian Accounting Standards (Ind AS)' (Online Batch 36)" – Read PDF
26th July 2022
"Revised Schedule of Advanced Integrated Course on Information Technology and Soft Skills (Advanced ICITSS) – Adv. Information Technology Test – Computer Based Mode (CBT)" – Read PDF
21st July 2022
"Results of the Post Qualification Course Examination – International Taxation Assessment Test held in May 2022 declared." – Read PDF
21st July 2022
"Results of the Chartered Accountants Intermediate Examination held in May 2022 declared." – Read PDF
21st July 2022
"IFRS Foundation document issued for comments: Staff draft of the IFRS Sustainability Disclosure Taxonomy" – Read PDF
21st July 2022
"ICAI International Sustainability Reporting Awards 2021-22 for Excellence in Sustainable Initiatives and Innovations – SRSB, ICAI (Last Date: October 31, 2022)" – Read PDF
21st July 2022
"Restoration of course fees for the classes of IT and Soft Skills Training as per the prescribed fees during pre-Covid times" – Read PDF
20th July 2022
"Technical Guide on Valuation of Business in Telecom Tower Industry brought out by VSB ICAI" – Read PDF
20th July 2022
"Empanelment of Advocates in ICAI" – Read PDF
20th July 2022
"Publication – Valuation: Professionals' Insight Series 7 brought out by VSB ICAI" – Read PDF
20th July 2022
"Corrigendum – CA Examinations, November 2022" – Read PDF
19th July 2022
"Results of the Chartered Accountants Intermediate Examination held in May 2022 are likely to be declared on Thursday, the 21st July 2022." – Read PDF
19th July 2022
"Results of the Post Qualification Course Examinations are likely to be declared on Thursday, the 21st July 2022" – Read PDF
18th July 2022
"Extension of the time period for Registration in Foundation Course for appearing in Foundation Examination to be held in December 2022" – Read PDF
18th July 2022
"Exposure Draft of Guidance Note on Report under Section 92E of the Income-Tax Act, 1961 (Transfer Pricing) (comments to be received by 1st August 2022)" – Read PDF
15th July 2022
"Results of the Chartered Accountants Final Examination held in May 2022 declared." – Read PDF
14th July 2022
"Guidance Note on the Companies (Auditor's Report) Order, 2020 (Revised 2022 Edition)" – Read PDF
14th July 2022
"Important Announcement – CA Examinations November 2022" – Read PDF
13th July 2022
"Results of the Chartered Accountants Final Examination held in May 2022 are likely to be declared on Friday, the 15th of July 2022(evening)/Saturday, the 16th of July 2022" – Read PDF
12th July 2022
"Request to submit an online nomination for National CSR Awards to CL&CGC ICAI by 25th July 2022" – Read PDF
12th July 2022
"ICAI Sustainability Reporting Awards for Excellence in Sustainability Reporting 2021-22 – SRSB – ICAI (Last Date: October 31, 2022)" – Read PDF
5th July 2022
"The Emerging Role of Auditors and CFOs in addressing Risk Management: A New Perspective" – Read PDF"
5th July 2022
"Rescheduled Date for Chartered Accountants Foundation Examination at Silchar (Assam) Examination Centre." – Read PDF
5th July 2022
"Exposure Draft of Revised 'Guidance Note on Tax Audit under section 44AB of the Income-tax Act, 1961' for Public Comments" – Read PDF
5th July 2022
"Release of Compendium of Ind AS (as on April 01, 2022) and related guidance material" – Read PDF
4th July 2022
"Release of Educational Material on Ind AS 34, Interim Financial Reporting" – Read PDF
1st July 2022
"LLP Form 11 for FY 2021-22 due date extended till 15th July 2022" –Read PDF
30th June 2022
"Online Refresher Course – "Deep Dive into Share Based Payments Standard – Ind AS 102″ starting from 30th July 2022" – Read PDF
30th June 2022
"Notification for Online Assessment Test (AT) for Certificate Course on Forensic Accounting and Fraud Detection on Saturday the 6th August 2022 – (30-06-2022) (Last updated on 5th July 2022)" Read PDF
28th June 2022
"Register for 3 Days Training (VCM) Program on the topic 'Export Entrepreneurship' from 5th July 2022 to 7th July 2022 from 2.00 pm to 5.00 pm" – Read PDF
28th June 2022
"Registration and Fees payment for Online French Language Course w.e.f 9th July 2022 for ICAI Members and Students" – Read PDF
24th June 2022
"Observations of the candidates on the question papers of CA Foundation examinations- June 2022" – Read PDF
23rd June 2022
"Postponement of Chartered Accountants Foundation Examination Scheduled to be held on 24th & 26th June 2022 at Silchar (Assam) Examination Centre Only". Read PDF
21st June 2022
"Registration and Fees payment for Online French Language Course w.e.f 2nd July 2022 for ICAI Members and Students" – Read PDF
20th June 2022
"Invitation for Expression of Interest – suggestions on reducing carbon footprints" – Read PDF
10th June 2022
"Announcement – Launch of 'Certificate Course on Indian Accounting Standards (Ind AS)' (Online Batch 35)" – Read PDF

10th June 2022
"The announcement by CL&CGC regarding Amendment in Companies (Removal of Names of Companies from the Register of Companies) Rules, 2016." – Read PDF
7th June 2022
"Exposure Draft of Guidance Note on CARO 2020 (Revised 2022 Edition)" – Read PDF
4th June 2022
"Announcement – Proposed Scheme of Education and Training" – Read PDF
3rd June 2022
"Inviting Public Comments on the Proposed Scheme of Education and Training" – Read PDF
3rd June 2022
"Advanced Integrated Course on Information Technology and Soft Skills (Advanced ICITSS) – Adv. Information Technology Test – Computer Based Mode (CBT)" – (03-06-2022)
3rd June 2022
"Waiver of additional fees up to 30.06.2022 for event-based LLP e-forms due for filing from 25.02.22 to 31.05.2022" – Read PDF
3rd June 2022
"Extension of due date for filing of Form CSR-2 for FY 2020-21 till 30th June 2022 and requirement of separate filing of Form CSR-2 for FY 2021-22 on or before 31st March, 2023" – Read PDF
3rd June 2022
"LLP Form 11 for FY 2021-22 due date extended till 30th June 2022"- Read PDF
3rd June 2022
"Awareness on Upgradation of Registered users in V2 to Business User in V3 MCA 21 by CL&CGC ICAI" – Read PDF
3rd June 2022
"The announcement by CL&CGC ICAI regarding Registration of Professional Staff Member as Business User in V3 MCA 21 "- Read PDF
31st May 2022
"Online Examination of the 'Certificate Course on Indian Accounting Standards (Ind AS)' ( A9) to be held on 24th July 2022" – Read PDF
31st May 2022
"Online Refresher Course – 'Insight into Insurance Contracts Standard – Ind AS 117' starting from 18.06.22" – Read PDF
31st May 2022
"Rescheduled Dates for Chartered Accountants Examination at Silchar (Assam) Examination Center Only". – Read PDF
23rd May 2022
"Announcement Certificate Course on Cooperatives" – Read PDF
21st May 2022
"Postponement of Chartered Accountants Examinations scheduled to be held on 21st May 2022 [Saturday] at Silchar (Assam) Examination centre only." – Read PDF
19th May 2022
"Postponement of Chartered Accountants Examinations scheduled to be held on 19th & 20th May 2022 at Silchar (Assam) Examination centre only." – Read PDF
18th May 2022
One Day Train the Trainer Programme for prospective trainers for "The Audit Quality Maturity Model v 1.0." – Read PDF
17th May 2022
Information System Audit – Assessment Test (ISA – AT), July 2022 – Read PDF
17th May 2022
Invitation for Expression of Interest for Empanelment as Resource Person/ Subject Matter Expert in Green Finance – Read PDF
14th May 2022
"Observations of the candidates on the question papers of CA examinations – May 2022" – Read PDF
13th May 2022
"Updation of UDINs at e-filing Portal" – Read PDF
12th May 2022
"Declaration of Result of the online examination of the 'Certificate Course on Indian Accounting Standards (Ind AS)' held on 24th April 2022" Read PDF
12th May 2022
"Assessment Test for Diploma in International Taxation (INTT-AT) from November 2022 onwards" – Read PDF
12th May 2022
"Consent for enrolment for Exclusive Blended Online Weekend Batch of the Spanish language (level A1.1) for ICAI Members and Students (60 hours), Last Date: 16th May 2022" – Read PDF
6th May 2022
"Last Date Extended up to 8th May 2022 – Registration for Online Business English Language Course from 16th May 2022" – Read PDF
2nd May 2022
"Rescheduling of 10th Batch of Online Certificate Course on Business Responsibility and Sustainability Reporting (BRSR) – SRSB, ICAI". – Read PDF
2nd May 2022
"Registration for Online Business English Language Course from 16th May 2022- Last Date to apply 6th May 2022" – Read PDF
2nd May 2022
"Effective Date of applicability of Standard on Assurance Engagements (SAE) 3410 "Assurance Engagements on Greenhouse Gas Statements" – Read PDF
29th April 2022
"Exposure Draft of AS 108, Segment Reporting" – Read PDF
28h April 2022
"Launch of 'Certificate Course on Indian Accounting Standards (Ind AS)' – (Online Batch 33 & 34)" – Read PDF
28h April 2022
"IICA Youth Essay Competition" – Read PDF
28h April 2022
"Important Message: Strict Compliance – regarding Verification/ Clarification of documents related to the incorporation of a Company or a LLP by Practicing Professionals." – Read PDF
28th April 2022
"Announcement – 75% Concession in Registration Course Fee for all levels of CA Courses for the wards of demised members of ICAI." – Read PDF
28th April 2022
"Announcements – 75% Fee Concession in Registration Course Fee for all levels of CA Courses for the Candidates/ Students from Union Territories of Jammu & Kashmir, Ladakh, 8 North-Eastern States and Andaman & Nicobar Islands". – Read PDF
28th April 2022
"Updation of UDINs at e-filing Portal" – Read PDF
26th April 2022
"Implementation Guide on Reporting under Rule 11(e) and Rule 11(f) of the Companies (Audit and Auditors) Rules, 2014 issued by the Auditing and Assurance Standards Board" – Read PDF
21st April 2022
"Announcement for Assessment Test of Certificate Course on GST scheduled on 8th May 2022" – Read PDF
15th April, 2022
"Auditing and Assurance Standards Board – Expert Panel for Addressing queries related to Statutory Audit pertaining to Auditing Aspects" – Read PDF
14th April 2022
"3rd National Online Quiz on Insolvency and Bankruptcy Code, 2016 organized by Insolvency and Bankruptcy Board of India from 16th April 2022 to 15th May 2022" – Read PDF
13th April 2022
"Postponement of Launch of National CSR Exchange Portal by the Ministry of Corporate Affairs." – Read PDF
12th April 2022
"Announcement – Launch of Certificate Course on Indian Accounting Standards (Ind AS) in Physical mode Jointly with Gurugram Branch". – Read PDF
11th April 2022
'Peer Review Mandate – Roll Out – (Revised)" – Read PDF
9th April 2022
Invitation for Expression of Interest for Empanelment as Subject Matter Expert in the Statutory Audit of Entities pertaining to Auditing Aspects – Read PDF
8th April 2022
"Sustainability Reporting Standards Board (SRSB) of ICAI announces 10th batch of Online Certificate Course on Business Responsibility and Sustainability Reporting (BRSR) commencing from May 4, 2022, for members of ICAI." – Read PDF
7th April 2022
"Expand your Services and Participate at Accountex from 11th to 12th May 2022, London at the subsidized rate – in collaboration with SEPC" – Read PDF
5th April 2022
"The Council at its 407thMeeting held from 7th– 9th January 2022 decided to mandate the Peer Review process for coverage of more firms under Peer Review process." – Read PDF
5th April 2022
"ICAI Doctoral Scholarship Scheme 2022 – An Initiative by the Research Committee (Last Date: July 31, 2022)" – Read PDF
5th April 2022
"ICAI Research Project Scheme 2022 – An Initiative by the Research Committee" – Read PDF
5th April 2022
"ICAI International Research Awards 2022 organised by Research Committee (Last Date for Nomination: July 31, 2022)" – (05-04-2022)
5th April 2022
"Certificate Course on Public Finance & Government Accounting – 20th Online Batch commencing from 5th June 2022". – Read PDF
5th April 2022
"ICAI Awards for Excellence in Financial Reporting 2021-22 organised by Research Committee (Last Date for Nomination: October 31, 2022)" – Read PDF
2nd April 2022
"Announcement on Guidance Note on the Companies (Auditor's Report) Order, 2020" – Read PDF
1st April 2022
"Online Process for Formation of Networking of CA Firms Launched" – Read PDF
31st March 2022
"Deferment of certain provisions of Volume-I of Revised Code of Ethics" – Read PDF
31st March 2022
"Auditing and Assurance Standards Board – Online Panel of Experts for addressing Bank Branch Audit related queries" – Read PDF
30th March 2022
"Launch of Civil Services Orientation & Mentorship Programme for CA Members and CA Students aspiring to join Civil Services" – Read PDF
28th March 2022
"Awarded Certificate of Membership in this Convocation 2021-22" – Read PDF
28th March 2022
"The ICAI Convocation, which was originally scheduled in January 2022 at Jaipur 2021-22" – Read PDF
28th March 2022
"The ICAI Convocation, which was originally scheduled in January 2022 at Delhi 2021-22" – Read PDF
28th March 2022
"Registration for Online Japanese Language Course w.e.f. 9th April 2022 A1 Katsudoo Level for ICAI Members and Students" – Read PDF
25th March 2022
Re-opening of Online filling up of Examination Application Forms for Chartered Accountants Examinations, May / June 2022. – Read PDF
25th March 2022 "
"Result of the online Examination of the Certificate Course on Forex and Treasury Management held on 5th & 6th March 2022". – Read PDF
23rd March 2022
Extension of the last date for online empanelment of members to act as observers for May/June 2022 examinations up to 31st March 2022. – Read PDF
21st March 2022
"Announcing the launch of Module 2 of the online Refresher Course – 'Deeper Insight into Financial Instruments (Ind AS)" – Read PDF
16th March 2022
"Announcing the launch of Module 1 of the online Refresher Course – 'Deeper Insight into Financial Instruments (Ind AS)' – Read PDF
15th March 2022
"Re-schedule meant of Foundation Course Examination, May 2022" – Read PDF
14th March 2022
"Notification for Online Assessment Test (AT) for Certificate Course on Fundamental Analysis and Technical Analysis with Equity Research on 26th & 27th March 2022 at 10:00 AM -12:00 Noon IST. "- Read PDF
14th March 2022
"3rd online batch of Certificate course on Derivatives from 16th April 2022 to 19th June 2022 at 10:00 AM – 1:00 PM IST – Read PDF
11th March 2022
"The ICAI Convocation, which was originally scheduled in January 2022 at Kanpur and Indore could
not be organized due to Covid Pandemic, will now be held, as per the following schedule" – Read PDF
11th March 2022
"The most awaited ICAI Convocation 2021-22 will be held, as per the following schedule, for Members" Read PDF
10th March 2022
Online Examination of the 'Certificate Course on Indian Accounting Standards (Ind AS)' to be held on 24th April 2022 – Read PDF
7th March 2022
Consent for enrolment for Exclusive Blended Online Weekend Batch of the Spanish language (level A1.1) for ICAI Members and Students (60 hours), Last Date: 10th March 2022″ – Read PDF
7th March 2022
"Survey for seeking preference for learning a foreign language through the virtual mode from ICAI Members and Students, Last Date: 15th April 2022" – Read PDF
4th March 2022
"Clarification with regard to Chartered Accountants in Practice/Firms of Chartered Accountants registering themselves on GeM (Government e-marketplace) Portal" – Read PDF
22nd June, 2023 "Convocation 2021-22 – "The ICAI Convocation, which was originally scheduled in January 2022 at Hyderabad and postponed, has now been held on 12th-13th March 2022"- Read PDF
3rd March 2022
"The most awaited ICAI Convocation 2021-22 will be held, as per the following schedule" – (14-12-2021) Read PDF
2nd March 2022
"Empanelment of Members to act as Observers at the Examination Centres for The Chartered Accountants Examinations May 2022". – Read PDF
2nd March 2022
"Regarding referring the Database of Companies and Auditors under NFRA domain as on 31st March 2021 as prescribed by the Central Government under Rule 3 (1) of NFRA Rules, 2018 and Advise to file Form NFRA-2- Annual Return." – Read PDF