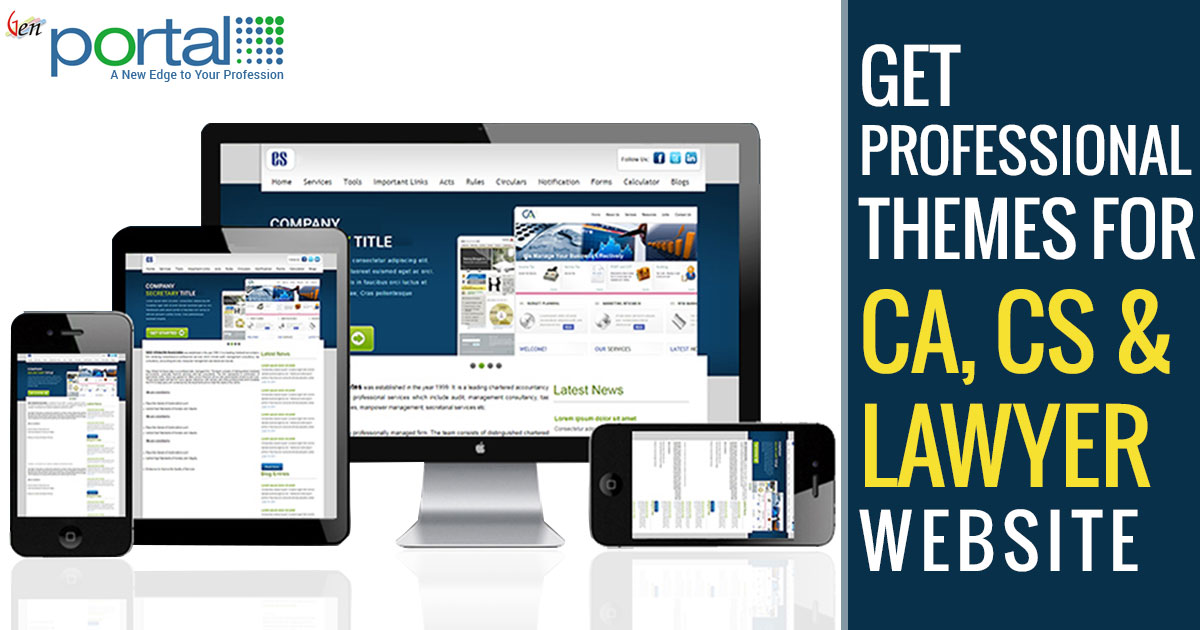 CA portal website facility offered by SAG Infotech Pvt Ltd is specially designed for CA, CS, and Lawyers. It allows professionals to work timely, accurately and remain updated. CA portal is completely designed keeping in mind the professionals and it has more than 100 CS, Lawyer and CA website templates. Clients can choose as per their requirement from 100 templates made available on the website along with good services and features.
Facilities being provided by the company in the CA portal website – clients can select one theme from various themes as per their choice. Every single theme has a unique design as well as an attractive menu bar. Each template has some features such as Homepage, Services, Tools, Important Links, Notifications, Acts, Rules, Forms, Calculator, and Blog. The company is also providing a login option in the CA portal website to maintain personal information which can be accessed only by the authorized user.
Features of CA Portal (Website Templates) are Mentioned Below
Homepage
The home page of CA portal website consists of several features such as services, tools, acts, rules, news feed, blog and many more. At the top of the home page, there are several options such as login, contact information, about us and logo. Users can also use several social media platforms – Facebook, Twitter, Youtube, LinkedIn and Gmail to communicate with visitors. In the middle section of the home page, there are different tabs for news, blog, due date reminder, which makes it easier to provide related information just only in one click. Additionally, you can also share the company history, your work and so on. Several other options such as adding the location in the map, suggestion box and address are also available in the CA portal.
Services
This tab consists of the list of services provided by the client company. E.g if the client is a tax consultant, all the relevant information, and facilities regarding tax offered by the client company will be provided in the portal. This tab also allows the addition of a number of services to the existing services offered by the client company.
Tools
This tab consists of the list of tools such as MICS codes, IFSC codes, Rate of income tax, filing fee, Rate of TDS and so on. Through this, users can easily understand the essential information regarding TDS information, income tax filing and much more.
Notifications
This section comprises official notifications related to CA, CS rules, changes, compliances and amendments occurring in the laws. In any case, the department provides you with any notifications about the rules and regulations in the laws and if the user visits your website, he will be able to know the exact notifications being provided by the department. You can avail this option, for your website.
Acts
GEN CA portal is also offering the option to avail information about different acts which are currently going on such as custom, central excise, expenditure tax, gift tax, income tax, service tax, wealth tax and so on. If you want detail information on any of the acts then you will just have to click on the particular link and you will get detail information about the acts. The information of basic acts is available in the CA portal. If you want to avail information for a particular year, then you must have to select a particular year and insert section number and you will get information about the acts that are currently running. Suppose if in case the acts have not been updated by the department and the changes are required. On the basis of your requirements, we will provide the changes.
Rules
This menu consists of several rules for custom, income tax, service tax and so on. If you want that the user will follow rules of the particular department, you can avail this option for your website.
Calculator
The next feature in CA portal theme is calculator which helps users to calculate the EMI, HRA, FBT, Home loan, Auto loan. For example, Whenever you clicked on the Income Tax filing, with the help of a calculator, you can calculate income related things easily.
Blog
It provides a platform to share any of the achievements and new services offered by the company. There is a login option available which can be accessed only by the authorized users or admin for sharing and editing the blogs. For maintaining the database, records and backup files related to the company, another option like login has been provided.
Login
Login section is available to fill personal information which can only be accessed by the authorized user or admin for login purpose. After filling the required information, the user can login using the user id and password. The login page offers several features such as home, site manager, doc master, email manager, SMS manager and reminder.
Site Manager
This tab provides the facility to edit company's address and contact information. The user can also add necessary information on the homepage and can also change the contact details,  news as per their requirement.
Doc Master
This section helps to maintain several documents of the user. Authorised user or admin can even add, rename, email and upload files with the help of this feature. Data relevant to a particular portal could be maintained here. The user can access these documents as per his need and convenience.
Email Manager
Through email manager, users will be able to access mail features such as inbox mail, sent mail, draft mail and also maintain records without opening another browser.
SMS Manager
SMS Manager allows users to send messages to their clients and employees. It also has the facility to create groups, generate own templates and set view report. The users can send the messages to their clients after some period of time by scheduling the time.
Reminder
A reminder is a key feature of CA portal website. Through this feature, users can set easily meeting dates and upcoming events and also set a reminder of a meeting of the particular date. Reminder alerts you by messaging on your particular phone number as well as pop- up on your portal.
Important Links
This menu provides various links regarding PAN, TAN, PF, ESI, CBEC, Supreme court, High court and many more. Just only in one click on a particular link will provide you with a basic information related to income tax, GST and several other taxation systems. For example, if you click on the GST link, you will get all the information related to GST which includes registration, log in to GST etc. You just have to click on a particular link and you will be redirected automatically.
Overall, CA portal website consists of several features such as site manager doc master, email manager SMS manager and so on. Although, there are several portals are available for professionals but the CA portal is the best amongst them for CA, CS, Lawyers, and professionals. The client can make an attractive website instantly by availing the CA portal website templates. The portal also has a login panel where the user can edit, modify and delete any function tab as per their convenience.