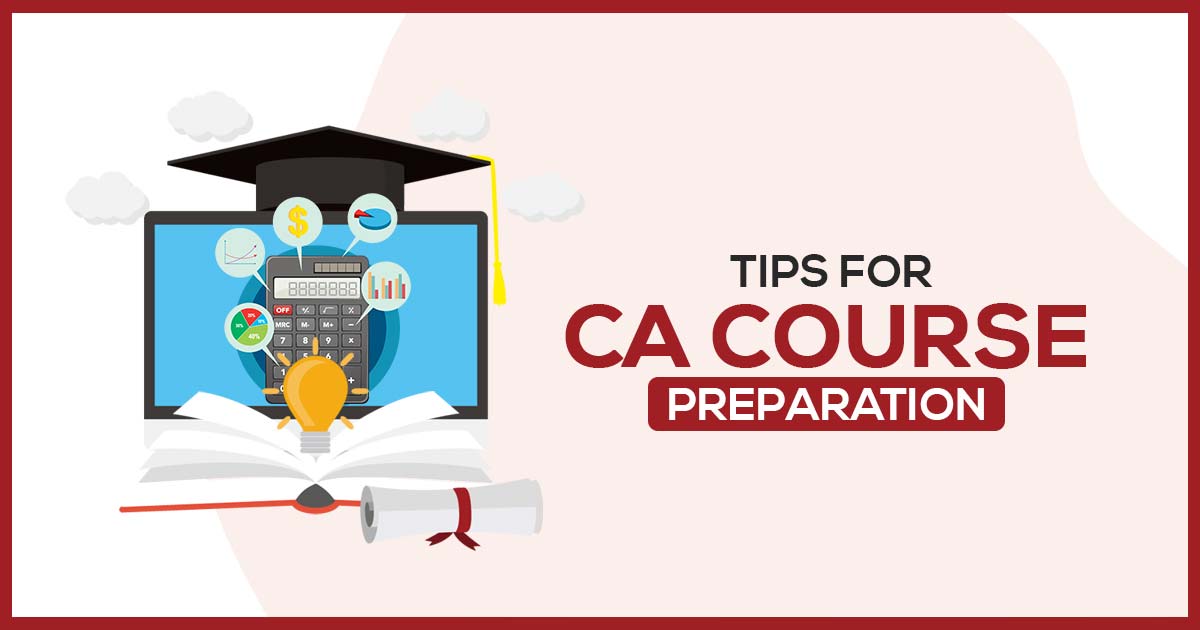 Being a Chartered Accountant (CA) is a coveted achievement that calls for unwavering commitment, in-depth knowledge, and thoughtful planning. The path to becoming a CA entails passing multiple tiers of exams and gaining practical experience. In order to succeed in the CA course, aspiring CAs need to approach their studies with organization and discipline. In this post, we'll look at practical methods that CA candidates may use to improve their preparation and raise their chances of success.
Well, we have seen CA aspirants spending hours with books curbing all the entertainment and socialization from their lives. Is this the right track towards achieving the goals? It is a great honour to have the designation "chartered accountant" before one's name, but working to get that distinction is not as easy as it may seem. We have observed candidates for the CA profession depriving themselves of all fun and socialization by devoting hours to reading. Is this the best path to attaining the objectives?
Create a Simple Professional Website at CA Portal. Click for FREE DEMO Now!
Let's look at the everyday activities that CA top performers engage in that are beneficial for all CA aspirants.
#1. CA Course Learning
To prepare for the CA exam, candidates must first get familiar with the course's framework. There are three levels in the CA curriculum: Foundation, Intermediate, and Final. Specific topics and modules must be studied and mastered for each level. Aspirants may successfully organize their preparation by understanding the curriculum, exam patterns, and weightage of each subject.
#2. Make a Study Schedule.
For those aiming to become CAs, a well-structured study plan is essential. It aids with time management, curriculum coverage, and critical topic review. Start by establishing specific objectives and breaking them down into more manageable milestones. Give each subject enough time, emphasizing the subjects that need additional focus. Making a study schedule and sticking to it religiously can ensure steady advancement and prevent last-minute cramming.
#3. Study Material and Resources
Selecting the appropriate study materials is essential for thorough CA course preparation. The Institute of Chartered Accountants of India (ICAI) offers study guides for CA candidates that are intended to cover the whole syllabus. In addition, a number of publishers and online resources provide practice exams, video courses, and reference books to complement the ICAI contents. Make sure you pick study materials that are current, dependable, and in line with the most recent exam patterns.
#4. Practice and Revision
Regular practice and revision are essential parts of preparing for the CA exam. Understanding the exam format, time management, and recognizing areas that need extra concentration are all facilitated by solving sample papers, mock exams, and previous years' question papers. Mock exams also provide you with the chance to evaluate your performance and increase your quickness and accuracy. Spend enough time reviewing, and emphasizing key ideas and formulae to help them stick in your long-term memory.
Read Also:
Top Guide To Get Success in ICAI CA Exam
#5. Ask for Guidance and Support
CA candidates should not be afraid to ask mentors and experts for advice and help. Joining online study groups or coaching sessions can clear up confusion and offer insightful information. Interacting with other candidates can promote collaborative learning and a healthy competitive atmosphere. Furthermore, it is crucial to keep up with the most recent changes and advancements in the fields of finance and accounting through professional forums and publications.
Read Also: Preparation Tips to Success for CA Intermediate Examinations
#6. Put an Emphasis on Practical Experience
The CA course emphasizes both theoretical knowledge and practical practice. In order to obtain relevant experience, aspirants should actively look for internships, apprenticeships, or part-time employment possibilities in accounting companies or corporate organizations. The practical experience strengthens theoretical ideas, gives candidates practical skills, and improves their chances of finding employment.
#7. Maintain a Lifestyle in a Balanced way
In addition to diligent preparation, CA applicants must have a healthy lifestyle. Taking care of one's physical and mental health is crucial for achieving effective performance. Eat a balanced diet, get frequent exercise, and get enough sleep. Take part in hobbies and leisure pursuits to unwind and revitalize. Better focus and effective performance in the CA course will result from managing stress and keeping a positive outlook.
#8. Registering in a Reputable Coaching Institute:
While self-study is essential for preparing for the CA course, attending a reputed coaching school may offer valuable direction and help. Coaching institutions include organized study plans, experienced faculty, mock tests, and question-answer sessions, all of which help students develop well-rounded preparation strategies. Select an institution based on your research that has a history of turning out successful CA candidates and that has a teaching approach that works for you.
#9. Keep up with Current Events:
Understanding contemporary business and economic circumstances is necessary for the CA course, especially at the Final level. Keep up with the most recent business news, financial news, and alterations to pertinent legislation and regulations. Read newspapers, financial magazines, and web portals to gain a comprehensive understanding of real-world accounting and finance applications.
#10. Managing Your Time and Reducing Stress:
It may be physically and psychologically taxing to study for the CA course. To combine study time with free time and rest, one must practice effective time management. To avoid burnout, make a realistic schedule that includes time for rest and relaxation. Exercise, meditation, or other hobbies can help you manage stress and stay focused and productive.
#11. From Peers and Mentors Ask For Assistance
Be in the company of people who have similar goals and are studying for the CA exams. Creating study groups or participating in online forums may provide people with a place to express their worries, exchange study techniques, and encourage one another when things become tough. Seek advice from seasoned mentors as well, such as active CAs or former CA rank holders, who may offer insightful advice based on their own experiences.
#12. Remain Optimistic and Motivated:
There may be times of self-doubt and disappointments along the difficult path to becoming a chartered accountant. Throughout the planning phase, it's critical to keep upbeat and motivated. Create attainable objectives, give yourself rewards for reaching each milestone, and keep in mind the long-term advantages of earning the CA qualification.
#13. Practice Techniques and Exam Day Tactics
As the examinations get near, concentrate on thoroughly reviewing the whole curriculum and taking practice tests. Create exam-day tactics, such as efficient time management, smart question answering, and mental focus and composure. Continue to have faith in your preparation and ability.
Conclusion
Perseverance, self-control, and a methodical approach to CA course preparation are necessary to become a Chartered Accountant. CA applicants can improve their chances of passing the demanding exams by comprehending the course structure, developing a study plan, using relevant study materials, practising frequently, obtaining advice, accumulating practical experience, and keeping a healthy lifestyle. Keep in mind that even though the road to becoming CA (Chartered Accountant) in India may be difficult, the benefits and possibilities that lie ahead make the journey worthwhile.