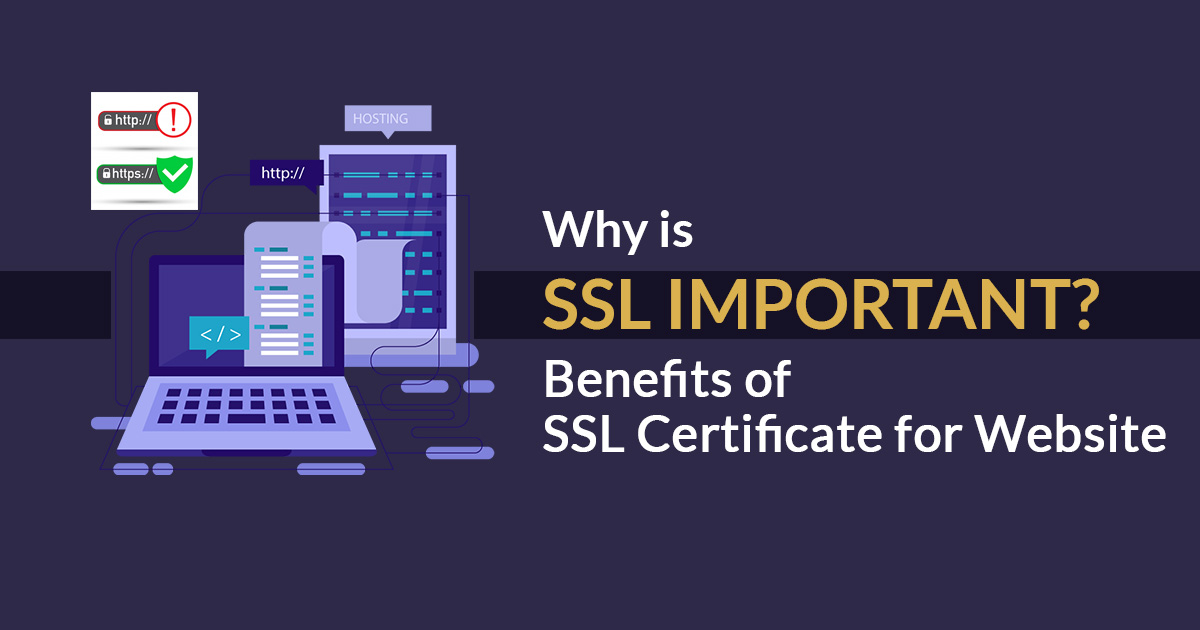 SSL is an acronym for Secure Sockets Layer, it is a certificate that became a standard of online security in the last few years. Websites these days are only recognised safe to visit if they are using SSL and HTTPS to protect your information. SSL is not only vital for information safety but nowadays it also has a huge impact on Search Engine Optimization (SEO), it helps websites to rank higher.
Getting an SSL certificate and implanting it in the website is not very complicated. It even doesn't require regular maintenance or doing any set-up work. Once you impose it your website will become more secure and without any blocking issues.
Here we will talk about SSL certificates and how beneficial it is for websites and ranking.
SSL Certificates
SSL Certificates have two very important functions, first, they verify the authenticity of the website and tell the user that it is not a phishing attempt or something bad. And second, it actually encrypts the data being exchanged between your website and visitors.
Most websites are using SSL certificates and websites with a valid certificate can be verified by browsers displaying some type of secure icon (padlock) for them in the address bar. Additionally, the URL of this website starts with "https" instead of normal "http".
Thus if a website features the both then it means that your information is being sent over a secured connection. As we already said that getting an SSL certificate and implanting it in a website is not that hard. There are also free versions as well as the more secure paid version available, but the main thing is that whether you go with the free version or paid version your website will get some key benefits through it. We are enlisting some of the key benefits of the SSL certificate below.

Top 5 benefits of SSL Certificate
Protection of Customer Data –
It is a highly competitive market, everyone here is looking for customer data and leads to increase their reach and get more customers. There are many companies that are ready to buy these data and websites with a wide range of visitors could be the best source to get it. Customer data Such as ID's, Password, Credit/debit card details, phone number, activities, email address are like gems in this tech-oriented world. Hence the organization can't afford to take the risk in terms of customer data security.
SSL Certificate makes things a bit secure. It encrypts the data which are being shared or exchanged between visitors and website or more accurately in between server and browser. It keeps data secure and safe.
Protects from Google Warning –
Google promotes smart work but it didn't like unethical work, and recently user data security became its main concern. Google with its time to time updates is trying to make the internet safer. It shows a security warning if a user opens an unprotected and unethical website. Google with Chrome 70 released on October 17, 2018, levelled up its security features and started showing security warnings for websites without HTTPS and SSL Certificate. Thus, Implanting SSL will keep your website accessible for visitors and also avoid such harmful warnings.
SSL Boost Website SEO Rankings –
Google in 2014 announced HTTPS as a ranking factor, if a website has an SSL certificate then your website will be considered secure and a trust indicator will be also visible in the address bar.
Such a trust indicator can help you to increase website traffic and increase your ranking on SERPs. Some SEO experts already explained the importance of SSL certificates in their posts thus implanting them seems to be beneficial in one way or another.
Read Also : How to Prepare Your Business and Website for the Coronavirus
It Increase Customer Trust & Revenue –
The Trust Indicator that appears in the address bar of the browser increases the customer's trust on the website. Thus, customers can buy products and share their details without worrying about the misuse of their data. It also helps website owners to try a better and unique way to convert visitors into valuable customers.
It Aavoids unethical Attacks –
In this tech-oriented era where people spend half of their time on the internet the risk of being attacked, the number of Phishing, MITM attacks, etc. are increasing, and securing the website is a must to avoid such attack. Implanting an SSL certificate into your site is the great initial step to take.
It is important to mention here that it is really hard to have a trust icon on clone websites, so SSL is an important step to keep things secure on the internet.

SSL Helps in Regulatory Compliances –
An Online business required to have at least 128-bit SSL certificate with appropriate encryption to comply with the Payment Card Industry (PCI) compliance norms. PCI also made it mandatory for the website to have an SSL certificate from a trusted source.
After the benefits of the SSL certificate, let's have a look at the type of SSL Certificates.
Types of SSL Certificate
EV SSL Certificate:
EV SSL stands for Extended Validation SSL certificates, it is the highest level of authentication, it requires to go through a strict verification process. E-commerce/ payment gateway websites use it and only EV SSL certificates show a green address bar.
OV SSL Certificate:
OV SSL stands for Organization Validated SSL Certificates. Websites can only have it by going through a stringent validation process. For it, the Certifying Authority (CA) verifies the business identity and the information will be available under certificate information.
DV SSL Certificate:
DV SSL or Domain Validated SSL certificates are basic SSL Certificates to keep your website secure. It is probably the Cheapest SSL Certificates available in the market
Wildcard SSL Certificate:
Wildcard SSL certificate is similar to a regular single domain certificate. However, it is capable of securing all the subdomains you may have in your network. It saves money, and admin time.
Multi-Domain SSL Certificate:
As the name suggests it is a single certificate that can secure multiple domains and subdomains. Multi-Domain SSL Certificate is cheap and can secure up to 99 additional domains.
After knowing the benefits and types of SSL certificates, you are probably now aware that how important it is for websites and its ranking thus secure our website today with SSL certificate and increase Customer trust, revenue, user traffic, and avoid Google warning.

CA Portal boasts a rich list of clients that have benefited from our best website design & development and online marketing expertise. The complete hosting of web services and with support for the clients at the super affordable package and along with it, CA portal also comes with economical package of SSL security for clients website.
Our CA/CS/Lawyer websites have witnessed great visitor counts. We hope that in the future also our website development acumen coupled with your professional expertise will add to a list of successful online legal, tax and consultant services. Grab this amazing discount window and script a successful online presence now.