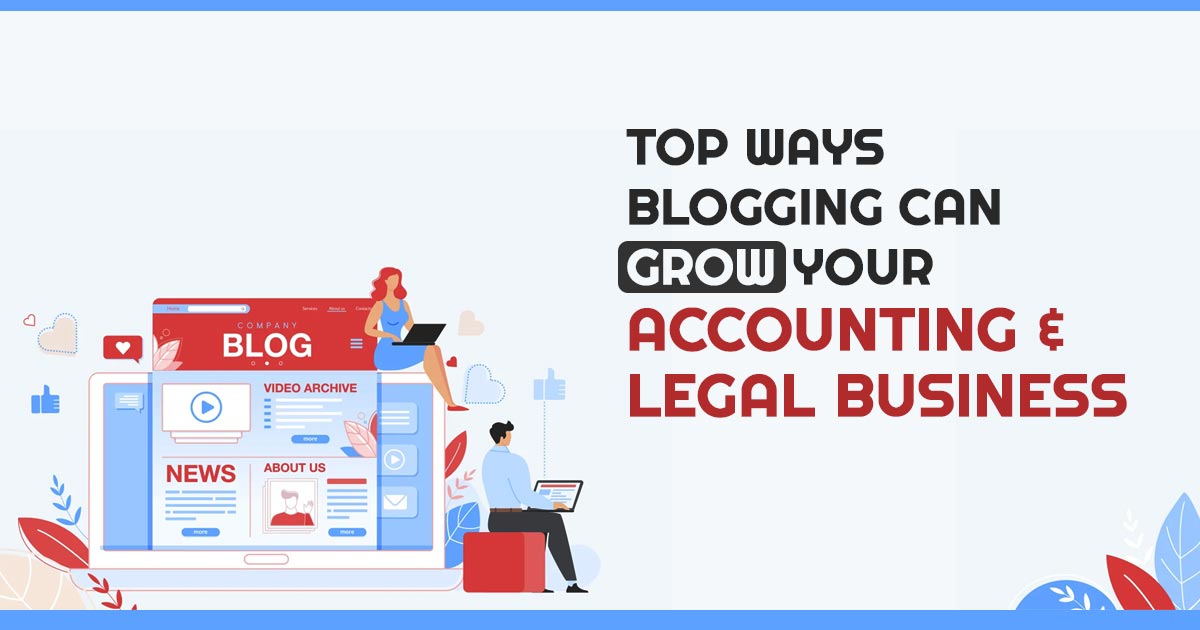 The blog is said to be the most powerful asset in describing what you are saying. Blogging helps you in generating more and more traffic on your website as your written blogs will attract visitors.
Your blog will be easily searched on google through the keywords which is an effective method to enhance the traffic. Posting regular blogs, articles, or content boosts the chances that your website will be more likely to be indexed by Google sooner instead of the site which is providing the normal content for years.
Introducing a blogroll for your Accounting & Legitimate services and updating simple tax, accounting, financial and law-related concepts on the blog regularly attracts traffic of your clients and prospective clients to the page by creating a window of opportunities to display up in search engines, exhibits expert accounting skills, invent new content to share on social media, dominates the attention of many people. Once the information is published, it will serve many people for several years, months and weeks.
Several accounting professionals seek the advantage of blogging but are not sure about how to get started. They want their blogs to get professional.
Firstly you will have to write about the field in which you have experience then you will learn to know how to write the things and then you automatically get adjusted. Also, you will not have to write about the blogs on the audit if you are working in the taxation industry. Your value to write the blogs will get enhanced and you will be seen as an expert in writing the blogs.

---
There are other guidelines which will help you in writing more blogs for the business purpose:
#1. Upgrade your search engine rankings
Search engines like Google and Bing give more weight to content that was published recently on trending topics than to otherwise informative but stagnant webpage content.
The engineers at Google are putting regular efforts to update its search engine algorithm to provide productive information readily and immediately to the users. New and original content is one of the major factors that search engines consider while giving ranks.
As a station to providing your website's visitors with new and alluring information, a blog that is updated regularly with epic content about laws and accounts can help make up for the static pages on these accounting and legal website.
#2. No Need for Technical Skills:
for writing the blogs it is not important that you must have the skills related to the subject You can attach pages or studies employing such content management software as WordPress, that provides you a user-friendly dashboard that permits to add, edit, and post web pages.
#3. Need to Get Social to Make Connections:
you will receive comments on your post when you post it on a social platform and from that you will get an idea about how to implement the business by writing the blogs. Your blog will prove to be a great intermediate so for the development of the business.
#4. Inaugurating your firm as experts
Blogs can greatly assist you in your journey to become a master in accounting. Articulating your knowledge in a well-tailored blog goes a long way in helping your credibility.
If you have a professional accounting firm that specializes in giving an accounting and financial services then the regular publication of blog on this topic can convert your firm as the go-to firm for such kind of clients.
Same as with corporates which are engaged in providing legal services to the client. They can also make their blogs mesmerizing by regularly adding useful information about different legal affairs, acts and advice and thereby making your firm as the top choice to seek these kinds of legal advice & solutions.
#5. Saves time in answering questions
If you blog contains an answer to a question then you do not need to answer the same question again, you can simply direct the user to your web page by providing links every time the same question is put forth.
Thus a well-published blog saves time and energy while delivering professional accounting and legal services. Peoples have lots of questions and doubts related to accounting, finance, and laws which can simply be sorted out through blogs without presenting the answer again and again.
#6. Relationship building with clients and prospects
A business blog is a marketing tool (just like social media, direct mail, email marketing, etc.) that blooms business growth while maintaining relationships with clients.
Your accounting blog is like a proposal explaining your accounting & financial services which will draw your prospects and clients closer as they can learn more about your services. Easy, fruitful & tax-saving articles justify your accounting services as a foundation for the growth of their businesses and wealth.
No matter what kind of a business you have, small or large, Blogs depicts your personality & gives a friendly touch to your clients.
Blogs germinate customer loyalty, and also helps in creating a personal relationship between clients and legal practitioners. It's a magical way to be the topmost habitant in the minds of your clients by serving them an alarm to discuss with you the necessary legal topics.
#7. Getting a firm newsletter prepared
The already published article gives you an insight as to which burning topic or issue of clients has to be covered in the newsletter of your company. The newsletter helps you spread your articles to those who are not your regular blog visitors. Your recently published blog posts containing legal advice, rules, welfare statutes and schemes framed by the Central Government or the State Government and to ensure access to justice in any other manner. makes the stuff of newsletter of ready.
Read Also: 10 Steps for your Accounting and Legal Firm Websites You Must Follow
#8. Giving an edge over competitors
Blogging gives your professional accounting firm an edge over other accounting firms which are not updating their blogs regularly or do not have any blog.
At present, there are very few accounting firms which refurbish their blogs regularly on their websites. According to the 2017 Accounting & Financial Services Research Study recently published by Hinge Marketing, the most profitable firms were three times more likely to identify their marketing and business development methods as a differentiator from other firms. One of the marketing methods favored by these firms is blogging, which, according to the study, is "known to be effective in demonstrating expertise."
As far as a firm engaged in providing legal services is concerned, it provides free legal help in civil and criminal matters for the poor and marginalized people who can not pay for the services of a lawyer for any legal proceeding in any court, tribunal or before an authority. It again gives them priority over the firms who do not have any blogs because they do not offer any information to people who can actually afford their services too.
#9. Makes you a hero of your industry
Blogging is the best way to build your reputation in your niche or industry.
Blogging turns you to be recognized as an authority as it offers you a platform for sharing relevant accounting and law-related knowledge and advice which builds trust. As a consequence of it, you become the best accounting and legal advisory firm & a top priority when it comes to buying the services. If you're consistently creating content that's beneficial for your target customer, it'll help build you as an authority in their eyes. This is a particularly handy tool for Accounting & Legal professionals.
#10. A way to exhibit Your Legal & Accounting Expertise and Credibility
A blog also serves as expert legal advice. It is the first option when a person seeks an answer to some legal question until he/she gets into personal touch with any lawyer or legal practitioner. So, an updated and penetrating blog helps general audience, lawyers and legal firms to get in-depth knowledge about a topic.
In the way, a blog is a top choice when a client wants to get readily available information on some issues, concepts, and principals of accounting because of non-availability of an accountant all the day and night long.
#11. Instant credibility for referrals
Many accountants and lawyers work on the basis of referrals from other professionals. Nowadays the newly-referred prospects check out your accounting & financial and legal services through the blogs on your website before calling or visiting your firm while comparing it with the websites of your competitors. And in case they do not find any value in your website, they may change their mind to take services from you.
A good website with expanded and worthwhile information not only forms you a competent and capable professional but can also pre-sell a prospect of working with your firm. That means that by Creating quality blogs consistently you give your service – a Brand name.
A blog can give a big face to small business and can bud out immense opportunities for your financial and economic growth. A blog can advertise your accounting and legal services while enhancing them simultaneously.
A blog not only advances your digital existence; it advances your life.. it is a platform which can drive you forward in the direction of your choice and services.