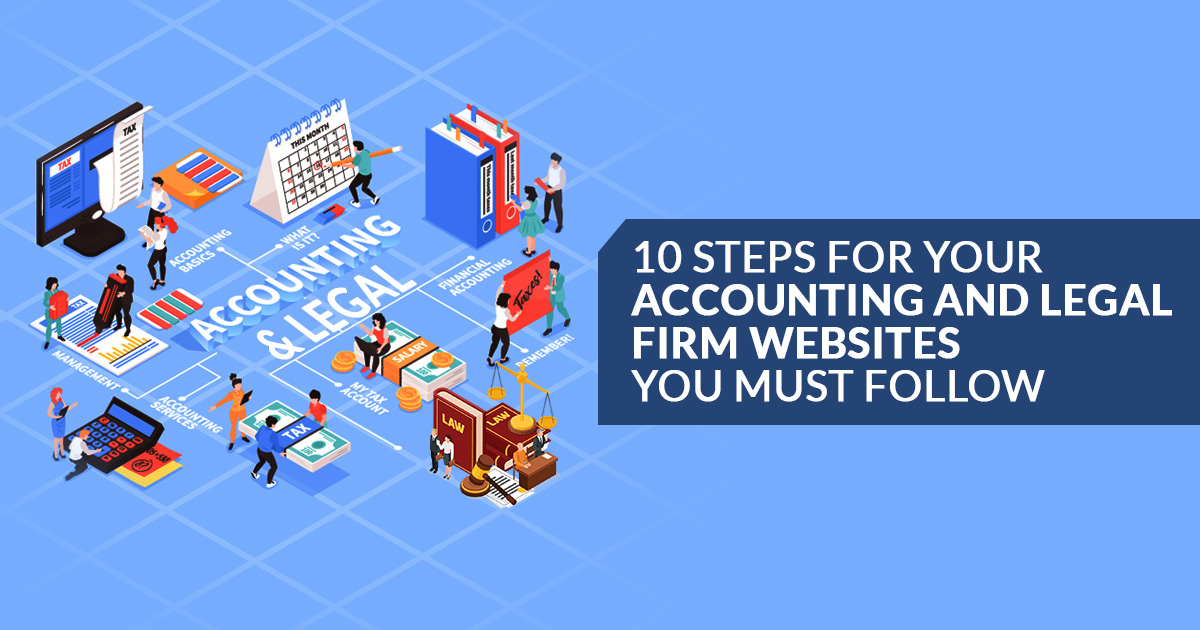 Digital marketing is the most important part of the development of accounting firms and so is the accounting website templates design. The owner of the accounting firm wants to promote his online filing business. As accounting now can be done online and people can easily file their returns online they only have to approach their accounting as well. Digital marketing makes the firms recognize their brands. Firms can determine via digital marketing by seeing the financial results on their investment, enhancement in the profits, leads, and customers.
There are various objectives that why digital marketing is effective some of these are: Building communication easier- Digital marketing has the ability to develop two-way communication through the ability of online access tools and software but in digital marketing, the techniques such as online ads, pages and even websites, enables you to communicate your query. Competing with the competitors- Digital marketing provides the data for about the online audiences and platforms to reach through them.
Modern Human being has evolved to use tools and communication for various effects and results. One such device that has over the past few decades has exponentially changed every aspect of our life is the internet. From e-commerce to e-tax filing, the scope and scale of the internet are now beyond comprehension. While the internet is made up of many interconnected components, one intricate part of the internet is the 'Website.'
For your desired accounting websites for small businesses development and to make your project come true, you can always hire web developer from SAG IPL. The company has brought multiple organisations to rising with its excellent services and track record. Hire now and get started.
What is a Website and Why you should have One?
If the internet is popularly called the window to the world, then websites are the beautiful mesmerizing landscapes of the internet world. These websites serve different purposes ranging from selling products online to offering ticket booking services. A common practice among businesses, consultants, Accountants, and Lawyers these days is to have their own website. A website can serve various benefits.
The primary among these are :
A more visual and novel way of sharing your expertise and service with potential customers.
Greater Visibility with Accelerated Growth.
Better Feedback Mechanism to close down on service gaps.
However, having a live website with your firm's name is just the first step towards a robust online presence. Other important factors must be accounted for like the features on your website as well as the look and design. Not to forget the unforgiving competition for web traffic. In this blog, we highlight some of the Most Important Features for your Accounting firm websites which will ensure a stand-out online presence for your firm.
1. The Navigation Bar: Connecting the Dots
The navigation bar sits at the top section of any professional website. As evident from the name, it introduces site visitors to the professional services on offer as well as find the services that they are looking for in the first place. A roadmap of some sort, the navigation bar on the top act as an essential guide for website visitors as well as a window to the various pages like About Us, Blogs, etc.
A proper Navigation Bar is an essential parameter for a comfortable and friendly User Experience. CA Portal offers website solutions that constitute navigation bars as per the needs and demands of the website visitors and owner.
It strives to find the perfect middle way so that the Chartered Accountant Website Owner get to list the services that they offer crisply and neatly that attracts and serves clients to the maximum.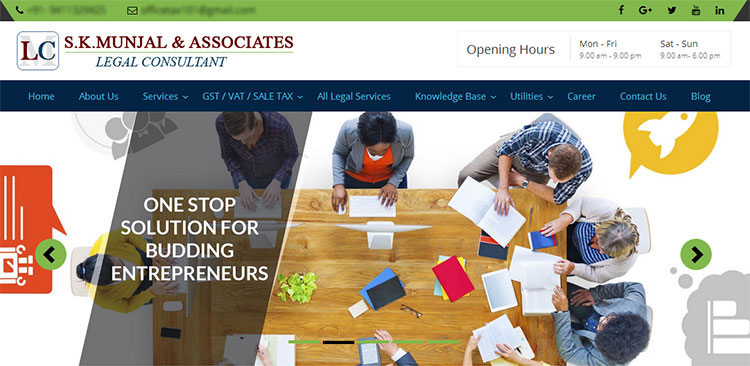 2. Logo: Your Firm's Digital Identity
The logo fits on top of your websites page and is an essential digital identifier for your CA, CS or Legal Firm. To be clear though, your logo will not be immediately identifiable upon random search, but with time and quality service, the logo will metamorphose into a symbol of everything that your firm stands for.
Also, there are online free design tools that are easy to use and it is advisable to try a few imaginative strokes and create a logo that encapsulates you and the services that your CA, CS, and Accounting Legal Firm stand for.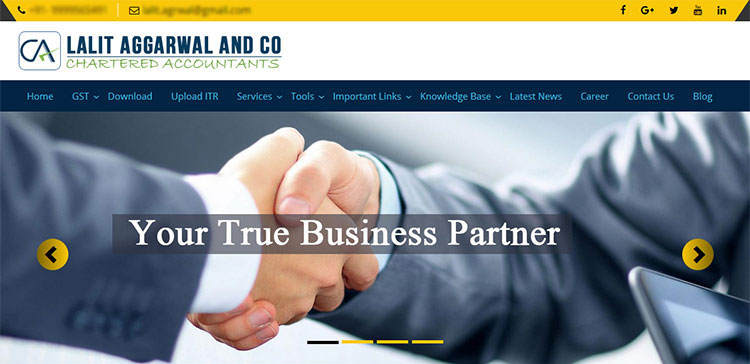 3. Precise and Clear Messaging
Once a visitor lands on your website, a nice graphic message drawing a parallel between the product and the services on offer will save the user time from navigating to the About Us page. It also subconsciously prepares the visitor to construct queries based on the precise services he or she wishes to procure.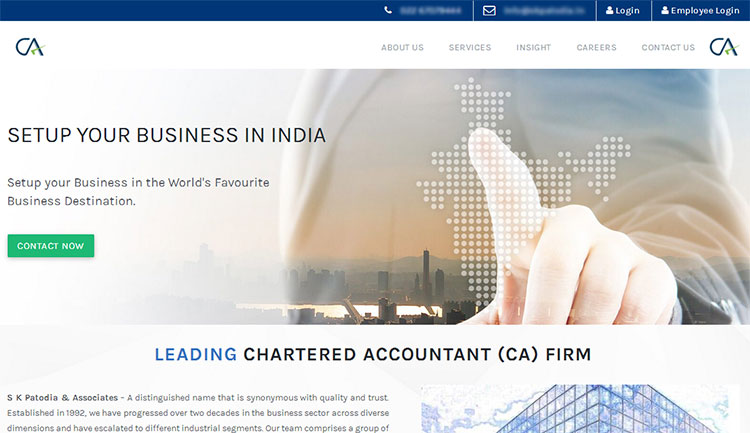 4. Visuals: The Attention Seekers
9 out of 10 people would prefer to watch Game of Thrones rather than reading the book. A good reason for this is not that they don't want to from the very outset, but because motion pictures are more interesting than plain text. This is true for websites too.
On average, a user would read only close to 30% of website content while the remaining trust purely on their first glance instincts Hence, visuals play a paramount role in grabbing user attention as well as communicating the right information.
This is also clearly evident in the user base of two different blogging websites Twitter and Instagram. Instagram is a photo and video sharing social network whereas Twitter is a microblogging site facilitating interaction among users via Tweets. Instagram users count up to 800 million whereas the total number of Twitter users are around 350 million. This cements our point.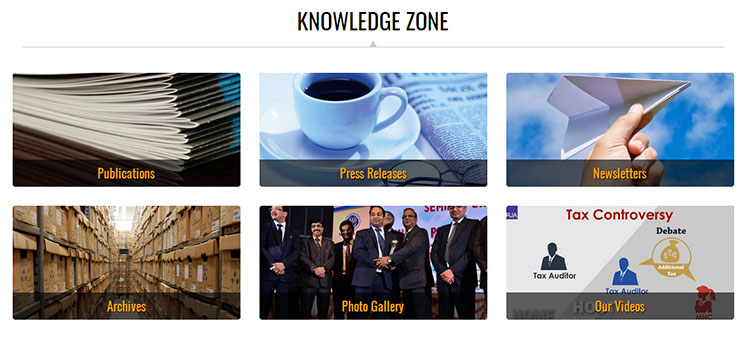 5. Engaging Blogs
Great Blogs generate great traffic. Insightful, creative blogs have a lifeline of their own. They grow in reader count over time. Also, blogs are not limited to just articles only.
A blog is a certain tool to initiate customer interest as well as in some cases create demand for services. It can also be used for reminding the audience about the benefits and special offers on services. Especially for professional CA, CS and Lawyer websites a blog is an intriguing way to present the quality and advantages of your services better.
6. CTA Buttons: Entice Them
A website with a great compelling design and engaging content is useless if there are no CTA or Call To Action buttons on your website. By CTA button we are referring to the subscription, Social Media(Facebook, Twitter, etc.) buttons or any other option that helps the visitor to stay connected and updated about your website and services.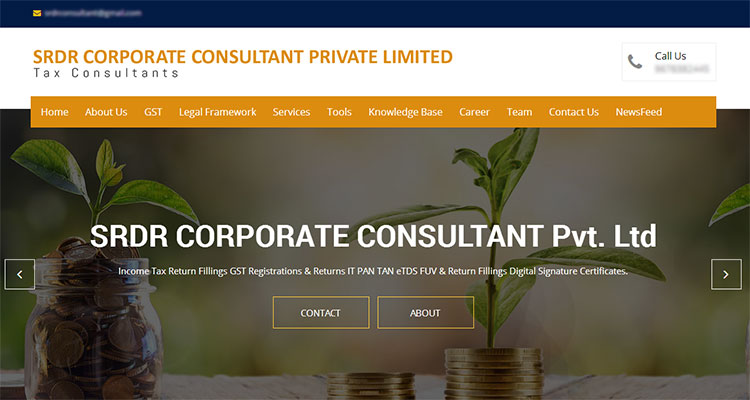 7. The Review Section: The Best Organic Marketing
This section is the ideal go-to section for potential clients. A word of mouth publicity of some sort. A client trusts other clients, hence the testimonials and reviews part will build trust and bring long-term benefits.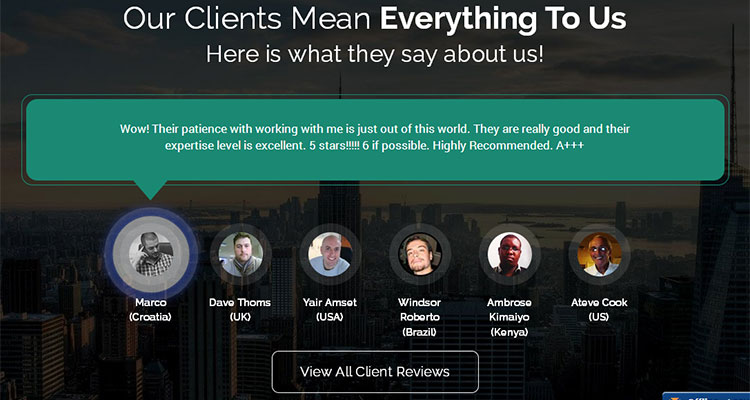 8. Social Media Share Buttons
If You Love it then Follow it. In times when social media dominates the news, market trends and politics, websites are also not opposed to it. It is a valuable tool to convert first-time visitors into happy clients. One way is to tempt them into following your firm's Social Media accounts. This is done when the visitor clicks the social media icons on your website. Once observed the visitor will now have access to periodical feeds from your Firm's social media handles. Also adding a share button on the blog page will enable the reader to share the same on their social media channels.

9. Subscription And FAQ
Periodic newsletters are a sure shot means to build and foster relations with existing as well as potential customers. Perky newsletters from time to time are excellent means to remind your active and dormant website visitors of the discounts, giveaways or cool new features as well as telling the loyal customers how much you value them. But for this to happen you need to add the 'Subscription' button on your website. Visitors can subscribe to newsletters with their email ids.
An FAQ section is another feature that must not be ignored. It is a way to resolve first-hand queries of customers and a great welcome gesture. FAQ lists can be easily created via survey, feedback or preparing a questionnaire by pretending as a customer. It is common practice to generate FAQ pages based on the accordion element.

10. Contact Us: For further Queries
This is another important page that will ensure that any customer queries other than those in the FAQ List do not remain unaddressed owing to the absence of a Company/Firm Representative in flesh and bone. The Contact Us page must consist of all the contact information that an existing or potential customer may need.
This includes the business email id, the office location on Google Maps, the contact number and the official address. These days businesses integrate BOTS that act as the first point of contact between customer and business on their website.