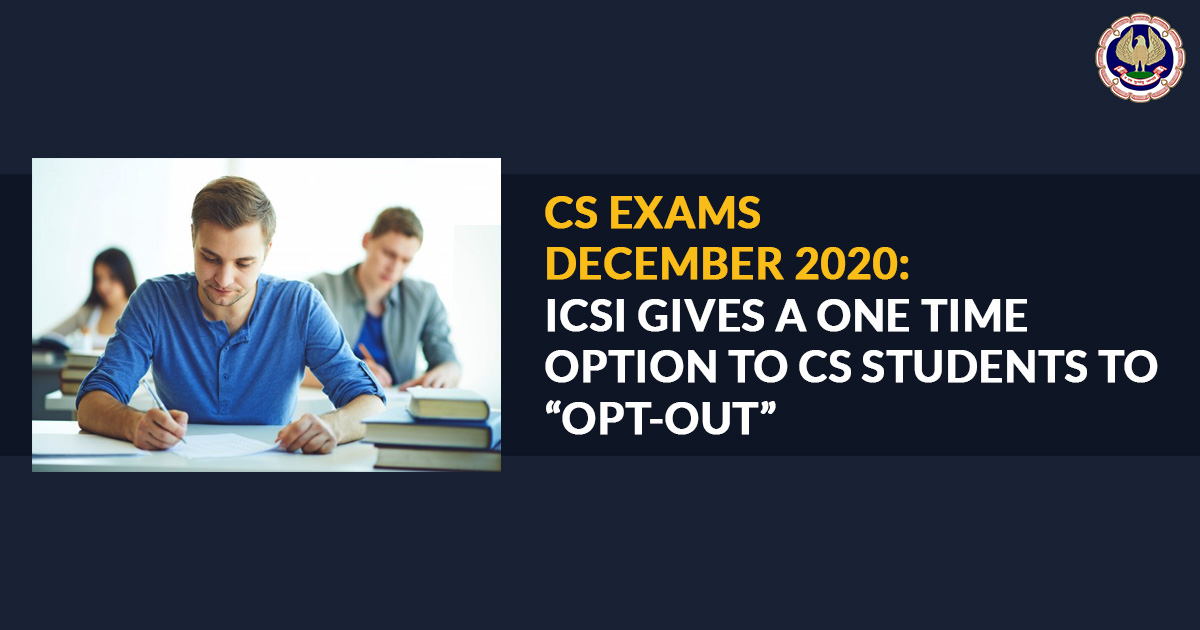 The Institute of Company Secretaries of India (ICSI) provides a choice to the students to "Opt-Out" from the December 2020 Session of Examinations through passing the credit of examination fee to the June 2021 session of examination.
ICSI has declared that to make it eligible to opt-out, it is important for the students to provide Covid-19 positive report results which reveal that they or their relatives are infected from the same in-between period from 20 November 2020 to 30th December 2020.
If any, the request is proposed by the students excluding attaching of the COVID-19 positive report or by summoning any different purpose will be readily discarded without notice.
Read Also: ICAI issues Code of Conduct for CA Students
"For availing the facility, such students shall be required to submit a formal request through an online form, the details of which will be published on the website separately. The last date for submitting the "Opt-Out" request is 15th January 2021,"
On receipt of an Opt-out request via a particular online form, there shall be a cancellation of the registration of students for the Dec 2020 session of examination and his/her application will be carried forward to June 2021 session.
ICSI said that on the submission of the documents and the reclamation of the Opt-Out facility it then will be seen as concluded. And any refusal of cancellation will not be entertained beneath any situation. The facility is provided only once as due to covid-19.
Google form link providing the Application for OPT-OUT w.e.f December 2020 exam session to June 2021
On 4th December 2020, Vide announcement of the Institute has given the Institute has
permitted the candidates to take OPT-OUT from December 2020 exam session to June,
2021 exam session
The candidates seeking to claim the OPT-OUT facility might submit their request which is mentioned on the link https://forms.gle/a5cDrdENDfX25s1fA. If the request furnished in any other form will not be welcomed.
15th January 2021 is the last date to submit the OPT-OUT request
Read more official Announcement : Click here
Read more official Announcement : Click here