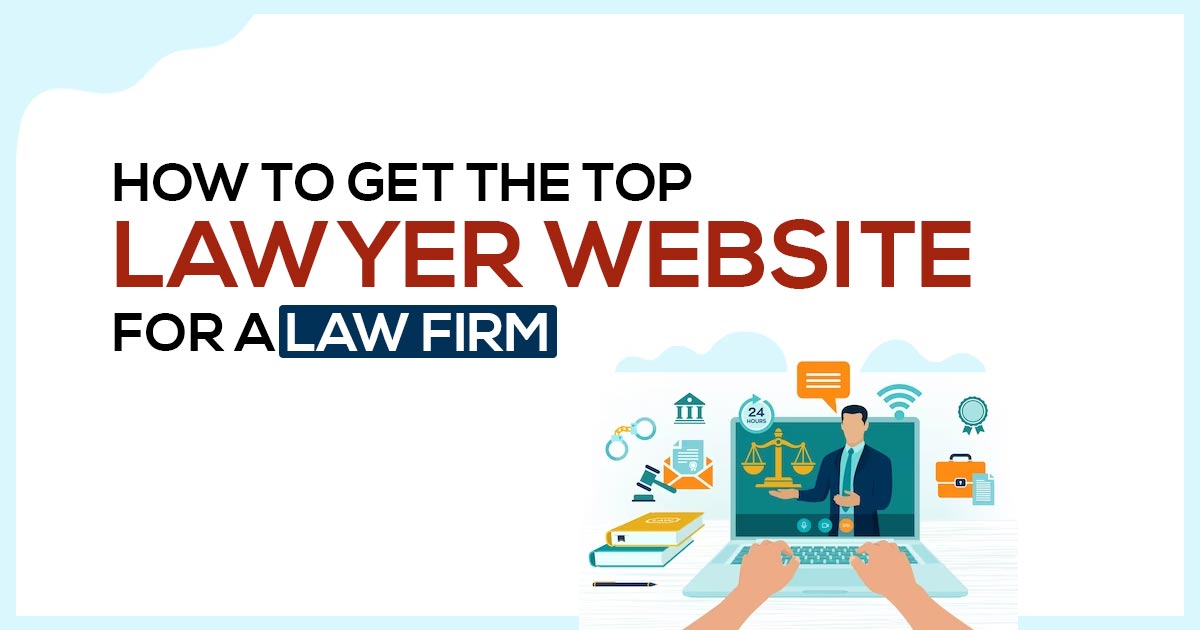 Lawyers are important independent pillars of democracy. A lawyer plays a pivotal role in ensuring justice for his/her clients. As a lawyer, there would always be an inherent desire inside you to reach out and help as many as you can with your expertise. An easy way for this is to have your own lawyer website design in India. A website gives exponential reach to your visibility and expertise. You can check the CA portal for these lawyer website templates
Luckily, nowadays building a website takes little effort. All thanks to the simple and easy website solutions on the CA Portal. We boast unmatched expertise and service in website development of all types, designs, and functionalities. Using our expertise and single-minded focus on service you can get a user-friendly and well designed legal website of your own in no time. You can select any of the huge numbers of premium themes and add plugins that suit your design and the functionality requirement.
The WAY Ahead
The pre-requisites for a new lawyer website are a domain name and a hosting plan. In addition to this, you must prepare as well as collect the content that would be displayed on your website. The content must include a precise and clear lawyer biography, links to publications, testimonials from your past legal clients along with images and other information which you feel are necessary.
We Discuss all the Steps involved in Detail Below:
#1. A Domain Name
The first and the most important thing is to select an appropriate domain name. Choosing a domain name that perfectly reflects your expertise and services is paramount.
An added advantage would be a '.COM ' or a . IN extension to your domain name. In case your desired domain name is already owned, try adding related words like an attorney, law, legal to it.

#2. A Professional Hosting Plan
The next step forward is a strong hosting plan. And this is where the CA portal comes to your rescue. CA Portal offers premium hosting plans at nominal charges. Once you have decided on the domain name, our team at CA Portal will take the reins from there. Our expert team of expert developers and designers at CA Portal will set up your professional website as per your needs.
3. Premium Attractive CA Portal Theme
As they say…'The First Impression Is The Last Impression'. This is equally true for your website's design. For example, Facebook's web page design is blue-themed as the CEO is reportedly red-green colour blind. Blue is the only colour that Mark Zuckerberg can see best.
A professional website in one way or another is an extension of you. Hence choosing a great theme that aptly reflects your personality and works ethics is paramount.
CA Portal offers plenty of dynamics and advocate website template that perfectly caters to the needs of the professional best law firm websites in India. Our Lawyer based dynamic website themes are compatible with various kinds of functionalities and regular updates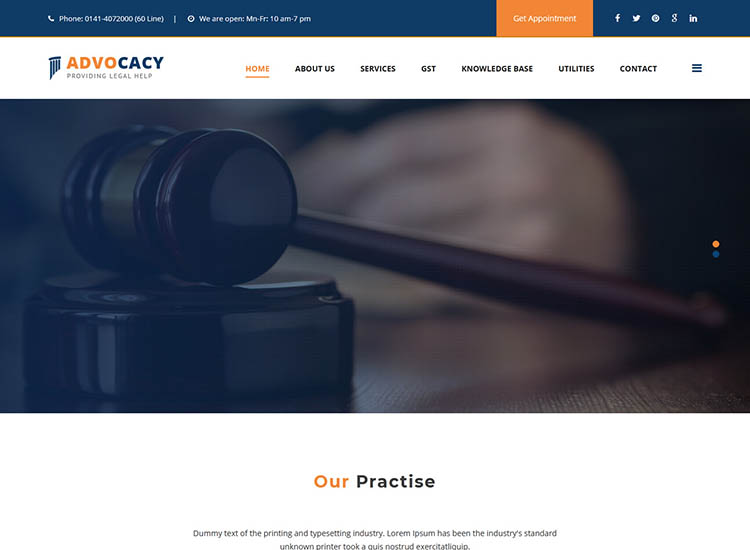 "If you are looking for a theme that fits well with your advocate profile website then Lawyer Theme 1 would be the best possible choice for your professional website. The theme is designed by using a specific colour scheme maintaining the essence of an advocate. Along with the engaging colour scheme, the theme also uses a depiction of law books, a gavel, and a scale with backing lawyers' feel. Lawyer Theme 1 has various features: Blog options, options of login panel, Enquiry, Career, Gallery, Visitor Counter, SEO friendly, Email Login, Chat, Firm Information options, blog options, etc."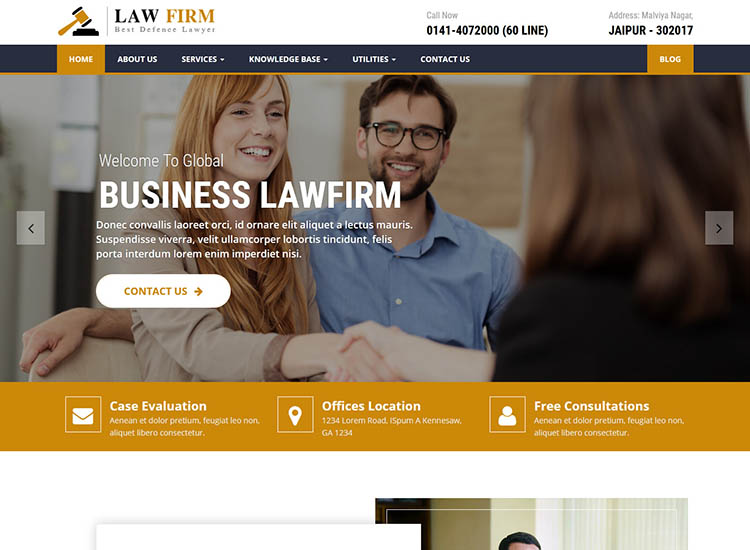 "Lawyer Theme 2 is unique and law firm web design by keeping all the requirements of a law firm in mind. It is a responsive website template that can give your professional website an engaging and professional look.
It is fast and SEO friendly and has a really pleasing colour scheme. The list of features includes Login Panels, Firm Information, Admin Login Panel, Services page, Gallery, blog, etc."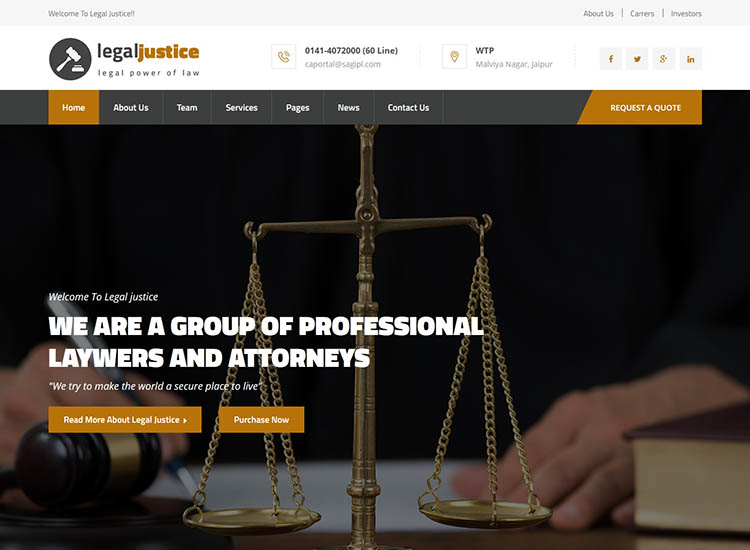 "Lawyer Theme 3 features a very unique colour scheme and it is not just attractive but also user-friendly and easy on the eyes. It is one of the best and lightest HTML website templates for lawyers and law firms. The Lawyer Theme 3 features a Team detail page, blog page, Email login panel, Firm detail page, Admin login panel, etc. The lawyer website design template is responsive and it offers some additional features such as Client Login Panel, department Links, Gallery, Visitor's Counter, Services, and many more."
The above themes are a few standard themes on offer by our CA Portal. Furthermore, there are a large number of theme options to choose from along with user-specific plugin features. Feel free to contact us at any time.
4. Content
Content attracts Views and Visitors. A golden secret of any highly visited website is the content on offer. Our team at the CA portal boasts of efficient and professional content writers as well as logo and image designers. Furthermore, most Professional WP themes at CA Portal allow for the one-click import of demo content and layouts. Hence updating, uploading and sharing content specifically for your individual is easy and hassle-free.
Conclusion
The changing technology is bringing tectonic changes in traditional professions like Chartered Accountant, Company Secretary, and Lawyers. Technology and the Internet are the driving factors of change. Visibility becomes paramount in this changing landscape which is bound to subsume one and all.
Hence, in case you are looking for a professional website that serves all your purposes as well as secures more clients, CA Portal is the right place for you. CA Portal promises an efficient and secure web presence for all your needs at a nominal cost.