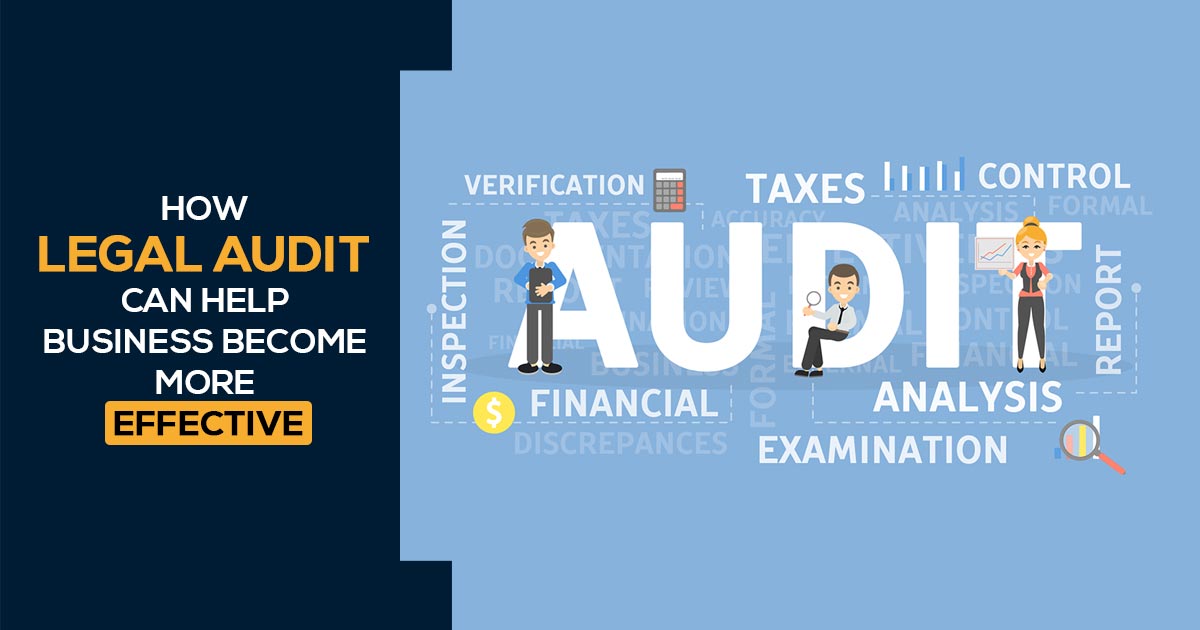 Legal compliance would be much more important compared to before in the current fast-paced and complex business world. Fines, statutory disputes, and reputational damages would be the consequence if they failed to comply with the laws and regulations. For resolving the risks and ensuring the business's effective function, legal audits would arise as an effective tool for improving and reducing lawful liabilities. In such a blog the importance of lawful audits and the way they support the businesses would have been elaborated.
What is Legal Audit:
A legal audit is a thorough evaluation of how well a business complies with laws and rules that are pertinent to its operations. It entails an organized evaluation of contracts, rules, internal processes, and other legal documents to make that they comply with the law at the time. A legal audit's main goal is to find areas of non-compliance and potential legal concerns so that companies may proactively address and fix any problems.
What is the Reason to Suggest Legal Audit?
Due to its many advantages, which boost firms' overall effectiveness and safeguard their interests, a legal audit is intensely advised for companies. Legal compliance and risk management have appeared as essential components of long-term business success as the contemporary corporate landscape gets more complicated.
A legal audit reveals significant legal dangers that could otherwise go unreported by thoroughly and methodically analyzing a company's legal practices, rules, and documentation. Businesses may decrease the chance of expensive legal fights and reputational harm by proactively addressing these issues. A legal audit also makes sure that the company complies with the frequently changing regulatory norms, protecting it from potential fines and penalties.
A legal audit aids in retaining the company's competitive edge by helping to protect patents, trademarks, and copyrights, which have significant value for many firms. Legal audits improve company governance by encouraging openness and moral behaviour, which fosters confidence among stakeholders and investors. Essentially, a legal audit is a crucial tool for companies looking to succeed in a cutthroat and legally complicated world.
Create a CA & Accounting Website As Per ICAI Guidelines for Your Firm
Importance of Legal Audit for Businesses
Risk Mitigation: Legal audits assist companies in recognizing and handling any legal risks before they develop into significant issues. Early detection and modification of compliance issues can assist businesses to avoid costly lawsuits and reputational harm.
Compliance Assurance: It may be challenging for firms to remain obedient given the frequently changing regulatory environment. Legal audits provide organizations with a comprehensive grasp of the applicable rules and legislation so they may confidently continue to comply.
Contractual Analysis: Business transactions are based on contracts. A legal audit assures that contracts are well-written and current while also protecting the interests of the business. Besides, it might reveal any duties that might have been disregarded or improperly enforced.
Enhanced Operational Efficiency: Legal audits increase operational efficiency by eliminating redundancies and streamlining legal operations. This enables companies to concentrate more on long-term expansion and their core competencies.
Due Diligence: Legal audits are a vital aspect of the due diligence process for businesses engaged in mergers, acquisitions, or partnerships. They promote trust in the agreement by offering potential investors or partners a clear picture of the company's lawful position.
Improved Corporate Governance: Statutory audits support a robust company governance culture. Businesses may enhance governance practices and maintain ethical standards by looking at internal controls and compliance procedures.
Measures in Executing a Legal Audit
Define Purposes: Transparently mentioned the scope and the goal of the lawful audit. Find out the major areas to get examined and any particular lawful problems which need certain attention. 
Assemble a Team: Build a competent team of statutory experts, and internal stakeholders along with the external consultants to perform the audit in an effective way. 
Obtain data: All the related lawful documents, policies, contracts, licenses, permits, and compliance records would be required to get gathered. 
Examine compliance: Examine the gathered information in detail to see whether the laws and regulations are being followed.
Find out the Gaps and Risks: Identify non-compliant parts and possible legal risks. Sort the problems according to importance and severity.
Develop Action Plan: Develop a thorough action plan to fill the gaps and diminish the risks. Assign tasks and timelines for putting the needed revisions into action.
Track and Review: Follow the action plan's development regularly, and review the company's compliance standing occasionally. As crucial, modify the legal audit to show any modifications to the law.
A Legal Audit may Safeguard your Company from Potential Dangers.
A legal audit is a procedure to determine a company's papers to see if they comply with legal requirements and whether they protect the company's interests from potential menace.
The legal audit helps in selecting a company's hidden risks and aids to estimate the "legal health" of the business. Financial exposures and risks (like fines, lost profits, compensation, etc.) may be discovered and/or reduced at the time of the legal audit.
A broad or targeted legal audit is possible. A broad legal audit estimates a company's risks from a variety of angles, consisting of corporate matters, contracts, intellectual property, real estate, compliance, dispute resolution, and more. In particular legal audits, risks are assessed for one aspect of the business that has been thoroughly examined (for instance, labour safety).
The Legal audit process is Divided Into the Following 4 Stages:
Assessment
Post external lawyers and the business have signed an engagement and/or non-disclosure agreement, the lawyers show a checklist to collect the pertinent data and paperwork for study to discover gaps and gauge risks. For example, the checklist for a general legal audit includes questions about the shareholders of the company, whether there is a shareholders' agreement between them, in what way the executive and supervisory boards are vested with authority beneath the articles of association (if applicable), whether the company's trademarks are registered, whether it penetrates into agreements on full financial liability with its employees, and other details.
Planning
After the external attorneys have reviewed and analyzed the company's papers and information, they produce an action plan with particular activities, dates, and so on to follow out in order to mitigate/minimize the identified legal risks and eradicate gaps. For example, if a firm has hundreds of contractual claims against its creditors and the limitation period is set to expire in one month, the action plan might provide that the claims must be filed within 15 days.
Implementation
Deficiencies discovered during the legal audit are being addressed according to the action plan. For instance, it can be proven that a corporation has a ten-year lease on the building and the land parcel, but the lease has never been recorded with the State Registry Service of Immovable Property. The relevant paperwork is filed during this stage in order to properly register the company's leasing right with the State Registry.
Completion
Final conversations with the company's management take place during this stage, and the deliverables (materials outlined in the action plan) are presented to the business.
When a risk is handled before a potentially dangerous occurrence happens, it needs less time and resources to remedy the problem than when it is addressed afterwards. As a result, a proactive strategy increases a company's effectiveness. Businesspeople may always take measured risks and, if necessary, minimize or eliminate hazards thanks to the legal audit.
Read Also: Tips To Expand Clients for Legal Firm Services Website
How Will a Legal Audit Help the Company?
Legal auditing, when done properly, offers the firm a clean chit and protects it from any conflicts with the country's government.
Legal auditing decreases the possibility of a corporation being penalized, prosecuted, or prohibited owing to flaws in its documentation, rules, or procedures. It will reveal how closely a firm adheres to the corporate laws established by the government and if it is protected from any legal allegations.
It assists the firm in revising its records, licenses, and registrations in order to avoid the dangers of inaccuracy in the papers and to collect compensation (if any).
Allow the organization to become informed of the government's changing rules regarding property acquisition, documentation, personnel management, and much more.
When it is the question of clearing dues of the borrowers the legal audit would be advantageous. Without visiting the court the audit supports in clearing the dues.
Employees' legal compliance concerns, monetary overtime awards, compensation claims, reimbursements, unfair labour practices, pay issues, and many other issues can be resolved.  
Other difficulties like Wills, Trusts, payment of compensations, legal actions in the event of death, divorce, cancellation of partnership in the firm, winding up of the company, and much more are eliminated. 
Why Legal Audit is Recommended?
The Legal Audit is very prudent in order to prevent laws generated with copious and serious discretion and aware to divide with any legal actions.
Arising in the upcoming future and resultantly may end in getting fined, sued, penalty imposition and prosecuted in evadable legal actions due to lacunae or deficiencies residing in the agreements, statutes, undertakings, documents and laws accomplished by the companies, partnerships, individuals, Corporate Undertakings, Governmental Undertakings and banks Undertakings.
In outstep of the laws and provisions of the Governmental Enterprises, Organization, Company, for instance, moving from the Articles of Association of the Private Limited Company and the laid down Memorandum and laws relying on certain acts and enactments in force.
Legal Audit Importance Against Financial Audit, Tax Audit, Company Audit
Unlike Financial Audit, Company Audit or Tax Audit, the Legal Audit is held prior to starting a project in a company and therefore it is also popular with the name pre-audit. Whereas all the other audits happen at the end of the Financial Year.
Legal Audit focuses more on the legal domain of a company. Whether the company is abiding by the current norms of the government or is facing any legal issues or is in any legal dispute. The company along with all its operative outlets is audited in a legal audit. 
A legal audit is needed to judge the legal problems in the starting phase of the Joint Business ventures, Undertaking, Project, Collaboration arrangements, and mutually agreed agreements. Also, a company becomes aware of the legal risks that might come while proceeding with any project, collaboration or venture.