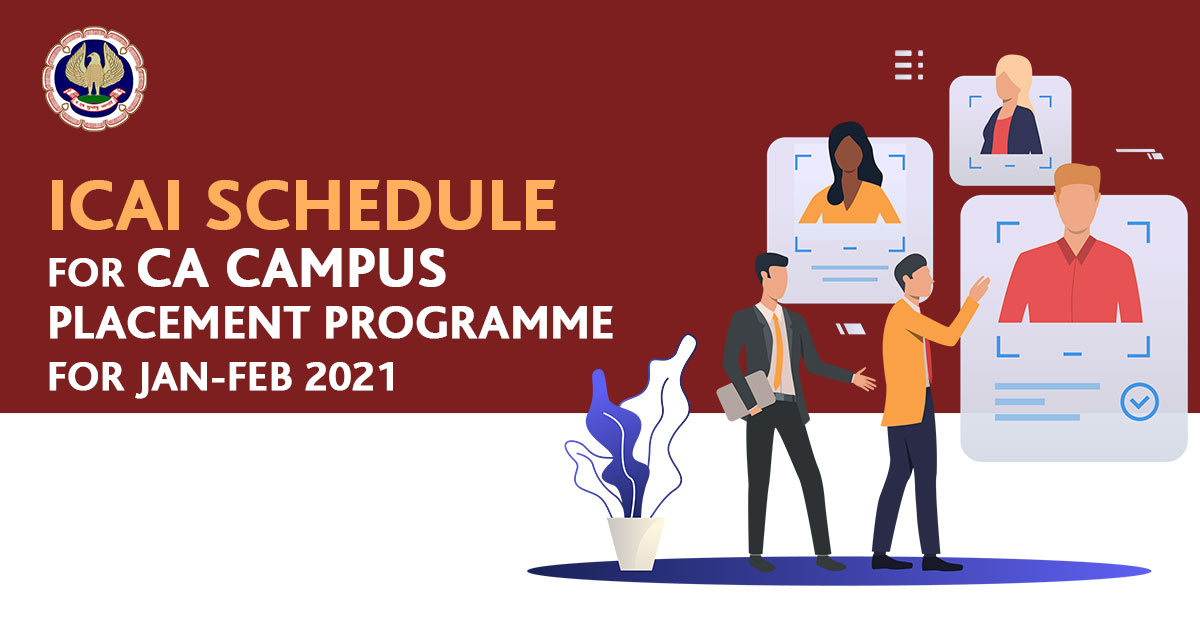 The Institute of Chartered Accountants of India (ICAI) has published the Schedule for CA Campus Placement Programme.
The institute has mentioned that the enrollment for Jan-Feb 2021 CA final examination pass out students will start from 8/04/2021 and will finish on 13/04/2021 and there is no extension of date will be effective.
The clearance of the final examination of the Chartered Accountancy Course is in Jan 2021 and the finishing of their articleship will be through 30/06/2021.

"Candidates may opt for one bigger (Ahmedabad, Bengaluru, Chennai, Hyderabad, Jaipur, Kolkata, Mumbai, New Delhi & Pune) and one smaller centre (Bhubaneswar, Chandigarh, Coimbatore, Durgapur, Ernakulam, Indore, Kanpur, Nagpur, Noida, Rajkot, Thane & Visakhapatnam). For candidates opting only for smaller centers, registration will remain open till 13th May 2021," the ICAI announced.
For online registration please visit: https://cmib.icai.org and generate your password
Campus Interview Schedule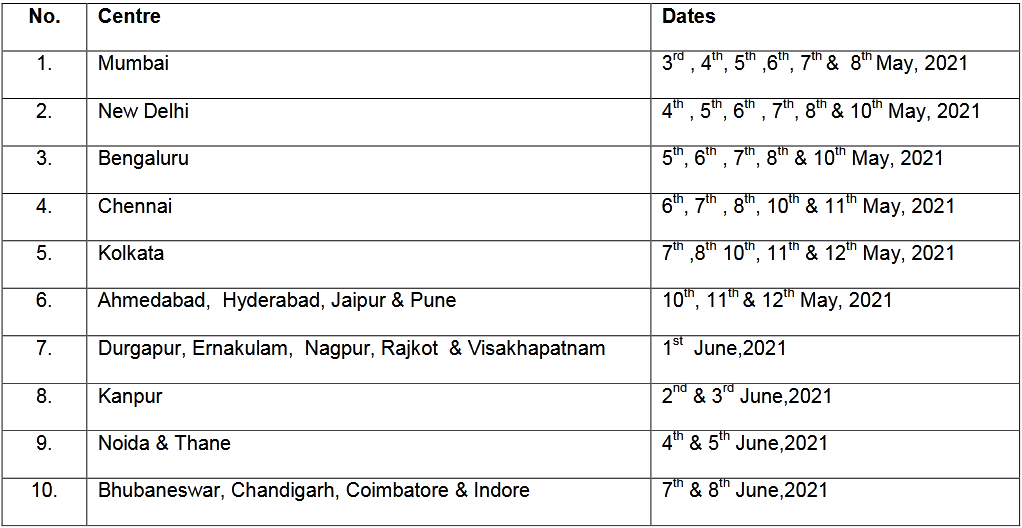 It is to note down that the sharing of the information for the firms enrolled at Mumbai, New Delhi, Bengaluru, Chennai, Kolkata, Ahmedabad, Hyderabad, Jaipur & Pune centers will get started on 17/04/2021 and sharing the information for the firms enrolled at Durgapur, Ernakulam, Kanpur, Nagpur, Rajkot, Visakhapatnam, Bhubaneswar, Chandigarh, Coimbatore, Indore, Noida & Thane will begin on 18th May, 2021.
According to ICAI's rules achieve membership of ICAI shortly after passing CA final examination but before 15th July 2021.
Dates for registration, short listing, consent and Written Test/Psychometric Test/ (if any) Giving

Notes::
"Sharing of database for Companies registered at S. No.1, 2&3 centres begins on 17th April 2021"
"Sharing of database for Companies registered at S No.4 & 5centresbeginson 18th May 2021"
The shortlisting status of several firms and data with respect to the written or Psychometric or Interview test etc. will go to the corresponding student's login. Keep an eye on your login ID at (https://cmib.icai.org) regularly.
"If you are not in genuine need of a job, avoid registering for Campus Placement Programme" the ICAI's general guidelines added.
Read Also: CA Students Got 2,923 Job Offers in Campus Placement
The timing for the interviews in all the days will be from 9:00 A.M. to 6:00 P.M as possible shortly. The interviews will be conducted via virtual mode through the platform effective to the participating companies and the roster schedule through ICAI. you must check out the schedule on (https://cmib.icai.org) at 7:00 AM of the interview date.
Tentative Orientation Programme Schedule:

ICAI urged that in the case of not joining the firm post signing the declaration form the students need to file the commitment charges of Rs 5000 and this behaviour will be seen so seriously as it restricts the options of others and revoked the roster of the firm. 

Mock Interview Schedule:

The student who has finished GMCS(MCS) or articleship but yet to have 21 years of age to save the ICAI membership is needed to ask specific authorization via email at cajob@icai.in, for attending Campus.
For more information & general guidelines, click on this PDF.