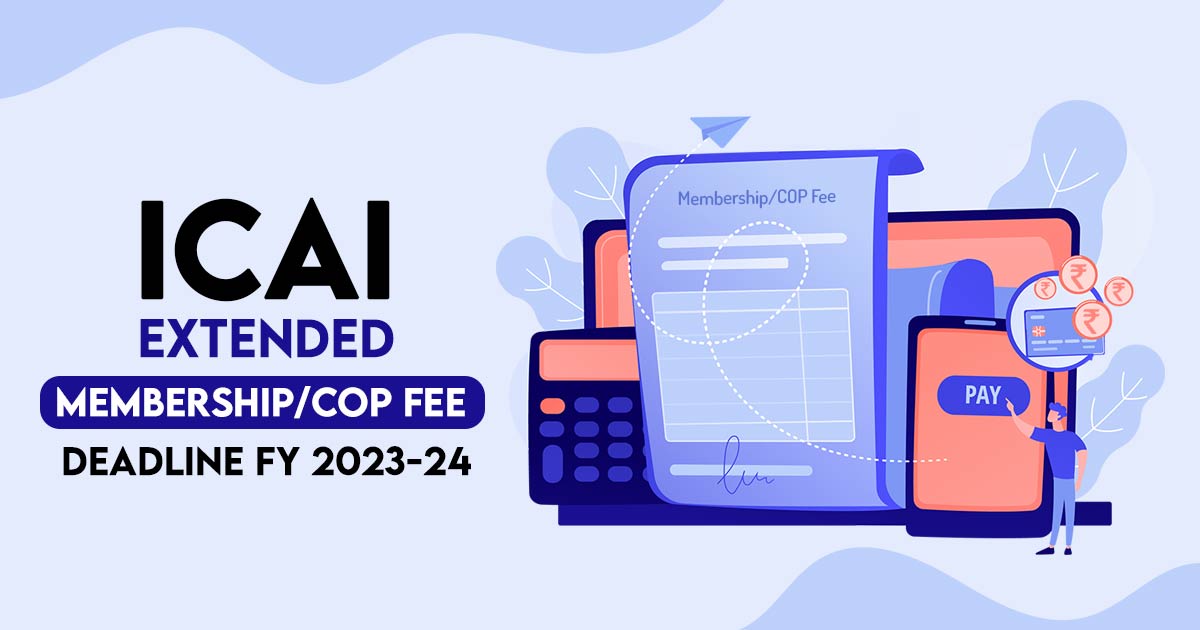 "The members are aware that in order to mitigate the hardships faced by some of the Members due to various reasons, the Institute had extended the last date of payment of Membership/ COP Fees for the Financial year 2020-2021 to 15th December 2020."
"In this regard, attention of the members is also drawn to the linkage of live membership status as a pre-requisite for all certification courses and access to DLH and other benefits including article registration in addition to the generation of UDIN on all documents issued by Chartered Accountants for assignments related to audit, attestation and certification which has been made mandatory by ICAI."
Important Announcement regarding the Last Date of Payment of Membership/ COP Fees – (15-12-2020)
The last date to membership/COP fees payment has been extended to 31st December 2020 due to the general issues and covid related delays. All the member can pay the fees till the mentioned date.
Read More official Announcement : Click here
Important Announcement – regarding the Last Date of Payment of Membership/ COP Fees – (02-12-2020)
"In view of the above, Members are once again requested to pay the fees well in time before waiting for the cut-off date of 15 Dec 2020 so as to avoid any last-minute hassles."
Read More official Announcement : Click here
IMPORTANT ANNOUNCEMENT – Last Date for Payment of Membership/COP Fee is further Extended to 15th December 2020 – (30-11-2020)
The panel has proposed and finalized the extension of membership/COP fees payment date to 15th December 2020 as per the conditions and issue caused recently by Covid. All the members are requested to take care of the date.
Read More official Announcement : Click here
The last date of payment of membership/COP fees Institute of Chartered accountant of India (ICAI) has extended till 30th November 2020.
"The Council of ICAI considering the request from Members at large has decided to extend the last date for payment of Membership/ COP fee from 30th September 2020 to 30th November 2020,"
The ICAI officials have created SSP portal in the previous year which the ICAI makes it 100% paperless by directing it online. Thus one has to enrol on SSP portal for paying the enrolment fees. https://eservices.icai.org/
Read More official Announcement by ICAI website : Click here
Institute of Chartered Accountants of India (ICAI) is a statutory body set up by an act of Parliament which functions under the administrative control of Ministry of Corporate Affairs, Government of India. ICAI is managed in accordance with the provisions of the Chartered Accountants Act, 1949 and the Chartered Accountants Regulations,1988.
Read Also: Advanced ICITSS – Adv. IT Test will be conducted through Computer Based Mode
ICAI also gets a consultation with other regulating bodies like Comptroller and Auditor General of India, Securities and Exchange Board of India, Ministry of Corporate Affairs, Ministry of Finance and other stakeholders.
ICAI is the governing body for regulating the CA practices in a just environment in terms of transparency and legitimacy. The Institute takes cognisance of the CA practices of all the functioning CAs of the country. The CAs in India need to be associated with ICAI through membership and/or COP.