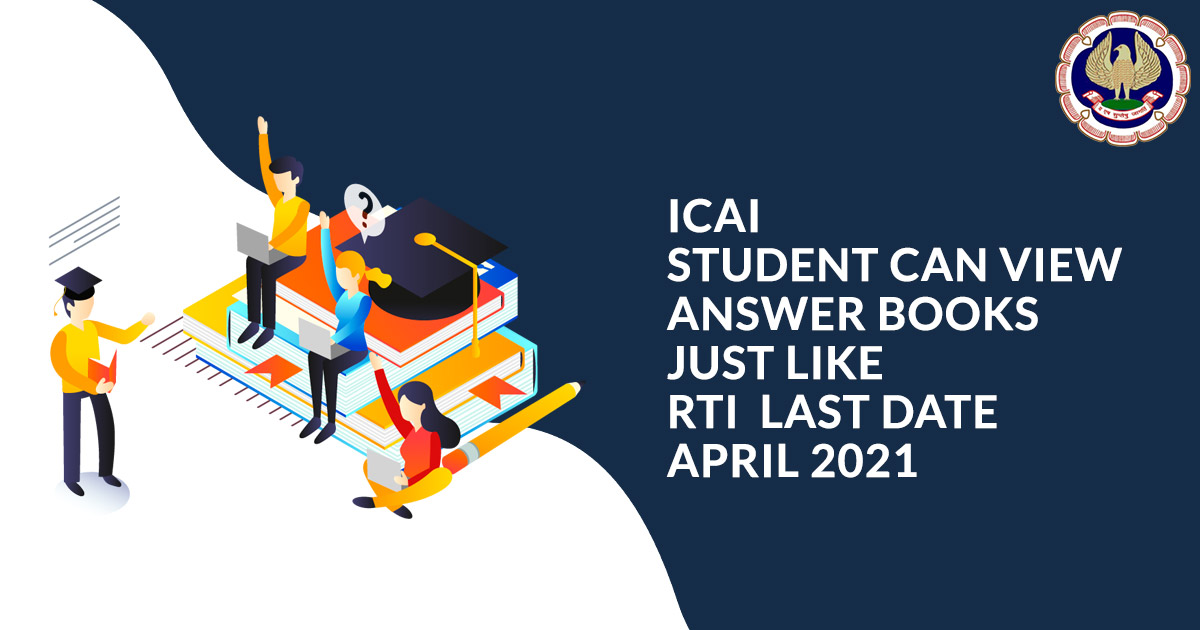 Good news for CA Students! Path-Breaking Decision has been taken by the Institute of Chartered Accountants of India (ICAI). Now the ICAI examinees can apply for certified copies of answer sheets. This historical decision was taken by the ICAI on 23 March 2021. Moreover, ICAI examinees may also apply for verification of answer books.
Last Date for Receiving the Application
This time for January 2021 exams for CA final and CA foundation examinations, the last date is April 19 of this year. The respective dates for CA Intermediate shall be updated soon.     
So, if you are not contended/satisfied with the marks you have received in the ICAI exams you can apply for "viewing answer books" within 30 days of the date of declaration of result.
However, after the lapse of 30 days from the date of aforesaid examination, examinees shall not be eligible to apply either for certified copies of answer sheets or for verification of answer books.  
Alarming bell for Wrong-doers or Culprits
However, it is worthwhile mentioning here that if any of the examinees is found guilty of misuse of answer books, he/she shall be liable for punishment.
The punishment may result in debarring the examinee for appearing in future exams conducted by ICAI or any other action deemed fit that shall be taken by the Examination Committee/Council of the Institute in this regard.
Read Also: ICAI CA Exams May 2021 Extends Cut-off of conversion from Revised Scheme
The Procedure of Applying for Evaluated Answer Books
Step 1: Google http://icaiexam.icai.org and fill the form for accessing certified copies of answer sheets on the aforesaid site. The last date to apply is within 30 days of the completion of the examination.
Step 2: Fill the form and pay the fees of ₹500/- per paper for CA Final, CA Intermediate, CA IPCC/ATE/Unit, CA Foundation and post qualification courses online. This fee is not refundable. However, physical application by the candidates will not be entertained.
Step 3: Thereafter ICAI will send an email to you informing about the URL link of the website in addition to the user ID and password that is required for accessing the scanned answer books.
Step 4: You can see and take the printout of the scanned copies of your answer sheets. However, you can view/take a print of answer copies not later than 10 days from the date of hosting. The scanned copies of answer books will be available on http://icaiexam.icai.org
Best wishes to all the CA aspirants.