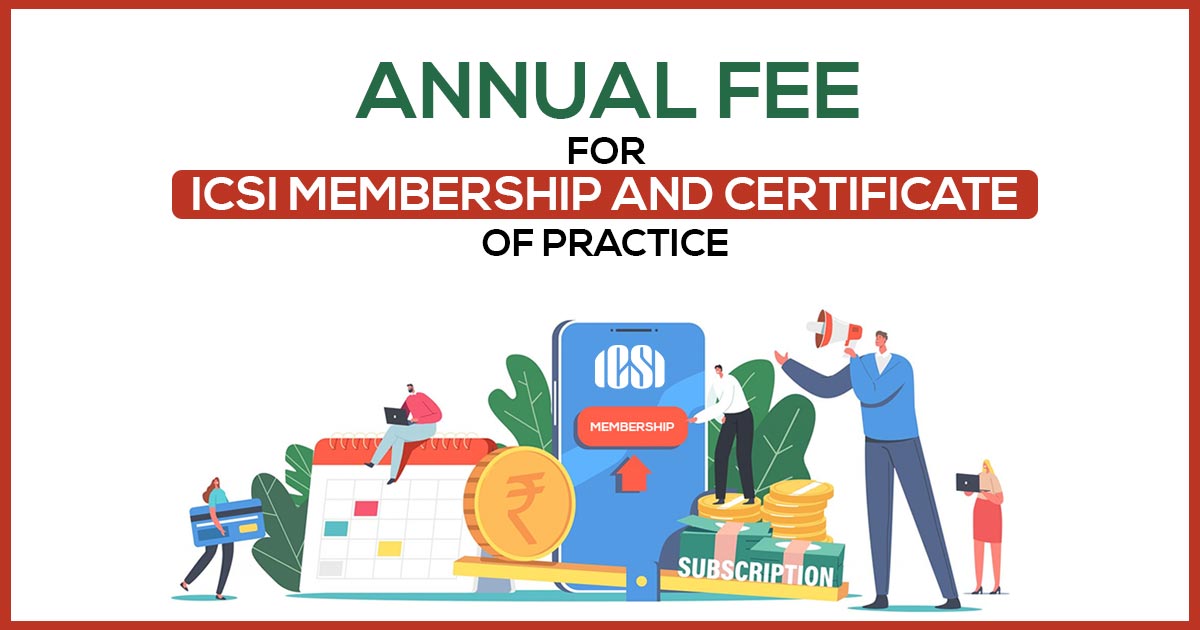 Under the Company Secretaries Act, of 1980, the Institute of Company Secretaries of India (ICSI) controls the profession of company secretaries in India. The ICSI sets the professional standards performs the exams, and furnishes the education and training to the candidate of company secretaries. We will talk about the yearly membership price and certificate of practice charge that company secretaries must pay to the ICSI in this blog.
Annual Membership Fee:
The annual membership fee would be called to be a fee that the company secretaries pay for keeping their membership with ICSI. All ICSI members along with those who would be in practice or in full-time employment would be needed to file a yearly membership fee.
The council of the Institute specifies the annual membership fee for the ICSI and is pertinent to the change with time.
PAYMENT OF ANNUAL MEMBERSHIP AND CERTIFICATE OF PRACTICE FEE FOR THE YEAR 2023-2024
From 1st April 2023, the annual membership fee and certificate of practice fee for the years 2023-24 would be due. 30th June 2023 will be the due date for the annual membership fee and certificate in practice. The certificate of practice and membership fee subjected to be paid are as follows-
| | | |
| --- | --- | --- |
| Particulars | Associate | Fellow |
| Annual Membership fee | Rs. 2950 | Rs. 3540 |
| Certificate of Practice fee | Rs. 2360 | Rs. 2360 |
| Entrance fee | Rs. 2360 | Rs. 2360 |
| Restoration fee | Rs. 295 | Rs. 295 |
Fee inclusive of applicable GST at the rate of 18%
The fee is inclusive of applicable GST at the rate of 18% and applicable when an annual membership fee is not obtained by 30th June 2023.
When the annual membership fee and certificate of practice fee do not obtain by 30th June 2023 then the fee applicable is inclusive of the subjected GST @18%.
Read Also: PMLA Applies to CA, CS, and CWA Who Manage Assets for Clients
A 75% concession in the payment of the Associate/Fellow Annual Membership fee can be claimed by the member whose age is 70 years or more than that.
A concession could be asked by the member who is Divyangjan in the annual membership fee at a 50% rate that comes into force from 1st April 2021. For the members whose age is 70 years or exceeding that are also applicable for the 50% concession. The members are obligated to submit the medical certificate to the same consequence asking for the same concession.
Mode for Remittance of Fee
Via the online mode, the fee is enabled to get remitted merely through the use of the payment gateway of the website of the institute www.icsi.edu
Online Services through Members Portal login.
Use the ONLINE SERVICES tab on www.icsi.edu
Select Member Portal from the dropdown
Log in using your membership number e.g. A1234/F1234
Enter your password
Click on renew link under Notifications on your Home Page
See the details and pay the fee
No acceptance of payment when made via any other mode.
Below mentioned would require to be done during making the online payment of the annual membership fee-
Declaration of PAN & AADHAAR
Verification of your address under the Regulation 3 of the CS (Amendment) Regulations, 2020 by tapping on the provided check box
Declaration of eCSIN (if applicable)
Declaration of UDIN (if applicable)
Declaration of GSTIN number (optional)
Refer to FAQs on the home page of www.icsi.edu if additional information is needed, if not clear ask for the query at http://support.icsi.edu
Check the official announcement by ICSI: Click here