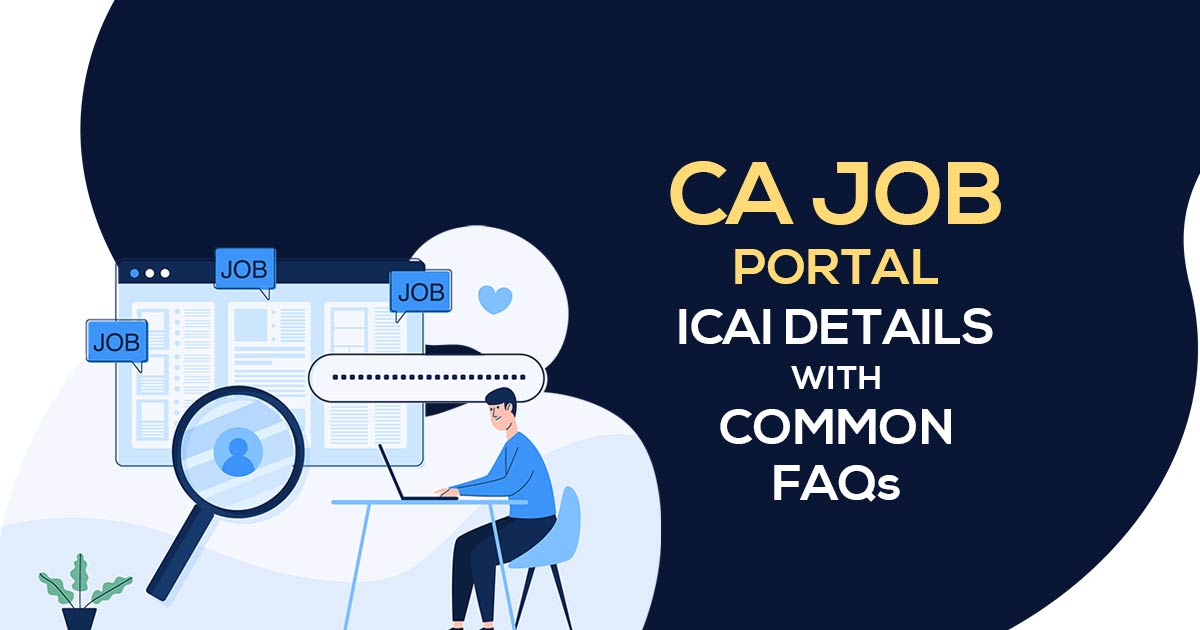 CA Jobs is the leading online job search portal in India for Chartered Accountants (CA), Company Secretaries (CS), and other qualified accounting and finance professionals in India. This premier online CA job search site has been established by The Institute of Chartered Accountants of India (ICAI ) in 2018. ICAI is leading and a well-renowned statuary accounting body in India that has been established 70 years ago by an Act of Parliament. It undertakes the role of forging all the key rules, regulations, and provisions related to the accountancy profession in India.
Since its launch in 2018, this unique CA job search portal has helped companies in the selection & recruitment process of talented CA, CS, and other accounting professionals. This one-stop job search portal has also assisted CAs to find suitable job vacancies in different accounting & finance firms based on multiple filters like salary compensation, experience, etc.
Are you a Chartered Accountant (CA) seeking a rewarding career in India? Do you want to know how to get to the Institute of Chartered Accountants of India's (ICAI) official employment portal? If so, this blog post is for you.
We shall furnish you with the information for the CA job portal ICAI in the current post that would be the devoted online platform for the CAs, CA Inter/IPCC/PE-II candidates, and corporates to find and offer jobs in the fields of accounting, finance, audit, taxation, etc. Below is the blog post which I had written for your reference as per the search result. Remember that the same does not a professional service and you must verify and edit the content prior to posting it.
We will also address some of the most frequently asked questions concerning the site and its features.
Frequently asked questions (FAQs) by CA job seekers related to CAJobs Portal:
Q.1 – What is CA Job Portal ICAI?
In 2018, the Committee for Members in Industry & Business (CMI&B) of ICAI incorporated the CA job portal ICAI https://cajobs.icai.org/ which is the web-based service platform. To find appropriate jobs for CAs and CA candidates in distinct sectors and industries across India, the portal is the one-stop solution.
Q.2 – How can an ICAI/ CMI&B member register on the CAJOBS Portal?
The members should visit https://cajobs.icai.org/ After landing on the page→ enter Members Tab → Login/Register
Point to note:
The user name for the members would be their ICAI membership number, and the password would be the date of birth (D.O.B) in DD/MM/YYYY format. In case a particular candidate has already registered https://cmib.icai.org/ in the ongoing placement drive, they should use those credentials while logging in.
Q.3 – How to apply for a job on the CAJOBS Portal as an ICAI member?
After Login and profile update on the portal, the relevant jobs matching member profile will be shown on the user dashboard for directly apply process.
Q.4 – What benefits can a member receive while applying for jobs through CAJOBS Portal?
Here are some of the member benefits when they apply for a job through CAJOBS portal
Find accounting and finance vacancies from primary to top-level easily
One-stop job portal to find all CA and finance field-based vacancies in India
Search and sort CA jobs based on numerous filters like featured jobs, premium jobs, most viewed jobs hot jobs, etc
RecieveTimely job alerts
Track Job application on the go
See relevant job recommendations and receive customized system-based SMS or Emails

Frequently asked questions (FAQs) by CA employers regarding CAJOBS Portal:
Q.5 – How does a company register itself on the CAJOBS Portal?
Here are the detailed steps for employer registration:
Visit https://cajobs.icai.org and click on the corporate tab
2 Fill up details in the new employer registration form
Update company profile and subscribe to a subscription package
Click submit and start posting CA jobs through employer dashboard.
Q.6 – How to get access to various services offered by the CAJOBS Portal to employers or companies?
Once the CMI&B office approves the employer registration request & other details, the company account gets activated. The company should also subscribe to an annual package for availing CAJOBS Portal services.
Q.7 – What type of jobs can be posted by companies on CAJOBS portal?
Employers can post Regular Jobs, Part Time Jobs, Contractual Jobs, Flexi hours Job, Classified, Featured Jobs etc.
Q.8 – What benefits companies may avail by posting jobs on CA JOBS Portal?
Here are some of the employer benefits when posting a job through CAJOBS portal:
Opportunity to hire talented and skilled Chartered Accountants available at one place.
Automate interview scheduling
Arrange interviews through video conferencing
Easy payment procedure through integrated payment gateway on the portal.
Find relevant candidate profile based on your entered preferences.
Easily and quick candidate-job screening process with an advanced search option.
Check the official ICAI FAQ Member / Company: Click here