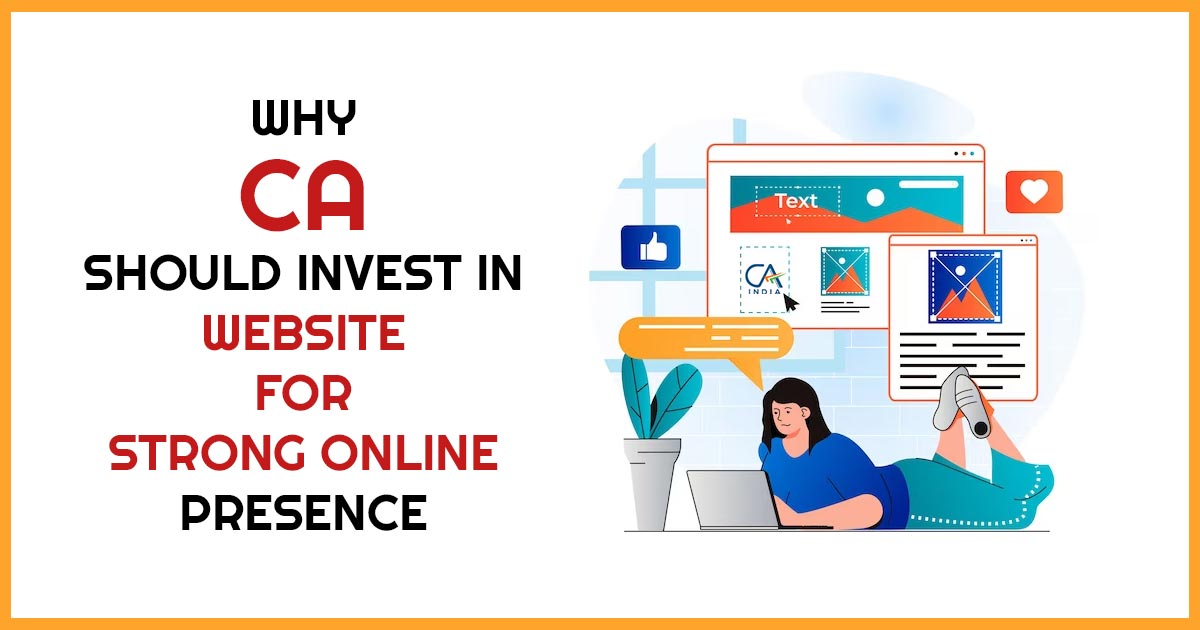 The Power of Internet and the Importance of Owning A Chartered Accountant Website undebatable today. It has altered all the spheres of our lives for good. A powerful online presence is a must for budding as well as established businesses alike. The newly introduced GST in India has made the role of Chartered Accountant ever more important. A direct impact of GST is in the number of registered taxpayers. It is claimed that the registered taxpayers are set to grow by many folds. This brings Chartered Accountants and Lawyers at the centre of Indian Finance.
Visibility on the internet is the factor that attracts new clients and customers. As a budding CA or a practicing lawyer, it is important that clients get a very important first impression of your services and expertise. A website will go a long way in establishing this. However, hiring an in-house team for getting a professional looking website up and running from scratch is time-consuming and costly. But worry not!
At There are hundreds of premium responsive chartered accountant website templates built by professional web developers and designers that serve all possible purposes. By choosing the theme that perfectly suits your requirements, you can build your own website with minimum effort and most importantly without any coding experience. The process saves money and most importantly 'TIME'.
These templates are equipped with page builders that ensure easy and robust web pages with no extra cost. So Grab the deal and start building your online presence right now!. The ready to use features of Templates make them the preferred choice over developers A few points that highlight the Importance of Owning Chartered Accountant Website built on responsive website templates are discussed below.
#1. Affordable Responsive Website Templates
Responsive website templates are affordable. Being cost-effective they save a great amount of development and deployment money that can be used in other important verticals of the business. Especially entrepreneurs running on tight-budget can get a feature-rich website at minimum up-front cost.

#2. Using a Professional Web Designer Saves You Time & Money
For start-ups, time is synonymous with money. Most people consider building a website as a time-consuming affair coupled with technical issues and glitches. This is true if you are building a website from scratch. But using premium templates, the whole process can be completed within a day or two in a hassle-free manner.
#3. No Professional Help For Chartered Accountant Website
You don't need to learn to code or hire services of a professional coder. Building a website using one of our templates is as easy as taking a stroll in your garden.
#4. Design Options: Choosing a preferred Option for CA Templates
There is no dearth of design options with attractive website templates. There are tons on offer that easily satisfy even the most meticulous customers. The options in color, style, font as well as the level of functionality will easily please even a perfectionist.
Read Also : Make A Successful Professional Identity Online With CA Portal
24*7 Support Here to Help Your Website!

The templates that are dynamic and ensuring round the clock efficiency to its clients by offering 24*7 Support to Your Website!
#5. SEO-Friendly Website Help Your Business Grow
The use of responsive Templates is their SEO compatibility. A website with no traffic is as good as having a no website at all. TM Templates are easily optimizable for generating traffic on Google and other search engines to generate traffic.
#6. EASY Updates and Easy To Use Website Templates

Easy CMS Platform integration ensures on the go content upload on your static site. Updates to the website can be done from any-place at any time.
As the old saying goes 'What you see is what you get', a proper website that lays out all the services that are on offer in a very apt and sober way helps in building a strong impression before potential clients. It can be termed as the foundation stone on which a great customer relationship and service can be built. We hope that our easy to use website templates will serve as the necessary boost for your entrepreneurial journey.