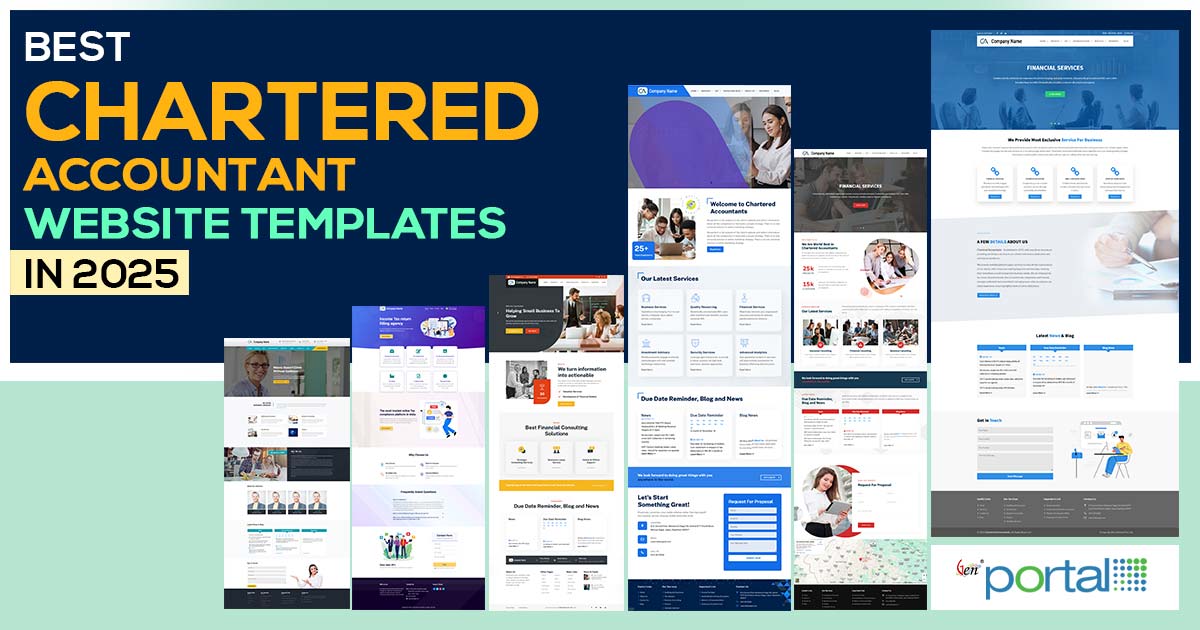 If you are a chartered accountant & Accounting Website Templates and have been looking for that perfect chartered accountant firm website template then this is where your search ends.
Our list of best professional accounting website design templates not only give that edgy appeal to your website, but they are also rich in features that would serve all accounting needs of your clients well.
Below we list 11 of our Top responsive CA website templates for Firm that will give a professional as well as an elegant makeover to your online presence:

Our chartered accountant website templates are perfect catalysts for forging an instant connection between you and your prospective clients. Trust remains the primary ingredient between Chartered Accountants and their clients.
Everybody is a little apprehensive in sharing his/her financial details. Our CA website templates go a long way in breaking the ice and laying important groundwork for CAs to build this trust on.
Last but not least, all themes have been designed to be dynamic, responsive and SEO-friendly. Further, the UX/UI optimized design is business-friendly with specific call to action buttons and contact forms for converting your leads into business.
So, take a deep breath, relax and choose from our list of 11 best Accounting Website Templates for Chartered Accountants:
#1. The Blue And Black Coloured Theme For CA Website

The new theme will surely give easy access to all the viewers with a single click as all the features and utilities are tagged on the home page with sliding banners to offer important notifications or services to the clients.
The theme is extended to all the viewers on the basis of services offered by the associate to the clients and their normal description to give an idea of the whole organization.

There are well setup services tabs for each feature offered by the chartered accountants in a simple manner.
Firm Name Representation
Blog Section
Price Calculator
News Section
Social Media Integration
Enquiry Form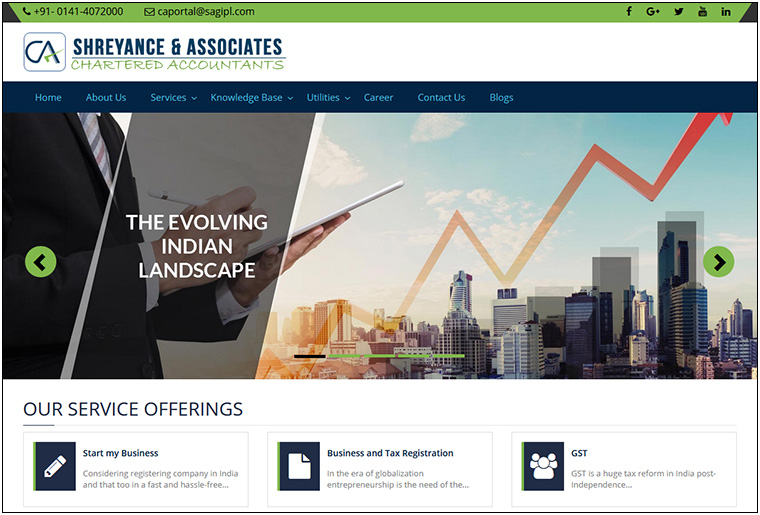 #2. Summer Sky Theme (Dynamic Background Website Template)
Our new Blue coloured Skyscraper theme is developed well to meet the expectations of the customers from Chartered Accountant sector. The theme is developed by keeping the growth ideology in mind, hence it packs the actual corporate space and opportunities to the visitor through background images and banners.
The theme will be suitable for the highly ambitious CA associates to offer their clients with global level online presences and services.
Highlights
Multipurpose calculator
Return Forms
GST
Services
Acts/Rules
Firm Information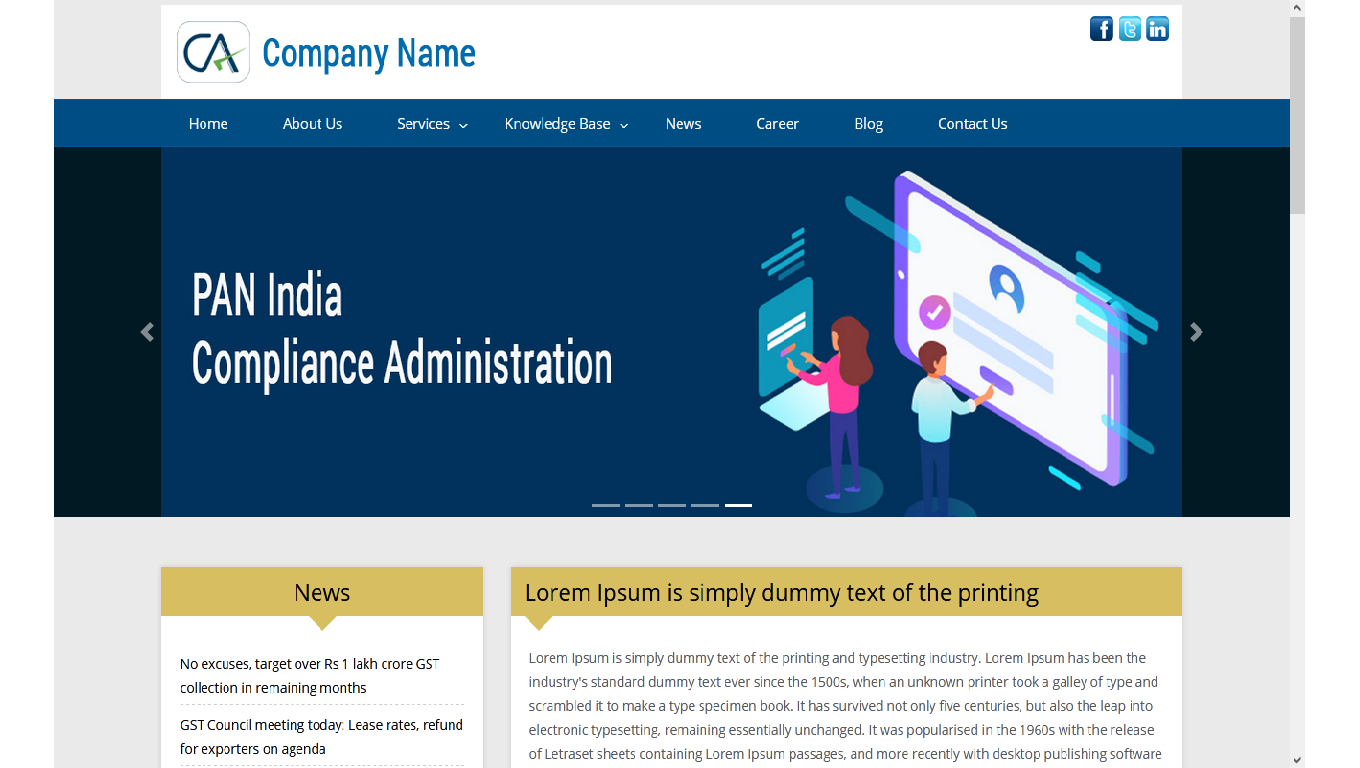 #3. White and Blue Theme For (Professional Accounting Website )
The coloured theme is easy to access based ideology website design which is suitable for all the visitors wanting to know more about the CA associate. The website offers all the handy features on the main page aboard.
The coloured theme is well suitable for all the platform including mobile tablet or desktop and would show all the necessary features tabs at the same time.
The multicoloured theme finally renders the basic necessity of the website on the designed theme.
Highlights
GST
Circular Gallery
GALLERY
LOGIN PANEL
SOCIAL MEDIA TABS
BLOG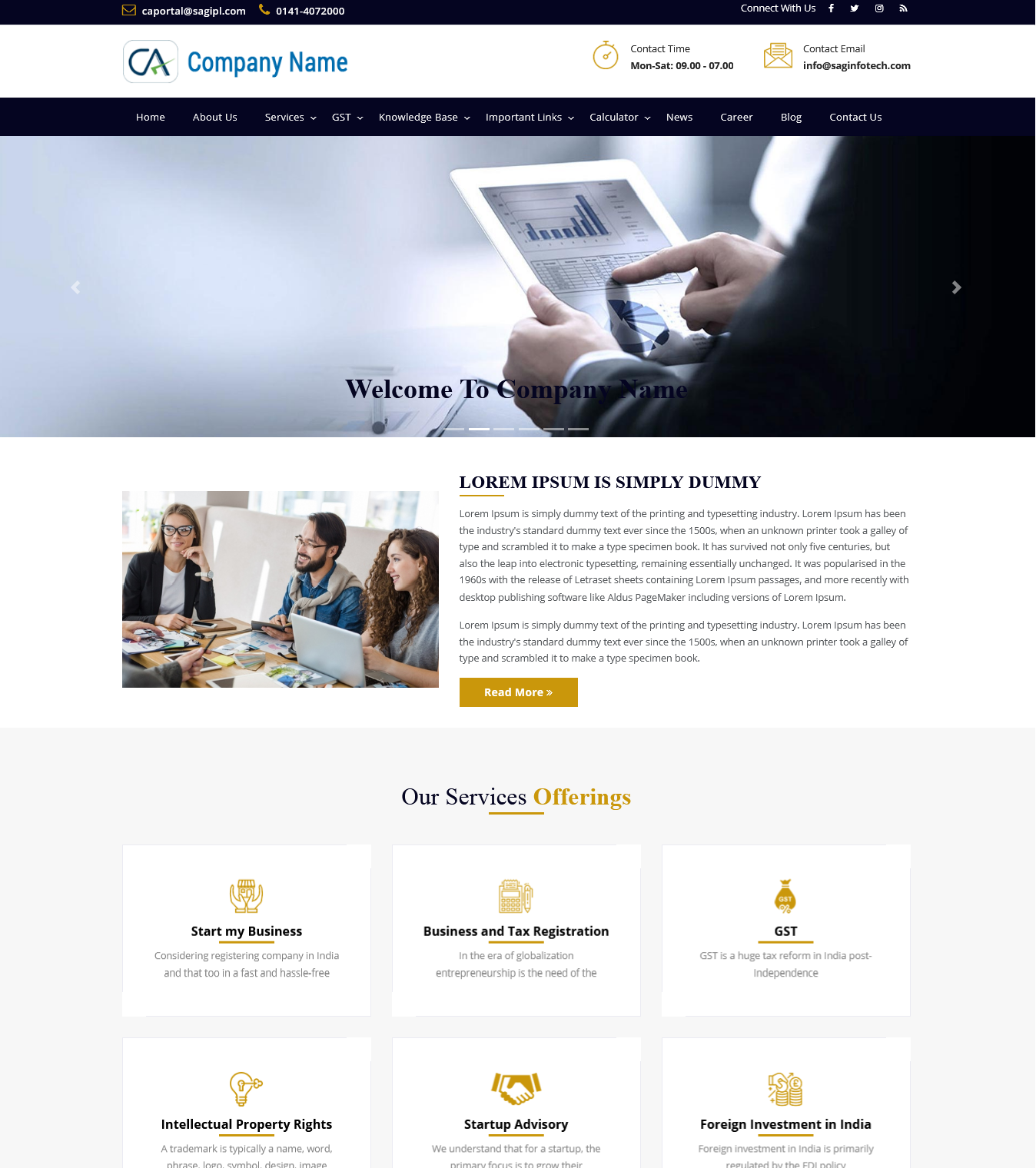 #4. DarkCyan (Creative Portfolio Website Template)
A perfect mix of green and blue, this dark cyan template coupled with black as well as white fonts oozes calmness which is something that most professional website template fails to trigger.
The hint of green is a good reminder of what the template stands for i.e Finance and Money. Exceptional Visibility and Readability along with enticing features to our clients such as a calculator, firm information, separate login panel, efficient links, notifications social media tabs, visitors counter.
Immediate attention grabbers are the firm logo representation at top of the template with responsive Home, Services, Knowledgebase, Blog and Contact Us action-buttons.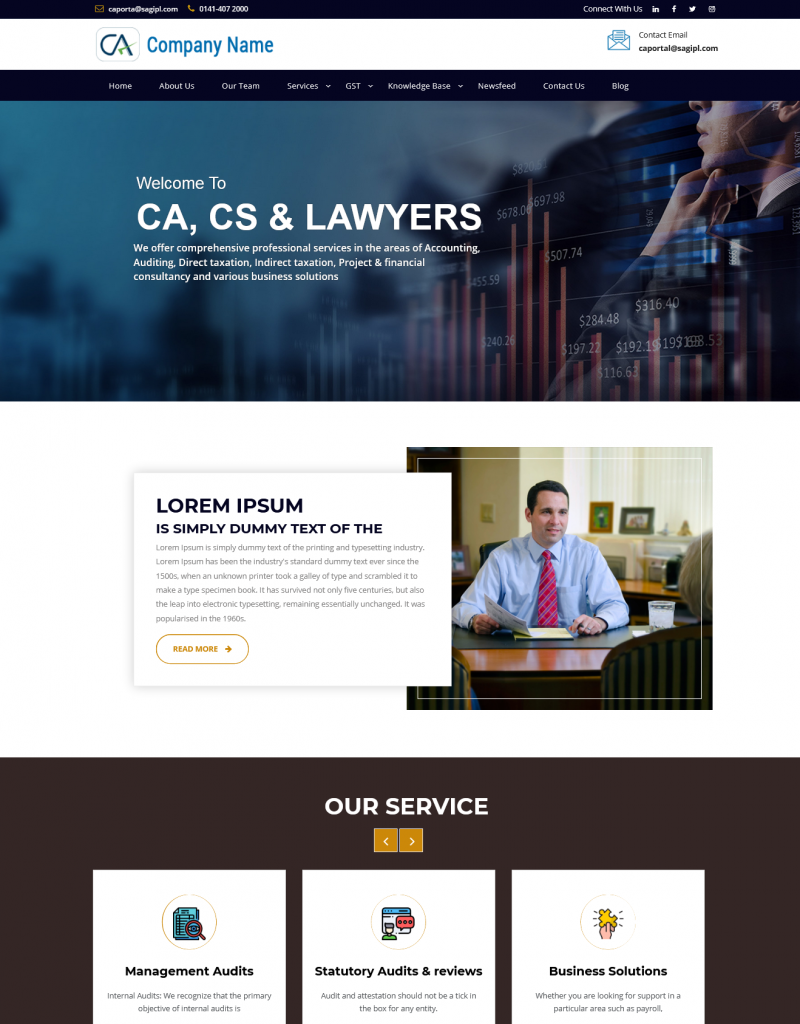 #5. Simple & Stylish (Responsive Chartered Accountant Website Template)
Perfection at its best, this blue theme chartered accountant website template has an easy to use dynamic user interface. The responsive template works well across all platforms and devices.
More importantly, it has all the things, that a perfect first impression demands, stacked vertically in perfect unison.
The Menu Bar at the Top
Clear Logo Repersentaion with adjacent Contact Us button
Latest News Bites, Due date Reminder and Blog updates at the centre
In addition to this impressive instant direct chat option, social media tabs, inquiry form make the visitor experience a true delight. If you are starting out on your path of being a successful CA, this Responsive Website template is a must have for a strong online presence.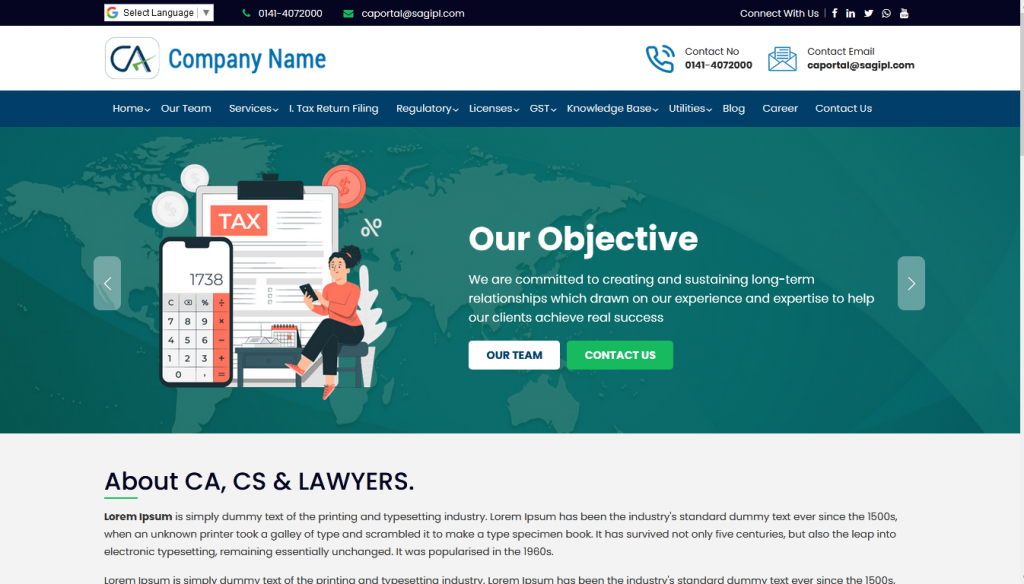 #6. Cadet Blue (Accounting Website Templates)
A perfect theme that exuberates trust and authority, the theme is ideal for Chartered Accountants looking to grow their clientele. Some of the features of CA portal theme are Career (Job Vacancy), Enquiry, Chat Options, Blog Creativity, Mission, Vision, About Us, Social Media Tabs, Auto Calculator, and Separate Login Panel.
The top end features sync naturally with the cadet blue theme for a great first impression. If the sky's the limit for you than the cadet blue theme is a must have for your website.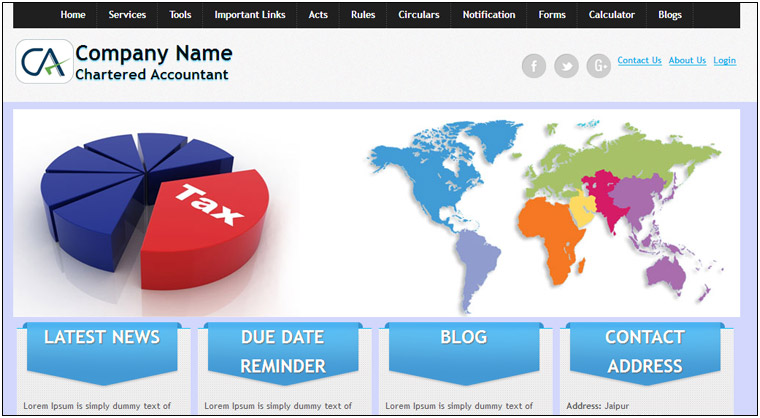 #7. Accounting firm Website Template)
Simple and Effective. There are few website templates that are impressive without being loud. Our hover-yellow theme is impressive, responsive and equally effective.
The highlight feature is the separate tab for clients to make a list of services rendered by the firm. There is also a custom login panel to upload any news about the firm or any related topic on the website.
Additionally, the professional website template bundles all accounting features as part of the menu bar. Due-date reminders, Blogs, and News is part of the right-hand section of website layout.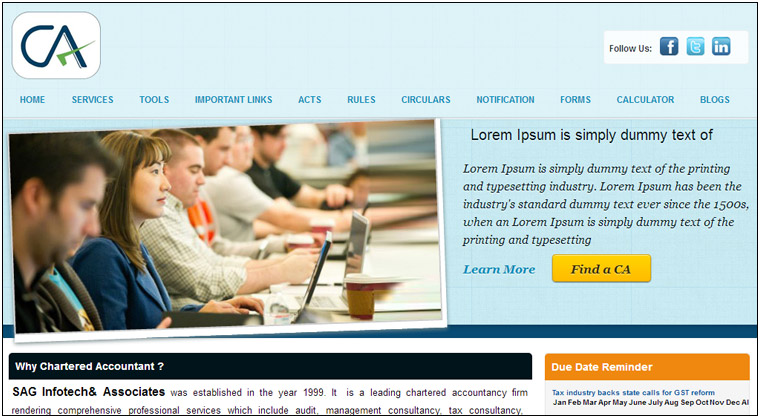 #8. Best Accounting Website Design Template
The dominant red with black and white dynamic layout make this Zinnia inspired theme 'a true tempter'. Impressive features like Gallery, Blog, News and Due date reminders promise prolonged attention of both current and potential clients.
Other key features that will keep clients glued to you include Return Forms, Circulars, Notifications, multipurpose calculator.
If you want an easy to navigate and feature rich Responsive Website template than our Zinnia themed CA website template is perfect for you and your professional needs.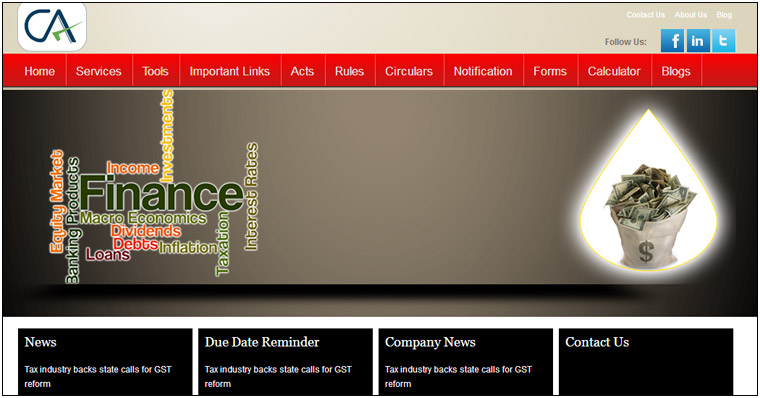 #9. Green Gladiolous (Dynamic & Responsive Website Template)
This unique template draped in a mix of green with brown, light-brown fonts looks pleasing and engaging. The features and functions appear clean and tidy, a feature that resounds with numbers in finance and accounting.
The dynamic and responsive layout design effectively meets all client requirements. Further options like efficient links, career, inquiry, direct chat, forms gallery, acts gallery, automatic notifications and many more.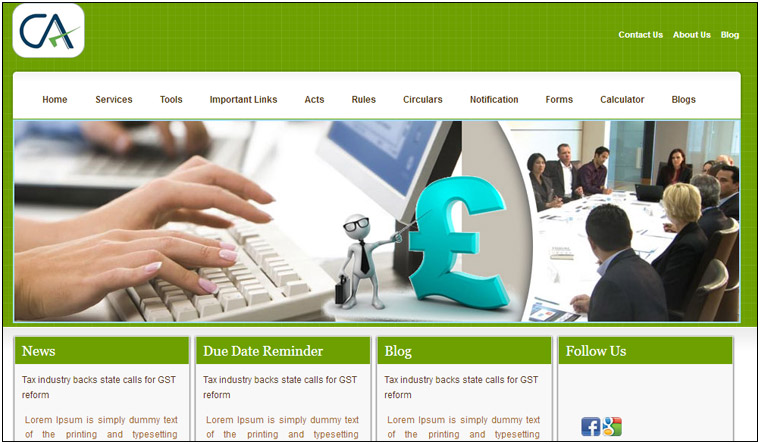 #10. Beige (Creative Accounting Firm Website Template)
A mix of brown and beige, this layout perfectly replicates the quiet demeanour that CAs are known for. Feature lists for this particular Accounting Website Template are far and many.
The chief ones are a calculator, blog section, firm information, automatic notifications, separate login panel, a separate tab for the career (job vacancy) and many more.
Highlights include the Member Login form with a 'quick Contact' tab which website visitors will find hard to resist.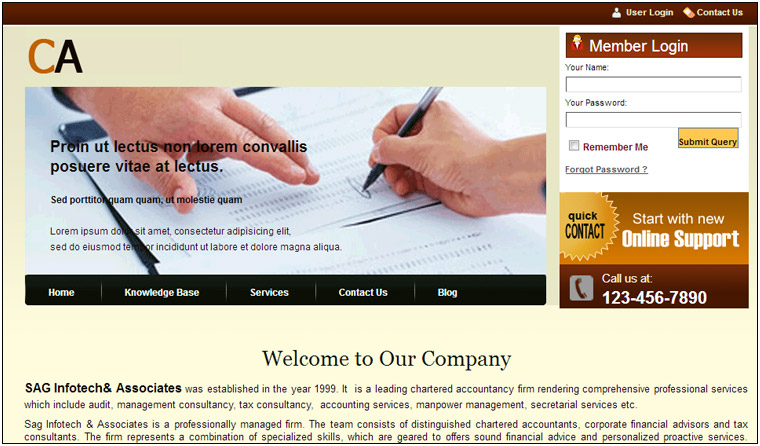 #11. 3C's (Accounting Website Design Template)
Clean, Crisp and Clear. The 3C design language of this template is attractive and sober. For a visitor in search of tax solutions, this template is one place serves all platform.
A CA's delight we would say. From vibrant multicolour menu bar options to an HD gallery with sidebar menu on the right, this templates user interface is definitely engaging.
Some key highlights include:
Header bar with ample Logo Space and Social Media Features
Instant Enquiry Form
Chat Box
Due date Reminders/News/Blogs for existing clients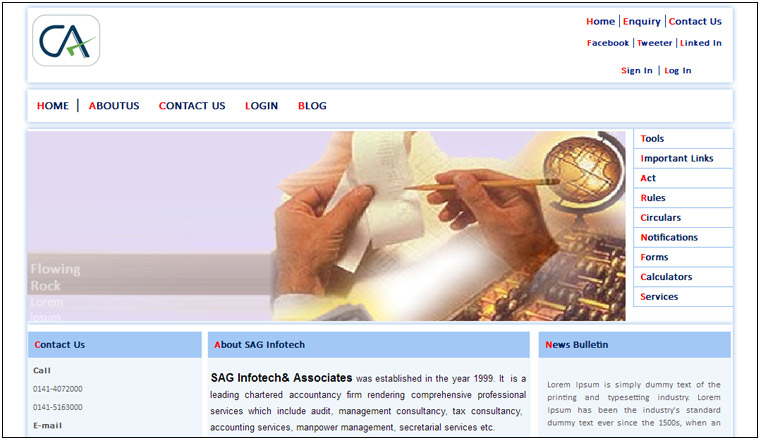 Well, this brings us to the end of our list. We hope that the list of the 11 most responsive chartered accountant website templates will definitely help you to get the 'WOW' factor to your online presence.

FAQ's Related to Accounting Website Templates
Q1. On my website could I utilise the accounting website?
Yes, one is enabled to do so, one is required to make a fresh site if you own a functioning page. Comply within our guidelines for a smooth and seamless combined procedure. Our products will assist you which boosts your site.
Q2. With the chosen accounting website template does my site be suitable for mobile users?
Yes, our templates pose the Bootstrap framework which is used as a foundation towards our products which makes your site responsive and would work on mobile. The page appears to be set successfully on any device and adapts the screen resolutions correspondingly.
Q3. Does my site with the accounting website template be visible on the internet?
Special optimization drives our mockups SEO-friendly, and there shall be no issue faced by the search engine in finding out the page. However in the indexation procedure content poses an essential role, thus from our side there is nothing left now it is up to you where you lead your website.
Q4. What will be the cost of accounting website templates?
We provide various kinds of products whose costs differ from each other. There are various templates from which you would choose according to your website as per your budget. Also one should remember about the regular sales and deals. Just see a various range of templates in our product line and you would see a suitable one for yourself.
Q5.What is the method to use the template for small business accounting?
Small Business Accounting firms can use the template for their website, so visitors can get all the details about the firm, people working there, and their previous work at the same place. It will help small business accounting firms to get exposure and widen the user base.
Q6. How CA Portal can Help to Build Eye-catching Accounting Websites?
CA portal is an easy-to-use CA website builder for professionals that allows building professional websites for CA/CS & accounting professionals in the easiest possible way. The platform gives free demo for CA websites as well as offers affordable & high-quality website development along with domain hosting and lifetime support.
Q7. What is the difference between CA Portal and Other Platforms?
CA portal has the widest selection of feature-rich and intuitive CA website templates that can be readily used by CA/CS professionals for creating advanced website apps. Moreover, the portal has outstanding support by a qualified team. All the themes/websites are created in accordance with the latest industry standards and with many supreme features.