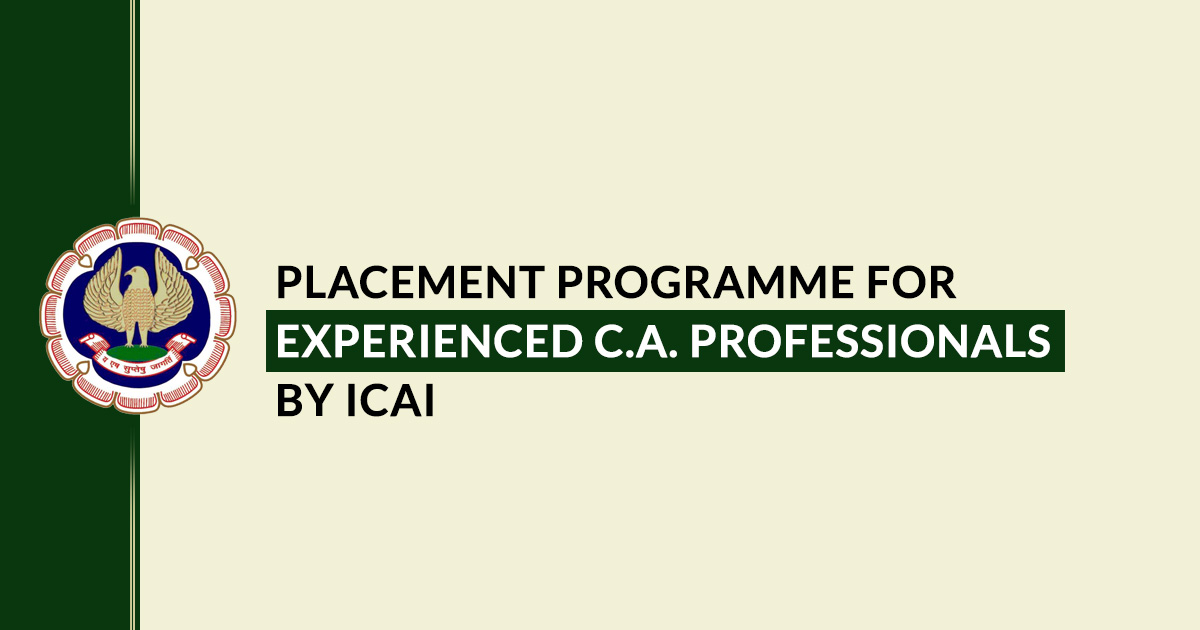 Opportunity for experienced CA professionals to seize better opportunities for their career and financial elevation. CA is the most sought course of the nation with promising rewards and CAs are already blessed with many excellent jobs with astounding packages.
But the Institute of Chartered Accountants of India ( ICAI ), as always keen to excavate more opportunities at national and international level for the newly qualified as well as experienced CA professionals of the nation, has decided to conduct a campus placement programme for the Chartered Accountants with more than 5 years of experience.
"It is again pleasure to acknowledge that lateral placement is being organised on 25th-28th June 2019 in Chennai, Kolkata, Mumbai and New Delhi, for the CA professionals who have 5-year experience or more and are looking for another opportunity. This is an extended dimension to the existing placement programmes at the Institute, which is organised twice a year to provide employment opportunities to the newly-qualified Chartered Accountants. Interested and eligible candidates may check and apply," said CA Prafulla P Chhajed, chief at ICAI.
Read Also: ICAI Invites Proposals From IT Companies For CA Professionals Software
The highest ever offered placement with 3,815 offers and highest ever recruitments by national and international companies was witnessed in the recently organised 49th Campus Placement programme, since the beginning of the Institute.With more than 9000 newly-qualified CAs registered, the job fair was organised at 17 centres across the country wherein a total of 3,815 offers (which is the highest till yet) were made in a number of companies with a record 57.21% student placement and predominant participation of recruiting national and international companies since the outset of the ICAI.
It is the first time that second round was organised for the candidates who were remain unselected in the placement programme initially held. The second round of placement was started on 24th and lasted till 26th April 2019 and was organised at 13 centres to help the leftover candidates get the jobs. In the second round 46 organisations with their 58 interview teams participated and made offer to 113 candidates out of 600 candidates who appeared for interview.
Now ICAI is pressing pedal to help experienced CA grab more better opportunity. These steps will not only help the CA professionals get the desired jobs but ultimately take care of the regulatory compliances.
"With about 1,500 more offers made than what our newly-qualified CAs had got last year and with a two-fold increase in the highest salary offered, this positive development certainly indicates a higher demand for Chartered Accountants across sectors this year and at a brighter future ahead. This trend is quite encouraging for the profession, considering the increased focus on regulatory compliances and best governance practices in present times," Chhajed added.