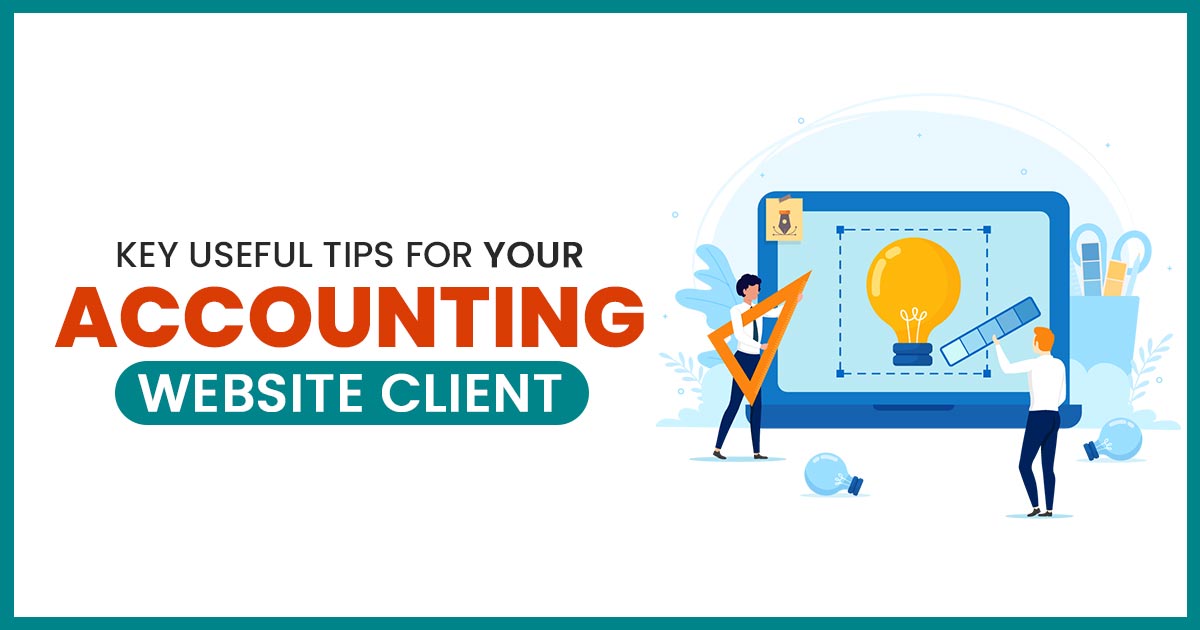 The website appearance is all that matters in the digital presence and the platform for developing and maintaining it is a major step to be taken every day. Also one should be keen to improve the overall performance of the website to make it work fine. It is a matter of importance to take note of the website of your accounting firm as it would be needed to attract a larger client section. Let us see through some of the major factors and Key Useful Tips For Your New Accounting Website Client for an overall better website appearance and efficiency.
There are some very important factors that play a huge role in ranking and attracting visitors /customers, today we are providing a list of these factors and I hope it will help you to rank higher and get more leads.
#1. Keep Your Brand in Focus
Make sure that your website is clean, professional, and reflects the exact idea of your business. If it is not then achieving the goals will be not that easy. Make sure that each and every page has the brand logo and it has all the important pages, such as About Us, Disclaimer, Contact Us, Privacy Policy, etc. If possible add videos and relevant images and represent the idea very clearly.
#2. Use Quality, Interesting and Fresh Content
Content is always king, It reflects the idea, research, and knowledge. Make sure that whatever content you are publishing on the website needs to be up-to-date, unique, and informative. Fresh, unique, and engaging content can help you in improving your website's rank on Google Search Engine Result Pages. It is also a good medium to share your ideas and keep users connected with your business.
#3. Provide More Than Expected
Starting a website with basic details, history, and some links is not enough these days, you can add an Online Quoting Tool You can make your website 24×7. You have to provide more than expected to keep them engaged and convert them into real customers. You can also make things transparent for the visitors by providing fee/ cost, process, and product details on the website. There are many options or automation tools that can be added to the website to make it more useful and a lead generation machine.

---
#4. Avoid Jargon and Use Understandable Language
The website's language is one of the most important things because conveying the correct messages is important. If people will be unable to understand the aim and details of the business then how can he/she will engage you to do business. Thus it is important to don't go completely off-road and keep your website's content in plain language.
#5. Avoid Grammatical Mistake
Visitors don't prefer websites with lots of Grammatical mistakes or typos thus make sure that you check your content before publishing and remove all the Grammatical mistakes and typos. There are many tools available online. You can also use these tools and these will save a lot of your valuable time and effort.
#6. Make your Website Responsive
There are around 4 billion smartphone users, 2 billion tablet users,  and around 3 billion people do have Desktop or laptops in the world and you can't risk ignoring any of the parts. Additionally, People find smartphones more comfortable to use anywhere thus making your website responsive is so important It will allow users to use your website from devices having any size of the screen.
#7. Make it Easy for Website Visitors to Contact You
Make it easy for your user to call, chat, email, live or contact you. You can include contact information (or a way to get to it) on each and every page. Also, encourage them to contact you through adding lines below posts and by asking questions.
Read Also: Best Collection of Top Premium Accounting Website Templates and Designs

#8. Clearly Reflect Areas of Expertise
Add all your services on a single page and provide a direct link of it to each and every page. Additionally, If there are particular areas that your firm specializes in highlight it.
#9. Provide Special Offers to Existing Clients
Better reach, and more visitors are important but in between all these don't forget to take care of your existing clients. It will keep them engaged and connected to the website also make sure to maintain your website's quality and usefulness.
#10. Make sure your website is easy to Find
Perform ethical SEO practices to make your website visible on Search Engines. Also, make sure to submit the sitemap to webmasters and on Social media platforms. It will increase the visibility of your website and also provide better reach.
After all the hustle you have now landed on the perfect place to get your professional website development. CA Portal, a reputed name in the CA and legal professional website development industry have a lot of experience in all the sectors of online presence. The CA portal provides website development at its core with dozens of website themes for the CA & CS and lawyers at the disposal for that immediate effects and client attraction.
Get your dream project started at a click and contact us now for the discussion.