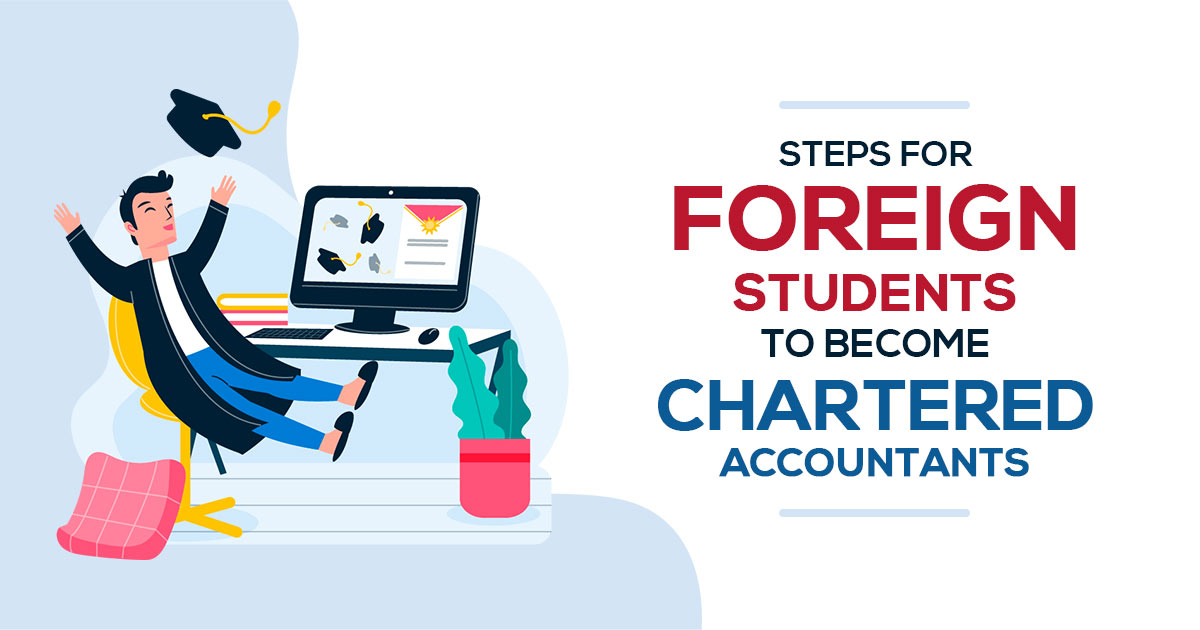 The Chartered Accountancy qualification opens the door to a vast array of rewarding careers in every sector of business and finance throughout the world. Chartered Accountants are in high demand both in India and internationally. They are regarded for their specialized knowledge, competent guidelines, and truthfulness. Chartered Accountancy is one of the greatest courses to study after 12th grade that students can take in addition to the formal degree for a successful career.
A Chartered Accountant's job combines creative training with supervised work understanding to produce accountants with a greater ability to break down and communicate business difficulties and offer dynamic solutions. Chartered Accountants advance swiftly in their corporate careers and enjoy rapid professional advancement.
The United Kingdom is the finest option for overseas students since it is the financial centre for accounting and finance activity. For international students, there are several alternatives in this sector. Chartered Accountancy is still one of the most popular alternatives. After qualifying as a CA in the United Kingdom, students have several job opportunities.
Only people who have obtained the requisite requirements to become members of a recognized organization may use the title CA. The following are essential abilities for becoming a CA:
Only people who have obtained the requisite requirements to become members of a recognized organization may use the title CA.
Make a CA Firm Website only 6999* Fill The Form for Free DEMO
The following are essential abilities for becoming a CA:
Strong numeracy skills
Analytical and data interpretation skills
Commercial awareness
Organizational and time management
Information Technology Command
Being a CA demonstrates that you have a precise set of skills and credentials. People interested in the profession should be self-motivated and disciplined to achieve the appropriate certifications due to the extensive exams and training needed to become a Chartered Accountant.
What are the eligibility criteria to perform chartered accountancy overseas?
To attempt the CA test any person who passed with 10+2 would be qualified.
It is suggested that you obtain a commerce degree before taking the CA exam, however, if you are confident enough, you can take the test right away.
Different nations have different requirements for becoming a CA in their respective states. However, there is one organization that has generalized the course for all CAs over the world, and that is ACCA.
ACCA has around 147,000 members and 424,000 students in 170 countries worldwide. All other countries recognize the ACCA certification. To be considered an ACCA accountant, you must pass three examinations, get practical experience, and complete an online ethics module.
Students who are interested in earning this certification must pass a total of 14 papers. Prior to being eligible, individuals must have three years of job experience. You may practice CA in practically any nation in the world if you have the ACCA certification.
Why Study Chartered Accountancy in the UK?
Studying in the UK gives you a lot of options if you want to pursue a career as a CA. The following are the main justifications for the same:
Accreditation from Professional Qualification: From the professional qualification, the UK furnishes the accreditation to become a chartered accountant UK. The candidates should pass at least one professional accounting certification to become a certified CA in the UK from the Association of Chartered Certified Accountants (ACCA), Chartered Institute of Management Accountants (CIMA), Institute of Chartered Accountants in England and Wales (ICAEW), or Certified Public Accountant (CPA). 
Shorter Duration: In the UK, candidates can start their graduate studies one year earlier than in other nations. They are able to save both money and time because of this.
Work Placements: In UK institutions, candidates are given the chance to work concurrently with their degree programs. It enables companies and students to communicate effectively depending on the abilities that each party possesses.
Real-World Experience: In elite UK institutions, students gain real-world experiences such as decision-making activities in company boardrooms or stock market trading floors. 
Read Also: Check Out Responsibilities of Chartered Accountant: CA & IT Services
Roles and Responsibilities 
The specifics of your employment as a qualified chartered accountant UK will depend on your area of specialization and the sector in which you operate. However, you should expect the following everyday responsibilities in general:
Budget management
Performing financial audits
Financial advice
Working with clients, individuals, and companies
Risk analysis
Tax planning advice
Maintaining accounting records and preparing billing information
Advising clients on areas of financial improvement
Working together with external and internal auditors
Preparation of reports and recommendations after the audits
Preparation of annual financial statements, monthly and annual financial statements
Negotiation of contracts with suppliers
Skills Needed for Becoming a Foreign Student
The mentioned below are the effective skills that should be present in the professionals seeing to become Chartered Accountants UK:
Interest and general business awareness
Motivation and commitment to combine study and work
Communication and social skills
Organization and time management
Methodical approach
IT skills
Strong analytical and problem-solving skills
Arithmetic ability
Leadership and work skills in effective team
Motivation and initiative
Integrity and reliability.
Overseas CA Colleges for Pursuing Chartered Accountant 
Below mentioned is the list of some of the best colleges overseas to pursue a Chartered Accountant. 
Institute of Chartered Accountants in England and Wales

  Chartered Accountants Hall, 11 Copthall Avenue, London EC2R 7EF, United Kingdom ‎
+44 20 7920 8100
Canadian Institute of Chartered Accountants 

680 Rue Sherbrooke Ouest, Montréal, QC H3A 2M7, Canada ‎
+1 514-285-5000 ‎
Institute of Chartered Accountants of Scotland

CA House, 21 Haymarket Yards, Edinburgh, Midlothian EH12 5BH, United Kingdom ‎
+44 131 347 0100
Institute of Chartered Accountants of Ireland
 Institute of Chartered Accountants of Australia 
 Edith Cowan University, Australia
Bangor University, UK
Lincoln University, New Zealand