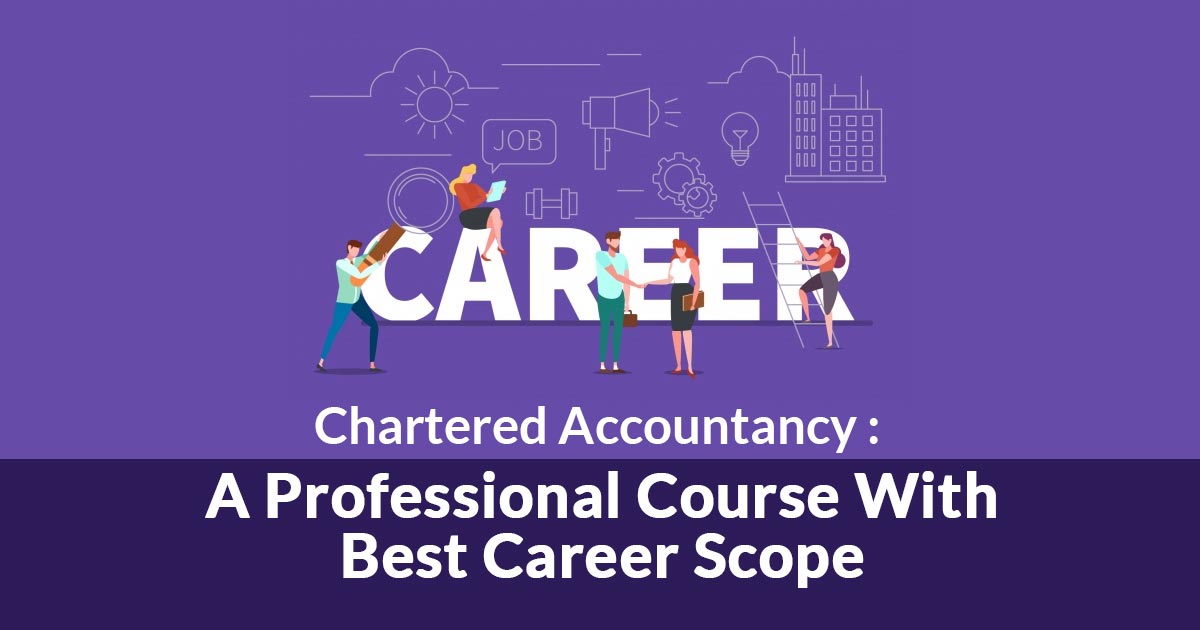 On July 1, 2017, India made its second tryst with destiny since the midnight of Independence Day 1947. Almost 70 years after Independence, India made a paradigm shift in its taxation history by adopting the Goods and Service Tax.
The stable GDP growth rate coupled with the Demonetisation and GST has made Finance Experts, the most sought-after professionals in recent times.
Accountancy was a highly sought after skill even during the classic Golden Age of the Mauryas and it continues to remain so even today.
In the modern age, Chartered Accountancy remains a prestigious career option in the field of finance and accounts.
Over the course of time, Chartered Accountants (CA) have evolved into major deciding factor on Tax Revenues generated in a particular Financial Year. GST has further metamorphosed Chartered Accountants established them as nerve center that will control the future growth and economic well being of entire the country.
Our honorable Prime Minister Narendra Modi's words perfectly resonate with the above lines, "The CA community looks after the economic health of society, As the lawyers did during the freedom struggle, I urge the CAs to take the lead in the journey towards India's economic growth".
In this blog, we try to understand why Chartered Accountancy is the Right Option For Today's Economic as well as Social Scenario:
What is Chartered Accountancy ?
Chartered Accountants dawn multiple roles in today's complex global economy. With their knowledge, skill, and commitment today's chartered accountants hold influential positions across the globe as business leaders, decision-makers and trusted advisers.
They help individuals as well as organizations to achieve their financial goals backed by precision and integrity. Irrespective of the size and scale of business operations, Chartered Accountants find defining roles in their success stories.
Chartered Accountancy involves the following important job roles:
1. Accounting systems and processes.
2. Give advice on taxation as well as financial reporting.
3. Handle client issues related to business recovery and insolvency.
4. To do account audits and provide trustworthy information about financial records which involves corporate finance, forensic accounting.
In addition to business firms, the other key areas of their work include…
Provide a wide plethora of accountancy and tax services to clients within an accountancy firm.
Provide expert testimony in investigations related to civil cases, commercial fraud, personal injury cases etc.
Using their expertise and negotiation skills in Corporate Finance during mergers, acquisition, management buy-ins, and buy-outs, etc.
Why Chartered Accountancy?
The GST is an attempt to overhaul the complete tax structure of the country. Backed by the GSTN Network it is a strong step ahead towards the development of digitally driven tax revenue generation system.
Chartered Accountants, as well as financial domain experts, are the need of the hour. Chartered Accountancy only opens exciting new opportunities for making a good name and fairly surplus income.
Besides the opportunities, the modern day CA's carry the responsibility of ensuring socio-economic equality. This is equivalent to national service of the highest level.
Some other perks of being a Chartered Accountant include:
CA's are synonymous with entrepreneurs. Most of the CA's are their own boss. They can choose to become tax advisers and consultants also without being part of the organization and accordingly charge for their services.
A mandatory part of the CA roadmap is Articleship. Articleship equips budding CA's with practical experience during preparation and study. Aspirants have the option to choose internships as well as domain and organizations as per their area of interests.
CA's can get drained out with the workload they share. However, they can afford to take breaks and sabbaticals and make a comeback after little brushing up of knowledge. CA's can easily to cope with interruptions.
Unlike popular myths, a CA's job description is not confined to numbers and excel sheets. CA's employed with private/public firms can also contribute towards decision making and enhancement of profits for the firm.
Trade analyst and experts predict a rising demand for CA's in the manufacturing and financial services sectors.
Chartered Accountancy is slowly but surely becoming an ideal career option for women. Indian Women shoulder additional domestic and emotional responsibilities than their male counterparts. As a CA you decide your own pace and time of work.
This professional degree course gives people the flexibility to go for higher education like CFA and other professional courses.
The Chartered Accountancy Course:
Like India, every single country has its very own Accountancy Associations. These Associations run the respective professional Accounting courses in their countries.
In India, following the Chartered Accountants Act, the Chartered Accountancy Course was introduced in 1949. ICAI- The Institute of Chartered Accountants India regulates the process and curriculum of the course.
Chartered Accountancy is a dream career opportunity. CA's are part and parcel of each and every registered as well as the non-registered business organization.
Further, as per the Companies Act, only CA in professional practice can be appointed as auditors of companies in India. every business, small or big, will require the services of CA to file their tax returns and comply with tax laws in vogue.
The ICAI Examination Department is responsible for conducting various examinations with respect to the various levels of the Chartered Accountancy course. The exams are conducted in strict adherence to the Chartered Accountants Regulations ACT of 1988.
Examinations conducted are:
Common Proficiency Test(CPT)
Intermediate (Integrated Professional Competence) Examination
Final Examination
Intermediate (IPC) E & Final are conducted twice a year, in May and November. CPT takes place twice a year, in June and December.
Career Paths for CA's
We would refrain ourselves from dwelling into the nitty-gritty of specific roles or departments. But remember that the career landscape for present-day CA has changed profoundly from those of yesteryears.
A Chartered Accountant's career options are no longer limited to being a Tax Accountant or auditor for life. Below we present a macro view of the various avenues available to you after you have completed your CA education.
Here are our top 5 career paths for Chartered Accountant:
1.) Work in an independent CA firm
This is a common yet secure career path. It has been the favorite of budding CAs since posterity and will continue to remain the most sought-after career option. Each city today boasts of a large plethora of CA firms in all cities.
You can choose any one of them based on your preference and proximity. But the trend it seems is changing now. Emerging new career options in MNC's are in vogue now. In case, If you really like the work environment of a small to mid-sized CA firm, why not start one of your own?
2.) Work in the Banking Sector – Funding, Strategy, Forecast, and Control
CFO's are the new rockstars of the corporate world. CFO's manage the finances of the bank/company they work for. Big Banks, as well as MNCs, employ a large number of experts in the field of finance and commerce to work on financial strategies, financial projections, and financial control.
Banking is an ideal start for testing your CA skills acquired over the grueling years of preparations by you. It will open up new opportunities and expose you to the bits and bytes of the banking as well as the financial world.
3.) Work as a Private Auditor
If you are one of those who enjoys and takes pride in Auditing. You can apply the experiences gained over the years and start rendering your services as a private auditor.
The role of a Private Auditor involves auditing, verifying and scrutinizing the books of a firm/company.
4.) Work with the Big 4
PwC, KPMG, Deloitte and Ernst & Young are the big 4 accounting firms.
What we find to be a massive advantage of working with the big 4 is that you will get a chance to work in various departments and experience the A-Z of accounting, commerce, and finance.
You will get unmatched international exposure. As the years go by, very few career paths will be able to provide to you what a role in the big 4 can.
5.) Forensic Accounting
Does the phrase Catch me If you Can?
Ring some bells in your ears. If yes then there is a whole community of finance criminals and fraudsters for you to zero-down on and expose.
In this day of technology and commerce, the need for accounting experts has increased in government, regulatory agencies and companies in various industries. If you are one of those gifted ones who possess a keen eye to spot fraud and financial crime, forensic accounting could open up new career opportunities that could promise a whole lot of hard work and brainstorming.
You may be moving in circles at times, but if you strike a home run remember that you will have a story to tell to your grandchildren.