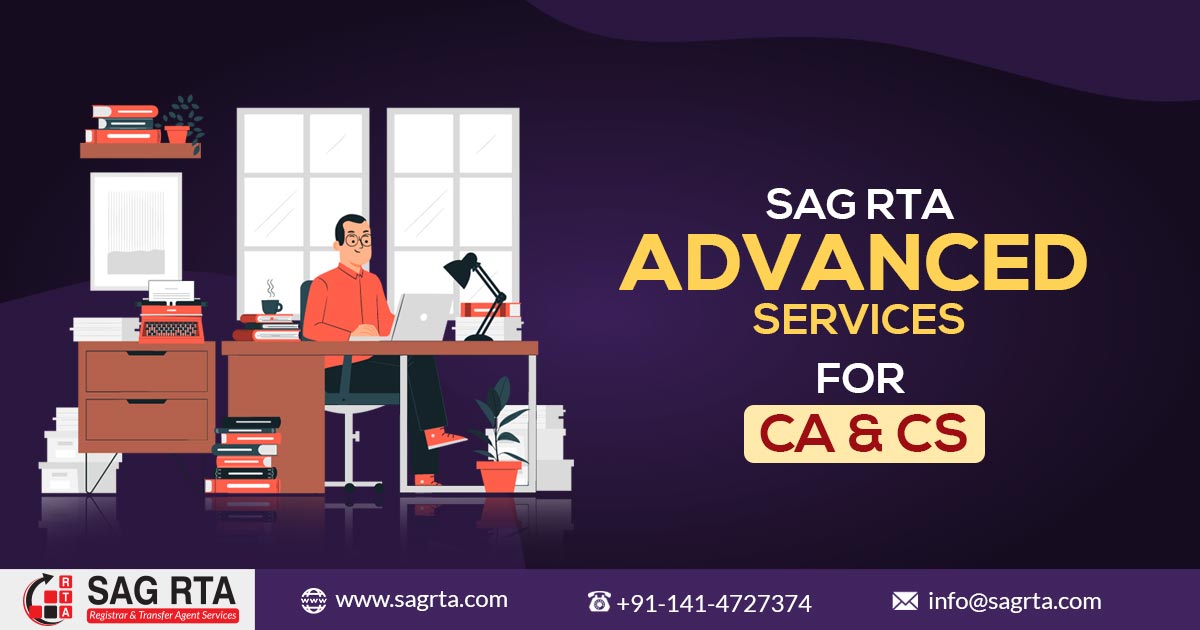 Company secretaries/chartered accountants play a crucial role in ensuring compliance and smooth operations within their organization. One important aspect of their job is managing share transfers and maintaining accurate shareholding records. In this regard, SAG Registrar Share Transfer Agents (RTAs) provide valuable support to company secretaries.
SAG RTA offers a variety of features that can greatly simplify the task of managing share transfers. One such feature is the dashboard, which provides an overview of all the relevant information at a glance. This makes it easier for company secretaries to keep track of share transfers, shareholding details, and other important information.
The panel provided by SAG RTA can be customized according to the specific needs of the organization. This allows company secretaries to access the information they need quickly and easily. The file arrangement/management feature offered by Registrar & Transfer Agent ensures that all documents related to share transfers are properly organized and easily accessible.
The OTP feature provides an additional layer of security, ensuring that only authorized personnel can access sensitive information. The shareholding details feature allows professionals person to view the current shareholding status of each shareholder in real time.
Overall, the features offered by SAG Registrar Share Transfer Agent can greatly simplify the task of managing share transfers and maintaining accurate shareholding records. This can help company secretaries to focus on other important aspects of their job, such as ensuring compliance and supporting the growth of their organization.
Today, mutual fund houses, public-trade companies, and other financial institutions are responsible for accurately recording and processing multiple investor transactions like the buying, selling, and switching of share units. In order to provide steady client services, these financial institutions need to keep up with the proper record of all the investors' transactions.
A Registrar and Transfer Agent is a SEBI-authorised entity that manages a complete record of all categories of investors' transactions at mutual fund houses and other financial institutions for their utmost satisfaction. There are so many RTAs successfully providing this prominent service in the country, including SAG RTA (Registrar & Transfer Agent Services).
Know More About SAG RTA (Registrar and Share Transfer Agent)
SAG RTA is one of the subsidiaries of SAG Infotech Private Limited which has been providing leading tax solutions for two decades. SAG RTA is a SEBI-registered RTA and has won several accolades throughout its journey, including being Rajasthan's No.1 RTA Services provider.
The business is dedicated to providing clients across the nation with superior and market-leading RTA services through its advanced and updated reach as an RTA. SAG RTA, the renowned and leading provider of RTA Services, handles all meeting, mailing, and regulatory reporting responsibilities on behalf of investors as required.
SAG RTA is working tirelessly to provide a one-stop solution for investors' Registrar and Transfer Agent-related needs, inquiries, and services owing to its professional and experienced Registrar and Share Agent, RTA customer support team, and world-class infrastructure.
The company provides all kinds of registrar & transfer agent services sector players, such as investors, issuers/companies, etc., under the umbrella of SAG RTA services.
The full range of RTA services provided by SAG RTA to both investors and issuer corporations are listed below.
Record Keeping about Complete Investor
SAG RTA is efficient in handling and maintaining different types of investor transactions. In these, the buying, selling, or switching of share units in the interest of publicly traded entities, etc. SAG RTA maintains all the investor records accurately, working with experts.
Security Dematerialization through CDSL/NSDL Depository Services
SAG RTA facilitates some services where they can effortlessly convert their physical share certificates or securities straight away into Demat form through NSDL and CDSL, which are two national depositories.
Payout of Dividend/Interest
According to SEBI regulations, SAG RTA also processes the dividend distribution and interest payments received via ECS mandate to investor bank accounts. The issuer/companies are only permitted to provide dividends and interest to investors using the electronic clearing service (ECS), as per the SEBI guidelines.
Dividend Revalidation
SAG RTA additionally assists shareholders of the issuer company to revalidate their dividends by processing the application and transferring it to the relevant issuer company.
Share Certificate Transfer for Investors
SAG RTA also assists shareholders/investors in the transfer of share certificates in physical form, that's why we are known as a one-stop Registrar & Share Transfer Agent solution provider.
Duplicate Share Certificate Issuance about Shareholders
SAG RTA also helps the shareholders get a duplicate share certificate from the registered office of the company or our registrars. To claim an alternative share certificate, the shareholders are required to collect documents like a copy of the FIR filed, an affidavit, and other supporting documents.
Reconciliation Share Capital Audit Report About Form-PAS-6
According to the requirements for unlisted public companies in India, the company offers clients a full PAS-6 reconciliation service (reconciliation of share capital audit report on a half-yearly basis).
Investor Education Protection Fund Claim Settlement
Investors are also offered services to claim their IEPF refunds that they have not received due to some unknown reason. Form No. IEPF-5 is also present on the official SAG RTA portal for the same.
Name, Signature, Address Change For Investor
For investors requesting a transfer, transposition, name deletion, or name change, SAG RTA provides a variety of forms related to the solutions. Download RTA forms from the SAG RTA website as well. Moreover, on the SAG RTA portal, you can also download an affidavit which is available in the prescribed format to change the investor's name and address.
Note:- As of October 2, 2018, all securities issued by UNLISTED PUBLIC COMPANIES must be dematerialized under a notification issued by the Ministry of Corporate Affairs on September 10th. As a result, every publicly traded company, listed or unlisted, shall delegate an RTA to accomplish the same.