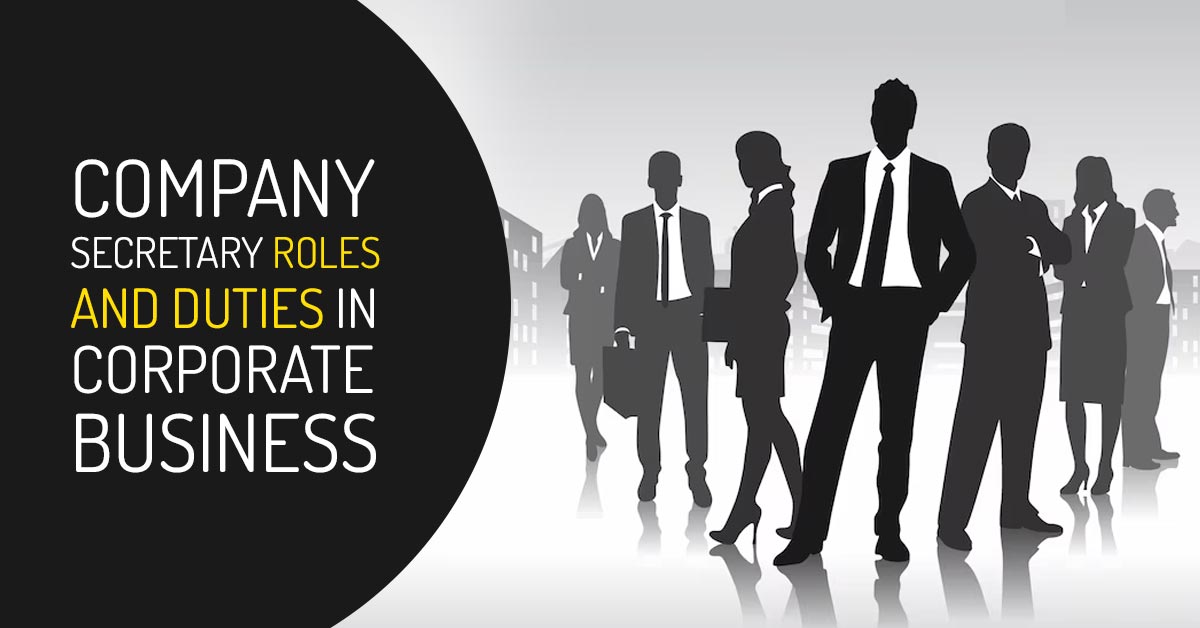 Company Secretary is a valuable profile and more responsible persons which play a significant role in corporate governance. Even board directors understand that the company secretary is a "go-to" person to respond to any queries. In case of a board of directors doesn't obtain the required answers, corporate secretary or company secretary will direct them to where they can get the answers.
A company secretary heads the administrative division in a company, provided duties, and responsibilities in cooperation with the business' directors under the Companies Act. They are responsible to furnish annual returns and required documents to Companies House, generally on an annual basis.
Further, they are also playing a role in convening board meetings and administrative matters.
The role played by a professional company secretary in a company, whether its big or small is important for easy-going corporate governance exercise. They provide the required advice to make corporate integrity strong over the personal benefit of the company members.
Here is The List of the Role Played by the Company Secretary in an Entity:
They give advice to directors on collective and individual matters, duties and powers.
Play a responsible role in making financial statement distribution to respective persons in relation to the Companies Act.
Certify the company with certainty to file an annual financial statement as per the Companies Act, and these returns to be correct till the date.
Company secretary takes the responsibility to inform the Board about any breach to the director or the company to comply with the Memorandum of Incorporation or the Companies Act.
Keep a record of every single detail at Shareholder meetings and Board meetings in order to ensure everything is done strictly as per the Companies Act.
Make directors know any changes to legislation that may alter their business.
Read Also: Company Secretary (CS) Profession – Your Road to Success
Strengths To Become Company Secretary:
Company Secretary is a difficult position to fill in a company considering many demands and facets that are required to become a professional in this field.
Here is the list of core competencies required to become a company secretary:
Having a deep understanding of companies business
Being a good communicator and having an executive presence
At least having basic knowledge of how securities laws and corporate work
Staying calm under pressure and having a sound perspective in tear situation
Having the skills for being creative, flexible and detailed
Who is able to think critically like bureaucrats
Being capable of getting a consensus in multidisciplinary settings
Staying in corporate governance and providing a solution to board and managers in case of any change and new developments
Having a deep understanding and intuitive mind and knowing the feeling and thoughts of the CEO and board directors
Role of A Company Secretary In A Business:
The roles played by company secretary are important as a part of Companies House reporting requirements. Generally, the task of furnishing annual returns and respective documents of a company is the job of a company secretary.
The annual return or confirmation statement is filed by the company secretary. This is a chart of some company detail that must be tallied with a made-up date or the date at which the details filed in the form was correct. The company secretary carries this form to Companies House before 28 days of the made-up date, in at least one time in 12 months.
A company secretary as well responsible for the director's report as well. This is a document which mentions the state of the company and director names who are accepting the accounts and mandatorily required to file once in 12 months, and in which financial statements comprising company's liability, assets, debts are also included.
Filing the report of an auditor and compulsorily noticing if the turnover of the business is over £10.2m annuals or assets standing more than or less than £5.1m, the company is eligible for the small companies audit exemption.
Lastly, a strategic review is mandatory for account filing and if the business is a listed entity is public, then a number of quoted company documents are required to file comprising CO2 emissions, human right issues, men and women employed and policies.
Read More: Duties & Responsibilities Handled By A Company Secretary
Apart from the Companies House reporting requirements, the role of company secretary includes:
Noticing Changes To The Company:
Companies House is required to inform when a company secretary does any changes to a company such as any new share allocated and change in the board of director make-up.
Attaches Legal Documents:
The legal documents here include the Memorandum and Articles of Association, the company's seal, director's service contracts, the Certificate of Incorporation, any certificates of change of name, share certificates and stock transfers.
Regulating Statutory Records:
This mentioning includes maintenance of any charges applying to the company's assets, a register of shareholders, a register of directors, details of general and board meetings, and a register of debenture holders.
Operating Registered Office:
It doesn't require the address of where the company works, but the company secretary must make sure that the company gets all correspondence to that address. The company secretary must make sure that the registered name of the company must be clearly visible outside the registered office, and in case of other places of business where it is situated.
The company secretary is liable for asking Companies House about any modification in the registered address of the company.