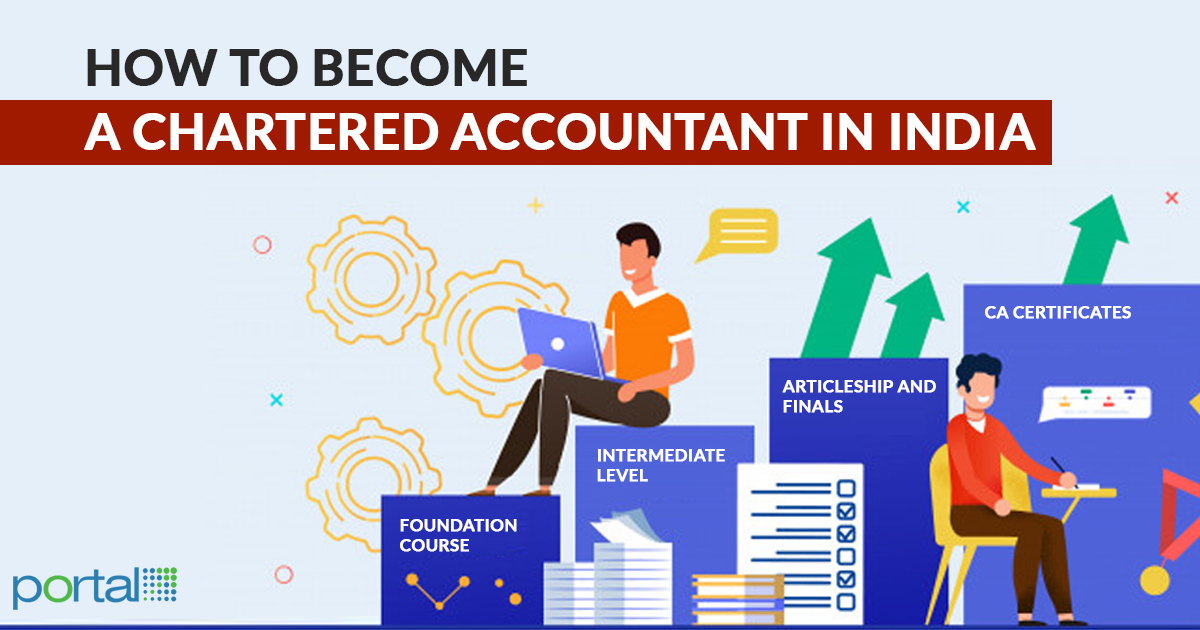 Are you the one who aspires to become a CA? And looking for something to help you foresee an entire CA journey? Then you have landed on the right page as we are here with the four-step journey to become a CA professional to make you conclude – is this the right professional for you and that you are an ideal candidate to complete this course successfully.
A chartered accountant is a worldwide designation which is used for those professional accountants who are authorised to carry on an array of accountancy related tasks like financial advising, financial statements auditing, tax returns filing and so on. The four areas where Chartered Accountant professionals can serve include financial accounting and reporting, applied finance, taxation, and management accounting.
Nowadays, many teenagers aspire to become a CA professional, however, they seek for guidance under which it can become a smooth sailing process for them. Through this article, we have tried to present the crucial information, a CA aspirant must know, in a simplest and precise form.
Rest, all the hard work and dedication needs to be invested by the aspirant itself, because it is not as simple as icing on the cake, for sure. Here, we go:
Steps To Become A Chartered Accountant
One can start his journey to become a certified chartered accountant just after passing 10th or 12th or even after graduation. The eligibility for the same is:
Qualification in Senior Secondary Examination (10+2) and Entrance test for CA.
Graduation or Post-graduation in commerce with an aggregate of 55% by appearing for three papers- Auditing, Accounting, Mercantile Laws etc.
Graduation in another stream with an aggregate of 60% or more.
Four Steps To become CA in India:
Step 1. Registration for CA Foundation Course
Step 2. Registration for The Intermediate Course 2020
Step 3. Enrollment for Articleship
Step 4. Registration for CA Final 2020

Step 1: CA Foundation Course
To register for CA Foundation course, you first need to check your eligibility i.e. 12th standard qualification in any stream with a minimum aggregate of 33%.
If you are eligible, you can fill out an online form on the official website of ICAI and get a registration number, user id and password.
After the registration, you have four months to prepare for the foundation exam which was held twice a year- one in May and another in November for which the CA Foundation exam forms are filled in December and June respectively, to get an admit card which is mandatory for appearing for the exam or entering the examination centre.
A total fee of INR 11300 has to be paid by the applicant and this includes registration fees, online form fee, examination fees, and journal for members & students.
Paper's Pattern
There are two subjective type papers and two objective type papers of four subjects which are as follows:
Paper 1: Principle and Practice of Accounting
Paper 2: Business Laws and Business Correspondence and Reporting
Paper 3: Business Mathematics and Logical Reasoning & Statistics
Paper 4: Business Economics and Business and Commercial Knowledge
Each subject carries 100 marks and a minimum of 40% marks in each subject and 50% aggregate is required for qualifying the CA Foundation level.
The result for CA Foundation 2020 will be declared in January 2020 & July 2020.

Step 2: The Intermediate Level
The intermediate level can be reached directly after graduation or post-graduation and also by qualifying CA Foundation level if you have started your journey to become a Chartered Accountant after 12th.
You can register for the Intermediate exam in March and September and appear for the exam in November and May, respectively, so you get 9 months for the preparation. You can register for CA Intermediate exam form by filling an application form online and download the Admit card.
Exam Pattern
Exam paper for Intermediate Course is divided into two groups – both group includes 4 subjects of 100 marks each and hence makes a total of 8 subjects of 800 marks.
Subjects in each group are as follows:
Group 1
Paper-1: Accounting (100 Marks)
Paper-2: Corporate Laws & Other Laws (100 Marks)
Part I: Company Law (60 Marks)
Part II: Other Laws (40 Marks)
Paper-3: Cost and Management Accounting (100 Marks)
Paper-4: Taxation (100 Marks)
Section A: Income-tax Law (60 Marks)
Section B: Indirect Taxes (40 Marks)
Group 2
Paper-5: Advanced Accounting (100 Marks)
Paper-6: Auditing and Assurance (100 Marks)
Paper-7: Enterprise Information Systems & Strategic Management (100 Marks)
Part I: Enterprise Information System(50 Marks)
Part II: Strategic Management (50 Marks)
Paper-8: Financial Management and Economics for finance(100)
Part I: Financial Management( 60 marks)
Part II: Economics of Finance(40 marks)
A candidate has to pay a total of INR 27200 for the intermediate course for both groups. For the single group, a fee of INR 23200 is applicable.
Students of intermediate have to take four-weeks ICITSS training which can be taken after clearing any of the one group of the two. Once both the groups are qualified and training is completed, the candidate becomes eligible for CA final level.
Read Also : Get A Professional Website To kick-start Your CA Career
Step 3: Articleship And Finals
This is the final phase which consists of practical experience as well as theoretical exams.
Articleship –
The aspirant who has cleared any of the two groups of the intermediate is eligible to get registered for Articleship and the practical training can be started as soon as both the groups are cleared.
While undergoing 3 years of mandatory training or Articleship, you start earning a stipend and can register for Final level in the last 6 month of practical training by filling the CA Final exam form online.
Although there is no due date for the CA final course registration, registration is compulsory to appear for final exams which are held in May and November.
The total fee of INR 32300 (22000+3300+7000) is charged for both the groups of CA final and includes registration fees, examination fees, and GMCS fees.
The final course is categorised into two groups with 4 subjects under each group and 100 marks for each subject. 50% marks in aggregate or 40% marks in all subjects are mandatory to qualify the exams.
The Subjects for Final level are as Follows:
Paper-1: Financial Reporting
Paper-2: Strategic Financial Management
Paper-3: Advanced Auditing and Professional Ethics
Paper-4: Corporate and Economic Laws
Paper-5: Strategic Cost Management and Performance Evaluation
Paper-6A: Risk Management
Paper-6B: Financial Services and Capital Markets
Paper-6C: International Taxation
Paper-6D: Economic Laws
Paper-6E: Global Financial Reporting Standards
Paper-6F: Multidisciplinary Case Study
Paper-7: Direct Tax Laws and International Taxation
Paper-8: Indirect Tax Laws
After clearing both the groups and undergoing 3 years of practical training, of which four weeks AICITSS is a part, you become a star of the ICAI galaxy – 'You become a CA."

The below-given table will brief you the eligibility criteria, registration fees along with its validity & due dates and month of examination for all the levels of Chartered Accountancy course:
| | | | |
| --- | --- | --- | --- |
| | CA Foundation Course 2020 | CA Intermediate Course 2020 | CA Final Course 2020 |
| The due date for registration | 30 September and 30 June | 28 Feb and 31 August | No due date |
| Month of Examination | May and November | May and November | May and November |
| Validity of registration | 3 year | 4 year | 5 year |
| Subjects | 4 | 8 | 8 |
| Fees (in INR) | 11300 | 27200 or 23200 | 32300 |
| Eligibility | Qualification in 12th exams | Qualification in foundation level/ Graduation/ Post-graduation | Qualification in the intermediate level and practical training of 3 years |
The entire course of Chartered Accountancy involves a lot of efforts, tolerance, knowledge and commitment of not less than 4 years. It is one of the most sought and toughest professional courses in India which can be qualified with devotion and constancy of aims & efforts.
Hope the articles solve some of your doubts and queries like the process to become a Chartered Accountant in India and the time it takes to become a CA India and so on.
We wish you all the luck !
---