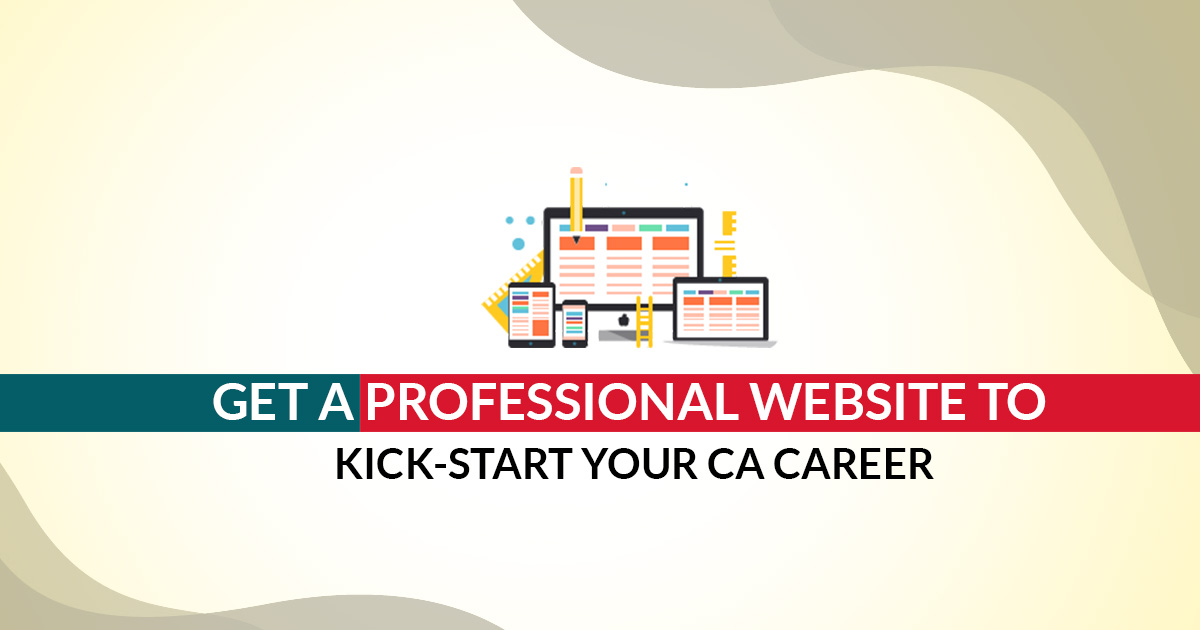 To make your website run, time plays an important role. To make your presence quickly in the market, it is necessary to develop a professional website which will help to grow your CA career in a minimum time period. Whether you are going to make your own professional website or outsourcing it at an affordable price, it is necessary to understand few points in the procedure.
If you are nowhere in the online search, you are required to act on it soon. Your website is your storefront and it is necessary that it attracts users. By this way, people can find the brand without many efforts.
Along with the professionally looking website, one very important point to consider is the quality of the website in the internet marketing world. A website is a portion of the marketing strategy and business asset. Quality doesn't mean it must be complex but it shows a simple website with high-quality and relevant information to launch and create a website. It must be good to attract traffic and gain the attention of clients.

Here is CA Professional Website Offers Generally:
#1. Know The Basics Presence of a Website :
Choose the domain name which looks more professional and easy to remember. Domain names are not so expensive and add fullness to the presence of a website.
Web service providers render a range of templates to select from, therefore you can alter the appearance of the website. It is advisable to go for a professional looking, mature website matching with the CA professional websites.
Pages are important on a website design templatesas they explain the services you render, and your contact information. Adding experience, about us, partners and seniors information are also fruitful. Keep your website up to date as you change the information about the website. The sense of obsolete and outdated can make your customer hold over to proceed further.
#2. Simple And Small Benefits:
If you are not known for the benefits of a website design templates it is better to start with small. Many operators are available on the internet to make a website but CA portal will help you start with the website simply and quickly. Even, it is not required that you have a programming understanding.
This will make you start quickly with your website at a reasonable price per month. To make an account with these companies is an only one-time process, after that, you get a firm website explaining your endeavor.
#3. Enhance Visitor Experience:
The major objective is to offer visitors an soothing expirience for them to revisit the website for more information and client connect activities:
Firm Name Representation: It represents your firm registered name which will be displayed on the website taking the name branding a step ahead
Social Media Integration: If your company uses a Twitter feed, link it to the website. Other business-oriented social media content also adds the worthiness to the website.
Price Calculator: Addition of calculator helps visitors to compare check debt rates, loans, salaries and tax refunds. There is a list of companies who can create a calculator for your site.
Blog Section: It is better to add industry expert to your firm, update the new blog posts, conduct webinars and links to relevant news. The efforts will help in order to assist the firm's reputation.
News Section: Email is among the best approaches to market your effectiveness. Create good content to attract customers, so that they sign up to get newsletters. Delivering one time in a week is sufficient to serve your purpose.
Enquiry Form: The enquiry form will help the clients to associate with their prospects in a easy way. The form will make understanding and create a quick responsive media for all the attached visitors
Read Also : Know Important Factors Before Creating a Chartered Accountant Website
#4. Responsive Website Templates:
In an accounting website, content plays a very important role. Clients generally want to obtain maximum details about the firm and offered services. So, content should be relevant and organized. Here are the few components to add in the content:
Theme based on ICAI guidelines
Subscription and Contact forms
Call-to-action step
Blog, News (firms, due dates)
Appropriate Navigation Menu
due date reminder

#5. Make Your Website Visible:
Your website must be fresh, engaging and relevant as per your target audience. There are many resources to assist you comprising forums and other companies websites. It doesn't mean to deliver a copy, but you can get the idea to work on. Slowly, your website will become your marketing point and will definitely open the new growth of your business.
#6. Establish As A Brand:
Your own website is a mirror to the business identity. It will represent the extension of the business to the world. Therefore, add some individuality to the website. Don't just repeat the layout and design from others. Just pay attention to how you operate the firm and then accordingly make your online presence.
It is better to control who can publish the content on the website. A regularly updated and engaging website always gains priority and deliver a good first impression. It also shows that your company is updated and engaging.
#7. User Experience Matters:
User experience is prior to all as you are going to make a website for them. Before doing anything, it is better to consider the user experience. Don't overburden a website with keyword stuffing, it is better to include content for users instead of the search engine.
Write attractive content so that your users get engaged with. Putting autoplay audios is not a good idea, however, it looks cool. Visitors don't feel good to exit from a video every time they approach your website. Consider the user experience whatever you try to add on.
Choose to display offerings and good quality content with an easy, simple and digestible format. Creating a website is not an easy task, and paying attention to the content without the showcase of fancy traits is also important. keeping all these points in mind, you will be able to build a great website.